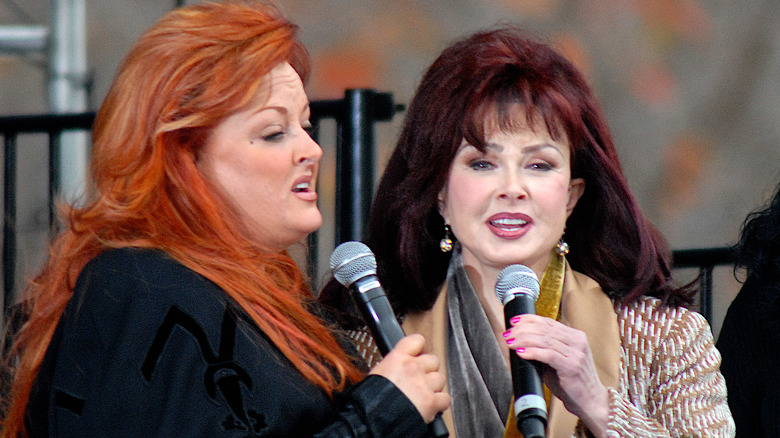 From 1983 through 1991, The Judds enjoyed success as a country duo, churning out hits and garnering countless awards, according to Outsider. As the most successful duo in country music history, their six albums sold more than 20 million copies (via The New York Times). And they inspired the CMA to rebrand the category "Vocal Duo of the Year," highlighting permanent duos rather than one-off duets. They also inspired new two-person acts, from Sugarland to Brooks & Dunn.
On the surface, it'd be easy to think that Wynonna and Naomi Judd led charmed lives. After all, they became some of Nashville's most celebrated performers, winning 20 Top 10 hits and clinching 14 No. 1 spots. But stardom's sequins and glitter couldn't cover up the tragedies that lurked behind their smiles.
Over the years, The Judds became increasingly forthright about the challenges they faced not only growing up but also in their adult lives. And some of the stories they've had to tell have proven shocking and heartbreaking. Yet, these tales also fortified their roles as strong women of the American Heartland. Here's what you need to know about the tragic real-life story of the Judds.
The Judds grew up poor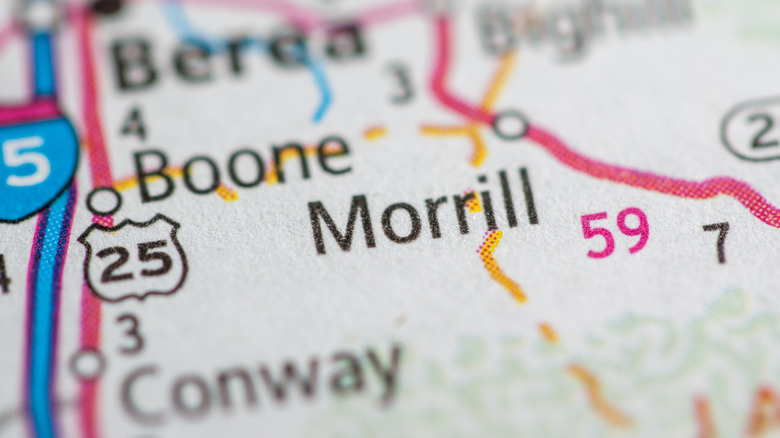 Country music is all about having down-home roots, and The Judds could provide this in spades, according to National Public Radio (NPR). The Judds escaped depressed existences in Kentucky coal country to make it big as country music stars, but they still experienced the trauma and abuse associated with those roots. Of course, this heritage also permitted them to be authentic and bona fide Southerners, all musts for country music performers.
Their ascent from rags to riches would become a legend in its own right. But that didn't make it any easier for them. As Wynonna Judd recalls, "If we didn't make it or grow it, we didn't have it" (via PBS). That meant no television or even a phone line. Their only entertainments came in the form of the used bin of the record store where they'd purchase 33-1/3 records and the guitar that Naomi Judd bought her daughter. At times, the family also lived without indoor plumbing and electricity, per ABC News.
In the evenings, The Judds sat on the front porch harmonizing. For Wynonna and Naomi Judd, this proved especially revelatory. While their day-to-day relationship felt contentious, when they sang together, it eased the familial tensions. In other words, their humble roots represented a challenge, yet it also prepared them for country music stardom.
Naomi and Wynonna Judd faced abandonment
Naomi Judd had many tough breaks in life that later transformed into incredible blessings for the whole family. Chief among these was dating her first boyfriend, Charles Jordan, as reported by the New York Post. Judd claimed she became pregnant after her first sexual encounter with Jordan, and any affection the couple felt for one another vanished under the weight of teen pregnancy.
Unsure of what to do, Naomi Judd called Jordan up to share the news. She was met with indifference. Instead of supporting his girlfriend, Jordan immediately severed ties. She remembered him saying, "Well, tough luck, kiddo." Then, he hung up and that was that.
Judd gave birth to her daughter, Wynonna Judd, at the age of 18, according to ABC News. Wynonna Judd never met her biological father before his death. But years later, a Taste of Country story reported on Judd's realization that she has a half-brother. She has since reached out to him attempting to make sense of the past and heal old wounds.
A family built from desperation
Being pregnant out of wedlock in 1964 came with incredible social stigma. So, Naomi Judd jumped at the chance to marry her classmate, Michael Ciminella, per the New York Post. Far from her first choice, she described the impetus for her marriage this way: "[I] had to marry the town jerk to have a roof and a name."
Together, the couple moved to Los Angeles, California, before welcoming their daughter Ashley Judd into the world in 1968. But even the birth of a daughter together couldn't save the relationship. They divorced after a few years, but this time Naomi Judd felt better prepared to face single motherhood on her own.
Working as a receptionist, they managed to scrape by from paycheck to paycheck. Bad experiences in California eventually pushed the threesome to move back to Kentucky, but Ashley Judd would maintain a good relationship with her father despite all the tumult, as reported by Today.
Wynonna Judd didn't know who her dad was for years
Although the story of Naomi Judd's relationship with Charles Gordan is now common knowledge, such was not the case during Wynonna Judd's childhood (via Fox News). Instead, she grew up assuming that her mother's husband, Michael Ciminella, was her biological father. She even took his last name, christened Christina Claire Ciminella at birth. So, learning that her entire life was built on a lie felt overwhelming.
In 1994, at the age of 30, she finally learned the truth. This entailed not only realizing that the man she knew as her father wasn't, but she also learned that Ashley Judd was her half-sister. Wynonna Judd initially planned on meeting Charles Jordan, but he died one month before she had the chance. She also struggled with the fact that the parents who raised her had lied about basic information for her entire life.
Once Wynonna Judd worked through the pain of having these deceptions revealed, she received incredible news. She learned about a half-brother named Michael Jordan who's three years younger than her and lives in Kentucky. She's had this to say about the experience: "I had a choice. I had to decide whether I was better or bitter," per Heavy.
The Judds had a strained relationship backstage
As a singing duo, The Judds perfected singing in harmony, so you'd assume they could get along in real life. Not so much. Perhaps Kyle Young, the Country Music Hall of Fame and Museum's CEO, said it best, "They sang in harmony even when they didn't live in harmony" (via NPR).
In an interview with Robin Roberts, Naomi Judd described her relationship with Wynonna Judd: "I love her but there are just times we need a break from each other … We're still a little estranged from each other" (as quoted by a Taste of Country). One of the biggest strains the duo might have faced involved their close ages, and they likely grew up together in many senses. When their music careers took off, it came at a time when Wynonna Judd would've normally been preparing to leave the nest. Instead, they remained stuck together on a cramped touring bus, which likely led to tricky psychological situations like enmeshment, per Mind and Body Works.
But some problems got bigger than others. For example, Wynonna Judd proved more reticent than her mother when it came to sharing personal details of her life. This could create friction when doing interviews with her mother who always verged on saying too much. Naomi Judd also dealt with mental health issues that exacerbated their relationship. As ABC News reports, this precipitated tension and fights about nearly everything.
A tragic diagnosis split the duo
Naomi Judd loved performing and flitting around the stage in flashy costumes with her daughter Wynonna Judd. But in 1991, she was forced to retire after receiving a hepatitis C diagnosis, as reported by ABC News. The diagnosis represented an unwelcome artifact from her pre-music career when she worked as a registered nurse.
A viral infection, hepatitis C is spread through blood and causes liver inflammation, per the Mayo Clinic. Doctors initially only gave her three years to live, making for a truly devastating medical sentence but one she surpassed by decades (via Heavy). After retiring from the musical world, Judd became active as a spokeswoman for the American Liver Foundation. She used this visible role to educate the public about conditions of the liver. She also raised money for the organization by returning to the stage on and off starting in 1999.
Although Wynonna Judd had longed to spread her wings and experience more freedom, becoming a solo artist overnight proved bewildering. At 27, she had yet to differentiate from her mother and realized just how dependent she was, according to The Baltimore Sun. All around, it was a tragic reason for one of country's hottest groups to break up.
Wynonna Judd struggled with food addiction
After her mother's premature retirement, Wynonna Judd navigated celebrity by herself, and it wasn't easy, as she told ABC News. She came to live by the mantra "fake it 'til you make it." But that only took her so far, especially when it came to food addiction and weight management.
While burying her feelings helped her get through the tough times with a smile, this approach made food addiction issues much worse. And life on the road didn't help, either. While her mother was still touring with her, Wynonna Judd didn't feel free to do the things that other women in their late teens and early 20s tried. There was no sense of experimentation when it came to her identity. As for things like going to a party or out on a date, these got nixed by their overly close relationship.
With her mother often in the hotel room next door, Judd had one way to deal with her feelings: room service. Over time, her reliance on food transformed into addiction, and her health suffered.
If you are struggling with an eating disorder, or know someone who is, help is available. Visit the National Eating Disorders Association website or contact NEDA's Live Helpline at 1-800-931-2237. You can also receive 24/7 Crisis Support via text (send NEDA to 741-741).
Naomi Judd experienced many broken relationships
Naomi Judd's failed first relationship with Charles Jordan and divorce from Michael Ciminella represented the beginning of a string of failed relationships that sometimes put Judd and her daughters in danger, according to the New York Post. When she was 22 and living in Los Angeles after her divorce, Judd dated a man who was addicted to drugs. One day, he broke into her home, high. He beat and tortured her before sexually assaulting her. Then, he started taking shots of heroin. The second one caused him to pass out, allowing her to escape with her daughters. Soon after, they fled California for Kentucky, but the terrible trauma of the event lingered with them.
Perhaps Ashley Judd has spoken most openly about her mother's many relationships and how they robbed the innocence from her childhood. Judd claims she first experienced sexual abuse as a pre-teen, and it had nothing to do with her mother or her boyfriends.
Nevertheless, she also argues her initiation into sex came much earlier while witnessing inappropriate behavior between her mother and various men she dated. As reported by The Boot, while Naomi Judd eventually settled down in a loving relationship with Larry Strickland who represented a surrogate dad to Wynonna and Ashley Judd, the damage had already been done.
If you or anyone you know has been a victim of sexual assault, help is available. Visit the Rape, Abuse & Incest National Network website or contact RAINN's National Helpline at 1-800-656-HOPE (4673).
Wynonna Judd attracted bad boys
Wynonna Judd would also go through tumultuous relationships before finding her current husband, Cactus Moser, the former drummer of Highway 101, as reported by The Economic Times. In 1996, Judd and her partner, Arch Kelley, had a baby together that they named Grace. Several years later, they welcomed their son, Elijah. The couple married in January 1996, but within two years, they separated, as reported by US Magazine.
But her lowest point came after she decided to give marriage another shot, pairing up with her former bodyguard D.R. Roach. The marriage seemed happy until the unthinkable happened. Roach was arrested on charges of attempted aggravated sexual battery against a minor. As CNN reports, this development threw Judd into what she calls "mama bear mode," which meant getting him out of her house within an hour and protecting her children.
According to The Boot, Judd and Moser started dating in 2009 after years of knowing each other. Many years prior, they had even toured together, and Moser remembers feeling an attraction. But Judd wasn't having any part of it because of his mullet. Hairdos aside, the couple married in the summer of 2012. But horror struck when Moser suffered a terrible motorcycle crash in August 2012 requiring the amputation of his leg. Judd nursed him back to health. Today, they're still flourishing as a couple and perform together, too.
If you or anyone you know has been a victim of sexual assault, help is available. Visit the Rape, Abuse & Incest National Network website or contact RAINN's National Helpline at 1-800-656-HOPE (4673).
Wynonna Judd went to rehab for financial troubles
To go from dirt-poor to wealthy wasn't easy for Wynonna Judd, who developed dangerously out of control spending habits, as reported by ABC News. Realizing she was going broke, she checked herself in for financial rehab in 2008. This likely shocked many of her fans who assumed the singer rolled in an endless supply of dough. What's more, some might have been confused by the concept of money rehab, having never heard of it before.
Judd's money woes resulted from a lavish lifestyle that didn't involve budgeting. From traveling to renting jets, nothing was too expensive until she started taking a closer look at her bank balance. The singer says, "I had an Elvis complex. I had to buy Harleys and cars. I bought my Mom a bus." In other words, she lived her life like she'd won the lottery … every day. But this fiscal attitude came at a steep and unsustainable cost.
In rehab, Judd worked with Dr. Ted Klontz who represented her spending habits visually so that she could see firsthand what the future held for her if she didn't make changes. By 2010, her entire farm would've been gone, which motivated her enough to start working on better habits.
The other Judd fell through the cracks
Ashley Judd has become a powerhouse actress in her own right and even been featured as one of "The 50 Most Beautiful People in the World" by People, per ABC News. Despite outward appearances, however, she suffered as her mother and sister constantly toured. In her 2011 memoir "All That Is Bitter and Sweet," she detailed attending 13 schools by the age of 18 and the abuse and neglect she endured while her sister and mother became country music's most celebrated duo.
Speaking of Judd's powerful new memoir, Amy Palmer, In Touch's senior editor, feels the revelations within the book are completely understandable given the context. She notes, "When you are trying to make it in show business, everything else falls by the wayside … Something suffers and it was Ashley's childhood" (via ABC News).
Judd has also struggled with depression like her mother. Therapy uncovered childhood memories of sexual abuse, which continue to haunt her. Fortunately, she has used advocacy and philanthropy to support the healing process.
If you or someone you know is struggling with mental health, please contact the Crisis Text Line by texting HOME to 741741, call the National Alliance on Mental Illness helpline at 1-800-950-NAMI (6264), or visit the National Institute of Mental Health website.
Naomi Judd died on the eve of Country Music Hall of Fame induction
Fans were shocked to learn of Naomi Judd's death after a long battle with mental illness and what she termed "treatment-resistant depression," as reported by CBS News. Several news outlet have reported her death (and the alleged cause) just one day before The Judds' scheduled induction into the Country Music Hall of Fame.
The Nashville medical examiner's officer has yet to confirm a cause of death, however, stating that the only information being released at the moment is to family members (via Heavy). That said, Wynonna and Ashley Judd released a statement via Instagram letting their fans know about their mother's death. The statement said she succumbed to "mental Illness," which has contributed to speculation.
Although the circumstances surrounding Naomi Judd's death have yet to be confirmed, it was unexpected. On April 15, Wynonna Judd posted a promo for the duo's final tour that clearly demonstrated her enthusiasm about the upcoming concert dates.
If you or someone you know is struggling with mental health, please contact the Crisis Text Line by texting HOME to 741741, call the National Alliance on Mental Illness helpline at 1-800-950-NAMI (6264), or visit the National Institute of Mental Health website.
Wynonna Judd described her mother's final hours
The Judds' induction into the County Music Hall of Fame continued on Sunday despite the death of Naomi Judd, with both daughters in attendance, according to a Taste of Country. Wynonna Judd described her final visit with her mother before receiving the devastating news: "At 2:20, I kissed her on the forehead, and I walked away, and this is the first place I've been."
Wynonna Judd also elaborated about the last thing the family did together. They gathered and recited Psalm 23, which includes the famous lines, "Yea, though I walk through the valley of the shadow of death, I shall fear no evil: for thou art with me." In a heartbreaking and powerful moment at the induction ceremony, the two Judd sisters held hands and recited the Bible verse.
Ashley Judd also shared words about her mother before the audience erupted into applause. Before leaving the stage, Wynonna Judd blew a kiss heavenward, a touching nod to the mother who harmonized so well with her despite all of the tragedies they overcame together. One thing's for sure. Naomi Judd was one of a kind, and her generous spirit and captivating energy will be missed.