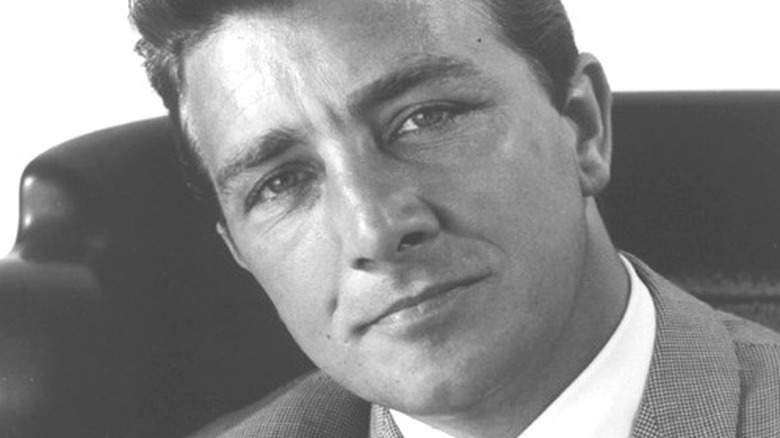 Richard Dawson, who is best known for hosting the popular game show "Family Feud," had a long, successful, and often controversial career as an actor, comedian, and television personality. In addition to wearing a flower on his lapel, he was specifically known for his humorous banter and kissing female contestants on the game show.
As reported by CNN, Dawson's son Gary said his father "was loved by millions of Americans as a television icon, but loved even more as a husband, a father and grandfather by his family." However, as reported by Entertainment Weekly, Richard did have a bit of a "dark side."
Richard Dawson was born on November 20, 1932, in Gosport, Hampshire, England. Biography Base reports he left his parents' home at the age of 14 to join the Merchant Marines. Although he intended to pursue a career in boxing, Dawson moved to Los Angeles, California, after marrying British actress and singer Diana Dors in 1959.
As reported by IMDb, the couple had two sons before they separated in 1964. In 1965, Richard was cast as British Corporal Peter Newkirk in "Hogan's Heroes." Although the series was canceled in 1971, Dawson went on to become a regular panelist on "Match Game."
Dawson remained a regular on "Match Game" until 1978. However, IMDb reports he was also hired to host "Family Feud." Dawson originally hosted "Family Feud" from 1976 to 1985, but he returned for one more season in 1994.
Richard Dawson's kisses sparked controversy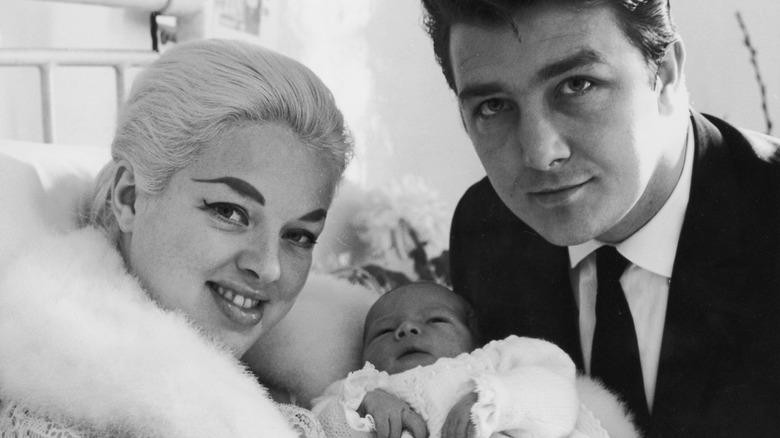 Within the first weeks of "Family Feud," contestants and fans noticed Richard Dawson greeting all of the female contestants with a kiss. As reported by Good Housekeeping, Dawson got the idea when he was faced with a contestant who was visibly nervous.
The female contestant was tasked with naming a green vegetable. When she faltered, Dawson said, "I'm gonna do something that my mom would do to me whenever I had a problem of any kind. … And I kissed her on the cheek, and I said, 'That's for luck.'" After Dawson gave her a kiss, Good Housekeeping reports the contestant gave the answer, "asparagus," and her family went on to win the game.
Although Dawson's kisses, which were sometimes on the cheek or hand, and often on the lips, seemed to be popular with contestants and fans, the show's executives were hesitant to let him continue.
As reported by Good Housekeeping, Dawson conducted a poll to find out how the contestants and viewers really felt about the kisses. Out of 15,304 viewers, 14,600 said they were in favor of the kissing. Only 704 said they were opposed. A vast majority of the contestants, who filled out questionnaires before appearing on the show, also said they would not mind being kissed by the show's host.
Despite the overwhelming acceptance of Dawson's habit of kissing female contestants on "Family Feud," critics have suggested it was a form of sexual harassment.
Richard Dawson met his second wife on Family Feud
In an opinion piece, writer Ree Jackson said she remembers a particular episode of "Match Game," where host Gene Rayburn watched and cheered as "Dawson literally holds down a woman and kisses her nonstop."
When Dawson moved on to host "Family Feud," Jackson said she was "disgusted by Dawson kissing every female contestant on the lips." In her opinion, young girls are essentially conditioned to tolerate certain behaviors, including unwanted advances from men. Jackson said she views Pepe Le Pew, a cartoon skunk who forces kisses on an uncooperative cat, as "the Richard Dawson of Loon Tunes [sic]."
Showbiz CheatSheet reports a "Family Feud" executive estimated Richard Dawson kissed as many as 20,000 women during his stint on the popular game show. However, one kiss in particular changed Dawson's life.
Gretchen Johnson was a contestant on "Family Feud" with her family in 1981. Although he kissed tens of thousands of women throughout his career, he said he "knew there was just something" about Johnson. When they concluded taping for the day, Dawson asked Johnson for her phone number, and she was happy to comply.
As reported by WCVB, some of Dawson's fans were disturbed by the couple's 23-year age difference. However, Dawson was not deterred. Although he continued kissing female contestants until the show was canceled in 1985, his heart clearly belonged to Johnson.
Showbiz CheatSheet reports Dawson and Johnson married in 1991, 10 years after their first kiss.
Richard Dawson expressed his political views on air
Richard Dawson's kisses and his relationship with a younger woman were not the only controversies he faced while filming "Family Feud." As reported by The Washington Post, the game show host liked to disparage and make jokes about former President Richard Nixon on air. The jokes drew the attention of at least one of the show's contributing sponsors, who complained to ABC executives and threatened to withdraw sponsorship if the jokes continued.
The Washington Post reports ABC executives responded by agreeing to edit one of Dawson's more controversial tirades out of an episode. However, when Dawson heard about the plan, he threatened to resign if the comments were removed. As the show already had enough sponsors, and others "waiting in line," ABC ultimately decided to air the episode without any further editing.
AV Club reports Dawson made similarly disparaging remarks about former United States Secretary of State and National Security Advisor Henry Kissinger.
Apparently, Dawson simply did not mince words or go out of his way to hide his disdain for certain people or situations. As reported by Closer Weekly, author David Baber, said Dawson was different from many other hosts who would "turn on a filter" when they disliked a particular contestant. In stark contrast, Barber said Dawson "would let it be known if he didn't like them. He wouldn't just come out and say it, but he would usually make some sarcastic crack and put them in their place."
Richard Dawson was blunt with contestants
On occasion, Richard Dawson would make blatantly critical comments to the contestants when they gave unusual or nonsensical answers. As reported by Closer Weekly, he asked several contestants whether they were "on narcotics," and suggested that one contestant should "stop watching this crap" on television and "read some books."
Although his comments do not seem as shocking now, it was unusual at the time for a game show host to criticize the contestants. However, in his interview with Closer Weekly, Baber said Dawson was aware "he was different from the typical host" and made no apologies.
Barber said Dawson became particularly difficult to work with after winning an Emmy award for best daytime game show host. According to Baber, Dawson started thinking "that he could do no wrong" and developed "this attitude of 'King Richard, I'm the star.'" On more than one occasion, Dawson ignored the producer's opinion on the validity of a contestant's answer on the air.
Despite his reputation for being opinionated and outspoken, Baber said he was also "friendly, outgoing, and he had a generous side." In addition to being notably generous and thoughtful with his friends and associates, he also took time to recognize the efforts of the "Family Feud" staff. Closer Weekly reports Dawson occasionally brought staff members, including cameramen and production assistants, on air during the show to thank them for their part in the production and the success of the show.
Richard Dawson retired in 1995
Richard Dawson's initial run on "Family Feud" ended on June 14, 1985. As reported by Ultimate Classic Rock, Dawson concluded the final episode with a heartfelt speech, which addressed his appreciation for the opportunity to host the show. He also discussed the controversy of his decision to kiss the female contestants and the criticism he received for kissing black women specifically. Dawson concluded his farewell by speaking out against racism and declaring his affection for all the former contestants and fans.
Although Dawson returned to host "Family Feud" in 1994, he did not bring back the tradition of kissing the female contestants. As reported by IMDb, the decision was made due to a request by his daughter.
Dawson's last episode of "Family Feud" aired on May 26, 1995. Throughout his career, he was nominated for seven Daytime Emmy awards and won the Emmy for outstanding host or hostess in a game or audience participation show in 1978. As reported by IMDb, he also won a Saturn Award for best supporting actor in the film "The Running Man."
Richard Dawson died on June 2, 2012, at the age of 79. Deadline reports, his death was caused by complications related to esophageal cancer. In a public statement, Richard's son Gary said he "was surrounded by his family" at the time of his death. In addition to his son Gary, he was survived by his son Mark, daughter Shannon, and wife Gretchen.