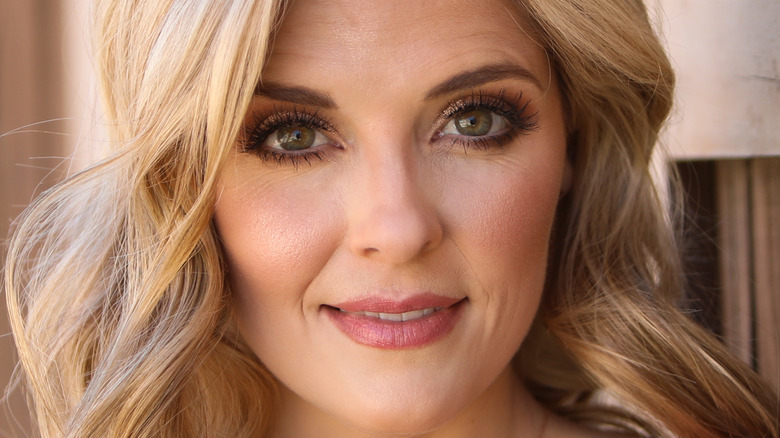 "Days of Our Lives" fans really enjoyed Theresa Donovan while she was in Salem. The character hasn't gotten a ton of screen time over the years, but when she's involved in a storyline, it's likely to be a dramatic one. Theresa is actually a legacy character, as she was born to "DOOL" super couple Shane Donovan (Charles Shaughnessy) and Kimberly Brady (Patsy Pease), per Soap Central. Theresa was born Jeannie Theresa Donovan and was originally believed to be the daughter of Cal Winter. However, after a blood test, it was revealed that she was fathered by Kimberly's longtime love, Shane. When she was young, Jeannie moved to California to live with her mother. However, she returned to Salem in 2013 and began using her middle name, Theresa.
Upon arriving back in Salem, Theresa — played by actress Jen Lilley — immediately befriended Jack Deveraux and Jennifer Horton's son, JJ Deveraux (Casey Moss), and the two struck up a toxic relationship fueled by drugs, per Soaps in Depth. Kayla Brady (Mary Beth Evans) warned Theresa about her reckless behavior, but nothing seemed to stop her. Theresa eventually found herself in some big trouble.
Theresa's wild behavior caused plenty of trouble in Salem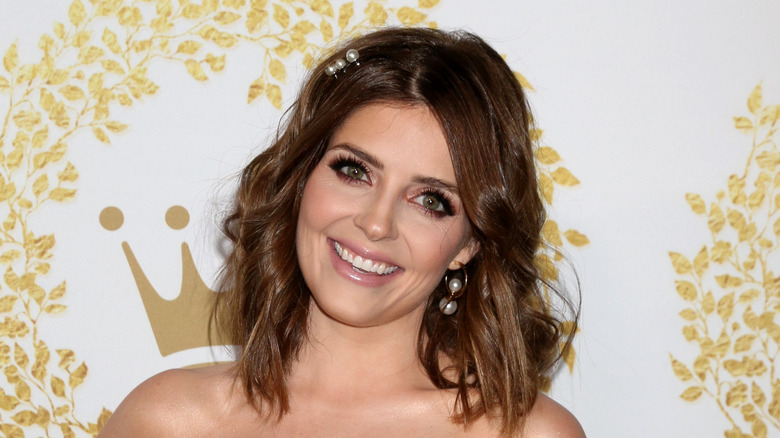 Once Theresa's drug addiction seemed to get out of control, her aunt, Hope Brady (Kristian Alfonso), tried to convince her to go to rehab. Theresa refused to get help and dug herself a hole when she embezzled money from her job at the hospital to pay back her drug expenses (via Soap Central). When Jennifer Horton (Melissa Reeves) discovered Theresa's actions, she fired her. Theresa was furious with Jennifer and vowed to get revenge on her. She started by trying to flirt with Jennifer's boyfriend, Dr. Daniel Jonas (Shawn Christian). When Daniel rejected her, she moved on to Jennifer's son, JJ.
When JJ and Theresa spent the night together, Theresa indulged in a cocktail of alcohol and drugs and overdosed. JJ called Daniel for help, and he rushed to Theresa's side to save her life. After her overdose, Theresa's parents Shane and Kimberly rushed back to Salem to deal with their daughter's substance abuse issues, per Soaps in Depth. It later appeared that Theresa had kicked her bad habits until she met Brady Black (Eric Martsolf), who was also an addict.
If you or anyone you know is struggling with addiction issues, help is available. Visit the Substance Abuse and Mental Health Services Administration website or contact SAMHSA's National Helpline at 1-800-662-HELP (4357).
Theresa and Brady's relationship started off on a bad note
"Days of Our Lives" viewers watched as Theresa appeared to fool everyone in Salem. She met with Maggie Horton (Suzanne Rogers), a former addict who had sponsored many Salem citizens over the years and even attended NA meetings. However, Theresa's actions were all an act. She eventually told JJ that she had a video of him using drugs and threatened to show it to the judge, which would send JJ to jail as he was already on probation. Theresa blackmailed JJ into getting drugs for her (via Soap Central).
While pretending to be clean, Theresa met Brady Black at an AA meeting. The two flirted and eventually got intimate. When it was revealed that Brady wasn't serious about his recovery, the two began drinking together. They eventually let their addictions get out of control, and even began using cocaine together. After a night of partying, the pair even flew to Vegas and got married. Brady's father, John Black (Drake Hogestyn) was furious about the marriage and confronted Theresa about disappointing her family. Theresa told John that she would end the marriage for $1 million, but when she found out that John had recorded the conversation, she hit him over the head with a fireplace poker, putting him into a coma, per TV Insider. Of course, Theresa framed Brady for the crime.
How Kristen DiMera stole Theresa and Brady's baby
After John fell into a coma, Brady was horrified to think that he had hurt his own father. Then, "Days of Our Lives" viewers watched as Brady ended his marriage with Theresa and focused all of his energy on John's recovery. Brady began attending AA meetings again, and it was eventually revealed that Kristen DiMera (then Eileen Davidson) had a formula that would save John (via Soap Central).
Despite their better judgment, John's family made a deal with Kristen. When Brady saw Kristen in Salem, he was furious, remembering how she'd hurt him in the past. So, he turned to Theresa for comfort. Theresa later found out that she was pregnant, but before she could tell Brady the news, he found out that she had been the one who had hit John over the head.
Of course, Brady didn't believe Theresa because of all of her previous lies. She offered to take a pregnancy test in front of Brady, but the results were negative. Theresa was confused about why she was no longer pregnant, but it was revealed that Kristen had stolen Theresa's embryo during her return to Salem and wiped her memory, per Soap Opera Spy. When Melanie Jonas eventually got suspicious of the situation, she began to investigate and eventually figured everything out.
Brady and Theresa temporarily reunited to raise their son together
Kristen gave birth to Theresa and Brady's baby boy after stealing Theresa's embryo, and named him Christopher. However, when the baby needed a bone marrow transplant, Kristen ordered that secret samples from both Theresa and Brady be taken to see if they were a match (via Soap Central). When Theresa was revealed to be a match, she was tricked into going to Italy, where Kristen and Christopher were waiting. Theresa was drugged and prepped for the procedure when she saw her son for the first time. She instantly felt a connection and managed to get herself free. Meanwhile, Brady and Melanie also showed up in hopes of getting to the bottom of the situation. All was revealed before the situation exploded and Kristen was presumably killed.
Theresa and Brady reunited with their son, and renamed the little boy Tate, per Soaps in Depth. The couple eventually got back together and lived happily with their son until Theresa's father, Shane, called with life-changing news. Shane revealed that Theresa's former bad boy boyfriend, Mateo, was after her and she was in danger. That's when Theresa knew she had to leave Salem to keep Tate safe, and lied to Brady about her reason for leaving. She said a heartbreaking goodbye to her son and set off to help her father catch Mateo.
Theresa left Salem after a brutal custody battle with Brady
Two years later, in 2018, Chloe Lane (Nadia Bjorlin) had been kidnapped in Mexico and was stunned to see Theresa there with Mateo. The two eventually escaped together with the help of Xander Cook (Paul Telfer), per Soaps in Depth. When Theresa returned to Salem to tell Brady the truth and get her family back, he had already moved on with her sister, Eve Donovan. Brady and Theresa then battled for full custody of Tate, and the situation got ugly. Eventually, Theresa was given full custody of the little boy, and she and Brady made amends. Shortly after, Theresa learned that her mother Kimberly was suffering from cancer and opted to leave Salem with Tate to be with her mom.
Although Theresa has been missing from Salem since that time, "Days of Our Lives" fans are hopeful that she may one day return to the sudser. In 2021, actress Jen Lilley told Soaps that she would be delighted to reprise the role of Theresa. "I would love it. That cast and crew… I love 'Days of Our Lives,'" she said. When asked if Theresa would want to rekindle a romance with Brady, Lilley responded, "Always. Always. Always. That is her soul mate."
Fans can only hope that Theresa will pop back up in Salem in the future and that she'll bring Tate with her.