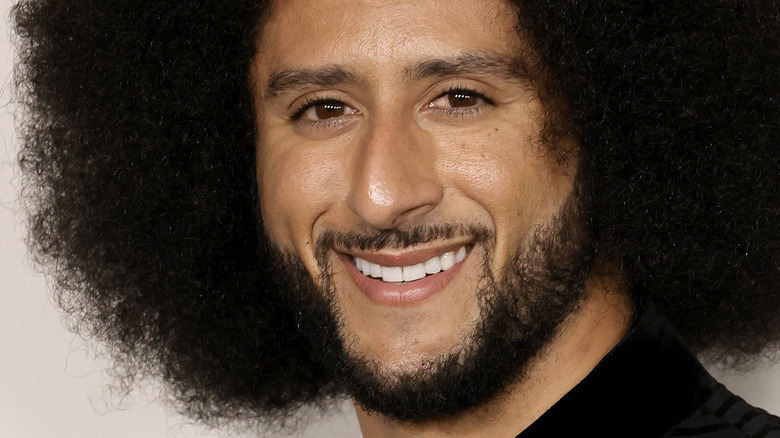 For as long as he can remember, Colin Kaepernick knew he was different, and his parents made sure to remind him that was a good thing. Born to a broken household in 1987, the biracial Milwaukee native was quickly given up for adoption and welcomed into the home of Rick and Teresa Kaepernick, a white couple. "We've always been really open about the adoption, and we were always very open about the skin colors," Teresa Kaepernick said in 2010 to The New York Times. "We pointed it out as a positive, and he saw his difference and was comfortable with it."
But there was something else different about Kaepernick: He was a superlative football player. Landing a scholarship from the University of Nevada, he played quarterback for the Wolf Pack and broke several team records, prompting National Football League (NFL) franchise San Francisco 49ers to draft him in 2011. Two seasons later, he led the team to a Super Bowl appearance against the Baltimore Ravens in 2013. Despite Kaepernick amassing more passing yardage than opposing QB Joe Flacco, the 49ers still lost 34-31.
Besides elevating the 49ers up the league rankings, Kaepernick showed yet another side. He had the gumption to defy citizen protocol surrounding the national anthem in order to protest police brutality and systemic racism in the U.S. That social justice gesture not only heightened public awareness of those atrocities, it also divided the country and punted him right out of the NFL.
The quarterback stages a Star Spangled sit-down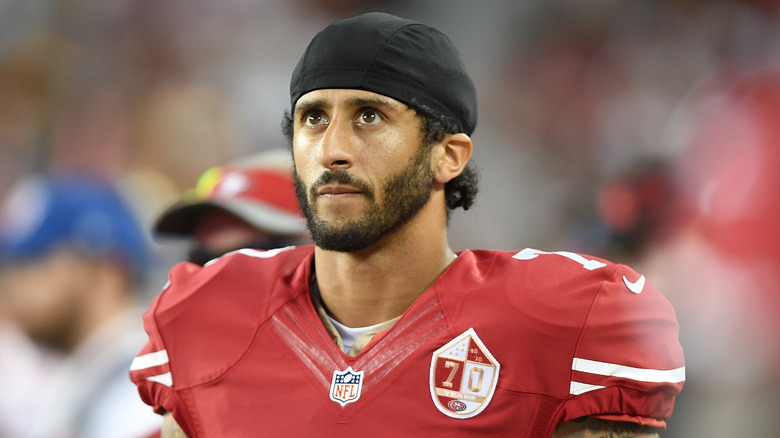 In his prime, Colin Kaepernick was one of the NFL's best running quarterbacks. But it was for sitting that he first courted controversy. Before a 2016 preseason match against the Green Bay Packers, instead of assuming the hand-over-heart pose while standing at attention during "The Star Spangled Banner," Kaepernick chose to ride the pines. "I am not going to stand up to show pride in a flag for a country that oppresses Black people and people of color," said Kaepernick to NFL Media. The 49ers franchise seemed to be supportive, stated it recognized Kaepernick's right to sit out the anthem. Ditto for the NFL, which said, "Players are encouraged but not required to stand during the playing of the national anthem."
But NFL Media reporter Steve Wyche warned that Kaepernick ran the risk of reprisal, as had other athletes who took what some viewed as an unpatriotic stand. Wyche had precedence supporting his prophecy, citing backlash over a similar gesture by pro basketball player Mahmoud Abdul-Rauf. Still, controversy surrounding dissident athletes is nothing new. In 1967, boxer Muhammad Ali was suspended from his sport after refusing to serve in the Vietnam War, a ruling that the Supreme Court overturned four years later. During the 1968 Mexico City Olympics, two American podium finishers raised their fists in a Black Power salute, risking expulsion from the Games, and upon their return home, being called racial slurs and accused of betrayal by those who viewed their actions as unpatriotic.
Kaepernick gets advice from a former Green Beret
Throughout the rest of the preseason rounds in 2016, Colin Kaepernick was mercilessly hounded for his refusal to stand for the national anthem before the opening kick-off. While the quarterback had never previously been vocal about social issues, in an ESPN interview, he said his public perspective was long overdue. Recalling a time back in college when police drew guns on him and his roommate when both were the only Black men in the vicinity, Kaepernick said, "I have experienced this. People close to me have experienced this … So this is something that needs to be addressed."
Kaepernick asked for input from colleagues and other professionals, including Dr. Harry Edwards, a sports sociologist who advised athletes John Carlos and Tommie Smith on how to conduct their infamous Black Power protest at the 1968 Mexico Olympics. But one unlikely source, former Green Beret Nate Boyer ꟷ who previously wrote Kaepernick a reluctant letter of support ꟷ provided him with a solution on how to take his protest further. "I suggested him taking a knee instead of sitting even though I wanted him to stand, and he wanted to sit," said Boyer to NPR. "And it was, like, this compromise that we sort of came to. And that's where the kneeling began." When the two met in September 2016, Boyer dispensed that advice, just hours away from San Francisco's exhibition game against the San Diego Chargers.
It was a day football fans wouldn't forget.