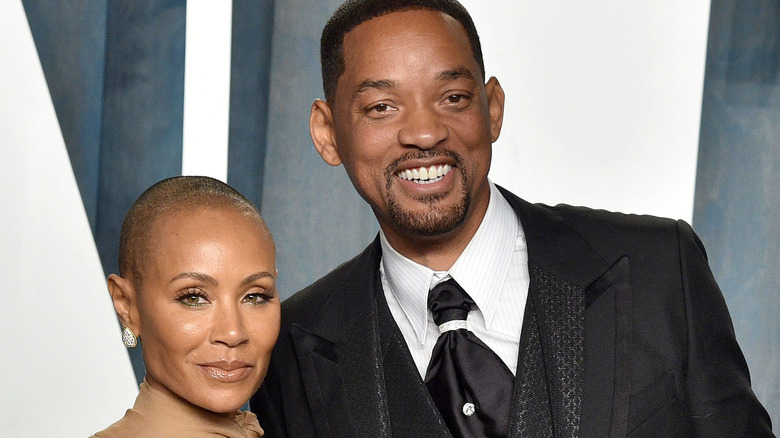 All eyes were on Will Smith during award season 2022. His powerful performance in the Williams sisters' biopic, "King Richard," made him a shoo-in for the Academy Award. While he did end up beating out the competition for the award for Best Actor, his Oscars evening was overshadowed by — you guessed it – the slap.
After presenter Chris Rock took a verbal stab at Will's wife, Jada Pinkett Smith, the storied actor walked up on stage and slapped the comedian across the face. He then returned to his seat amid the shocked audience and yelled at Rock, "Keep my wife's name out your f***ing mouth" — prompting an onslaught of press coverage, meme material, and dismay from his fellow actors.
With all of that said, it's no wonder that Will and Jada's relationship has been back in the headlines. Jada and Will have often been open about their marriage on Jada's Facebook show, "Red Table Talk," but here are some things you probably don't know about the timeline of their relationship.
Will Smith married his first wife in 1992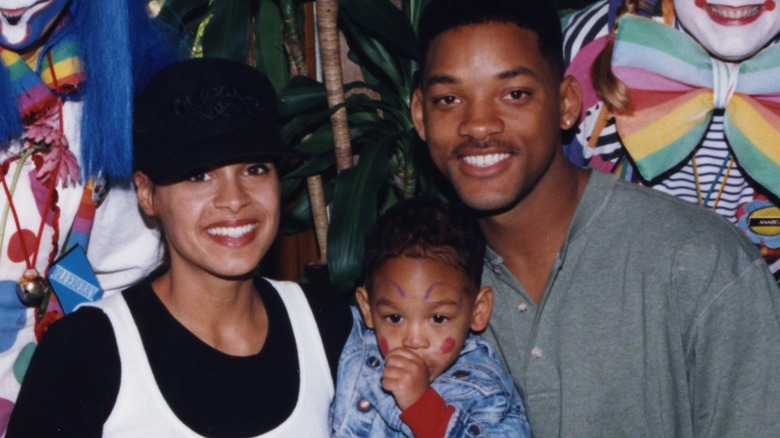 When you think of Will Smith, you probably also immediately think of Jada Pinkett Smith. The two have been intrinsically linked for what seems like forever, so you might be surprised to learn that Will was married prior to meeting the "Girls Trip" star. Will revealed in his memoir that his first marriage to Sheree Zampino, whom he married in 1992 and with whom shares his son Trey, was very rocky (via People). Additionally, Will found himself falling for one of his "Six Degrees of Separation" co-stars — further impacting his marriage's stability.
"Sheree and I were in the first few months of our marriage with a brand-new baby and for Sheree, I can imagine that this experience was unsettling to say the least," Smith wrote in his memoir (via People). "To make matters worse, during shooting I fell in love with Stockard Channing." Will revealed that after filming came to a close on the 1993 film, he, Sheree, and Trey moved back to Los Angeles, but his desire to see Channing did not wane.
Will and Jada met on the set of The Fresh Prince of Bel-Air
In 1994, while still married to Sheree Zampino, Will Smith found himself smitten to another woman once again (via PopSugar). At the time, he was starring in his career-defining hit show, "The Fresh Prince of Bel-Air," and the series needed an actress to come in and play his on-screen girlfriend. A number of hopefuls came to the audition, among them a young woman by the name of Jada Pinkett. The role eventually went to actress Nia Long, but the opportunity allowed for Will and Jada to cross paths for the first time.
Was it a cosmic interaction? Was it love at first sight? For Will, yes, but Jada had other thoughts on the matter. "She was pissed," Will wrote in his autobiography (via Insider). "Apparently, the casting agent had just told her she wasn't tall enough to play my girlfriend on the show. She hated that about Hollywood — that somehow her height (or lack thereof) was of more vital importance to the art than her abundant talents." While Jada was disappointed professionally, Will was head over heels. "That was the first time I ever saw Jada Pinkett," he recalled. "It was love at first sight."
Will Smith had an epiphany about Jada while on a date with his then-wife
So many of us long for that love at first sight experience — there's something about it that sounds so dreamy and fairytale like. But for Will Smith, his experience meeting Jada Pinkett for the first time truly turned his life upside down, and not in the way you might think. As noted by Newsweek, Will finally confessed in 2018 that his relationship with first wife Sheree Zampino was tortuous and it was during a private moment that he realized his life was taking him in an inauthentic direction.
"I had a realization I wasn't with the person I was supposed to be with," Will shared during an episode of Jada's "Red Table Talk" (via Newsweek). "I was sitting in a stall and I was crying and laughing uncontrollably, and I knew [Jada] was the woman I was supposed to be with, but I was never getting divorced. … I went back out, sat down with Sheree and started going back on with my life." In 1995, Will and Sheree did wind up getting a divorce.
Will and Jada's big day was 'horrible'
After Will Smith got divorced, he and Jada Pinkett started dating and, in 1997, got married. However, their wedding was anything but a magical experience. During an episode of "Red Table Talk," Jada admitted that she was under "so much pressure" to marry Will, as she was newly pregnant with their first child. She did not see herself getting married to "The Fresh Prince of Bel-Air" star, but it was her "Gammy" that made it happen. Jada revealed that she was "crying down the freaking aisle."
She explained, "Being a young actress, being young, and I was just, like, pregnant and I just didn't know what to do. I never wanted to be married." Jada's mom, Adrienne Banfield-Norris, went on to share during the episode that although the actual wedding and the venue were beautiful, the day left much to be desired. "The wedding was horrible," Banfield-Norris said. "It was a mess. Jada was sick, she was very unpleasant. … She didn't cooperate with anything."
The famous couple welcomed two children
The newly wedded couple welcomed their son, Jaden Smith, shortly after they tied the knot and went on to have their daughter, Willow Smith, three years later. Jaden and Willow have become entertainment industry stars within their own right, and have garnered massive amounts of attention throughout the course of their public lives.
Will revealed that he had practically always wanted to be a dad, though he wanted to prove himself to be different from his own dad. "From the time I was 6 years old, I wanted to be a father," he said on "Red Table Talk" (via Hollywood Life). "I loved how my family was, but there were massive critical deficiencies in my father's parenting that I wanted to correct."
When discussing his children in 2016, Will went on to tell Vanity Fair that his son Jaden is "fearless." He continued, saying, "As a parent it's scary, it's really terrifying — but he is completely willing to live and die by his own artistic decisions and he just doesn't concern himself with what people think." Additionally, in a 2020 episode of "Red Table Talk," he admitted that "Willow's the only female relationship I've ever had that I didn't mess up" (via Insider).
The details surrounding their relationship hit the headlines in 2013
After welcoming their two children, both Will and Jada Pinkett Smith continued to take Hollywood by storm, but their personal lives were always in the headlines. In 2013, rumors began circulating about the status of their marriage — it was the first time that the term "open" had been used to describe their relationship.
Jada sat down with HuffPost to clarify the details, but her statements may leave you with more questions than answers. "I've always told Will, 'You can do whatever you want as long as you can look at yourself in the mirror and be okay,'" Jada said at the time. "Because at the end of the day, Will is his own man. I'm here as his partner, but he is his own man. He has to decide who he wants to be and that's not for me to do for him. Or vice versa." Jada went on to say that marriage is certainly not for the faint of heart, and that no one who ties the knot should expect anything less than a "life partnership." Hmm.
Jada opened up about her relationship while on Howard Stern's show in 2015
There were still a lot of questions revolving around Will Smith and Jada Pinkett Smith's marriage in 2015. Jada went on Howard Stern's radio show to dish about her relationship and the dynamic she shared with her husband. In his unabashed way, Stern asked Jada about the rumors surrounding her marriage and the status of the relationship, and she gave some answers.
"You've got to trust who you're with. And at the end of the day, I'm not here to be anybody's watcher," Jada said on the show. "I'm not [Will's] watcher. He's a grown man. Here's what I trust — I trust that the man that Will is, is the man of integrity. So, he's got all the freedom in the world." When asked if Will told her about his crushes, Jada didn't mince her words. "You have to!" she said. "I'm not the kind of woman that believes a man is not going to be attracted to other women. I'm just not that girl. It's just not realistic."
Will took to social media to dispel divorce rumors
As early as 2013, rumors swirled claiming Jada had cheated on Will with Marc Anthony, and that the Hollywood power couple were doomed for divorce (via HuffPost). In a rare public move, Will took to Facebook in 2015 to clarify that he and Jada were not separating, despite what anyone was saying.
"Under normal circumstances, I don't usually respond to foolishness. (Because it's contagious) But, so many people have extended me their 'deepest condolences' that I figured – 'What the hell… I can be foolish, too!'" Will wrote in the public post. "So, in the interest of redundant, repetitious, over & over-again-ness… Jada and I are… NOT GETTING A DIVORCE!!!!!!!!!!!!!"
The "Men In Black" actor went on to say that if he and Jada were to ever truly get divorced, the news would come from him personally. Calling his wife his "Queen," he wrapped up his post promising his followers his honesty.
Jada began dating August Alsina in 2015, despite still being married to Will
So here's where things start to overlap and get even more tricky. After Will Smith double-downed on Facebook and vehemently told followers that he and Jada Pinkett Smith were going strong, the "Girls Trip" star apparently started dating musician August Alsina. As it turns out, things between Will and Jada were not good, and during an episode of "Red Table Talk,: Will revealed that he was ready to pull the plug on his marriage for good.
"I was done with you," Will admitted to Jada during the episode (via Us Weekly). "We decided that we were going to separate for a period of time and you go figure out how to make yourself happy and I'll try to figure out how to make myself happy. I really felt like we could be over." To that, Jada responded, "We were over."
Speaking of her then-new relationship, or "entanglement," with Alsina, Jada said that she was "in a lot of pain" and "very broken" due to the severed ties with Will. "I definitely realized that you can't find happiness outside of yourself," she shared.
Jada and August Alsina fueled the fire when they made their red carpet debut
While Jada Pinkett Smith and Will Smith were at odds with one another, the actress's relationship with August Alsina began to heat up. As noted by Vulture, Jada and Alsina first crossed paths due to "The Matrix" star's children. When Jaden and Willow Smith performed at the Wireless Festival in London, their mom was right there with them — but she didn't leave having just listened to her kids perform and ended up catching the attention of the young singer. If the initial relationship between the two didn't catch enough eyes, Jada and Alsina lit the headlines on fire in 2017 when they appeared at the BET Awards together. Appearing to be quite close on the red carpet, their attendance definitely thrust questions about Jada and Will's relationship back into the spotlight.
From there, Alsina definitely circulated around Jada's inner circle. Vulture noted that he even made an appearance on "Red Table Talk" in 2018, being introduced by Jada as "a dear family friend." That bond certainly dwindled with time, however. Us Weekly noted that shortly after Jada and Will began communicating again, Alsina called things off with the actress.
In 2018, Will clarified that he and Jada do not say they are 'married' to each other
The years 2015 through 2017 definitely seemed to be rough for Will and Jada Pinkett Smith, but by 2018, things had started to thaw between the married couple. In fact, during the press tour for his film "Gemini Man," Will sat down with the Rap Radar podcast hosts and dished about his relationship with Jada, clarifying one crucial detail: He and Jada don't consider themselves a "married" couple. We'll let his words do the talking.
"We don't even say we're married anymore," Will said (via Rap-Up). "We refer to ourselves as life partners, where you get into that space where you realize you are literally with somebody for the rest of your life. There's no deal breakers. There's nothing she could do — ever. Nothing that would break our relationship. She has my support till death and it feels so good to get to that space."
Jada has some regrets
While Jada Pinkett Smith and Will Smith worked through their rough patch in the mid-2010s, Jada revealed during an episode of "Red Table Talk" — as well as during an interview with E! News — that her early relationship with Will was not easy. In hindsight, she shared, she wished she hadn't gotten involved with a then-married man, and with age had come a new sense of clarity on the matter.
"If anybody was in their right mind, they would've told me not to date Will when I did," Jada told E! News. "He was in the middle of a divorce! Fresh! I would not suggest anybody do that." The actress doubled down on her stance, explaining in an episode of her Facebook show that she didn't have an understanding of marriage when she started dating Will and therefore didn't have an understanding of divorce. To make matters even more interesting, she sat down with Will's first wife, Sheree Zampino, to discuss the situation.
Jada admitted she was wrong, adding, "Now, being a married woman and if Will and I were to get divorced now, my God. So when I think back about where I was, some of my insensitivity, some of my inconsideration just in regards to you guys unwinding a marriage."
In 2021, Will opened up about the details of his 'unconventional' marriage
When we think about Jada Pinkett Smith and Will Smith's relationship timeline, one recurring theme seems to pop up — Jada really didn't want to get married. Not only did she herself admit that but Will opened up about his wife's perspective in a cover story interview with GQ in 2021. The "King Richard" star said that Jada had never seen herself conforming to a "conventional marriage," and their individual upbringings allowed for far different perspectives on marital unions.
"There were significant endless discussions about, what is relational perfection? What is the perfect way to interact as a couple? And for the large part of our relationship, monogamy was what we chose, not thinking of monogamy as the only relational perfection," Will explained to GQ. "We have given each other trust and freedom, with the belief that everybody has to find their own way. And marriage for us can't be a prison."
The storied actor went on to share that while his and Jada's dynamic works for them, he doesn't recommend the non-conventional path for everyone. "But the experiences that the freedoms that we've given one another," he continued saying, "and the unconditional support, to me, is the highest definition of love."
Will and Jada made headlines over their 2022 Oscars appearance
Will Smith and Jada Pinkett Smith came to the 2922 Academy Awards ready to steal some attention — as Will was nominated for an Oscar — but the night was overshadowed by his interaction with Chris Rock. In the aftermath of the slap, Will not only resigned from the Academy, but the film and entertainment body banned him from all Academy events for the next decade.
"The 94th Oscars were meant to be a celebration of the many individuals in our community who did incredible work this past year," the Academy announced in a statement (via Variety). "However, those moments were overshadowed by the unacceptable and harmful behavior we saw Mr. Smith exhibit on stage."
For her part, Jada has stayed fairly quiet on the subject but did reveal in the Season 5 opening of "Red Table Talk" that the entire family is trying to come to terms with what's happened. "Considering all that has happened in the last few weeks, the Smith family has been focusing on deep healing," she explained, per Entertainment Weekly.