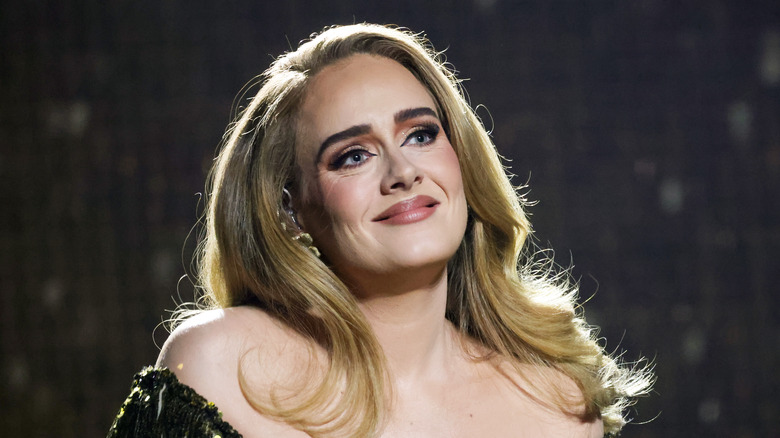 To say that life's been a whirlwind of change for British megastar Adele these past few years would be an understatement. Not only did the singing legend make a move to Los Angeles, but she also split with her long-time partner and husband Simon Konecki, with whom she shares a 9-year-old son. The upheaval left her emotionally frayed, but the "Easy on Me" singer declared that 2019 would be her year for new discoveries (via Rolling Stone), and she credits exercise as being the most powerful elixir that soothed her anxiety. "I got fit and 'ealfy," Adele told British Vogue in her distinctive Cockney twang. "That's quite LA, I guess."
Exercise took care of the emotional part — and transformed her physically as well. In the course of two years, Adele shed nearly 100 pounds off her 5 ft. 9 in. frame. Then in 2021, she returned to stage for a comeback performance, "Adele One Night Only," a visually stunning triumph at the iconic Griffith Observatory overlooking LA. On the heels of that incredible show, the Grammy winner released her fourth studio album "30" — her first in six years — and promptly set sales records ablaze (per Billboard).
Yes, this gal is on fire, and her physical transformation is just one piece of it. But it does have everyone asking, "How did she do it?" Let's do a deep dive and hear what the artist herself has to say about it.
Surviving her Saturn return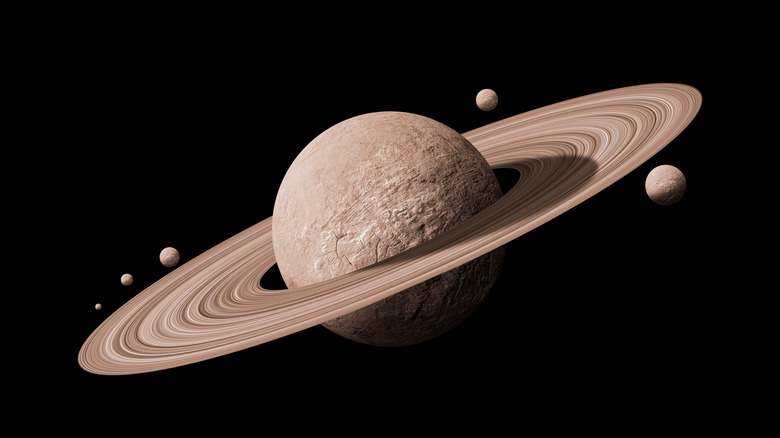 Adele has maintained that her primary motivation for hitting the gym was to quell anxieties she experienced during her divorce. She's also fairly certain, though, that the turmoil in her life was brought on by her "Saturn return." In astrology, the return is when the ringed planet completes its approximate 29-year orbit around the Sun to the position it was when you were born. Adele is so into this astrological interpretation that she even had Saturn inked on her left wrist, reported Vogue. Major life changes are associated with the Saturn return, and as the singer says, "When that comes, it can rock your life."
For Adele, her anxieties began creeping in with the cancellation of her Wembley shows in 2017, which she had to do because of her strained voice. "I'm not allowed to perform if I'm not well anymore," she told Vogue, referring to her 2011 vocal cord hemorrhage and surgery. "So there was no even pushing through it." The decision to cancel affected 200,000 ticket-holding fans. "I was devastated," she recalled.
Then in 2018, the anxiety went into overdrive during her divorce from Simon Konecki — and along with it her dream of a perfect nuclear family for her son, Angelo, she confessed to British Vogue. The mother of one admitted in an interview with Oprah Winfrey in 2021 that, "I had the most terrifying anxiety attacks after I left my marriage. They paralyzed me completely and made me so confused" (per Today).
Gym workouts focused her mind
Meditation and therapy sessions helped Adele sort through her anxiety, but mostly she found relief inside of a gym, she said. "It became my time," she told Oprah Winfrey (via ET Canada). "Me having a plan every day… having these sort of pins in my day, helped me keep myself together."
WebMD agrees that a huge psychological benefit of routines is the reduction of stress. Making decisions causes stress, so by having those decisions already made through established routines, you limit your stress. It's a simple concept, but it's been shown that the benefits are many, including better sleep, healthier eating, and feeling happier.
"If people don't have structure and are sitting around with less to focus on," says New York-based psychologist Dr. Rachel Goldman (via Verywell Mind), "then they also probably will find themselves thinking about the stressful situation more, which can also lead to additional stress and anxiety."
It was a personal journey
One thing that fans found so surprising about Adele's change in appearance was that it was unexpected. The famously reclusive star is not big into social media, rarely using it except to promote her shows and tours. So the singer didn't document her day-by-day slimming down on Instagram, Twitter, or TikTok like many other celebrities do, nor did she seek out any diet brand sponsorship deals.
But there were a few clues from the artist, such as a June 2019 Instagram post that showed her looking trim and refreshed while singing a Spice Girls song in the back of a car. Then another post popped up four months later from Drake's birthday party revealing a glamorous Adele in a black off-the-shoulder number, playfully blowing a kiss. The caption read "I used to cry but now I sweat." Then the most revealing post of all arrived on the star's birthday in May 2020 and broke the internet. It was Adele wearing a form-fitting minidress that enhanced her much slimmer physique. There was no mention of her figure, but instead it was a birthday thank you to fans and a tribute to healthcare workers and first responders working through the pandemic.
So even though the star offered up a few breadcrumbs here and there, she was low-key about the whole thing. Her journey was hers alone, she said to British Vogue. "I did it for myself and not anyone else."
No diet plans for her
Confident in her new, slimmer body, Adele says no diet was involved, and that it was all due to exercise. "If anything I eat more than I used to because I work out so hard," she told British Vogue. In Vogue's lighthearted video, the Ultimate British Taste Test, Adele was challenged to identify a dozen British dishes blindfolded. In between guesses, she revealed that she still regularly enjoys a British Sunday roast ("I'm pretty great at doing one every single Sunday. It's my son's favorite.") and she confessed that she still makes room for fast food, too. One of her hands-down favorite meals — or as she put it, her "death row meal" — would be a Big Mac, fries, and Chicken McNuggets from McDonald's. "I eat it at least once a week," she said.
In British Vogue, Adele said most media outlets have got it dead wrong about her following particular diets. According to the singer, "I haven't done any diet. No intermittent fasting. Nothing." Go ahead and do an online search for Adele's daily diet and see the countless results pointing to the Sirtfood Diet, a new-ish meal plan that claims rapid weight loss is possible by eating from a protein group called sirtuins (via BBC Good Food). But take it from Adele: Those claims ain't true.
Thrice-a-day workouts
The multiple Grammy winner lives in Los Angeles and has spent many days and nights at Heart & Hustle, an exclusive private gym in West Hollywood. She works out there with her personal trainer Greg Miele, one of the gym's owners. In fact, she told Vogue that she probably spent more time with Miele than almost anyone else for three solid years. "All these other people have come out saying that they trained me," she said. "F**kin' weirdos. I've never met them in my life!"
Her exercise sessions focus on circuit training, which keeps things interesting and also makes efficient use of her time. She'll start off her mornings going hard on the various equipment stations, increasing her reps and refining her form under the watchful eye of her trainer.
But while most of us would be satisfied with one good sweat session at a gym, Adele's not content with just one, she told British Vogue. She'll do two or even three more throughout the day, mixing it up with different activities, including weight lifting, more cardio, some hiking, or her favorite activity, boxing. "I got quite addicted to it," she admitted.
Fans felt betrayed
Controversy over her weight is nothing new for the multi-talented artist, as her figure has been under media scrutiny since the beginning of her career. Too fat. Too thin. It seems that the star just can't catch a break, even among her own fans. "Of course I'm concerned that so many people were so hurt by [my weight loss]… But I never gave myself that role or job. It's not my responsibility. I've never set my validations on anyone else," she told The Face in a recent interview.
Paula Atkinson, a Washington, D.C.-based psychotherapist specializing in eating disorders told Everyday Health that Adele "doesn't need to explain her motivations to anyone." She says that fans looking for role models can feel betrayed when celebrities who haven't participated in the "body hierarchy," (the belief that there's a "right" and "wrong" way for a body to look) suddenly seem to conform. "If Adele wants to make lifestyle changes to improve her health, that's great."
"Visually I represented a lot of women," Adele told Vogue. "But I'm still the same person."
Strength training
In the rigorous gym workouts that Adele's been doing for years now, she's learned to master every weight machine at her gym, according to Vogue, and can skillfully go from one to the next in just over an hour. The star told Oprah Winfrey during a recent interview (and rightfully proudly) that at her best, she can deadlift a respectable 170 pounds (via Women's Health).
"I'm more agile because I can now move more, because of my back. I got my core strong," Adele shared, describing to The Face why she's so thrilled with the results of her sweat sessions. "I like feeling strong, I really do. I love it."
For Adele, one of the major benefits she's enjoying about weight training is the boost of stamina. It makes her feel revitalized so she can keep up with her young son, Angelo. Consistent exercise is well-known to improve energy levels, as shown in this 2017 randomized controlled trial that studied exercise effects on reducing work-related fatigue. For Adele, the energy boost means, "I can do more, I can run around with my kid a little bit more."
The drive to make positive changes
When it comes to daily workouts, Adele doesn't mess around. Her mornings start with a warmup on an elliptical, then she moves on to circuit training with an emphasis on weights, all under the watchful eye of her personal trainer. But that's just the beginning. Adele told British Vogue that she likes to head out in the afternoons too, usually for a hike or to box. Then, she may cap off the day with a bit of cardio. Depending on her schedule, she'll try to fit in multiple sessions each day of some type of activity to keep her body moving. She recognizes that it's an intense schedule that not everyone has the time or luxury to do.
"I needed to get addicted to something to get my mind right," she said, recalling those early anxiety-filled years and her determination to make positive changes. "It could have been knitting, but it wasn't," said the singer (via British Vogue). Instead, Adele described her a-ha! moment of self-reflection to Rolling Stone like this: "If I can transform my strength and my body like this, surely I can do it to my emotions and to my brain and to my inner well-being."
Boxing is her jam
Adele's attitude toward working out has sure changed in the past decade. In her earlier years, the then-20-year-old sensation told the Daily Mail that, "I'd rather have lunch with my friends than go to a gym." Today, she's fitter than ever, and has found that exercise not only made her body stronger and her mind more focused, but has also revealed something else she never knew existed. "I'm actually an athlete — I'm not even boasting," she declared to Oprah Winfrey last year during their one-on-one interview (via Yahoo! Life). "I'm also a very good boxer, I've got a left hook that could kill you." The boxing sessions started as part of Adele's regular fitness routine with her trainer in LA.
For a badass like Adele, it's not surprising that she really took to boxing. It's active, definitely not boring, and it knocks down tension and stress really effectively. High-intensity training such as boxing releases a lot more endorphins than other types of moderate exercise, per a 2017 study. As Tanya Morgan, a boxing coach at elite gym Sweat by BXR in London, told Harper's Bazaar, "Boxing is fast, furious, and above all fun, leaving little room in your head for anything else… [it gives you] a fresh perspective to better deal with problems, or things that are bothering you."
Body-positive at any weight
In an industry so fixated on looks, Adele has endured years of media questions and speculation about her weight. She's steadfastly maintained that she's comfortable in her own skin, at whatever size it may be. She just wants to write her songs, sing, and keep things real. "You don't need to be overweight to be body-positive, you can be any shape or size," the singer told British Vogue. And she said the same thing again during an exclusive Oprah interview (via ET Canada). For anyone worried that the singer just won't have the same chutzpah in a smaller body, well, she has this to say: "I'm as confident and mouthy now as I was then!" (via The Face).
It's been upsetting to Adele that it's not just the media giving her a hard time. Some of the loudest voices have come from her fans who have unfairly put the 15-time Grammy winner under intense scrutiny for her new trim shape. Other celebrated female icons have faced similar criticism from the body-positivity movement, including Lizzo, who got so much backlash from fans about a 10-day juice detox cleanse she'd done that she actually had to defend her right to feel healthier. "Every big girl should do whatever the f**k they want with their bodies," Lizzo bluntly retorted (via Billboard). And good for her for speaking up!
It was no quick fix
Getting physically stronger and working on her core strength were the biggest reasons Adele got into exercise in the first place. "I had a C‑section, my core was useless," Adele told The Face. It was never about numbers on a scale, confirms her trainer Greg Miele, co-owner of the West Hollywood gym where the singer did most of her sessions. "It was getting stronger, physically and mentally," Miele told Vogue. "She got really turned on to movement, and especially strength training. So turned on that she started doing double sessions." It took two years of hard work to achieve her goals.
She just wanted a way to calm her mind after her divorce, but exercise delivered that and more. She totally transformed her body and rid herself of the nagging anxiety through tough physical training. One of her many tattoos is a drawing of a mountain she got on her right wrist in 2019, she said. The ink symbolizes the challenges of life and its constant ups and downs. She said it helps remind her that she's conquered those climbs (via Vogue), and that there will be more ahead — but it's just part of life.