Zendaya got her start on the Disney Channel back in 2010, starring as Rocky Blue in the hit show "Shake It Up." Her IMDb is extensive, listing box office hits like "Spider-Man" and "The Greatest Showman." She also had recent animated roles in films like "Space Jam: A New Legacy," and even an Emmy for Outstanding Lead Actress in a Drama Series for her role in the hit show "Euphoria." Among the many "Disney princesses" that dominated pop culture in the early 2010s, Zendaya stands out not just for her continued success post-Disney, but also for her bubbly personality and flawless style.
Zendaya cashed in on her success in 2016 to buy her first home for a cool $1.4 million, reports Trulia. The 4,155 square foot Northridge mansion was well documented on Zendaya's Instagram and was even featured on Vogue India. Then in 2020, Zendaya quietly upgraded with the purchase of a gorgeous $4 million home in Encino, Los Angeles (via Dirt). Zendaya has not yet publicly shared photos of her new home, but a look at the listing proves why she fell in love and chose to purchase this ranch home in Encino.
Her house is massive with six bedrooms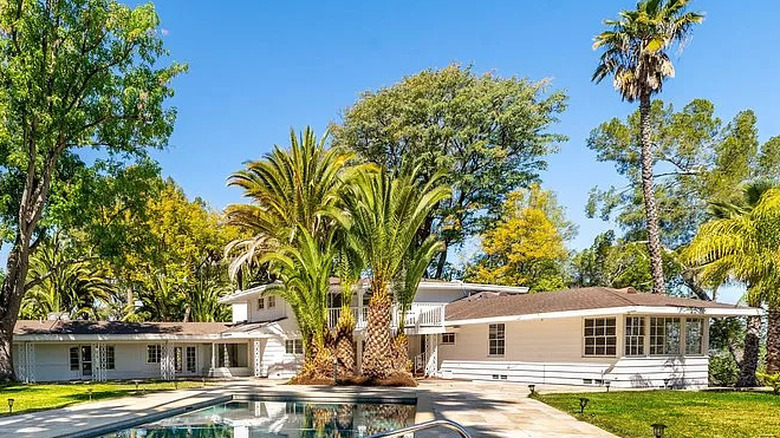 Encino is a highly sought-after area for celebrities looking for privacy and lower price per square foot in the San Fernando Valley. And Zendaya found both in her beautiful ranch-style home. According to Dirt, her dream home boasts over 5,000 square feet, six bedrooms, seven bathrooms, a two-bedroom guest house, a stunning pool, and several other luxury amenities. In comparison, her previous home had five bedrooms, five bathrooms, and 4,000 square feet (via Trulia).
The ranch-style home (which is more of an estate than a house) was originally built in 1939, meaning it has a lot of vintage flair. Since its construction over 80 years ago, the home has undergone several renovations and rebuilds, but its charm and style have remained intact. She purchased the home in 2020 for a whopping $4 million, and by the looks of it, it is worth every penny. Though another renovation is probably on the horizon for this home, any updates will only elevate the beauty that this home already has.
She traded in her Mediterranean for a ranch
It may be surprising to some that Zendaya chose to purchase a ranch-style home. According to Trulia, her previous home in Northridge was a Mediterranean-style home with very ornate details, including a grand staircase that was a fixture in Zendaya's Instagram feed. But ranch-style homes are prevalent in California. In fact, they originated in Southern California in the 1930s and quickly became one of the most prevalent house styles across the country (via Wentworth Studio).
Ranch-style homes have a reputation for being modest because they are one-story and typically represent a more casual lifestyle. House Beautiful highlighted some key features of the popular home style, including its low-pitched roof, backyard patio, and U-shaped layout. Zendaya is in good company with celebrities who own ranch homes. Architectural Digest featured Kirsten Dunst's ranch home in 2021, highlighting her charming, eccentric style. Perhaps the best part of buying a ranch home is that from its simplicity comes endless possibilities for personalization.
Zendaya doesn't live in your average L.A. neighborhood
When you think of Los Angeles, you probably think of busy streets, heavy traffic, and congested neighborhoods — a totally urban lifestyle. But just outside of the city — but still within the L.A. county limits — sits a secluded oasis loved by celebrities: the San Fernando Valley. Encino, which is part of the San Fernando Valley, has become one of the most sought-after parts of the area. In an interview with Valley News Group, Carl Gambino, a luxury real estate agent in the Encino market, explained that "it offers high profile and celebrity buyers the ability to have land, space, and privacy at a much lower price than Beverly Hills or other areas of the city."
How inexpensive are the homes in Encino? According to Realtor, the average home price in Encino is $1.4 million. So they're not really inexpensive, just less expensive than the comparable Beverly Hills, which has an average home price of $4.8 million (via Realtor). However, the real distinction between the two areas is in price per square foot. The average price per square foot for a home in Encino is $712 (via Movoto), while it is just over $1,000 in Beverly Hills (via PropertyShark). With so much to offer, it is no wonder that Zendaya chose to buy her home in Encino!
It's a secluded sanctuary
One of the perks of living in Encino compared to other parts of Los Angeles is that many of the homes sit on large pieces of property. Zendaya's is one of the larger estates — her gorgeous ranch home is on four acres, as per Fancy Pants Homes. Secured behind gates, Zendaya's ranch is at the end of a long, winding driveway lined with trees and is completely hidden from the street.
Privacy and security are not something that Zendaya takes for granted. In a November 2021 interview with GQ, Zendaya's boyfriend Tom Holland expressed the difficulty of living a normal life thanks to their chosen profession. "One of the downsides of our fame is that privacy isn't really in our control anymore," he said. Luckily, Zendaya's Encino estate will allow the young superstars to have the privacy and security that they need and deserve.
Her entryway is extremely inviting
Zendaya's longtime fans and followers will remember the large spiral staircase at the entry of her $1.4 million Northridge home. It was iron, ornate, and was Zendaya's favorite part of the house. In an interview with Teen Vogue, she said, "I've always wanted stairs like this since I was a little girl. I have a staircase, it's like the Cinderella spiral staircase. I actually have one." While Zendaya's one-story Encino home does not allow for a Cinderella staircase, the bright and welcoming entry is just as grand.
The charming vintage-inspired doors are flanked by lanterns and open to a spacious living room with a pitched ceiling and large fireplace. Visitors entering Zendays's home are immediately greeted by natural light, hardwood floors, and large, open living space. There is enough space in the living room to add multiple couches, inviting visitors to sit down and relax. Talk about an inviting space!
She has a gourmet kitchen
When she isn't jet-setting around the world, attending an awards show, or dining at one of her favorite restaurants, Zendaya loves to cook at home, as per Entertainment Tonight. But a kitchen like this one would make anyone want to cook at home. Zendaya's kitchen has light cabinets, granite countertops, hardwood floors, updated appliances, and large windows with a view of her giant backyard. While the kitchen is large and beautiful, it is safe to assume that Zendaya has done some renovations and updates. According to Good Housekeeping, the latest kitchen trends include bold backsplash colors, marble countertops, and vintage furniture pieces. And because Zendaya is always up to date with — if not ahead of — the trends, this simple white kitchen probably won't cut it.
But one element of this kitchen that Zendaya will definitely want to keep is the space. This kitchen is so large it almost looks like two different rooms, with walls of countertops and cabinets surrounding a large center island. And while Zendaya and her beau Tom Holland both admitted to being a bit "controlling" in the kitchen in a recent interview, that shouldn't be an issue anymore. Her vast kitchen features countertops and elbow room to spare.
She has plenty of room for guests
With six bedrooms, Zendaya's new home may seem like a lot of space for just one person. But Zendaya will need all of the extra space when she hosts her family and friends — after all, she is one of six kids, as per Cosmopolitan. She is also extremely close with her family, so one can expect they will constantly be visiting. She told Time in an interview, "As I've gotten older, I've realized my true models are my parents. My mom is like a sheroe. My dad is so strong. I look up to my big sister and realize the influence she's had on me and making me a better person. Having such a big, grounded family, I realized as you get older how important that is."
Zendaya's family is local to California, so she will occasionally post pictures on Instagram with her siblings, parents, nieces, and nephews, proving that the extra space in her home will go to good use. In addition to the six bedrooms in the main house, Zendaya's Encino estate also has a detached guest house. The guest house has two bedrooms and a bathroom, providing her guests with a private apartment if they want to stay for an extended amount of time.
She has multiple fireplaces
Who doesn't love the cozy ambiance that a fireplace brings to a room? Even if you live in a warm climate like California, fireplaces add a special touch to a room, whether you're using it for warmth during chillier days or just to set the mood during an evening relaxing at home. In fact, according to USA Today, 40% of homebuyers without fireplaces would spend money to install one, with many being comfortable with spending nearly $1,500 for the added luxury. Fireplaces have increased in popularity since the 2010s, thanks to the rise of tablets. Rather than watching TV in a living room, more and more people like to watch things on their tablets, making the fireplace the perfect cozy backdrop. And luckily for Zendaya, her new home seems to have three beautiful fireplaces.
According to the Zillow listing, her ranch house has a fireplace in the main open floor living room, as well as one in the basement, which can be used as an entertaining space or game room. There is also one in the dining room, which creates a regal ambiance.
She has a floor-to-ceiling white marble bathroom
When you travel a lot for work and spend many nights in hotel rooms, you probably have high standards for your own bedroom. The primary bedroom in Zendaya's Encino home features wood floors, white walls, large windows looking over her large yard, and a private balcony that connects to her primary bathroom. Her bathroom has a large soaking tub, walk-in shower, and floor-to-ceiling marble. The all-white marble bathroom is classic, timeless, and will always be at the top of the trends list for any bathroom, as per Why Tile.
Of course, there is room for updates and customization in the bedroom and bathroom, but the footprint of this space could not be better. Adding some bold colors, luxury fixtures, vintage furniture, and rich texture will elevate the space to the sanctuary that Zendaya would love to come home to after traveling the globe.
Her backyard is an outdoor oasis
Because one of the main draws to the Encino Valley is the tree-lined streets and large home lots, it is no surprise that Zendaya chose to purchase a home that has both of those things in droves. As per Zillow, Zendaya's vast lawn, guest house, large trees, stunning garden, and newly-built pool will make her feel like she is in a secluded oasis, even though she is right outside of busy L.A.
No good Los Angeles mansion is complete without a pool, and Zendaya's pool is one to admire. Long and sleek with a built-in hot tub and surrounded by tall palm trees, this pool will make Zendaya feel like she is at a resort right in her own backyard. Because she has acres of property to fill, we can only hope that she plants some more fruit trees as she had at her Northridge home, which would be the perfect addition to this backyard retreat (via Vogue).
Her interior design will match her personal style
At just 25 years old, Zendaya has solidified herself as a style icon, as per Vogue. As the youngest winner of the Council of Fashion Designers America's Fashion Icon Award, it is only appropriate that Zendaya's home should have as much style as her wardrobe has. In an interview with Architectural Digest, Zendaya's interior designer Brittaney Elise said, "Zendaya's home is a testament to her immaculate personal style, and is filled with deep, rich shades and custom furniture, all of which allow the young actor's expansive art collection to shine."
While available pictures show an empty home, the hardwood floors and light walls make for the perfect blank slate that is just bursting with design potential. If Zendaya can channel the keen sense for fashion that earned her her CFDA Icon Award to renovate and design her home, it is sure to be a show stopper.
She has famous neighbors nearby
In Encino, you are bound to come across some notable faces during a trip to the grocery store or the gas station. According to Fancy Pants Homes, many A-listers like Gwen Stefani and husband Blake Shelton, Kelly Clarkson, Channing Tatum, and Selena Gomez settled down and purchased homes in Encino. With all of the tree-lined streets, gourmet restaurants, and quiet neighborhoods just 15 minutes from Hollywood, it is no wonder Encino is considered the best suburb in L.A. (via Doorsteps).
Fellow Disney alum Gomez is one of the most notable celebrities to purchase a home in Encino recently. House & Home shared all the details of her 2020 purchase. At just over 11,000 square feet and formerly owned by Tom Petty, Gomez's house features a yoga studio, wine cellar, gym, massage room, and recording studio. These luxury amenities are just icing on the cake when the home also has six bedrooms, 10 bathrooms, a gourmet kitchen, and a large pool.
And since they're neighbors, Gomez probably wouldn't mind dog-sitting for Zendaya's miniature schnauzer Noon next time she travels to Paris Fashion Week or the Venice Film Festival. After all, that would be the neighborly thing to do.
Has she moved in yet?
Though we know that Zendaya purchased her Encino home in 2020, it is still unclear whether or not she has moved in yet, as per Dirt. Zendaya still owns her home in Northridge, and fans have not gotten a glimpse at her Encino home on her social media yet. Maybe Zendaya is embracing the privacy that her new home provides and is keeping things under wraps, but many are hoping that she is in the midst of renovating the home, and we are in store for a big reveal. We can always appreciate an empty home tour, but seeing the finished product will be so exciting.
While many young 20-somethings still live with their parents or rent with roommates, Zendaya is expanding her real estate repertoire. And after all of her success over the last few years in "The Greatest Showman," "Spider-Man," and "Euphoria," Zendaya is very deserving of this opportunity. While we do not know exactly what kind of projects and renovations Zendaya is planning to do to improve her Encino home, we can be sure that her new home will be fit for a superstar.