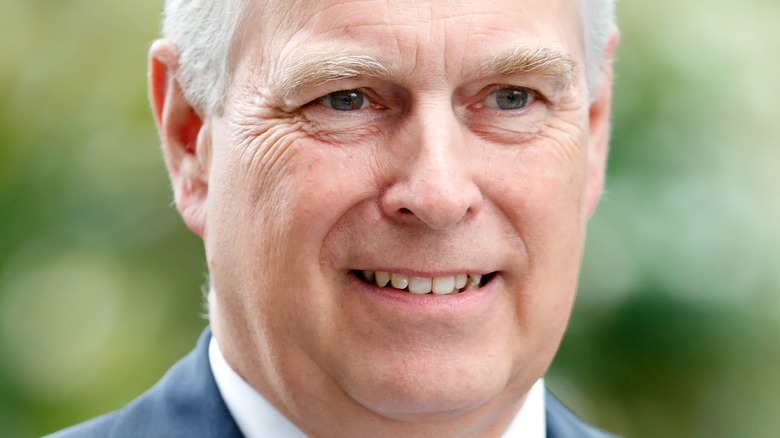 Although Prince Andrew has settled his lawsuit with Virginia Giuffre, who accused the royal of sexually assaulting her when she was a teen, the fallout for him continues. Not only has he been forced to step back from his official duties, but Andrew has also been stripped of all of his military titles and charities, per CNN.
In addition, some senior members of the royal family would prefer if Prince Andrew would just stay away. Prince William, in particular, thinks that his uncle is a threat to the British throne. "He is no fan of Uncle Andrew," a source told The Sunday Times. "Any suggestion there isn't gratitude for the institution, anything that could lead the public to think that senior members of the family aren't grateful for their position, [William thinks] is really dangerous."
Still, there are family members that are still in Andrew's corner. Most notably, his mother, Queen Elizabeth, who insisted that her son escort her to Prince Philip's memorial. Another supporter has been Andrew's ex-wife Sarah Ferguson. In fact, she was reportedly so involved in his legal defense that Ferguson sat in on meetings between Andrew and his attorney. "Sarah is fully behind Andrew and is part of his team," a source told Page Six.
The couple, who share daughters Princess Eugenie and Princess Beatrice, have always appeared to be close, even after their divorce in 1996. But a new book is exposing how Andrew really treats the mother of his children.
Prince Andrew referred to his ex-wife as a farm animal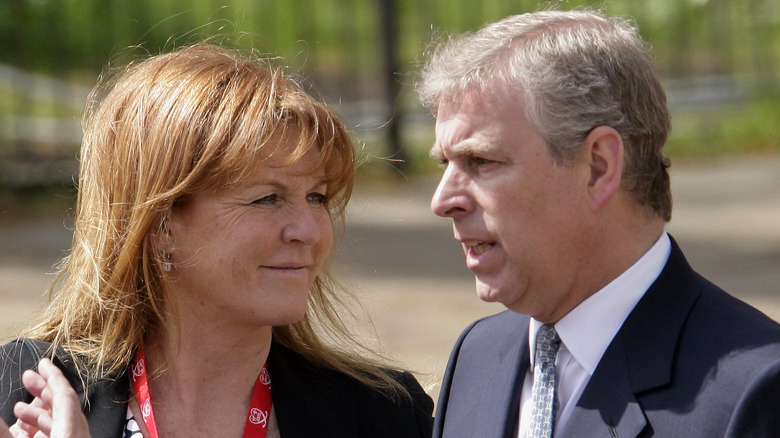 If you or anyone you know has been a victim of sexual assault, help is available. Visit the Rape, Abuse & Incest National Network website or contact RAINN's National Helpline at 1-800-656-HOPE (4673).
While Prince Andrew and Sarah Ferguson have always seemed to have a close relationship, Tina Brown reveals in her new book that Andrew doesn't always treat his ex-wife well. In "The Palace Papers," Brown shares that when the prince ran into his ex and an American media executive having lunch at Royal Lodge in 2015, Andrew asked the exec, "What are you doing with this fat cow?"
Ferguson's guest was left "stunned at [Andrew's] level of sadism," Brown writes, per Page Six. "I thought, 'What an a–hole.' She has to sing for her supper. She's afraid of him."
Brown backed up the claim, explaining that the former couple still live together at Royal Lodge and that when Ferguson gets into a financial jam, Prince Andrew often comes to the rescue. As a result, his ex-wife remains fiercely loyal to him. In fact, when promoting her debut romantic novel in Italy in 2021, Ferguson talked glowingly of the prince when asked about his legal troubles. "He is such a kind, great man" she said, per Page Six. "I feel very strongly that in this day and age that we must stand by our hearts, what we think is right with integrity and honor and loyalty."
Would Prince Andrew and Sarah Ferguson ever remarry?
Prince Andrew and Sarah Ferguson remain so close that they still share a home together, and rumors frequently circulate about the former couple heading back down the aisle. It's worth noting the real reason Andrew and Ferguson got divorced had little to do with them falling out of love, since it was predicated more on snobbish attitudes towards Fergie in general. As a result, it wouldn't be too crazy if they found their way back to each other someday.
According to Hello! magazine, during a 2021 interview with The Telegraph, the Duchess of York remained coy when cornered about whether things could turn romantic again. "All I can say is that we're happy with the way we are right now," she demurred. Ferguson added, "We always say we are the most contented divorced couple in the world. We're divorced to each other, not from each other."
Moreover, the duchess confirmed they're focused on family above all else, which means ensuring their relationship remains strong no matter what. "Our bywords are communication, compromise and compassion," she shared. The Guardian notes that, during a subsequent appearance on British talk show "Loose Women," Ferguson made her intentions slightly clearer, dismissing reports about rekindling their relationship as fairy-tales. She clarified, "Andrew and I remain steadfast, in the past we've been co-parenting and now we're co-grandparenting."
Another royal author has set his sights on the former couple
Tina Brown isn't the only royal author turning her attention to Prince Andrew and Sarah Ferguson. The Express reports that Andrew Lownie, who previously wrote tell-all tomes about Louis and Edwina Mountbatten and the Queen's uncle, Edward VIII, is preparing to publish a biography on the Duke and Duchess of York. He reportedly told The Telegraph, "It's the third book in a trilogy about unusual royal marriages. It's going to be a full-scale biography of both of them, like the Mountbatten and the Windsor books, which, as far as I can tell, has never been written before."
However, Lownie made it clear he's not looking to take any kind of stance either way and simply wants to tell the story as it unfolds through interviews with those closest to the former couple. The author is also hoping Andrew and Ferguson will speak to him personally, too. "At a time when everyone is happy to put the boot in, I'm hoping to humanize the story and see if there is another side," Lownie stated. Most pertinently, for royal watchers, the book will delve into why Andrew and Fergie couldn't make it work, and how they manage to be such good friends nowadays.
As Hello! magazine notes, Andrew and Ferguson have continued living together at Royal Lodge since 2004 and, despite calls to kick them out following the prince's legal woes, it's unlikely they'll ever be forced to leave.