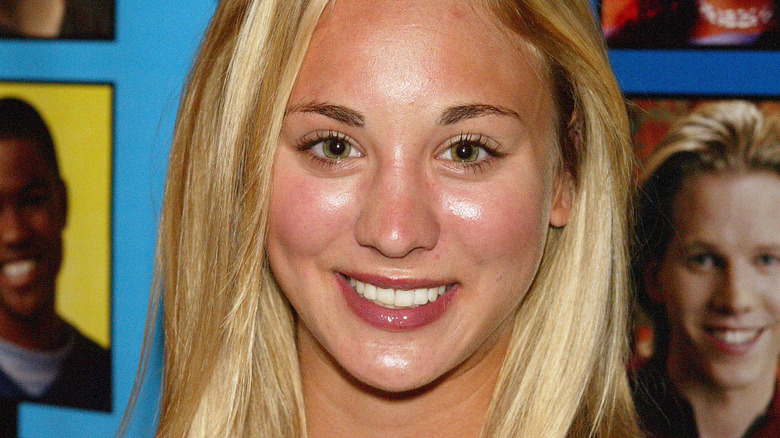 Kaley Cuoco is famous for playing Penny on "The Big Bang Theory," but the super successful 12-season show was just a highlight of the actress' decades of hard work and career determination.
Born on November 30, 1985, Cuoco was an aspiring actress from her earliest days in Camarillo, California, making fond memories on the stage when she was just 5. She landed several small roles before even hitting the double digits. Eventually, she would become a breakout star on a few popular television series, including "8 Simple Rules" and "Charmed," though she's likely best known for her time on the popular CBS sitcom "The Big Bang Theory."
Winning admirers with her refreshing transparency and down-to-earth attitude, Cuoco is one fiercely independent female who is almost as anti-Hollywood as it gets while having still achieved the ultimate Tinseltown success story. Here's a look at Kaley Cuoco's stunning transformation over the years.
Kaley Cuoco pursued tennis as a child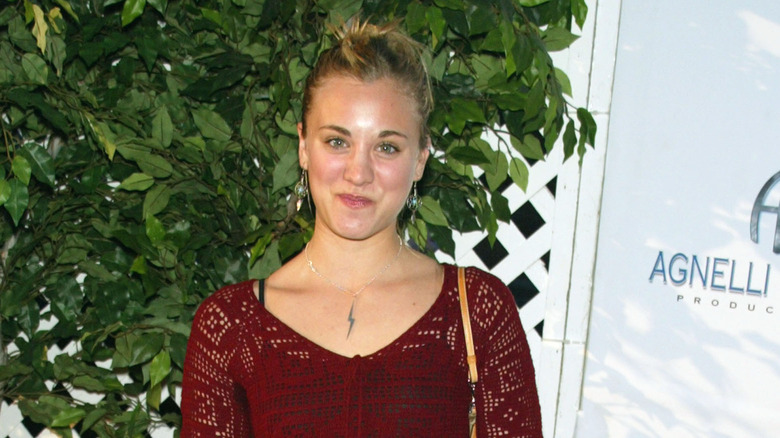 Kaley Cuoco discovered her love for tennis as a kid. Her parents wanted her to be well-rounded, so they encouraged her to have a hobby in addition to acting. Cuoco told Cosmopolitan, "My Mom made this rule: If you want to do [acting], you have to pick something else, too." And tennis was an obvious choice for young Cuoco.
By the time she was almost a teenager, Cuoco was participating in tennis competitions. She even became a regionally ranked amateur, according to People Magazine! "As cheesy as it sounds, all my eggs were never in just one basket. I had a thousand baskets going on," she explained to Cosmopolitan. But that all changed when she presumably realized she couldn't divide her time and focus between acting and tennis and would have to choose between her two loves.
So at age 16, Cuoco made the decision to call game, set, match, and she stopped pursuing tennis professionally, instead focusing on performing.
Kaley Cuoco started getting homeschooled in the fifth grade
Kaley Cuoco's earliest career successes were appearances in commercials, as noted by Business Insider. Those gigs were quickly followed by her first television role at age 7. She played Connie Reinhardt in the 1992 television movie thriller "Quicksand: No Escape." In an interview with Sidewalks, she shared that she remembers being on stage as a child and feeling no pressure from her parents. "My parents said, 'Do it or don't,'" she stated.
But being a darling on the small screen didn't make her so well-liked with the kids at school. "I wouldn't say I was bullied, but I was definitely a bit of an outcast," she said in a Parade magazine interview. So she started getting homeschooled in the fifth grade by her mother. She claims this made her much happier, and it also put her on an accelerated path, with Cuoco earning her high school diploma at age 16.
Despite the fact that she never went to high school, she did manage to snag an invitation to prom. Actress Ashley Tisdale asked Cuoco to go to prom with her during her first year working on "8 Simple Rules" (via Parade).
She landed her first major TV role
After appearing on episodes of various television shows from 1994 to 2002, Kaley Cuoco finally scored her first major television role. She was cast to play Bridget Hennessy, the eldest daughter of John Ritter and Katey Sagal's characters on the sitcom "8 Simple Rules." But landing the role wasn't easy.
She told Sidewalks that the casting director called her agent after her initial audition to tell her how rough it had gone and to encourage her to try again as they felt she was still right for the role. Cuoco did, and she then spent the next three seasons on the show until ABC canceled "8 Simple Rules" in May 2005 due to low ratings.
Among other lessons, Cuoco told Cosmopolitan that her "8 Simple Rules" experience taught her "not to get too caught up in a business where even success involves tons of scrutiny and rejection," as the magazine explained. The acting job taught her about hard work and made her realize how much she loves sitcoms (via Sidewalks).
Kaley Cuoco mourned the loss of this co-star
While starring on "8 Simple Rules," Kaley Cuoco dealt with the loss of her TV dad and mentor, John Ritter. He fell ill while on set, bleeding internally from a tear in his heart vessel. But prior to anyone, including Ritter, knowing he was dying, he stopped by Cuoco's dressing room on his way off set.
Ritter sat on her couch, told her several times that he loved her, and gave her a hug. And that was the last she saw of him. "To this day, if anyone asks me [about] John Ritter, I get this chill because I love him so much," she told Entertainment Tonight. At that time, she was only 17 years old.
Since then, Cuoco has incorporated some of Ritter's acting tricks into her own performances. She told Parade that Ritter sometimes fumbled his lines on purpose, screwing them up in front of a live audience because he thought they secretly enjoyed seeing him poke fun at himself. So she admitted there are moments when she does it too — making a mistake just to show that she's "normal."
Kaley Cuoco underwent plastic surgery
A darling of the small screen for much of her young life, Kaley Cuoco realizes that acting is a career in which appearance is important. And she's definitely willing to put in the work to look good, committing to workouts five days a week. She told Shape that being toned and having muscle is "sexy and beautiful," and she's shared her phases of doing hot yoga, spinning, and personal training sessions with the likes of Women's Health. Even so, she's admitted to having a little help with that beautiful body, and she doesn't deny having gotten plastic surgery. As noted by Cosmopolitan, she got breast implants at the age of 18.
"Years ago, I had my nose done," she told Women's Health in 2016. "And my boobs — best thing I ever did." She also filled in a line in her neck that had been bothering her since before she was a teenager.
For Cuoco, plastic surgery isn't shameful. Rather, it's self-assuring. "As much as you want to love your inner self … I'm sorry, you also want to look good," she said. "I don't think you should do it for a man or anyone else, but if it makes you feel confident, that's amazing."
The actress called off her first engagement
At age 25, Kaley Cuoco accepted the surprise marriage proposal of her then-boyfriend, addiction specialist Josh "Lazie" Resnik, during a quiet date night at home. Resnik, once a bassist for heavy metal band Danzig (via Loudwire), had previously been wed, but it was Cuoco's first known engagement.
Her representative gave the exclusive on the engagement to People, but didn't offer any particulars. "The couple are very happy and excited to begin planning their wedding," the rep noted. The couple also kept most details about their relationship under wraps and never publicly shared a wedding date.
Mere months after the announcement, while appearing at the March 2012 Academy of Television Arts & Sciences 21st Annual Hall of Fame ceremony to honor Chuck Lorre, co-creator of "The Big Bang Theory," Cuoco was asked about her wedding planning inspirations. She told Entertainment Tonight simply, "I'm not engaged anymore."
Kaley Cuoco married Ryan Sweeting in 2013
A friend introduced Kaley Cuoco to tennis player Ryan Sweeting in 2013, and, after only dating for three months, the couple started planning to spend a lifetime together.
The two were married on New Year's Eve 2013 at a secret wedding that Cuoco later told Cosmopolitan was "the eighth wonder of the world, the greatest wedding of all time." She wore a pink ballgown designed by Vera Wang and both she and Sweeting each had 11 people in their parties. Cuoco also officially changed her name to Kaley Cuoco-Sweeting.
But in less than two years, the Sweetings decided to divorce. Cuoco told Cosmopolitan the reason for the split was that Sweeting "completely changed" and was no longer the person with whom she had fallen in love. "The person I ended up with was not the person I originally met. And that wasn't my fault — that was his," she said. She later covered up the tattoo of their wedding date that she'd gotten on her back, as she showed on Instagram.
The Big Bang Theory made Kaley Cuoco a star
For 12 seasons from 2007 to 2019, Kaley Cuoco played what she told Parade was her "dream role" on CBS's "The Big Bang Theory." She first auditioned for the role of Katie (via Newsweek), who was nixed after the show's original test episode. Penny, the blond bombshell neighbor of two socially awkward scientists, was added when the pilot was reshot. "I loved being the neighbor to these goofy guys," she told Entertainment Weekly. She noted, "[Penny is] the greatest character I'll ever play in my whole life, and I'll never be the same."
By Season 8, Cuoco was earning $1 million per episode, making her the second highest-paid actress on television behind "Modern Family" star Sofia Vergara (via Forbes). The show's success also changed her career trajectory.
Cuoco can also credit the show with solidifying her place on the Hollywood Walk of Fame. Her star was unveiled in 2014, and, years later, she still wouldn't be over it. In 2018, she told fans on her Instagram page, "I still don't believe it was real. I will always be greatly humbled by this moment in my career."
Things got 'messy' on The Big Bang Theory set after dating her costar
"The Big Bang Theory" made Kaley Cuoco a star. And one element of the show that fans loved most was the romance between her character Penny and Johnny Galecki's Leonard. But, what you may not know is that the two actors had their own romance behind the scenes. According to Good Housekeeping, the "Big Bang Theory" actors had a two-year relationship while filming their hit sitcom.
However, things got a little messy when the actors broke up, and their characters were still involved. While on the Armchair Expert podcast, Cuoco discussed filming following their split. "Obviously, it was a little sensitive for a minute," Cuoco said. But, they still had to play their roles, and according to the actress, it seemed like their characters were "like sleeping together every other second." She said she and Galecki theorized the sitcom's creator Chuck Lorre might have been writing more scenes like that, "just to f*** with us." She added that while she still believes Lorre may have done that on purpose, it just "makes [her] love him even more," and as far as the two actors go, there are no hard feelings between them. They've maintained a close friendship despite their past romance.
After Cuoco's 2018 marriage to Karl Cook, her former costar shared an Instagram post, later quoted by Us Weekly, saying, "Couldn't be happier for my fake wife … So much love for you both."
An equine injury almost cost Kaley Cuoco her leg
Horseback riding became a major part of Kaley Cuoco's life around age 15, as she told Sidelines. But in 2010, Cuoco's equestrian enthusiasm was tested when an incident with a horse almost cost her a leg in what she told Ellen DeGeneres was a "freak accident."
Her horse spooked and bucked her at a lesson. Cuoco was okay until the horse, still spooked, tried jumping over her and landed on her left leg. "I thought he landed on leaves, and I was hoping it was leaves I was hearing crackling, but that was my bones!" she said. Picking up her leg, she found it backward and dangling. The actress, who had never before broken any bone, was given amputation as an option in the emergency room. "I'm going to have to call into work and tell them I have one foot!" she joked when recalling the moment.
In the end, she missed two "Big Bang Theory" episodes and spent the remainder of the season hiding her cast. But the accident proved that when Cuoco is knocked off her horse, she gets right back on it. She told DeGeneres after the incident that, if she could ride with a cast, she "would be riding right now."
Kaley Cuoco married Karl Cook in 2018
After her failed relationship with Ryan Sweeting, Kaley Cuoco wasn't sure she would marry again, but, soon enough, she met someone she was willing to take a leap of faith for.
Karl Cook, son of Intuit co-founder Scott Cook, is well-known in equestrian circles, so Cuoco was likely aware of him before they met. But Cook told Sidelines that he knew next to nothing about her — certainly not that she was a TV star — until they bumped into each other at a horse show in 2016. Cook asked Cuoco out to dinner and their resulting romance blossomed.
After getting engaged on Cuoco's 32nd birthday in November 2017, the lovebirds were married seven months later on June 30, 2018, having had a big wedding at Rancho Santa Fe, California, as reported by People. Months later, they honeymooned on a trip Cook planned in the Swiss Alps (via People), but the pair didn't officially move in together until two years after the wedding. In March 2020, Cuoco told Access Hollywood that they were finally moving into their Los Angeles home together.
She landed a major commercial gig
When Kaley Cuoco started her career, she appeared in commercials for products like Barbie and Oscar Mayer, as noted by Business Insider, but Priceline was her first major commercial gig since her youth. "It's kind of an amazing one to come back to," she shared in an interview on the set of her inaugural shoot for the discount online travel agency.
"I wouldn't attach myself to something that I wasn't 100 percent behind," she noted, adding that she always thought the commercials were "visually cool" and that they were "genius" with actor William Shatner in them. She noted that the ads "felt like something that I would be able to play with really well."
Cuoco also relished in the "total dream" that it was to work with icon William Shatner, who she claimed was as "cool, hilarious, and charming as you would hope that he would be."
Kaley Cuoco has enjoyed a successful career as a voice actor
Kaley Cuoco began her career in voice acting with the role of Brandy Harrington on the animated show "Brandy & Mr. Whiskers," and she went on to voice other characters, including Kirstee from "Bratz," Weather Vane/Paula Hayes from "Loonatics Unleashed," and Eleanor from "Alvin and the Chipmunks: The Road Chip." In 2018, it was announced that she would be voicing Harley Quinn in the eponymous DC Universe animated series, which she would also executive produce.
The updated version of Harley follows the adventure of the supervillainess after her break-up with the Joker. Cuoco loved that it's an edgier version with a lot of screaming, cursing, and fighting. "She is female empowerment to a T," she told E! News.
Voice acting suits Cuoco because "it's eight hours that I don't have to spend in hair and makeup," she joked with Entertainment Tonight.
She started hosting a travel-focused YouTube series
In 2019, Kaley Cuoco took her activism to work, hosting a web series from Shell on YouTube called "The Great Travel Hack." The five-episode show followed two teams competing on a road trip from Los Angeles to New York City. The winning team wouldn't necessarily be the one who finishes the journey the fastest, but rather that team that arrives using the least carbon emissions. "It's a great show with a great message," Cuoco told Atlanta's CBS46.
As host, she led the adventurers on their trip across America and claimed she learned a little from the contestants who rode horses, boats, bikes, and skateboards to avoid carbon emissions.
Signing on to the project because she wanted to approach the serious environmental topic in a "happy, silly, fun way," Cuoco hoped "The Travel Hack" would open viewers' minds to cleaner ways to get from place to place.
The star launched her own production company
Even before "The Big Bang Theory" wrapped its last episodes, Kaley Cuoco was already planning the next phase of her career. She launched a production company named after her rescue pit bull, Yes, Norman Productions, in October of 2017 and started lining up projects.
Working on "The Big Bang Theory" throughout her 20s, Cuoco wanted to become a "full-on girl boss." She told Cosmopolitan, "I want to show girls out there that you can be cool, wear yoga clothes, and run your own f***ing company." And she wants that company to be big.
She started by producing "The Flight Attendant," a limited series for HBO Max based on a novel by Chris Bohjalian, in which she also stars. She told a CBS affiliate that this was the first time that she'd developed something from the ground up, joking, "So it's gonna be all my fault if it fails miserably."
It took her time to figure out what her body needs
Speaking to Shape Magazine, Kaley Cuoco said she tweaked her diet and workout routine until she found what matched her personal goals and lifestyle. "It took years for me to figure out what my body needs," the actress said. "And what works for my friends doesn't necessarily work for me." As far as her workout routine, she said yoga has "transformed her body," and she loves the tone and muscle it gives her.
She added that she had to change her diet when she realized she couldn't keep eating the same way her then-husband, tennis player Ryan Sweeting, was. "When we first got married … We got into this habit we called the bedtime snack. The drawers next to the bed were filled with candy." While she said enjoying those snacks with her husband was fun at first, she later realized it was "mindless eating" that her body didn't need. "I was just doing it because he was doing it," she said. She added that they'd since overhauled their pantry, getting rid of soda, chips, and other less healthy options. However, Cuoco added that her cheat days are important to her too. "Come Sunday, I'm going to lie by the pool, have a drink, and eat some pizza," she said, explaining that having those more relaxed days help her feel ready for the coming week and keep her in a good mood.
She and Karl Cook divorced after three years of marriage
For their three-year anniversary, Kaley Cuoco and Karl Cook both posted loving messages on Instagram about the other. In her social media message, later quoted by Us Weekly, the "Big Bang Theory" star wrote, "3 years married! Why have you stayed married to me for so long?! I'm sincerely impressed." Cook echoed the same sentiment in his own post, saying, "I am just as amazed it's been three years, feel like just a flash. I love you so much and I can't wait for a million more years!!"
Sadly, a few months later, the couple announced their split in a joint statement to Us Weekly. "Despite a deep love and respect for one another, we have realized that our current paths have taken us in opposite directions," they said. The former couple added that there was no animosity between them, and they'd prefer to keep the details of their split private. As they put it, "[We] made this decision together through an immense amount of respect and consideration for one another and request that you do the same in understanding that we will not be sharing any additional details or commenting further."
She said she'll never get married again
After her divorce, Kaley Cuoco jumped into filming "The Flight Attendant" almost immediately. Speaking to Glamour, she opened up about the toll the divorce took on her and the pressure she felt to still seem happy while filming. "This is the first time I faced something where I thought, I can't do this alone," she said. As a result, the actress started going to therapy for the first time in her life, which seems to have greatly helped her. She said the biggest thing she's been working on through therapy is "forgiveness and forgiving myself for making mistakes … I think that's been the hardest thing is just accepting that I'm normal and that I'm not superwoman."
Cuoco added that she's struggled to know what she wants because she's been "married to [her] career" and often put that ahead of relationships and friendships. But, looking to the future, Cuoco said she wants to change that. "I want to have a relationship that I give my time to and that the person feels [like they're] really part of my life." But, she added that wanting that relationship doesn't mean she wants another marriage. As she stated emphatically, "I would love to have a long-lasting relationship or a partnership. But I will never get married again. Absolutely not."
She filmed a movie with Pete Davidson
Kaley Cuoco has been keeping busy lately. Along with her new series, "The Flight Attendant," and jumping into producing, she's also announced starring in a rom-com with Pete Davidson. There isn't a lot of info out about the film yet, but according to Deadline, "Meet Cute" is a unique romantic comedy with time travel elements. The key premise is exploring what someone would do if they could travel back in time to their partner's past to heal their traumas and potentially create the perfect partner. Cuoco stars as Sheila, alongside Davidson playing Gary.
After the film wrapped, Cuoco shared her excitement about the upcoming project with her fans by posting a sweet photo of her and the comedian Davidson looking out on the water. In the caption of the Instagram post, she wrote, "That's a wrap on 'Meet Cute'!! What an experience! Loved every single human involved with this special little gem of a film." She continued to joke, "Would do it over and over and over again (get it? It's a time travel joke lol) see the movie and you will understand."
She checked off a bucket list item by appearing on this show
In 2021, Kaley Cuoco got to check an exciting career goal off of her acting bucket list when she guest-starred on the HBO comedy series, "Curb Your Enthusiasm." Her guest-starring role came after showing off her dramatic acting skills in "The Flight Attendant," and many fans were excited to see her back in a sitcom role. In an Instagram story, quoted by Good Housekeeping, the actress wrote, "Yes I did an episode of 'Curb' … Yes it was a bucket list moment for me!"
The show's creators seemed just excited to have Cuoco as she was to work with them. Speaking to Entertainment Weekly about "The Flight Attendant" star's role in the series, showrunner/executive producer Jeff Schaffer said she was playing Heidi, "a doctor who shows exceeding amounts of patience with Larry. She is playing the girlfriend of Freddy Funkhouser [Vince Vaughn], and as happens to all things Funkhouser, when Larry gets involved, things get more complicated and then they go south." And Cuoco impressed everyone with her improv abilities while on set. "She said she hadn't done a lot of improv before she came in, and she must've been lying. She fit in perfectly — it was like she'd been on the show forever," Schaffer said.
She feels like she's grown
Speaking to Glamour in April 2022, Kaley Cuoco said she'd gone through more change and growth than ever in the past year. "I mean, this last year's been the most growth I've had in my entire life in my 36 years on this planet. And it's been life-changing for me," Cuoco said. "Emotionally and personally, I've had the most changes … And I'll never be the same and I'll never act the same moving forward."
Along with her personal growth, Cuoco said that her work starring in the drama series "The Flight Attendant" has changed the way people see and treat her in the industry. "I think also when you're hot, everyone wants to be around you. Of course, if you're not working, they kind of forget about you. Then you do something else, and all of a sudden, you're new again and fun and shiny."
However, while she's grown a lot personally, the actress added that as far as her career and her attitude towards work goes, she's the same person she's always been, regardless of how others see her. "I've been in this business for 30 years. I have not changed. I'm sitting here laughing, being like, Oh, my God, how am I getting away with this? But I'm the same person," she said. Cuoco went on to clarify, saying, "Change is good. I just mean, I think my outlook on the business [remains the same], and success will never change me."