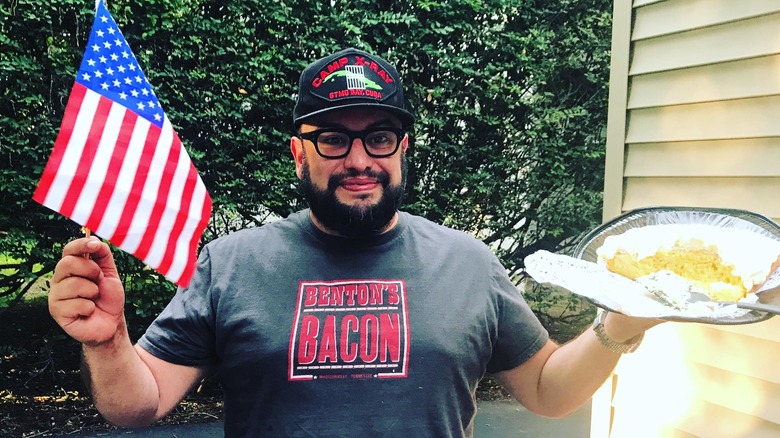 Food Network personality, restaurateur, and chef Carl Ruiz just had one of those faces. You never knew when or where it was going to pop up, but whenever it did — and it did often — you just knew that this was a guy who would be fun to hang out with. He was a chef that even the toughest food critics loved. In fact, when he passed away in 2019, critic Tony Johnson had this to say about him: "He made people laugh who'd forgotten how to laugh. He set rooms on fire. He was the match and the kerosene."
There's not too many people who can have their entire life's philosophy summed up in a single hashtag, but Ruiz's fans coined one in his honor long ago. #Ruizing is something all can — and should — aspire to, as it simply means that you're living the best life you can. And at the end of that day, that's all that counts. And that's what he did.
So, who was Carl Ruiz? Let's take a look at the life of this chef with the infectious sense of fun, laughter, and adventure.
Carl Ruiz's tragic death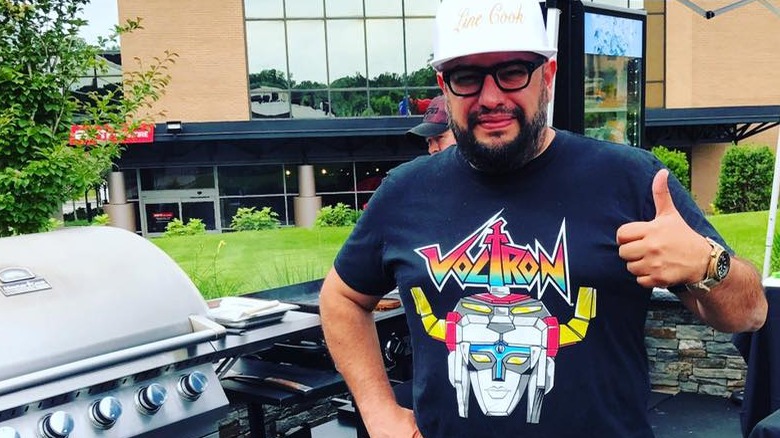 On September 22, 2019, Carl Ruiz's restaurant, La Cubana, made a heartbreaking announcement on social media. It read, in part, "No words can fully express our sadness at the sudden loss of our dear friend and brother. … He was a mighty force of down-home Cuban cuisine, and lived life to the fullest, just as he cooked — with 'dancing always' as the most important ingredient."
Ruiz's death came at the shockingly young age of just 44, and while his restaurant and his family didn't immediately reveal the cause of death, PopCulture reported that his friend Matt Farah did. According to him, Ruiz "passed peacefully in his sleep of a suspected heart attack…."
Farah paid tribute to him on Instagram, saying that whenever they hung out, three things always happened: Ruiz taught him something epicly interesting, Ruiz introduced him to someone interesting, and they laughed — a lot.
It was PopCulture that also reported on Ruiz's eerie final post. In the hours before he passed, he posted a picture to Instagram. It was a photo of a dish of crab cakes, collard greens, red beans and rice, a dish he described as "Heaven."
La Cubana has already announced that his name and his legacy will live on, with their plans of establishing The Carl Ruiz Scholarship Foundation, which will give aspiring chefs a helping hand.
Carl Ruiz was good friends with Guy Fieri
Of all the Food Network stars, it was Guy Fieri who most closely associated with him. Carl Ruiz appeared on "Diners, Drive-Ins and Dives," "Guy's Ranch Kitchen," and 25 episodes of "Guy's Grocery Games," says PopCulture (along with making appearances on "Dinner: Impossible"). It was Fieri who introduced him Opie Radio, too, who in turn introduced him to so many other people through his podcast and, later, helped push Ruiz's own podcast.
After the news of his death was announced, Fieri took to Twitter with this to say about his friend: "I'm heartbroken that my friend chef Carl Ruiz is gone. I have no words to describe what a great friend he was to me and my family. His ability to make me laugh and smile under any circumstances was only outshined by his talent as a chef…. Over the years, I've met a lot of great people but a friend like Carl is one in a hundred million. Carl 'The Cuban' Ruiz will forever live on in my heart and in those of all who loved him."
Carl Ruiz was widely admired, respected, and loved
Carl Ruiz's friends and family weren't the only ones to take to social media to share their heartbreak and memories of him, and numerous celebrity chefs paid tribute to their friend.
Alex Guarnaschelli tweeted, "This man was somehow fatherly, comforting, wise, reckless, brilliant, wickedly funny & unique all in 1. My life will be lonelier without him. Love you Carl. I'll make sure no one puts pineapple on pizza best I can without you here." Amanda Freitag posted to Instagram, saying, "There is a hole in the culinary world and in our hearts."
BBQ World Champion Myron Mixon, chef Richard Blais, chef Michael Symon, and even Guy Fieri's son, Hunter, were among those who paid tribute to him on social media.
Not all comments were welcome or appropriate, though. USA Today reported that Paula Deen was making an appearance on "The Big J Show" when she was asked if she knew Ruiz. She said she didn't, that she was sorry to hear about his passing, then added with a laugh, "You know, they say the restaurant business will kill ya." So much for tact, right, Paula?
Carl Ruiz stayed true to his Cuban roots
It's important to remember where you came from, and Carl Ruiz always did that. According to The New York Times, he credited his mother and grandmother for his love of food and cooking; after Ruiz's death was announced, it was his brother, George, who told them that his brother had gotten his start experimenting with food and ingredients at home, long before he ever thought about going into business.
When it came to his work ethic, George Ruiz says that came from their father, a Colombian mechanic who ran the New Jersey shop where the young Ruiz brothers also worked. He was the one who taught them it wasn't just about the service, it was about the sense of community.
When Ruiz opened La Cubana, he talked to Diced — the magazine of the Institute of Culinary Education — about it. On the menu were old favorites he first had when they were made by his mother and grandmother, and "stuff that I picked up in Miami and Orlando, some old-school dishes that were disappearing. The traditional stuff is really satisfying to make."
Carl Ruiz knew his way around Italian cuisine, too
In 2014, The New York Times ran a largely favorable review of Marie's Italian Specialties, a deli-style restaurant Carl Ruiz opened with then-wife Marie. The idea, they said, was that they were going to keep hours traditional for that kind of restaurant, and close precisely at 6 p.m. That ended on the very first day when a customer walked in at 6 p.m. on the dot to place his order. Ruiz told The Times that he continued to be a regular, but they never told him that he was the reason they stayed open late.
Ruiz described the food as "lay-down-on-your-couch-for-three-hours-afterward Italian," and reviewers agreed, saying it was pretty much the place to go for the heavy, hearty, and perfectly prepared dishes you're familiar with when you think of Italian food. The mussels were particularly impressive. In Ruiz's days working as a chef on Canada's Prince Edward Island, he learned to keep mussels in distilled and salted water before serving them, and it's the little things that make all the difference.
The homemade mozzarella, the generous portions, and the (free) mini cannolis all made for a dining experience that still speaks volumes about the care Ruiz took with his food, no matter what the type.
Carl Ruiz appreciated all food
It's easy to imagine professional chefs and Food Network personalities might have a tough time going to your favorite fast food joint and swinging through for a meal on the run, but that absolutely wasn't the case for Carl Ruiz. When Matt Farah shared some stories about him after the announcement of his passing (via The New York Times), he shared one about Ruiz's appearance at Farah's wedding in April of the same year. He described the chef as "dancing with everybody, 20 people, none of whom really knew him," then added something equally neat.
It wasn't until the after-party that Ruiz decided he was going to feed everyone — with pizza from Domino's.
Domino's might seem like the last place a celebrity chef would choose for a late-night pizza fix, but Ruiz spent $300 to feed everyone on pizza that, he insisted, was just as important to the cultural landscape of America as pizzas of the fancier, trendier variety. From the finest mussels to the pizza you order when you can't be bothered to cook dinner, Ruiz was brilliant in his acknowledgment of it all as important.
Carl Ruiz had a series on YouTube
If you've ever wondered what a professional chef would think of your favorite fast food, fast-casual, and sit-down dining chains, Carl Ruiz hosted a YouTube show where he would tell you. OMG Carl's Food Show gave viewers exactly what they wanted: A trained chef's take on places like Applebee's, Cracker Barrel, McDonald's, Subway, and Five Guys. He was honest, too, and no, he didn't hate everything.
Skip the cheeseburger egg rolls at Applebee's, for example, but its artichoke dip was a win. So were the quesadillas, which he considered among the best chain quesadillas he'd had.
How about Cracker Barrel? He found the decor weird, admitted it was off to a "rough start" with his first bite of country ham, but went on to say that it was real ham, and he hadn't been expecting that for the price. He lauded the eggs and the orange juice, and if you're starting to see a pattern here, you're right. Even with dishes he wasn't super fond of, he still tried to find something good to say about them, and that says a lot.
He was less thrilled with Subway, using the word "spongey" quite a bit.
Carl Ruiz caused a minor social media scandal
Carl Ruiz was perhaps the last person you would expect to cause a scandal, but he did kick off a minor one when, NJ.com says, he shocked a whole state by declaring it wasn't a Floridian restaurant that made the best Cuban sandwich, but rather La Pola in West New York.
He lauded La Pola for its perfectly proportioned and flavored sandwich, and he acknowledged that he's had plenty to compare it to. Out of the 500-odd Cuban sandwiches he'd had, he gave credit where he thought it was due — to Belarmino Rico, the one man behind the counter making the sandwiches, the same man who opened the restaurant in 1978.
When the sentiment popped up on social media, it wasn't just residents of Florida who took issue with it. Protests went all the way up into the governments of cities like Tampa and St. Petersburg, who weren't swayed by Ruiz's insistence that La Pola's hand-sliced ham and pork, coupled with bread from Union City's Cuba Bakery, made for the perfect sandwich.
Carl Ruiz owned and worked in several Cuban restaurants
When it came to Cuban cuisine, Carl Ruiz knew his stuff. After growing up surrounded by the cuisine, he went on to have a long career cooking and bringing it to others, starting with his time in the kitchen at the Latin and Peruvian restaurant Sabor Peru as well as Montclair's Cuban Pete's (via NJ.com).
Then there was Son Cubano, a New York City restaurant Ruiz opened and styled after the sort of supper club you might find in Havana, bringing traditional dishes and drinks to a classy city location. According to Diced, he was forced to close that restaurant when an increase in rent made the business unsustainable and opened another place called La Cubana 15 years after closing Son Cubano. There, he honed in on exactly what it was that set his restaurant apart, and it started with the basics. Making the perfect stocks and bases might not seem exciting, but that — along with sourcing ingredients from Spain and Cuba — made all the difference.
You can make Carl Ruiz's burger sauce recipe
It's expected that a chef might guard their recipes pretty closely. It's their livelihood, after all, and there's a lot of work that goes into perfecting each and every one. Take KFC. Its dedication to keeping its top-secret recipe for fried chicken, well, top-secret is legendary, but Carl Ruiz was the opposite.
He once tweeted, "I'll give anybody my recipes. The difference between me and them is that I can make new ones."
And he wasn't just saying that, either. He also took to Twitter to give out the recipe for his burger sauce, much to the delight of fans who quickly made it and then just as quickly sang his praises. It's a super simple recipe you can make, too, probably with what you have in your kitchen right now. The secrets? Just 4 ounces of ketchup, 3 ounces of Luger's steak sauce, 2.5 ounces of horseradish, 3 ounces of mayo, 1.5 ounces of cherry pepper vinegar, then the following to taste: salt, pepper, Tabasco, red pepper flakes, garlic powder, onion powder, and a bit of Accent.
Backyard BBQs? Changed. Thanks, Chef Ruiz.
Carl Ruiz's official cause of death
It took about a month after the untimely death of Carl Ruiz for an official cause to be released; according to Today, that cause was determined to be atherosclerotic cardiovascular disease.
That's a very specific diagnosis, so what exactly happened?
According to the Mayo Clinic, atherosclerosis is when the arteries — the blood vessels that carry nutrients and oxygen from your heart into the rest of the body — start to harden. That happens when substances like fat and cholesterol build up in the arteries and start to restrict blood flow; it often develops slowly and can result in anything from aneurysms to — as in Ruiz's case — sudden death.
Symptoms depend on how advanced the disease is, and can range from no symptoms at all to chest pain and a feeling of pressure around the heart. Leg pain and numbness are also early signs, and as it's preventable and treatable, it's important to go to a medical professional with any of those symptoms.
And as for causes? It's impossible to tell for sure, but the Mayo Clinic says an unhealthy diet, obesity, diabetes, high cholesterol and blood pressure, and a family history of the disease all increase risk.
Carl Ruiz regularly handed out some hatred toward vegans
Carl Ruiz's death caused waves for a surprising reason: He regularly dished out some serious hate toward vegetarians and vegans, to the point of celebrating the idea of their deaths.
Plant Based News notes he was pictured wearing a shirt that boasted "0% Vegetarian" and holding a tray of meat. He regularly tweeted on the subject, volunteering thoughts like, "The fact the the [sic] fake meat movement is a multi million dollar industry proves the fact that vegans are not satisfied with just eating vegetables." He wasn't above clapping back in the comments, either, regularly arguing with anyone who commented along the lines of, "Hey, fake meat isn't too bad."
Not three weeks before his death, he posted a link to a CNN study that found vegetarians and vegans had a 20 percent higher chance of having a stroke when compared to omnivores, along with the commentary, "I'm gonna eat cheeseburgers at their funerals."
Tributes may have poured in for him after his death, but the eerie timing and content of his posts didn't go unnoticed — many hailed his death as a cautionary tale, and the necessity of being more conscious of the impact what we eat has on our health — whether we can see it or not.
Carl Ruiz was an admirable tipper
Carl Ruiz was larger than life in many ways, and this extended to his generosity towards restaurant workers. He was a lavish tipper who, as Guy Fieri recalled, never shied away from showing appreciation to the faces making the food behind the counter. One year after his death, Fieri urged his Instagram followers to follow Ruiz's example by tipping employees "super generously." The campaign, which he called the "Day of Ruizing," was to order food from a local establishment, leave a huge tip, and post the receipt online with the hashtag #dontstopruizing. It could be takeout, delivery, or dine-in, so long as the check included a hearty bonus befitting the late chef's generous spirit.
"To celebrate 'The Great Cuban,' do what he did. He loved to go out and eat food and go to restaurants, and he used to love to tip big," Fieri told his 1.9 million followers in a video message. "He was a big fan of the industry, always taking care of his brothers and sisters in the biz." Understandably, this ignited an outpouring of sympathetic messages about the loss of his friend, as well as promises to support local eateries by treating the employees well. Helping keep the lights on your favorite spots by showering them in dough? That's "Ruizing" if we ever saw it.
Guy Fieri keeps Carl Ruiz's prankster spirit alive
Carl Ruiz was a jokester through and through. Always up for a silly prank or belly laugh, his antics were one of the highlights during his time as a judge on Guy's Grocery Games. So it's no wonder for April Fool's Day in 2020, the show decided to celebrate his spirit the one way they knew how: a holiday special. As Guilty Eats writes, all the challenges were inspired by the shenanigans he took part in on the show. Contestants had to cook his favorite dishes, careen down the aisles on a shoplifting escapade, and gobble down spicy foods to torturous ends. They even mimicked his signature style by donning chunky eyewear and baseball caps during the show.
Per IMDb, it wasn't the series' first rodeo with an April Fool's episode — season 17's "April Fool's Games" contained the kind of goofy chaos Carl Ruiz loved. But paying respects to a beloved cast member struck a different note, particularly with such a fitting theme. Now it's an annual tradition. Since airing in 2020, every April Fool's themed special on GGG has been dedicated to The Cuban. A promotional clip shows his good friend Guy Fieri comparing the cast to a family who "love to laugh together," and we can't think of a better way to remember him than that.
Carl Ruiz' friendship with Guy Fieri began on the streets of Manhattan
The details of Carl Ruiz and Guy Fieri's friendship are no mystery to Food Network fans. However, what isn't always talked about is how the two men met in the first place. Every dynamic duo has an origin story, and the one for Carl and Guy is pretty legendary. NJ.com reports the two met by accident on the bustling streets of New York City, long before either's ascent to celebrity chef stardom. It was 2006, and Guy was a freewheeling Californian competing on the second season of The Next Food Network Star. Ruiz recognized the spiky-haired dynamo from TV, and in true Ruiz fashion, made him an offer he couldn't refuse: He'd buy him dinner if he won the competition.
Fieri would win the competition and become the household name he is today. Of course, Carl Ruiz lived up to his half of the bargain. To celebrate, the pair apparently ate and drank into the wee hours of the morning in the Big Apple and dined on steak sandwiches. Talk about the start of a delicious friendship! Ruiz's eventual appearance on Diners, Drive-Ins, and Dives solidified his spot in Flavortown forever. That passing encounter would set the wheels in motion for the success they'd enjoy in the future.
Guy Fieri visited Ruiz's restaurant before Diners, Drive-Ins, and Dives
Marie's Italian Specialties got a much-deserved boost after appearing on Diners, Drive-Ins, and Dives in 2013. Believe it or not, Guy Fieri actually visited the place long before its television debut. He swung by the Chatham eatery two years prior to the episode, and if you assumed the only point of the visit was to plow through some arancini and bounce, you'd be mistaken. Instead, he began whipping up orders for customers. The anecdote, which NJ.com referenced in a restaurant review, turned out to be great publicity for the establishment. The Mayor of Flavortown slinging platters of chicken parm from behind the counter? That would do more for business than any commercial or radio spot.
It's normal for spectacles like these to be planned in advance — celebrity chefs don't normally just stop at the Hickory Square Shopping Mall for any reason. But this wasn't the typical meet-and-greet. In reality, the restaurant was super swamped that day, and Guy, Carl Ruiz remembered, jumped in to lend a hand amid the chaos. As Ruiz told Patch.com's New Jersey website at the time, "All these kids were like, 'I can't believe Guy Fieri's making my lunch!' he recalled. "It was surreal."
Carl Ruiz had his own knife
Carl Ruiz understood the importance of well-made kitchenware, particularly knives. In fact, he designed a custom blade all his own. In 2018, he teamed up with Feder Knives to craft a model made "with zero compromises" (via WGN Radio). Per Feder Knives' website, "The Cuban" featured a 9-inch steel blade complete with a hollow grind and harpoon clip. All the knives were crafted by blacksmith Geoff Feder at his studio in Peekskill, New York.
The requirements Carl Ruiz had in mind were specific: Everything needed to be manufactured in the United States, and the knife needed to be a professional-grade tool that restaurant workers could easily use. As Ruiz told WGN, Feder Knives fit the bill on both counts. The blade is ideal for chopping in a cramped kitchen, while the carbon steel was sourced locally from Ruiz's home state of New Jersey. "That took a lot of work and it cost a lot of money to make sure that everyone that's touching it is someone that you know, you know, instead of some factory somewhere," he told the station in 2018. A small operation like Feder Knives only makes small batches, so quantities were limited. When the custom model went live on the website, it sold out in a day. From start to finish, Carl Ruiz was committed to delivering high quality in all of his endeavors, no matter the work.
One of Carl Ruiz's restaurants spawned multiple spinoffs
Marie's Italian Specialties put Carl Ruiz on the map. Its success allowed the couple to pursue other culinary projects under the Marie's moniker, and one of them remains in business today. In addition to opening a second location of Marie's in neighboring Madison, the couple launched a completely new concept devoid of pasta or vodka sauce. Marie's Chicken Joint, which opened in 2014, serves chicken in a variety of ways — on salads, sandwiches, quesadillas — as well as hot dogs and hamburgers. This is the kind of no-frills grub Ruiz was all about.
Of course, the restaurant business can be cruel, and the achievements of a place like Marie's don't always guarantee success long-term. The Madison outpost shuttered after only a mere 6 months in business, which NJ.com credited to conflicts with area officials. Meanwhile, the original location's Yelp page shows it's been closed for good. This leaves Marie's Chicken Joint as the only establishment still standing. The location of Marie's Chicken Joint, Hickory Square Mall in Chatham, is the same shopping center where Marie's Italian Specialties once stood.