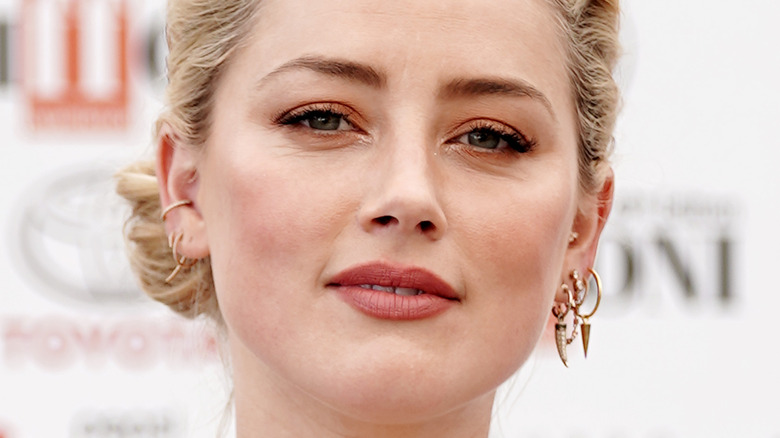 The following article contains references to allegations of child abuse, domestic violence, sexual assault, and drug addiction, as well as mental health issues and homophobia.
Amber Heard has certainly come a long way since the doe-eyed rising star of "Pineapple Express," though her stardom admittedly isn't the result of her career trajectory. Back then, no one would be too surprised to hear that Heard's enigmatic face would grace headlines everywhere in a decade's time; likewise, no one could have predicted that she'd generate those headlines for all the wrong reasons.
Ever since her much publicized divorce from Johnny Depp, Heard has been a tabloid mainstay. At the time of this writing in 2022, her reputation is seemingly on the line as she's being sued by her superstar ex in an explosive defamation trial, one which critics argue lays bare the supposed excesses of Hollywood stars and their detachment from the real world. While Heard has said and done some admittedly questionable things throughout the years, she has also been a victim in many ways. In her own words, she has "felt the full force of our culture's wrath for women who speak out," per The Washington Post. While there's no denying that some of Depp's fans have been vocal in their bias in his favor throughout the trial, Heard also has her defenders. Ellen Barkin, for instance, claimed in 2020 that Depp was once violent toward her. And whether Johnny stans believe it or not, there appears to be evidence that both parties were allegedly abusive during their marriage.
In addition to her volatile relationship with Depp, Heard has had to endure several hardships throughout her life. These are the tragic details about Amber Heard.
If you or someone you know is dealing with domestic abuse, you can call the National Domestic Violence Hotline at 1−800−799−7233. You can also find more information, resources, and support at their website.