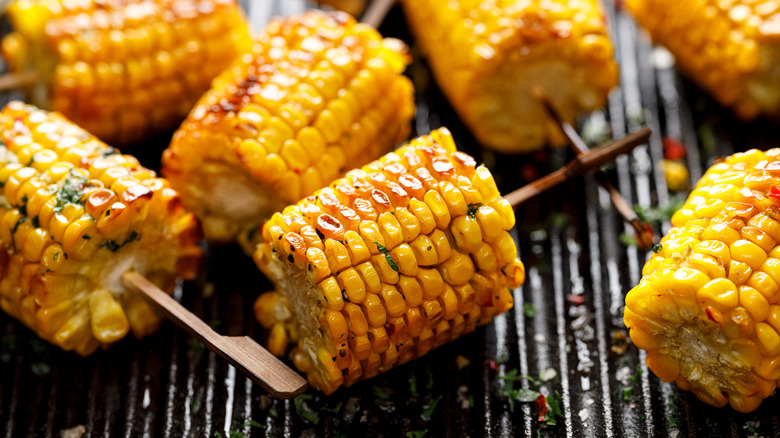 With Memorial Day around the corner, it's time to get your grill on, invite your family and friends over for a cookout, and enjoy creating some plant-based recipes for your barbecue while the sun (hopefully) shines. While veggie burgers and hot dogs might sound like the obvious alternative to traditional grill recipes, there are more creative and interesting vegan and vegetarian dishes to make for a cookout.
These include veggie-packed versions of all-American classics, meat-free Mexican delights, and some quirky culinary creations that highlight the great natural taste of everyday ingredients, from beans to bok choy. Many of these quick and easy recipes mean that you can make more than one dish for your cookout table. Plus, you can create many sides in advance so you can enjoy a good time grilling at your party while chatting with guests. These are the 25 plant-based barbecue recipes you need for your summer celebrations.
Easy Tofu Burger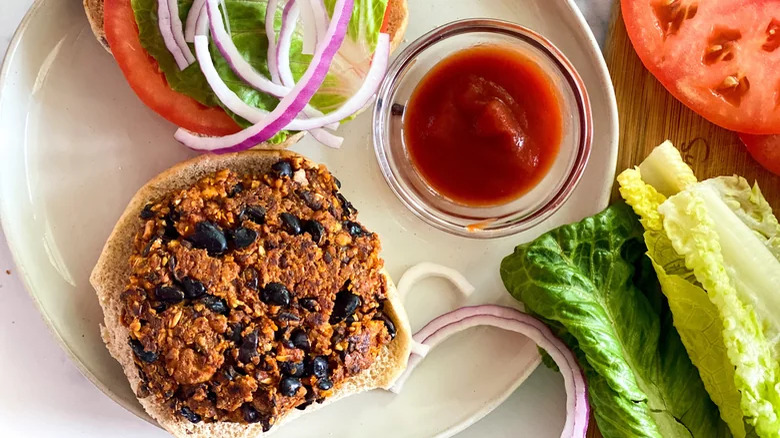 These deliciously spicy plant-based burgers are prepped and cooked on your grill in an hour. Just make the patties using extra-firm tofu, drained with a clean towel and something heavy on top (a cast-iron skillet should do the trick!). Chia seeds, diced mushrooms, black beans, and oat flour or breadcrumbs give these burgers their structure and nutrition, while the flavor comes from cumin, smoked paprika, nutritional yeast, and garlic and onion powders. Grab your favorite fixings and dinner is served.
Grilled Sweet Potato Wedges
Crispy on the outside and soft on the inside, with a smoky flavor and those fabulous charred grill markings, what's not to love about sweet potato wedges? For this easy side, you'll cut sweet potatoes into around eight wedges before parboiling them so they cook more evenly. In a bowl, add some taste-boosting spices, such as paprika and garlic powder, and stick the mixture to the wedges with some oil. That's it — then they're ready to grill for just a few minutes on each side.
Chimichurri Sauce
Argentinian chimichurri goes perfectly with grilled goodies, adding some herby flavor to your plant-based cookout. The vibrant blend of parsley, oregano, garlic, spices, red wine vinegar, and olive oil — plus a squeeze of lemon juice — can be used as a sauce, marinade, or dressing. Taste and tailor your sauce to suit your preferences, whether that's by adding a more citrusy tang or leaving out the heat of the pepper. You can always swap out the parsley for cilantro, too.
Grilled Veggie Kabobs
If variety is the spice of life, then veggie kabobs with a different taste in every bite are mouthwateringly appetizing. Robust vegetables work well with this dish, so assemble your skewers with thick slices of corn on the cob, rounds of zucchini, big button mushrooms, and other satisfying bites. Brush the kabobs with a tasty olive oil that has been seasoned with oregano, then watch them sizzle! These briefly cooked veggies are best enjoyed straight from the grill to appreciate that real charred flavor.
Vegan Pulled Pork
The texture of jackfruit makes it the perfect candidate for a meat-free, pork-style recipe. The key to getting that delicious pulled meat texture is to first boil the jackfruit for 20 minutes. Next, spread out the fruit on a parchment-lined baking tray and bake it at 350 degrees Fahrenheit for half an hour. Once you've added barbecue sauce or your other favorite plant-based condiment, spread the mixture out, spray it with olive oil, and broil it for the most delicious caramelized finish. Serve on buns!
Air Fryer Cauliflower Steak
A plant-based cookout is all about serving up delicious morsels of healthy, meat-free dishes and sides — so not everything needs to be grilled. Case in point: this air-fryer cauliflower steak that's beyond delicious. Cut a cauliflower from top to stem to create "steaks" about 1 to 2 inches thick. Let the cauliflower soak up a Cajun-inspired marinade before cooking it in your air fryer at 375 degrees Fahrenheit for 15 minutes, turning once. You can cook your cauliflower steaks beforehand and simply warm them up when you're ready, making them convenient for a party!
Quick and Easy 15-Minute Jackfruit Tacos
Easy to chow down on at a cookout, jackfruit tacos are scrumptious and quick to make. The fruit's shreddable texture means that it really absorbs the flavors of added seasonings, making this an ideal Mexican snack filling. You can buy jackfruit in cans for extra ease, and you'll also need an onion, some veggie stock, garlic, and lime juice. If you're strictly plant-based, then a great vegan alternative to honey is maple syrup or agave for that sweet final touch. Cooking takes just 10 minutes, then you're free to load your crispy tacos with avocado, tomato, and red onion.
R oasted Corn Salsa
Summer doesn't just equal cookout, it also equals corn season. That means it's time to get your roasted corn salsa on. Roast a cup and a half of corn kernels drizzled with olive oil and sprinkled with salt at 450 degrees Fahrenheit for around 10 minutes, turning them once. Once cooled, add the corn to ⅓ cup of diced grape tomatoes, ¼ cup of red onion, and half of a diced jalapeño, plus minced garlic, chopped cilantro, and lime juice. Serve as a side, tacos topping, or Mexican-inspired dip for chips.
Spicy Salsa Roja
Spicy salsa roja made with fresh tomatoes never tasted so good! For this simple but satisfying dip, you'll need roma tomatoes, garlic, and serrano peppers. Add the ingredients to a pan of water and simmer for 30 minutes, then throw in some cilantro and blend. Finally, you'll oil a pan and heat your salsa for 30 minutes. Boost the flavor if you like with fresh lime juice, cumin, and Mexican oregano, or turn up the heat by adding the seeds of the serranos or even a habanero pepper.
Unique Guacamole
Not all guacamole is the same, as proven by this unique recipe starring oven-roasted tomatoes and blistered limes, which make all the difference in terms of flavor. After some brief oven work, just smash up avocados, corn, and onions with fresh cilantro and dried oregano. Squeeze in your limes (which are much juicier when blistered) and fold in your tomatoes. You can serve this beautiful spread as a dip or add a spoonful onto a salad.
Easy Black Bean Dip
How do you feel about a quick black bean dip recipe that takes five minutes to make and requires no cooking whatsoever? Sounds perfect for a cookout when you've got so much grilling to do, right? Just blend two cans of black beans with two jalapeños, a big handful of cilantro, and a couple of teaspoons of lime juice, plus seasonings like garlic and cumin, and you're done. Feel free to vary up the heat intensity and make your dip in advance.
Easy Portobello Mushroom Burger
Truly great veggie recipes highlight naturally terrific ingredients, such as the juicy and robust portobello mushroom. To turn these beauties into burgers, all you need to do is brush the mushrooms with olive oil and cook them in a skillet for about five minutes on each side. For extra umami, add soy or tamari to the mushrooms, and definitely don't miss out on the secret sauce, a mayo and tomato ketchup blend that truly elevates the burgers.
Easy Spicy Freezer Pickles
Spicy pickles are a crowd-pleaser at any cookout. Firstly, create a brine with sugar, vinegar, and salt before adding mustard and celery seeds. Slice some garlic, onion, and jalapeños, adding these to the bottom of the jar so you'll always reach the pickles first. Next, throw in some cucumber slices, fill the jar with the brine, and store it in the fridge or freezer. If you prefer a sour pickle, then leave out the sugar and savor the sharp taste!
Tofu Bacon
If you're looking for a topping for your plant-based burgers, then how about some tofu bacon? The secret to its smoky taste is in the marinade of soy sauce, liquid smoke, and maple syrup, plus sesame oil, vinegar, and tomato paste. This mixture, along with garlic and onion powders, pepper, and smoked paprika, goes on each slice of extra-firm tofu, which is cooked in a convection oven, air fryer, or skillet. The thinner your slices, the crispier the result!
Vegan Sloppy Joes
In these highly convincing vegan sloppy joes, the main ingredient is lentils, which you boil for around 20 minutes until they've softened but still have some bite. Meanwhile, sauté some onion and garlic, add some red bell pepper, mustard, sugar, tomato sauce, and plenty of spices, stirring all of this in with the lentils. Whack some burger buns on then grill to lightly toast them, then serves the sandwiches with fries on the side.
Grilled Summer Vegetable Pasta Salad
Every cookout needs pasta salad, especially since it doesn't have to be served hot. You can use whatever veggie combination you want in this version, though we like asparagus, zucchini, and bell peppers, to name a few. These vegetables get their flavor from a charring session on the grill, plus garlic, oregano, and cumin. When combined with penne pasta, olive oil, and balsamic vinegar, they taste totally complete.
Cucumber Tomato Salad
For a party, nothing is more practical than cucumber and tomato salad, which you can easily whip up more of in case you run out in real time. Just prep the ingredients in advance and toss them together before serving, which you may want to do in front of your guests for flair. This bright blend of produce, fresh herbs, red wine vinegar, and olive oil will surely impress.
Refreshing Corn Salad
As an alternative to corn cobs on the grill, why not create a fresh-tasting corn salad? To make things extra easy, use canned corn, then stir it up with diced red bell pepper and cucumber for color and crunch. Finish things off with fresh mint, basil, parsley, and an easy vinaigrette. Bonus: This salad works as a delicious dip for the chips on your table, too.
Three Bean Salad
A perfect potluck dish that pairs well with everything, no matter the time of year, is this colorful and healthy three bean salad. Get a bowl, add all the ingredients, mix, and voila, it's ready! The trio consists of chickpeas, kidney beans, and green beans (frozen and thawed to make your life a breeze), which are amped up with parsley, apple cider vinegar, and the simplest of seasonings.
Grilled Bok Choy
A grill can bring out the best in the simplest of dishes, such as the crispy leaves and silky texture of bok choy. Make sure when you cut your bok choy down the middle that you keep the bulb, and also oil the grates before grilling. Use baby bok choy, and add some Asian-inspired flavor by creating a marinade of soy sauce and sesame oil with minced garlic and red pepper flakes. A good tip is to fan out the leaves as you brush on the oil mix, and season to taste.
Sweet Chili Sauce
Though the store-bought stuff is great, you'll really impress your guests with sweet chili sauce made from scratch. This flavorful condiment comes together with pantry ingredients and can be used for all your grilled veggies. Just simmer garlic, water, salt, sugar, rice wine vinegar, and red pepper flakes for five minutes, then thicken with cornstarch. (Yes, that's it!)
15 Minute Bruschetta
Every dinner party needs some bread. Delicious with a salad and some grilled veggie goodies, this bruschetta is ready in 15 minutes with just four ingredients. Cut a crusty loaf of bread into ¾-inch slices, and broil until toasty. Rub on some garlic, drizzle on some olive oil, and sprinkle with salt. Serve these as is or with toppings, like that tomato cucumber salad, for a more composed dish.
Recipe: 15 Minute Bruschetta
Air Fryer Roasted Vegetables
On hot summer days, make your kitchen cool by keeping the oven off and turning on your air fryer instead. Slices of zucchini, button mushrooms, tomatoes, and other ingredients roast beautifully in this handy device. Just make sure your veggies are completely dry before cooking so they don't become soggy, and coat them generously with olive oil. For some extra pizazz, you can add spices before cooking to create an Indian-inspired, Mexican-style, or jerk-seasoned dish, for example.
Simple Baked Potato
Treat your cookout crew to a baked potato bar with all the toppings! Just scrub and clean some russet potatoes, pierce them a few times, and cook for an hour at 450 degrees Fahrenheit. Appetizing plant-based toppings include guacamole, black beans, and roasted vegetables, but the world is your oyster. With a variety of herbs, sauces, and seasonings at their disposal, people will be very happy with this low-effort spread.
Healthy Quinoa Spanish Rice
No cookout is complete without some tasty carbs on your plate. Spanish rice-style quinoa is an unexpected and easy-to-make alternative to the beloved rice dish. Fry onion, red pepper, and garlic for five minutes, then add spices, veg stock, quinoa, and chunky red salsa right out of the jar to simmer until the liquid is absorbed. Don't forget to rinse your uncooked quinoa thoroughly (so the mild toxin on the grain doesn't create a bitter taste) and garnish the final dish with lime slices and cilantro.