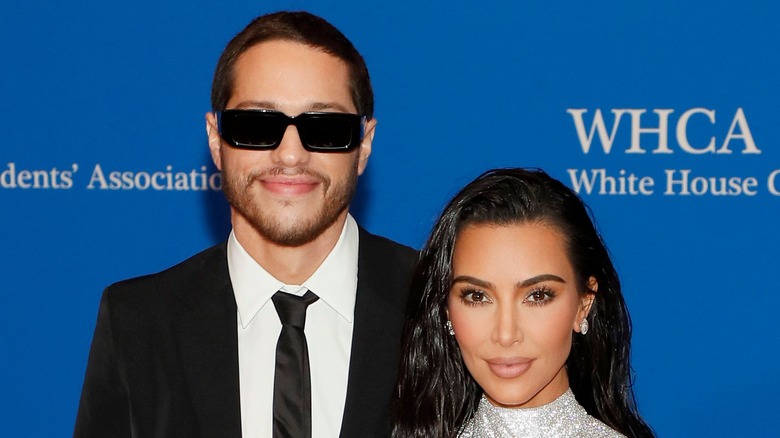 Having been romantically linked to a wide range of notable Hollywood celebrities, comedian and actor Pete Davidson's dating history is perhaps just as notable as the "Saturday Night Live" star himself. Since his first publicly reported relationship in 2015, Davidson has been involved with several notable TV, film actresses, and many household names.
An interview on "The Breakfast Club" might hold the seemingly obvious key to Davidson's appeal. "I'm just very, very honest," the "SNL" star admitted, stating that he isn't afraid to reveal any of his secrets. Davidson added that he doesn't want to waste anyone's time by "playing any of the games" or hiding how he feels when it comes to relationships. "Communication is really key," he stated. Knowing that, perhaps it makes sense that Davidson's relationship history is fairly extensive. Still, even the New York native's most die-hard fans might not remember all of Davidson's partners over the years.
Pete Davidson briefly dated Carly Aquilino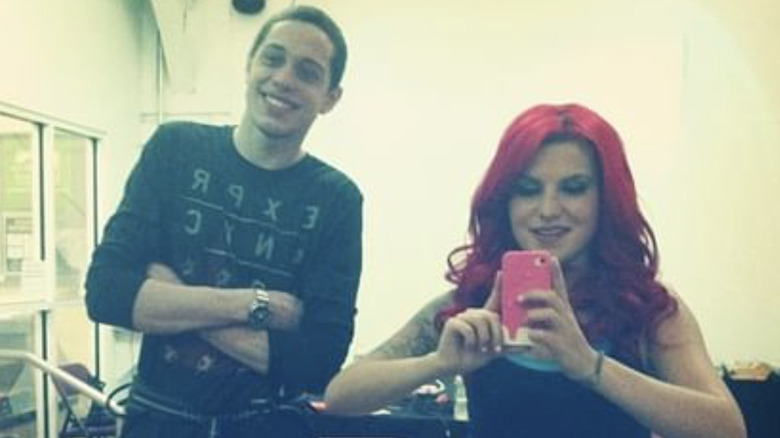 Pete Davidson was in a relationship with "Girl Code" star Carly Aquilino in 2015, Elle reported. Though the couple didn't really make any headlines during their actual relationship, People reported in 2018 that Aquilino had shared her reaction to hearing the news about her former partner's engagement to his then-fiance, Ariana Grande. While the post has long since disappeared from the star's Instagram story, the outlet stated that the image showed a screenshot of texts between Aquilino and one of her friends. "I know I'm the 9 billionth person to text you today about this, but … I can't," Aquilino's pal stated in the message, to which the comedian replied, "HAHHAHAHAAH."
Regardless of Aquilino's purported reaction to her ex's engagement, she and Davidson appeared to have separated on good terms and remained amicable, as Aquilino later co-starred with Davidson in the 2020 comedy-drama film "The King of Staten Island." The MTV star even promoted the movie on Instagram with a post urging her fans to make sure to watch the former couple's film upon release. "So excited for you guys to see this special movie & very proud of everyone who worked so hard making it." Aquilino then went on to thank Davidson (as well as director Judd Apatow) for including her in the film.
He was in a relationship with Cazzie David
After Pete Davidson's split from Carly Aquilino, the "SNL" star began dating Cazzie David, daughter of comedian and producer Larry David. As noted by People in 2016, all seemed well between the lovebirds at the time, with Davidson proudly declaring his love for David, stating, "I just love her very, very much." However, the relationship appeared to change by 2018 when the couple suddenly split, with Davidson quickly moving on with pop star Ariana Grande.
Still, according to a report from The Los Angeles Times, David said that she was the one who initially requested that the couple take a break. Soon after, David said she changed her mind about the decision only to realize that Davidson had already moved on. She said that Davidson told her he was "the happiest he had ever been." Once she discovered their separation was permanent, David stated that she broke down. In her collection of essays, "No One Asked For This" (via The Los Angeles Times), she recalled "screaming in agony" and being in her father's arms on a plane as she "shook uncontrollably in his arms for the entire flight."
He was quickly engaged to Ariana Grande
In late May 2018, Pete Davidson began dating Ariana Grande. As their romance continued, fans of the couple watched their love bloom as Davidson and Grande exchanged sweet public messages on their social media platforms, Glamour reported. People even reported that the pair had gotten several tattoos as a more permanent display of what they said was their forever love. Their ink included matching clouds, a bunny-eared mask behind Davidson's ear, and plenty of other Grande-themed ink for Davidson.
Soon after, the couple was engaged. The two even went on to celebrate their engagement at Disneyland (via People). The romance, as it was, was not destined to last. TMZ reported that the engagement was off by October 2018. The couple was said to have quietly broken up after Grande's ex, musician Mac Miller, passed away in September 2018. Miller's death, People reported, deeply affected the singer.
Davidson soon moved on with Kate Beckinsale
In March 2019, The Los Angeles Times reported that soon after the "SNL" star's split from Ariana Grande, Pete Davidson was romantically linked to Kate Beckinsale. With their relationship coming directly off the heels of Davidson's prior engagement, many speculated that Beckinsale was a rebound for the comedian and made comments about their age difference. However, trouble appeared to be brewing, and Vulture reported the same month that Davidson appeared to be annoyed by the public's perception of their relationship. Citing the comedian's then-most recent appearance on "SNL," the article stated that Davidson said, "Apparently people have a crazy fascination with our age difference, but it doesn't really bother us."
But, as noted by People, their good times ultimately came to an end with the outlet confirming the pair's split almost four months after they'd initially gotten together. Still, it would appear that there was no bad blood between the exes after their split. In 2021, Buzzfeed News reported that amid the many comments about Davidson's latest romantic relationship, Beckinsale reportedly slipped in her own opinion on Instagram by liking an Instagram post that stated that Davidson's dating history was a reflection of his "nice personality."
The star had a quick romance with Margaret Qualley
In late August 2019, Us Weekly reported that Pete Davidson was dating actress Margaret Qualley, who is superstar Andie MacDowell's daughter. The pair, the outlet reported at the time, dated for a few months. The report added that the couple planned to make their red carpet debut at the Venice Film Festival. A month later, People reported that the relationship had officially gotten a parental seal of approval, with the "Death Note" star's mom revealing how she felt about the relationship.
The actress had nothing but nice things to say about her daughter's then-partner. "She has a beautiful relationship with him but I don't want to step on her relationship too much," MacDowell said at the time. The "Groundhog Day" star then went on to state that Qualley had even taken a video of MacDowell and sent it to the comedian. But, of course, as with prior Pete Davidson romances, the relationship ultimately reached its conclusion, and as Us Weekly reported in October 2019, Davidson and Qualley officially parted ways.
He shared a brief romance with Kaia Gerber
Just weeks after Pete Davidson's split from Margaret Qualley, Us Weekly reported that the comedian and actress Kaia Gerber were romantically linked. A source told the outlet, "Pete and Kaia are dating and they've been trying to keep their relationship somewhat low profile." According to the article, speculation that Davidson and Gerber were more than just friends first started after the pair were spotted together on what appeared to be a date in New York City's SoHo neighborhood. Just days after their meal together, the "SNL" star was reportedly seen leaving the model's apartment. Gerber also attended the comedian's comedy show in Brooklyn, where she allegedly tried to remain low-key.
Davidson and Gerber later parted ways in February 2020. Davidson told Charlamagne the God during an interview that things between him and Gerber — who he said dated for a period of several months — hadn't worked out. "She's very young, and, you know, I'm ****ing going through a lot." He later added, "She shouldn't have to worry about, like, some dude that just, like, has issues."
The star was in a relationship with Phoebe Dynevor
In early April 2021, reports began swirling that Pete Davidson had once again found love and was dating "Bridgerton" star Phoebe Dynevor. The news came not too long after Davidson's split from model Kaia Gerber. According to a report from Us Weekly, a lack of time together ultimately led the pair to separate. The couple was said to have broken up by August 2021.
A source purporting to be close to the former couple stated, "The distance put a strain on the relationship and it made it hard to maintain." The outlet also reported that despite the split, the two "had a great time while they were together." The Sun gave a similar report as well, with friends close to the former couple stating that their schedules were just so busy that a relationship wasn't feasible. One insider told the outlet that the long-distance issue became more and more apparent as the romance progressed. The sources also affirmed that while Davidson and Dynevor enjoyed their time together, there was almost zero likelihood of them getting back together.
Pete Davidson began dating Kim Kardashian
After much speculation and even accusations of a publicity stunt, E! News in November 2021 confirmed that Pete Davidson and Kim Kardashian were officially a couple. A source close to Kardashian told the outlet that the reality star and her new beau were happy together and anticipated seeing how the relationship could progress. They later added that while the pair were keeping things casual, both were committed to each other and had no interest in dating anyone else. "Kim is smitten over him and it's very exciting to her," the insider added, stating that the comedian knew how to make her laugh.
Later, in 2022, Buzzfeed reported that the "Keeping Up with the Kardashians" star opened up about her relationship with Davidson on the podcast "Not Skinny But Not Fat." Speaking to host Amanda Hirsch, Kardashian revealed that the "Brooklyn Nine-Nine" actor had known about her then-upcoming appearance on "SNL" and had chatted with her about it at the Met Gala. She went on to disclose that while her infamous kiss with Davidson during their Jasmine and Aladdin skit was scripted, the Skims founder felt a bit of a spark. In February, Buzzfeed noted that Kardashian's ex-husband, Kanye West, wasn't too thrilled about the relationship. The rapper had taunted Davidson in since-deleted social media posts and even made a diss track about him, prompting Kardashian to request that West stop the harassment via a leaked text message.