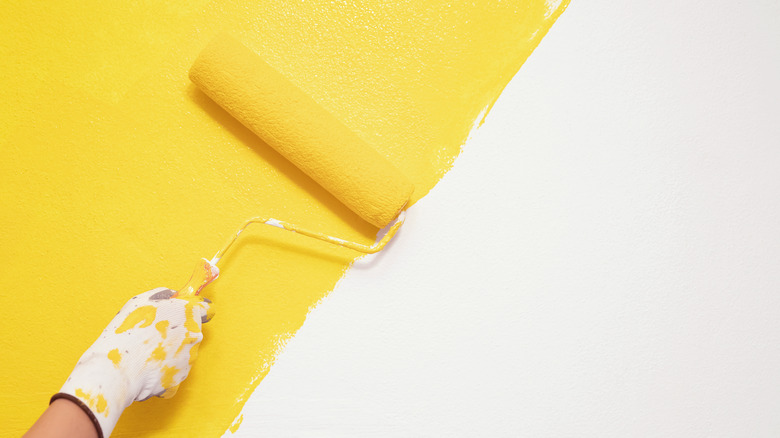 Nothing breathes life into a worn-out wall, piece of furniture, or even a floor, like a fresh coat of paint. Before starting your next home painting project, it's essential to understand how to choose the correct paint finish for your home. According to This Old House, painting is the most common DIY home improvement project. The reason is that paint is relatively inexpensive yet still makes an impact. It's also something most homeowners can do pretty well, even if they don't have much experience.
Whether you're a painting newbie or a pro, you need to choose the right paint for the job. Paint has different finishes, and each provides a different result. It's essential to understand these differences to avoid painting the bathroom in a finish that doesn't get along with moisture or your toddler's bedroom in a finish that rubs off with the scrub of a sponge. You definitely want to avoid the mistakes everyone makes when buying paint. Here are some tips and tricks for choosing the right finish of paint for your house.
The five types of paint finishes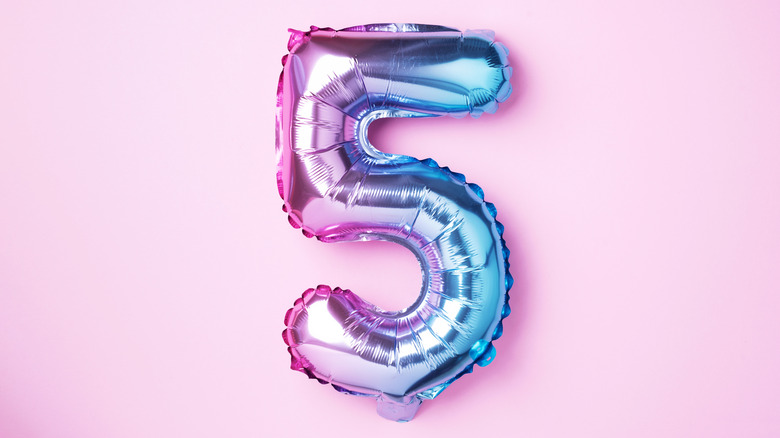 There are five common paint finishes: flat, eggshell, satin, semi-gloss, and high-gloss. These range from matte to very shiny, and each one has a different ability to withstand scrubbing. According to PaintRite Pros, paints with higher levels of shine are typically more durable. So, if a room sees a lot of bumps, scratches, and dirt, go for an option with a high sheen.
Paint finishes range in price as well. Typically, the flatter paints cost less, but that can change depending on the brand. When paint shopping, look for the level of shine you desire and compare brands to get the best deal. One brand may charge a lot compared to paint in the same finish from a different brand. Most local home improvement stores have employees in the paint department who can help your search. Understanding each type of finish before you make your selection is the best way to ensure a successful paint job.
Hide blemishes with flat paint
Since flat paint is not easy to clean and lacks shine, it's only a good choice for low-traffic areas in the home. Consider the inside of closets and cabinets or your home office for flat paint.
If you have a wall in your home that feels chalky, it probably has flat paint. That's what makes it a bit tougher to keep clean. Higher gloss paints have a slick finish, making them easier to wipe off. Still, there is a benefit to flat paint. According to Freeland Painting, it hides blemishes well, even large ones, because it absorbs light instead of reflecting it. So, when the light hits flat paint, that scratch little Johnny left on the wall won't show up as much as it would on higher gloss paint. However, everything has its pros and cons. Flat paint hides flaws, but since it doesn't clean up well it shows dirt easily. That's why low-traffic areas are best.
Eggshell is perfect for furniture projects
Eggshell paint resembles an actual eggshell and has an ever-so-subtle sheen to it. According to ArtRadarJournal, eggshell is closely related to satin and works on almost any surface material. For example, it's the perfect paint to use on an old dresser for a fresh pick-me-up or your kitchen cabinets. The reason do-it-yourselfers love eggshell is they can get that preferable flat look for furniture and easily keep the pieces clean due to the slight sheen.
When it comes to eggshell finish, the sheen is barely visible. While the finished project is flat, you can feel the shine when cleaning surfaces. Eggshell can be used on walls and trim but isn't very typical because it's tough to keep clean, similar to a flat finish. However, some homeowners are against any shine and want everything to look matte. In that case, eggshell is perfect for you.
For the perfect middle of the road sheen, try satin paint
Satin is the paint that many homeowners choose when they simply can't decide. It's not flat or shiny, and it cleans up easily. Satin is somewhere in the middle of the road for sheen level. According to Bob Vila, semi-gloss and satin are somewhat similar, but satin is more forgiving of those dings on the wall because, like flat paint, it absorbs the light better than a glossier paint.
You can use satin paint just about anywhere. Imagine all paint finishes on a ladder, with flat paint on the bottom and high gloss at the top. Satin is on the middle level for shine and ease of cleaning. Walls, trim, furniture, and ceilings pair well with a satin finish, although walls are the most common. Satin paint varies in how it looks, depending on the light. It may look flat in one room and then have the slightest sheen in another. Either way, satin is a flexible, subtle finish to use in your home.
Grab a can of semi-gloss for those high traffic areas
Kitchens, bathrooms, and even cabinets do well with semi-gloss paint due to its ability to clean up well and handle moisture. You can easily scrub a wall covered in semi-gloss clean. Spaghetti sauce splattered on surfaces at dinnertime? No problem.
Since a semi-gloss is shiny, you'll need to patch up the flaws on your wall before painting. Unlike flat paints, the light is reflected rather than absorbed, meaning blemishes pop instead of hiding. Still, if you can get the walls repaired, you'll enjoy years of clean walls with a semi-gloss. You can use semi-gloss for absolutely everything. It's typical to use on walls, but it also works as trim and even on furniture if you don't mind a little shine. According to Home Depot, using white or off-white semi-gloss paint will make a room appear brighter than if you use the same colors in a flat finish. For busy households full of life, stock up on semi-gloss paints.
High-gloss paint is for your toughest spots
Those areas of your house that need to stand the test of time, such as trim around doors and windows, require a high-gloss paint finish. These spots attract dirty fingerprints and other grime, and they're tedious to paint compared to a wall. You want rock-solid paint that will last. According to Home Depot, a high-gloss paint with a glass-like finish is ideal for cabinets, trim, molding, and doors. It creates a tough coating, and it's the easiest to wipe clean. This benefit is helpful when hands are touching a painted stair railing multiple times a day.
However, blemishes aren't safe with high-gloss paint. They have nowhere to hide. Still, a patched-up, clean area looks lovely and bright with a fresh coat of high-gloss paint. Expect to paint more coats than you would with flat paint when using high gloss. Ensure the area is clean and smooth to help limit the number of coats required.
The best finishes for exterior paint
The exterior of your home has different needs than the inside. Sure, a high-gloss paint cleans up really well, but do you want a shiny home exterior? To each their own, however, most homeowners prefer a classic, matte look on their home's exterior. Still, small spots outside, such as the trim or shutters, can benefit more from sheen than large areas. According to The Spruce, paints with higher shine are more durable, while flat options offer better coverage but aren't as hearty. The goal for the exterior is to understand which areas take the biggest hits and paint them accordingly.
Like the interior of a home, your doors and trim get knocked around. You may not realize it because we bump into them so often. Imagine how often your front or back door is opened and closed. The paint job there needs to handle frequent traffic and should be wiped down regularly to keep it looking nice. A semi-gloss or high-gloss exterior option works well for these areas. Whatever the sheen, choose a paint designed for exteriors, not interiors.
The difference between oil and latex paint
Once you've picked out a finish, it's time to choose between oil or latex paint. Oil is harder to chip and scratch, but latex has low VOCs and makes clean-up a breeze. According to Freeland Painting, both latex and oil-based paints have a unique make-up and impact on the environment, and each offers different ease of use.
The primary difference is in the name. Just like it sounds, oil-based paint has an oil base. Latex paints have a water base, making them user-friendly. When painting with oil-based paint, ensure proper ventilation to get rid of paint smell since the fumes are strong. It's rarely used on walls anymore, but it's helpful for heavy traffic areas such as trim, stairs, or furniture. Latex paints have less odor and lower VOCs, making them safer for the environment and those using them. Still, don't let this scare you away from oil-based paints. When used correctly and cleaned up safely, oil-based paint will give your doors and trim many years of beautiful use. Many homeowners stick with latex because there's less worry, and it's much easier to clean up. However, you can expect to repaint it a bit sooner.
What about concrete?
Sometimes homeowners want to paint a basement or garage floor. For these types of projects, it's best to use durable paint designed for heavy foot traffic. If you think about it, a garage requires a strong paint. It holds our cars, bikes, garbage cans, lawnmowers, and whatever else we can squeeze inside. A concrete floor basement isn't much different. The basement often becomes a storage area, storing our bins of holiday decorations and other clutter. The floors for both places need to handle regular wear and tear.
There are a couple of paint choices for the job. The first is porch-and-floor enamel paint. According to House Beautiful, enamels are tough and pair well with most materials. Epoxy paint designed for garage flooring is the best choice for your garage (via Car and Driver). Garage floor paints might include colorful flecks put on top of paint for added texture, a nonslip surface, and a mix of colors to help hide dirt. The trick to successfully painting your concrete is preparation (via Bob Vila). If you prepare the surface correctly, the paint job should go smoothly. Fill holes and cracks, then clean the concrete floor thoroughly. Once the floor looks patched up, you can start painting.
Unique painting options for your staircase
Painting your staircase creates an eye-catching statement in the home, and with proper planning and preparation, you can enjoy the beautiful result for years. Like the garage and basement, our stairs see lots of action, namely our feet running up and down. Stairs need paint that can stand up to frequent use. A good option is to use paint designed for floors, such as porch-and-floor paint.
Stairs are a bit different from other parts of the house because it can be dangerous if they have a coating of slick paint. Floor paints are usually high gloss, giving them a strong finish that you can easily clean with soapy water. However, with high shine comes a slippery finish. HomelyVille recommends keeping stairs safe by using paint with an anti-slip finish. These paints use an additive to give texture to the paint, so feet don't slip easily. The additive feels like sand, but the finish still looks smooth.
Freshen up your deck with paint
Just like a garage floor or staircase, a deck sees heavy traffic. According to Home Depot, most decks require maintenance and cleaning every year. With this in mind, you'll want a paint job that lasts to cut down on the cleaning work. If done correctly, a painted deck looks beautiful for a couple of years. When selecting your paint, opt for porch and patio or deck paint. These paints are usually oil or acrylic and can withstand outdoor elements.
Just like concrete, preparation is essential. A power washer is your best friend to get the deck ready. Thoroughly clean, sand, and scrape off chipped paint before painting. Choose a deck paint in a neutral shade that you won't regret. Walls and even staircases are a place to show off your unique design skills, but the deck is on the exterior of your home, so it's best to let it blend in with the surroundings. To make your deck even more attractive, don't forget about painting outdoor furniture.
Use the right tools for the job
Once you understand how to choose the correct paint finish for your house, it's essential to invest in the right tools to ensure the job goes smoothly. Painting is more enjoyable when you're prepared and have everything you need. There's nothing more frustrating than going to edge a ceiling and realizing you only bought rollers and no brushes. The primary tools you need for painting projects are paintbrushes, roller and roller pads, painting tape, and a paint tray. There are other little extras, but these are the essentials to get the job done.
When you go to your home improvement store, the paintbrush selection can be overwhelming. Where do you start? According to Lowe's, if you're using oil-based paints, you should choose natural bristle paintbrushes made from animal hair and synthetic brushes for oil and latex paints. Start there, then compare prices. Have all your tools ready to go so you won't have to waste any time.
Clean up your mess
Unfortunately, every painting project involves clean-up time. Make it easy with the right equipment. Cleaning your walls before painting is also an essential part of the process. To keep cleaning to a minimum, Dutch Boy recommends keeping a damp cloth nearby while painting so you can wipe up those pesky drips immediately. Drips happen, even for the pros. For clean-up after painting, let the paint dry, then remove any tape. Next, roll up drop cloths from the outer edges to avoid getting paint anywhere. Store canvas cloths and throw away disposable ones. Seal up paint cans and properly dispose of empty ones.
Cleaning the brushes and rollers is the primary part of cleaning up, but it's not difficult if completed immediately. Letting the paint sit and dry on your tools only makes it more difficult. If you use latex or acrylic paint, you will need warm water and soap to clean your painting tools. Run under water, rub soap into the roller pad or brush bristles, and rinse until clean. For oil-based paints, mineral spirits are best for cleaning. When you take breaks from painting, wrap brushes in plastic wrap and store them in the refrigerator if it isn't time to clean up yet.
Maintain your paint job
You've worked hard to get your painting project just right. Now it's time to keep it looking fresh, so you don't have to paint again too soon. For furniture, stairs, and painted floors, you can continue to clean them as you always would. However, walls can be a bit trickier. Cleanliness is your best bet for maintaining a freshly painted wall.
To keep walls clean, dust them regularly like other areas in your home. Cobwebs and other surprises may linger, especially in the corners of the walls. Use a bucket with warm, sudsy water and a soft cloth to wash the walls, then let dry. According to SAGE Painting, it's best to keep small amounts of leftover paint on hand for touch-ups. If you notice that a small area is faded or stained, dab some leftover paint on it. Maintenance is key to keeping your paint job fresh.