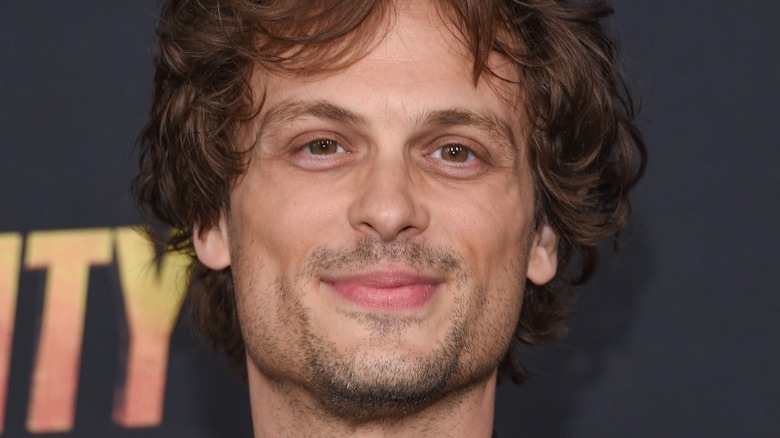 We may receive a commission on purchases made from links.
Chances are if you're into crime dramas then you've probably heard of Matthew Gray Gubler, the actor who starred in the long-running TV series "Criminal Minds." It's safe to say that the super popular show was not only the Las Vegas native's big break into Hollywood, but presumably his best known role yet. For those who aren't in the loop, Gubler played Dr. Spencer Reid on all 15 seasons of the show. Yet outside of "Criminal Minds," Gubler has made several other TV appearances over the years, and even landed movies like "The Life Aquatic with Steve Zissou" and "500 Days of Summer."
Gubler isn't just an actor; he has worked behind-the-scenes, directing multiple episodes of "Criminal Minds," along with a few music videos. Fans may also be surprised to learn that Gubler is a painter too, often sharing his work on his Instagram. In 2019, Gubler even used his artistic talents to release his first children's book, "Rumple Buttercup: A Story of Bananas, Belonging and Being Yourself."
As for his personal life? Well, Gubler sure seems to try to fly under the radar. That said, there have been many rumblings about who he may or may have not dated. From confirmed relationships to unconfirmed rumors, here are the ins and outs of the "Criminal Minds" star's relationship history.
Rumors involving Charlotte Kemp Muhl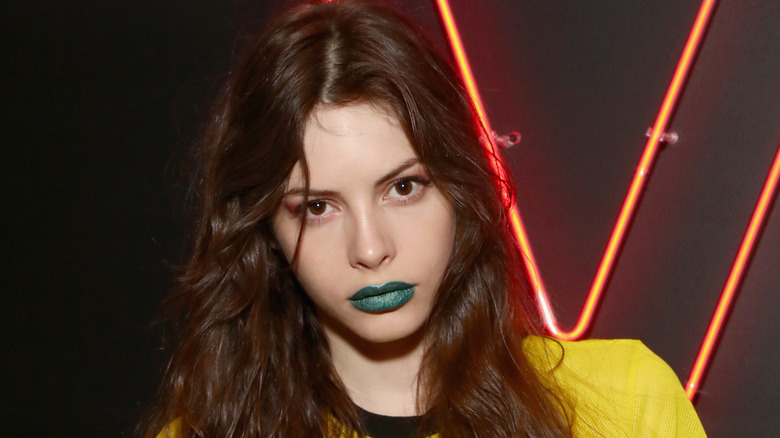 In 2004, rumor had it Matthew Gray Gubler was linked to singer Charlotte Kemp Muhl. While it's unclear how they met, both Gubler and Muhl had been working as models at the time, appearing in photoshoots and fashion campaigns together. It's most likely because of their chemistry in front of the lens that rumors they were romantically involved circulated. However that did come with some controversy.
At the time of their alleged romance, according to The Things, Gubler was 24 years old, whereas Muhl was only 16. As the outlet noted, Muhl eventually took to Instagram to address the accusations against Gubler, writing all of it off as being nothing more than a messy rumor. She also indicated they were never more than friends.
Muhl did go on to meet another famous guy whom she would actually date: Sean Lennon. It apparently was love at first sight after they connected at Coachella. Lennon said to Vanity Fair in 2010, "I saw her and whispered to my friend, 'I really think that girl is going to be my girlfriend.'" As of 2022, the two remain a couple and even released music together. Muhl told The Boston Globe, "He's very supportive and great to work with."
He stayed friends with Kat Dennings
Although Matthew Gray Gubler usually keeps his romantic relationships private, he did confirm that he dated "2 Broke Girls" star Kat Dennings for some time. The "Life After Beth" actor didn't hold back when it came to their 2007 relationship, gushing to Glamour in 2015, "Kat is marvelous. She's one of the funniest people I know and such a talented actress, a brilliant mind, a warm-hearted person." With that said, it's surprising they didn't work out; Gubler seemingly blamed his TV series. He explained, "Being on a show like this is not conducive to having a real life because for those first five years of 'Criminal Minds,' we were easily doing 15-hour days."
However, Gubler insisted that he and Dennings remained friends. "If I'm going to date someone, it's a real big thing for me. It means that I feel that we're tied together for life," he told Glamour. Dennings seems to agree with that notion. As she once said to InStyle, "Friends really can be forever — sometimes romantic relationships just don't last, but friendships do."
Following their split, Dennings and Gubler even went on to work together in 2019's "Dollface," and before that in 2014's "Suburban Gothic." Gubler raved about filming with his ex, dishing to Glamour, "To make a movie with people you're dialed in with in real life is the closest thing to being in a band with someone." Since Gubler, Dennings has dated celebrities like Nick Zano and Josh Groban, and is now engaged to rocker Andrew W.K.
He's been linked to other actors and models
Matthew Gray Gubler had two relationships that he mainly kept more under wraps, especially since those girlfriends were relatively unknown, at least compared to his ex Kat Dennings. However, it seems Gubler had a type and that was usually fellow actors or models. Following his split with Dennings, for example, Gubler reportedly went on to date Portuguese screen star Marisa Morris in 2008, per The Things. Despite them both working in show business, not much is known about their romance other than they were linked until 2010.
After Morris, Gubler reportedly moved on with model Ali Michael in 2010. According to PopSugar, the two met through their shared modeling agency, DNA, but sparked dating rumors on social media after they were seen frequently tweeting at each other. Yet, things didn't seem to be official until they were later spotted dining out together in Los Angeles. While there are not many details on their relationship either, there's a YouTube video of them digging up dinosaur bones together where they seemed to be happy. Alas, they eventually broke up.
As of 2022, Michael is still modeling and appears to be an influencer with over 255K followers on Instagram. From the looks of her posts, she's also moved on from Gubler with singer Avery Tucker. However, a fan did awkwardly comment on one of their photos, "Seriously…I dont know how this guy (or any guy) can appeal to you after you've been with Matthew Gray Gubler. He's PERFECTION."
The Criminal Minds star dated Britney Spears' assistant
In 2010, Matthew Gray Gubler changed up his relationship pattern and dated musician Victoria Asher. Asher had been the keyboard player for the band Cobra Starship in the mid-2000s, and later had a solo music career as Vicky-T. While we can't say for certain who her song "Turn It Low" is about, Asher did tell Celeb Mix that it was inspired by an ex. She dished, "He would be romantic, take me to dinner or the movies — and once gave me a cute figurine toy that meant the world to me. Next second, he turned off his affection."
It appears that Asher and Gubler did have a shared interest in directing. Asher shared in an Instagram post, "Directing & producing has always been my number one passion." Similar to her ex, Asher also directed a few music videos.
But if you're wondering why Asher looks extra familiar, well that's probably because she's now Britney Spears' assistant, per The Things. Asher made it clear though that while she helps Spears with stuff like her now-infamous Instagram, she doesn't control what Spears posts. The two apparently are good friends though, with Spears even sharing a photo of them getting quite close in a pool. Like Spears, Asher is taken, having dated artist Trent Culkin since 2018 and calling him "my heart" in a post.
Matthew Gray Gubler hung out with Taylor Swift
Matthew Gray Gubler's most famous supposed love interest is definitely Taylor Swift. While it hasn't been confirmed, the "Endings, Beginnings" actor may have dated the music superstar back in 2013 after she ended things with Harry Styles. According to Cosmopolitan, the romance rumors started after Gubler was seen at Swift's 4th of July party and tweeted a photo of himself in what appeared to be Swift's kitchen. Gubler was also wearing the same face paint that Swift had on that day, which led some fans to suspect they'd coordinated intentionally.
One might say that Swift's annual summer bash is known for her introducing her romantic interests to her celebrity friends, with her later doing so with exes Tom Hiddleston and Calvin Harris. But as for Gubler, Hollywood Life reported that although the two were spending time together, they weren't official and wanted to take things slow. An unnamed source told the outlet, "They have a distance and different schedules to worry about so he is looking out for his feelings and hers and treading lightly."
It probably didn't help that Swift is a seriously busy superstar. The insider dished, "They are definitely going to try to hang out…as she's in Los Angeles for her tour. We'll see how sparks fly from there." Whatever they did or didn't have going on seemingly fizzled out, and Swift moved on 1975's guitarist Matt Healy that next year. As of 2022, she's been in a long-term relationship with actor Joe Alwyn.
The Doll Face actor is single but hopeful
Despite his past romances, it appears that as of May 2022, Matthew Gray Gubler is single. And although none of his previous relationships worked out, it seems that Gubler still has no regrets about his exes. The "Magic Valley" actor explained to Glamour, "I fall in love with wonderful people and people that can't be replicated." He added, "Those people are really rare and you can't let them go."
Yet Gubler is apparently pretty optimistic about his love life. In fact, he admitted, "I don't go on a ton of dates, but when I do, I try to make dates really spectacular." So what does Gubler have in mind for a future rendezvous? He dished, "I'd pick her up with Sam Cook playing on the radio…then go to maybe a museum… walk around aimlessly in Central Park, go to dinner somewhere great." If that doesn't make it clear the Gubler is a romantic, then perhaps a past gesture will. "I once hand made a girlfriend a 50 page leather bound book," he revealed to Mademoiselle Robot. "It took me about a month to make, it was all rhyming, hand painted… I really poured a lot into it."
It's also worth mentioning the Gubler officiated his "Criminal Minds" costar Paget Brewster's wedding to Steve Damstra in 2014. He credited that experience and the bride for changing his outlook on love. As he said to Glamour, "She taught me that all in the right time, true love will find you."