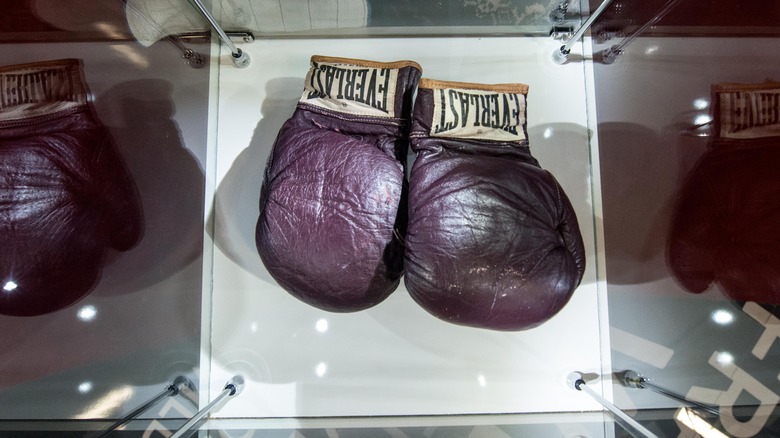 For the biggest sports fans, rooting for their favorite team or player is like a religion. This means when a related piece of sporting memorabilia comes up for sale, it's like getting the chance to own a priceless relic. And there are plenty of people out there who are happy to bid outrageous amounts to possess their Sporting Holy Grail.
Sometimes it might even just be sports-related memorabilia that sells for big bucks. For example, in 2017, a painting by Norman Rockwell of three baseball umpires contemplating a rain delay, which was used on the cover of The Saturday Evening Post in 1949, sold for $1.6 million, per Reuters.
While these sorts of items are also cool, and obviously some collectors think they are worth the money, all the items on this list are more directly related to sports and players and their playing careers, whether it's equipment they used, uniforms they wore, or at least a rare and coveted trading card. And if you're thinking, "How many items could possibly be worth more than a million dollars to even the richest sports fanatic?," strap in. Here are pieces of sports memorabilia that have sold for over $1 million.
Babe Ruth's 500th home run bat: $1 million (2019)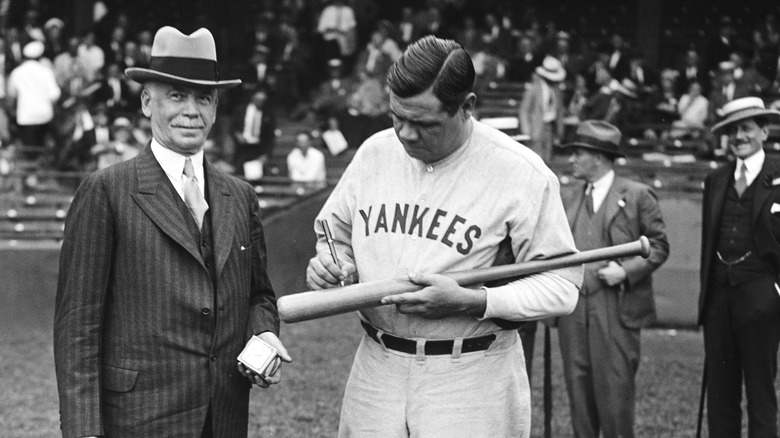 It's fitting that Babe Ruth is first on this list, since he's going to show up quite a lot. He's one of the most iconic names in sports, so everything he touched turns to auction gold decades later. But coming in at a relatively paltry $1 million is the bat he used in 1929 when he hit his 500th home run. Technically, it sold for $1,000,800 in 2019, to an anonymous bidder (per Reuters). Obviously, that last $800 was too much for some collectors.
Ruth kept his record-breaking bat for over a decade before he gave it to a friend as a gift, which really puts the birthday presents you got last year into perspective. Jim Rice was a golf and drinking buddy of Ruth; he stuck the bat in a corner and kind of ignored it. When he died, his son put it in a closet for the next 30 years.
While it might not have as impressive a milestone connected to it, in 2021, Christie's auctioned off another bat of Ruth's, this one with eight notches carved into it, indicating the eight home runs he hit with the bat. It bested the 500th home run bat with a sale price of $1,050,000, per ESPN.
Lou Gehrig's 1922 bat: $1.03 million (2020)
It took longer than the auction house wanted for Lou Gehrig's century-old bat to sell in 2020. According to ESPN, when Heritage Auctions in Dallas originally put it in a sale, the reserve price was $950,000. Even though that was a great deal considering it wouldn't have even qualified the bat for this list, no one bid that high. Within a couple months, though, someone decided to go straight to the auction house and ask to buy it without all that bidding malarky. They ended up spending $1,030,000.
While this bat doesn't have a record attached to it like Babe Ruth's 500th home run one did, it is still very significant. Gehrig loved everything about this exact bat, so much so he wanted to be sure he never used a different one. The auction house's Chris Ivy explained, "So he sent it back [to the factory] and said this is the bat I want you to use to create my future bats." Babe Ruth is pictured around 1925 looking at one of Lou Gehrig's bats based off the one sold.
Jackie Robinson's All-Star Game bat: $1.08 million (2022)
Two years after he broke the color barrier than had kept Black players out of Major League Baseball for decades, Jackie Robinson played in the 1949 All-Star Game. CNN says that two bats were made specifically for him to use in that game, and in 2022, one of them went up for auction. It sold for $1,080,000 to an anonymous buyer (that's going to become a pattern, by the way).
Of course, provenance really matters when it comes to collectibles like this. There is a lot of money to be made if someone can sell a good fake as the real deal. Fortunately, bidders would be quite reassured by the note that Robinson's widow wrote guaranteeing it was the real thing: "The bat has been in the Robinson family archives since the day it was first used by Jackie and I guarantee that is 100% authentic." This bat wasn't hidden away in a closet: the family had displayed it proudly that whole time.
Muhammad Ali's 1965 Floyd Patterson fight gloves: $1.1 million (2012)
Muhammad Ali unashamedly called himself the greatest, and a lot of collectors agree that his gloves are the greatest sports memorabilia. Several pairs, especially those from notable fights, have gone for big bucks.
In 2012, two pairs went to auction. Both the gloves from his 1971 loss to Joe Frazier and his defeat of Sony Liston in 1964 went for a very specific $385,848 each, according to Eurosport. The winner of the Sony Liston fight gloves turned around two years later and auctioned them off again. The original buyer got quite the return on their investment when the gloves went for $836,500, per ESPN.
But before any of these sales, earlier in 2012, a third pair of Ali's gloves – from his win by technical knockout over Floyd Patterson in 1965 – set a record for the highest price paid for boxing memorabilia. Business Insider reported that in a bidding war between the owner of the Dallas Cowboys and a co-owner of the UFC, the latter came out on top with a $1.1 million bid.
Bill Russell's NBA Finals jersey: $1.1 million (2021)
While the NBA store sells a replica Bill Russell Celtics jersey for a mere $150, some people are willing to shell out a lot more than that for the real thing. When Hunt Auctions put a game-worn jersey up for sale in 2021, it called the top "highly important and historic." Interested parties had to contact them just to find out the amount they estimated it would go for at auction, which is always a bad sign if you are looking for a good deal.
But this was no regular jersey. It was the one worn by Bill Russell in his last NBA game ever – and that game just happened to be Game 7 of the 1969 NBA Finals, which saw Russell and the Celtics best the Los Angeles Lakers. (He is pictured to the right of Lakers star Wilt Chamberlain during a game of those finals.) Topping it all off, Russell signed the jersey and confirmed its authenticity personally.
The NBA's official site says the jersey was the standout lot in an auction dedicated to the sports star. The 429 lots up for grabs brought in more than $5.3 million, and the jersey was responsible for a whopping $1.1 million of that total.
The Sheffield Football Club Rules, Regulations, and Laws: $1.24 million (2011)
Versions of soccer (a.k.a. football to everyone outside the U.S., and quite a lot of people inside it) have been around for hundreds of years, although they would not be recognizable today. The Irish Times says rules used to include 20 players per side, no penalties, and catching the ball was allowed under some circumstances.
This all changed when what is considered the oldest soccer club in the world, Sheffield FC, codified the rules in 1858. In 2011, the only handwritten copy of those rules went up for auction, sold by the club itself. The hammer price was £881,250 (about $1.24 million at the time), per Sky News.
Perhaps regretting their decision to sell a bit, when a printed first edition of the rules (pictured) came up for auction in 2021 and were shared on Twitter, an employee of the club replied, "I work with Sheffield FC. I'm sat with the Chairman right now. When is this going on sale as it looks like an edition we've not seen before. We need to get this back to its home." The club's chairman later told the BBC that they were trying to raise the money to buy the rules. Sadly, while this copy ended up selling for a mere £56,700 (per Sotheby's), the club's GoFundMe only netted £1,912 of its £50,000 goal.
Babe Ruth's first Yankee Stadium home run bat: $1.265 million (2004)
Babe Ruth started playing for the Yankees in 1920, but the famous (and now former) Yankee Stadium wasn't built until 1923. According to the New Haven Register, before the first game at the team's new home ground, Ruth announced, "I'd give a year of my life if I can hit a home run in the first game in this new park." It only took him three innings to accomplish that feat.
For some reason, Ruth then immediately gave the bat he hit that first Yankee Stadium home run with (pictured) to the Los Angeles Evening Herald. The paper made it the prize in a local home run contest for school kids. Ruth signed it, "To the Boy Home Run King of Los Angeles, Babe Ruth, N.Y. May 7, 1923." And the newspaper added a plaque to the bat as well, which read: "Presented to Victor Orsatti at Manual Arts H.S. by the Los Angeles Evening Herald."
PSA Authentication and & Grading Services reports that Orsatti died in the 1980s and left this valuable piece of wood to his "caretaker." They finally decided to auction it off in 2004, when it went for $1.265 million.
Paul Henderson's 1972 jersey: $1.275 million (2010)
Even those Americans who hate sports will know most of the names on this list simply by existing in society. It's hard to go through life never learning who Michael Jordon or Babe Ruth are, for example. But Paul Henderson is probably an unfamiliar name for most. Unless, of course, you are an ice hockey fanatic and/or Canadian.
Henderson was a hockey superstar in the 1960s and '70s. In 2010, the jersey he was wearing when he scored "Canada's winning goal in the 1972 Summit Series against the Soviets" went up for auction, according to ESPN. (He's number 19 in the above image, in Game 5 of the series. The jersey up for auction was identical, but from Game 8.)
The jersey invited a winning bid of $1.275 million, which was smashed the previous record of $191,200. But you don't have to take the auction house's word for it: Two years later, the Guinness Book of World Records officially recognized Henderson's jersey as "the most expensive hockey jersey ever sold at auction," per the CBC.
Jesse Owens' 1936 gold medal: $1.4 million (2013)
Jesse Owens was a hero for his track and field triumphs over the Nazis at the 1936 Berlin Olympics. He won four gold medals, but he seemed pretty uninterested in keeping hold of them. At least two of his medals have come up for auction, and he had already given both of them away in his lifetime.
One, according to Beckett Collectables, was gifted to weightlifter John Terpak Sr. He'd been at the 1936 Olympics with Owens and the two remained good friends. Owens gave him the medal as a thank you for hooking him up with paid speaking engagements in later years, since being an Olympic hero didn't make Owens rich thanks to the racism he faced in the U.S. That medal went up for auction in 2019 and sold for $615,000.
But it was a different gold medal sold in 2013 that broke the record for most expensive piece of Olympic memorabilia. This gold, gifted by Owens to his friend, the entertainer Bill "Bojangles" Robinson, according to World Athletics, had a winning bid of an astonishing $1,466,574.
'Shoeless' Joe Jackson autographed 1911 photograph: $1.47 million (2021)
A photo of a baseball player, even from way back in the day, might seem like one of those items only tangentially related to sports memorabilia collecting. After all, there must be thousands of pictures of baseball players from the early 20th century.
But according to ESPN, the photo in question here is not just an image: it is autographed by the man in it, "Shoeless" Joe Jackson. And Shoeless Joe autographs are vanishingly rare. As for signed photos of his? This is the only one in known to be in existence. (The photo is the same one shown above, except to the left of his image, Shoeless Joe had written "Joe Jackson Alexandria Mar 1911.")
Jackson was essentially illiterate, so he didn't like signing things, and often had his wife do it for him when absolutely necessary. Examples in his own hand are so rare that one auctioneer explained, "Just his signature on a slip of paper is worth $50,000 to $100,000." And the ne on this photo is really his. After selling for just $179,250 in 2015, in 2021, the autographed photo went for $1.47 million at auction.
Michael Jordan's rookie sneakers: $1.47 million (2021)
Sneaker fans go crazy when brand-new shoes that are only connected to basketball GOAT Michael Jordan via branding go on sale, so of course a pair of Nikes actually worn by him in a game will be a huge deal. ESPN reports that what made this pair, which went up for auction at Sotheby's in 2021, even more special, was that they were about as old as you could get: Jordan wore them during his rookie season. Plus, he signed them, before giving them as a gift to a ball boy for the Nuggets.
When the pair sold for $1.47 million at auction, it was a record for "most expensive game-worn footwear." In fact, they went for more than double the previous record of $615,000.
The auction house's Brahm Wachter, obviously pleased as punch with the result, said: "From the moment news broke of these sneakers, it generated huge [buzz]. This exceptional result for the Jordan Nike Air Ships speaks not only to the strength of the collectibles market but also to the esteem with which Michael Jordan's items and the Jordan franchise are held."
Babe Ruth World Series ring: $2.1 million (2017)
Babe Ruth showing up more than once on this list is to be expected, but one name you are probably not expecting to see multiple times is that of the actor Charlie Sheen. But it seems he was at one point quite the collector of sports memorabilia. This is the first of three appearances items once owned by Sheen are going to make.
In 2017, Sheen put Babe Ruth's 1927 World Series ring up for auction. Forbes says that, ostensibly, it was a secret who owned the large gold ring, but it didn't take much digging to learn Sheen liked to wear it to parties and had posted pictures of the historic bling on social media. As one might expect considering his history, Sheen told ESPN that he "[didn't] remember what he paid" for the ring.
He should definitely remember what he got for it, though, since the ring sold for $2.1 million, according to Syracuse.com.
Babe Ruth's 1919 Yankees contract: $2.3 million (2017)
When actor Charlie Sheen decided to unload some of his (apparently astonishing) sports memorabilia collection in 2017, he let go of more than one amazing item having to do with Babe Ruth alone.
In 1919, one of the most famous (and, some would say, disastrous) trades in baseball history took place, when the Red Sox traded Babe Ruth to the Yankees. The Durango Herald says the deal was inked in three contracts, one for the Yankees, one for the Red Sox, and one for the American League. While the latter seems to be lost, the Red Sox version went for a respectable $996,000 at auction in 2005. Sheen bought the Yankees' copy in a private sale that same year.
Twelve years later, Sheen sold it at auction for $2.3 million. Who could be unhappy with that, right? Well, maybe Sheen, since, according to Bleacher Report, he once turned down a $5 million offer for the document.
Mark McGwire 70th home run ball: $3 million (1999)
Not every major piece of sporting memorabilia is going to be a good investment. Let's say, for example, that you bid over $3 million for a landmark homerun ball – and then the guy who hit it admitted to taking all the steroids. Suddenly, the ball is just as tarnished as the record and no one wants to take it off your hands, let alone for millions more than you paid.
Such was the situation comic book artist Todd McFarlane found himself in, according to CBS Sports. At an auction in 1999, he paid $3 million for the ball that home run king Mark McGwire had sent flying for his record-breaking 70th home run in a single season the year before. At the time, this was a huge deal.
Oh, how things have changed. Not only did McGwire admit he was using steroids during the 1998 season (per ESPN), but his record was broken only three years later by Barry Bonds. In 2020, various auctions houses estimated the ball might only be worth anywhere from $250,000-400,000. (Bonds' ball did little better when it sold in 2003 for just $450,000 … to Todd McFarlane.)
Daniel Lucius 'Doc' Adams' rules of baseball: $3.26 million (2016)
It's often very hard to say who "invented" a sport, especially when its beginnings are long ago. So it is with baseball. According to Sports Collectors Digest, Alexander Joy Cartwright Jr. is usually given the honor of the title "Father of Modern Baseball," even at the National Baseball Hall of Fame. As of 2016, a plaque there gave him credit for parts of the game we take for granted now, like 9 innings per game.
But in 1999, a bidder won an old handwritten document about baseball for $12,650 at auction. Then he stuck it in a drawer. When he finally got around to asking experts to look at it, those pages changed the history of baseball. The document was written by Doc Adams (pictured) and it codified the rules of baseball for the modern game. "When Doc Adams set to work in late 1856, none of these aspects of the game were settled," baseball historian John Thorn explained.
The second time around at auction, the document would not go for low-five figures. In 2016, it sold for $3.26 million, per ESPN. Thorn put into words why the purchase was worth it for lovers of the game: "In 1857, baseball made its great leap forward, and these are the documents that reveal what it was like to be present at the creation."
James Naismith's 1891 'Rules of Basketball': $4.3 million (2010)
Unlike with baseball, there is no question who invented basketball. According to ESPN, in 1891, James Naismith needed an indoor game to entertain boys at a YMCA in Massachusetts, since New England's winter weather makes outdoor sports impossible, and children used to get bored easily before smartphones and video games. So Naismith wrote down 13 rules, had his secretary type them up, and a new game was born.
In 2010, the original typewritten document, which was still owned by the Naismith family, was put up for auction with the proceeds going to their charitable foundation. Calling basketball "a pure invention," a Sotheby's specialist said these two pages were "the birth certificate of one of the world's most popular sports."
While that essentially makes them priceless, the auction nevertheless managed to put a price on the document: a whopping $4.3 million. It was purchased by a University of Kansas alumnus, who then donated the list of rules to his alma mater, which was also the school where Naismith became the basketball coach in 1898.
Babe Ruth 1920 jersey: $4.415 million (2012)
Babe Ruth was infamously traded to the Yankees by the Red Sox after the 1919 season, and, as we've discussed, that contract sold for $2.3 million in 2017. But even more pricey was the uniform of Ruth's which went up for auction in 2012.
The simple top is grey with "New York" in blue letters across the front, and according to ESPN, it's known Ruth wore it sometime during his first season with the Yankees, making it the oldest known of his uniforms for the team. When the hammer came down at $4.4 million, it was a record price for sports memorabilia.
Annoyingly, the winner of the auction was … another auction house. Lelands.com obviously felt they could make quite a profit on the jersey by selling it themselves. But strangely for an auction house, they didn't even plan on letting people bid, instead saying they would find a private collector willing to spend the big bucks – erm, one really deserves the jersey. "Such a spectacular piece will find a home with one of our private clients who truly appreciates its historic significance," Lelands.com president Michael Heffner said.
Mickey Mantle 1952 baseball card: $5.2 million (2021)
The 1952 Mickey Mantle baseball card that sold at auction for $5.2 million in 2021 (a then-record price for any trading card) wasn't just important because it was connected to such an iconic player, but because of its pristine condition, "one of only a few known to be in existence with such a strong grade," per Hypebeast. The card was purchased by a CBD entrepreneur.
Of course, the introduction of NFTs of absolutely everything means if you can't own the physical card, you could always play a ton of money for … whatever an NFT is. In 2022, Topps sold an NFT of Mantle's 1952 card for almost half a million dollars, per Coindesk.
While Mantle and Honus Wagner (more on him in a minute) are the two most notable trading card auctions, many others have gone for over $1 million. These are usually the rookie cards of and/or autographed by the biggest names in their sports, including Lebron James, whose rookie card allegedly matched Mantle's price in a private sale in 2021. The Mantle sale also bested the former record-breaker, Mike Trout's 2009 autographed Los Angeles Angels rookie card, which had been sold for almost $4 million less than six months before. In fact, according to Sports Illustrated, between February 2020 and April 2021, 23 of the 24 most expensive trading cards were purchased either privately or at auction. Obviously, rich people went a bit crazy with their online shopping during the covid lockdowns.
Babe Ruth 1928-1930 jersey: $5.64 million (2019)
Sure, a 1920 Babe Ruth Yankees jersey might be worth $4.4 million at auction in 2012, but a jersey worn by the Bambino about 10 years later that sold in 2019 made the amount look like peanuts.
Of course, if you want to get people all passionate and nostalgic in order to make them spend more money, it helps to hold your auction in a significant location. The 2019 sale by Hunt Auctions took place at Yankee Stadium itself, according to CNN. Before that auction, the 1920 jersey still held the most expensive sports memorabilia record; afterwards, the crown belonged to a grey jersey with "Yankees" across the front, worn by Ruth sometime between 1928 and 1930, which sold for $5.64 million. (Ruth is seen here in a similar jersey in 1930.)
"While the record-setting prices attained today are certainly astonishing, I am not surprised at all given the incredible materials and the mythical status the Babe holds in the history of this country," the president of Hunt Auctions, David Hunt said, assumedly while counting his cut of the proceeds.
Honus Wagner baseball card: $6.6 million (2018) (And $1.2 million and $2.8 million and $3.12 million)
If you ever stumble on a Honus Wagner baseball card in your grandparents' attic, congrats on being able to retire. How valuable are these things? Let's put it this way: In 2022, in two separate auctions, two severely damaged versions – one was actually missing almost half the card – sold for $475,000 and $1.5 million (per CBS Sports and USA Today).
Then you get into the ones that are in good nick. People actually use these things as an investment, since you can buy one at auction, turn around and sell it just a year or two later, and make a huge return. One went for $3.12 million in 2016. In 2022, the most famous single Wagner baseball card – known as the "the Charlie Sheen All Star Café Honus Wagner" as it was both owned by the actor (he's back!) and stolen from a display at a restaurant in 1998 – sold for $3.13 million, with the proceeds going to charity, per The Oklahoman.
And 2021 saw another Wagner sell for a new record for a baseball card: $6.6 million (per Forbes). This price returned the player to the top of the list of most expensive trading cards.
Original Olympic Games manifesto: $8.8 million (2019)
Lots of countries have their own sports with their own championships. And you do get intercontinental contests, and events like the World Cup in soccer. But even then, that's just one sport. When it comes to a massive, worldwide celebration of all (or most) sports, nothing comes close to the Olympic Games.
So if you are a sports fan, perhaps nothing is more significant that the reintroduction of the Olympic Games in the late 1800s after thousands of years. The brainchild of Pierre de Coubertin, in 1892, he wrote a speech he then delivered to the French Athletics Association, which outlined his vision for the modern Games, according to Penta. There is only one known handwritten copy in existence (and it's in French), on the back of which all Olympic Games have been built. (Pictured is the first printed version, not released publicly until 1908, per the International Olympic Committee.)
In 2019, Sotheby's predicted the 14-page document would sell for $1 million. Instead, three bidders fought it out for almost a quarter of an hour, with the anonymous winner shelling out $8.8 million. It was a record for most expensive sports memorabilia at the time and remains so in 2022. But based on past examples, expect that to be bested any day now.