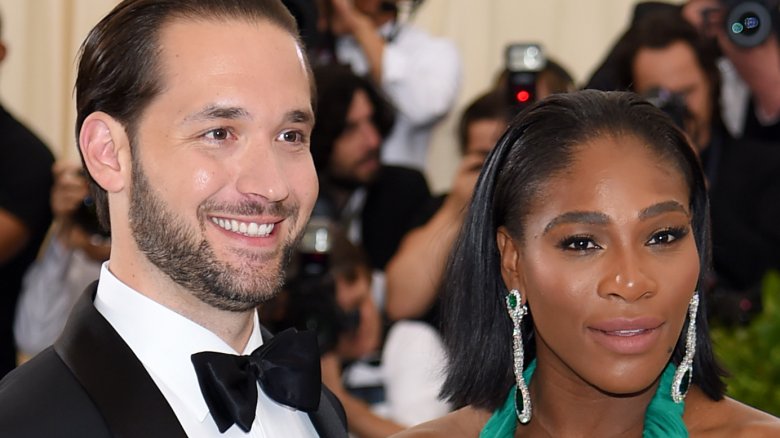 Serena Williams and Alexis Ohanian make up one of the world's top celebrity couples to watch. She's considered one of the greatest tennis players of all time. With a record of 23 Grand Slam singles titles to her name, the sports superstar was also the highest-paid female athlete for the second year running in 2017. Her husband is an internet entrepreneur. As the co-founder of Reddit and Initialized Capital, he is a longtime Net Neutrality activist who was dubbed the "Mayor of the Internet" by Forbes in 2012.
These lovebirds are not only at the top of their careers, but they are also totally smitten and share a beautiful family together. In September 2017, they welcomed daughter Alexis Olympia, before tying the knot that November. While these two are undoubtedly couple goals, there's more to their seemingly perfect power couple than meets the eye. Here are some of the strange things about Serena Williams and Alexis Ohanian's marriage.
An awkward meet-cute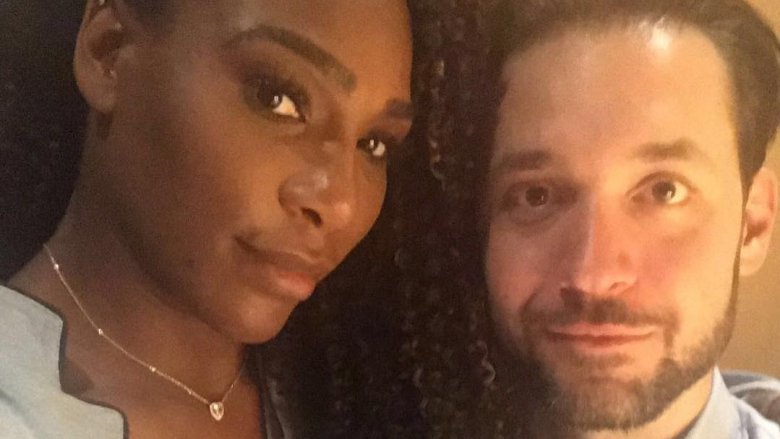 IT was not love at first sight for this couple. In May 2015, they met by chance at the Cavalieri hotel in Rome. While Williams lounged near the pool and enjoyed breakfast with a group of friends, Ohanian ignored the surrounding empty tables and decided to plop down at the one right next to the tennis superstar.
"We were trying to get him to move and get out of there," Williams told Vanity Fair in 2017. The group mistook his close proximity as an attempt to get too close to her, so they told him that there was a rat by his table. "He kind of refuses and he looks at us," Williams recalled. "And he's like, 'Is there really a rat here?" He added, "I'm from Brooklyn. I see rats all the time."
"Oh, you're not afraid of rats?" Williams asked. To which he simply replied, "No."
Intrigued by the startup guru's nonchalant demeanor, Williams invited Ohanian to join her and her friends at their table. And the rest, as they say, is history.
Dating in secret
Williams and Ohanian were initially notoriously private about their blossoming romance. The couple secretly dated for nearly 15 months before they finally went public with their engagement announcement in December 2016.
While the tech executive sporadically dropped hints about their relationship on social media during that time, he didn't pop up in Williams' own Instagram feed until over a year after they met. In a group photo of her friends shared in August 2016, she teased her secret boyfriend by simply referring to him as "the nerd."
Perhaps due to their discretion, rumors that Williams was dating other people lingered throughout that first year, including rappers Drake and Common. Ohanian had just gotten out of a five-year relationship with his college sweetheart, microbiologist Sabriya Stukes. The cute pair were so good at keeping the relationship under wraps that the only report linking the two together at lunch emerged in October 2015.
Shocking pregnancy reveals
In April 2017, Williams accidentally revealed her first pregnancy when she infamously shared (and deleted) a Snapchat selfie. While showing off her baby bump in the photo, she wrote, "20 weeks." Fans may have been stunned, but the newly engaged pair couldn't have been more shocked themselves when they found out they were expecting.
In the week leading up to the Australian Open in January of that year, Williams had been feeling off, and she eventually took a pregnancy test. As she recalled to Vanity Fair, the results read positive. "[I] did a double take," she said. "And my heart dropped. Like literally it dropped. Oh my God, this can't be — I've got to play a tournament. How am I going to play the Australian Open? I had planned on winning Wimbledon this year."
The tennis pro was in denial and needed some convincing — so she took five more tests, all of which were positive. When Ohanian flew into Melbourne to meet her, Williams simply handed him a paper bag containing all six pregnancy tests. Determined to compete as planned, Williams famously went on to win her 23rd Grand Slam title while roughly eight weeks pregnant.
They didn't know each other's work
Williams and Ohanian may be at the top of their respective fields, but they were totally clueless about one another's careers when they first met.
As Ohanian told Vanity Fair, he was about "98 percent sure" he was speaking to the Serena Williams during their first conversation, though he wasn't interested at all in tennis. "[I had] never watched a match on television or in real life," he said. "It was literally the sport — even if ESPN was announcing tennis updates, I would just zone out … I really had no respect for tennis."
Williams didn't know anything about Reddit, either. However, in an attempt to impress, she nearly got caught in a little white lie when she told its co-founder that she had just logged onto the popular site earlier that morning. "Oh, were you? What do you like about it?" Ohanian asked her. She'd replied, "Wellllll…." Luckily, the tennis pro's friends quickly chimed in to save her.
Ohanian wound up attending the 2015 Italian Open to watch Williams in action that week. "Looks like I just became a tennis fan. #priime," he wrote on Instagram, captioning a snapshot of her hitting the court.
Racing toward romance
Williams and Ohanian shared their first official date just a few weeks after meeting. As the tennis pro geared up to compete in the 2015 French Open (which she won,) she invited her new crush to join her for a weekend getaway in Paris — the city of love.
Ohanian agreed to the invite but said he didn't have any expectations for the trip. He shared his initial thoughts with Vanity Fair: "Even if she blows me off and we don't even hang out, I'm still going to have an amazing time in Paris, and I'll have an even better story for all my childhood friends when I was like, 'Yeah, I went to Paris for a weekend. I was supposed to meet up with Serena Williams, she blew me off, but I've got other friends there, and we had a great time.'"
The soon-to-be couple hit it off as they wandered around the city for six hours. World-class traveler Ohanian led the way, making sure his date had a great time as they visited the Eiffel Tower, a zoo, and a number of small shops.
Ready for more
Before they celebrated their first anniversary together, Ohanian knew he wanted to marry Williams. "I felt like a door had been opened to a person who made me want to be my best self," he told Vanity Fair. He planned a picture-perfect proposal: Flying Williams out to Rome, he set up a trail of rose petals leading to the spot where they first met (complete with a plastic rat on the hotel table.)
Naturally, Williams announced their engagement on Reddit. Sharing her fiancé's drawing of the couple as Snoos (the website's space alien mascot,) she called herself "Future Mrs. Kn0thing," in reference to his username. She also penned a sweet poem: "I came home / A little late / Someone had a bag packed for me / And a carriage awaited / Destination: Rome / To escort me to my very own 'charming' / Back to where our stars first collided / And now it was full circle / At the same table we first met by chance / This time he made it not by chance / But by choice / Down on one knee / He said 4 words / And [I said yes]."
Ohanian replied, "And you made me the happiest man on the planet." Excuse us while we go cry now.
Battling health complications together
When the couple welcomed its first child, Alexis Olympia, in September 2017, Williams suffered scary postpartum health complications. As she revealed to Vogue the following January, her plummeting heart rate during contractions led to an emergency C-section, after which Ohanian cut the cord and placed their little girl on her chest. "That was an amazing feeling," she said. "And then everything went bad."
Over the next week, Williams suffered through shortness of breath due to small blood clots in her lungs and an intense coughing fit that opened up her C-section wound. During the surgery to close it, her doctors found a large hematoma that had flooded her abdomen. She spent six weeks recovering at home on bed rest. "I was happy to change diapers," Ohanian said. "But on top of everything she was going through, the feeling of not being able to help made it even harder."
Williams' childbirth complications encouraged her to use her platform to advocate for health care around the world. "My personal experience was not great but it was MY experience and I'm happy it happened to me," she shared on Facebook. "It made me stronger."
A Marvel-ous gesture
Just ahead of their wedding, Ohanian rented out an entire movie theater so the whole family could watch Thor: Ragnarok together. "Junior's first movie," the proud dad said in a video on Instagram, which he captioned, "Thor: Ragnarok is a family affair." He added, "Momma needed a day off to relax. She really wanted to see her other man, Thor, in Ragnarok." The clip then cut to him, Williams, and little Alexis Olympia cuddling in front of the big screen.
"We're gonna cover your eyes for all the violent scenes," Ohanian tells his little girl. Williams adds, "And she has earmuffs on," ensuring that the infant would be protected from the comic book flick's violent images and loud noises. "Safety first," Ohanian says, before jokingly adding, "Even though Thor is your mother's other man. It's okay, he's not that tall."
As the video concludes, the footage pans to Williams sound asleep, her head using Ohanian's shoulder as a pillow. He captioned this portion of the clip, "Of course mama fell asleep." Too cute.
They're super into Disney
After a nearly year-long engagement, Williams and Ohanian tied the knot in November 2017 in New Orleans, but their wedding was anything but ordinary. Rather than opt for a traditional ceremony, the pair threw a Disney-themed affair. The star-studded wedding, attended by the likes of Beyoncé, Eva Longoria, and Ciara, followed a magical Beauty and the Beast theme. According to an Entertainment Tonight source, guests were greeted with the song "Be Our Guest" and "were expected to dress to the theme."
Williams told Vogue that she wanted her wedding to be "as non-traditional as possible." She glowed in an Alexander McQueen gown and Ohanian handsomely sported an Armani suit as the couple exchanged personally written vows. "You are the greatest of all time, not just in sport," he told his beautiful bride. "I'm talking about as a mother and as a wife. I am so excited to write so many more chapters of our fairy tale together. And my whole life I didn't even realize it, but I was waiting for this moment … I am so grateful, and I am so in love."
After the Disney-themed ceremony transformed into a modern ball, the newlyweds' first dance — complete with impressive spins and lifts — was set to "Tale as Old as Time" and "If I Can't Have You." Oh, and New Edition gave a surprise performance at the reception, before Ohanian surprised his wife with an all-white carousel as Ginuwine's "Pony" played. No big deal.
Four billboards outside Indian Wells, Calif.
Ohanian clearly loves surprising his wife with grand gestures, but he may have topped even himself with this one.
In February 2018, as Williams geared up for her highly anticipated return to tennis after giving birth, the startup guru designed and put up four billboards to support her. Some suspected this to be an homage to that season's award-winning film Three Billboards Outside Ebbing, Missouri. Ohanian took to Twitter to post a photo of his handy work. Each billboard featured little Alexis Olympia and Williams, and boasted the acronym, "G.M.O.A.T." ("Greatest Momma of All Time.") "These just went up on alongside I-10 into Palm Springs," he wrote in the caption. "@OlympiaOhanian & I wanted to welcome her back to tennis. Designed them myself, with some help from Jr. #GMOAT."
Days later, Williams made her triumphant return at the BNP Paribas Open in Indian Wells, Calif. With her family cheering her on in an admittedly extravagant way, she defeated Kazakhstan player Zarina Diyas in the first round of the tournament.
Relationship goals
Serena Williams and Alexis Ohanian's relationship may have its fair share of quirks, but at the end of the day, these two are clearly total #RelationshipGoals. The married pair is known to share their funniest, cutest, and most romantic moments on social media. Some of our faves include the couple having fun with flower filters, busting out dance moves with New Edition, smiling big in their first official family portrait, and sharing an intimate moment on their wedding day.
And we dare fans not to audibly "aww" whenever Williams gushes about her man. "He's my rock my backbone my love. I am so lucky to have found this wonderful man that treats me better than a queen," she wrote on Instagram at the end of 2017. "I love you Alexis you make me excited to wake up every morning knowing I'll get to see you."
Seriously, how sweet is this family?