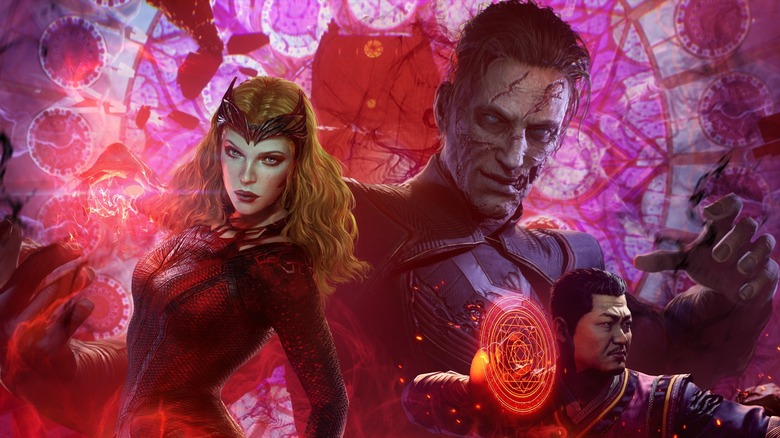 (Superhero Bits is a collection of stories, updates, and videos about anything and everything inspired by the comics of Marvel, DC, and more. For comic book movies, TV shows, merchandise, events, and whatever catches our eye, this is the place to find anything that falls through the cracks.)
In this edition of Superhero Bits:
Michelle Williams is very dedicated to "Venom."
"Morbius" has apparently been given a curious edit in some theaters.
"Gotham Knights" is only going to be available on next-gen consoles.
"Doctor Strange in the Multiverse of Madness" crossed a box office milestone.
DC Universe Infinite is now available in the U.K.
Excited to share that #DCUNIVERSEINFINITE has arrived in the UK! All the details right here🦇 https://t.co/2U2BkbAuuT #batmantheblackmirror #batmanonedarkknight #greenarrowyearone #thelosers #dcuniverseinfinite #ad #dcukcomics pic.twitter.com/sTe30evb7r

— jock (@Jock4twenty) April 29, 2022
Those who are interested in reading more comics, particularly from DC's library, may now have a convenient excuse to do just that. DC Universe Infinite is a subscription service that grants readers access to thousands of DC Comics titles and, as the above tweet (with some pretty sweet Batman art) indicates, the service is now finally available in the U.K. Those who are interested can get full details by going to the DC Universe Infinite website.
Naomi I Can Handle It season trailer
"Naomi" is getting ready to wrap up its first season tonight and The CW has revealed a new trailer ahead of the finale's debut. For what it's worth, the network has not yet made a decision on whether or not to renew the show just yet, though both "Legends of Tomorrow" and "Batwoman" were given the ax. It's pretty clear that the network is scaling back on its superhero programming, but will that be a slow transition, or are we going to see these shows canceled rapidly from here on out? Time will tell, but you can check out the season finale tonight, with the episode streaming on the network's website tomorrow.
Gotham Knights is only coming to next-gen video game consoles
Apologies to PlayStation 4 or Xbox One owners who have been waiting on "Gotham Knights," but we've got some bad news. As reported by The A.V. Club, Warner Bros. has confirmed that the long-awaited video game will indeed only be for next-gen consoles, which was not originally going to be the case. "To provide players with the best possible gameplay experience, the game will release on PlayStation 5, Xbox Series X/S, and PC and will not be available for PlayStation 4 or Xbox One consoles," Warner Bros. said in a statement. It would appear the delays this game has suffered made it so that a next-gen only release made the most sense. Still, that is going to leave a great many gamers out in the cold on this one.
Grab Scarlet Witch and Doctor Strange character skins in Fortnite
Heads up, Marvel fans who also happen to play "Fortnite." As noted in the above Instagram post, Scarlet Witch is currently available in the game's item shop, with Doctor Strange available as part of the current Battle Pass. Both character skins (which don't come with any added abilities, it's worth mentioning) have been added to the game temporarily in honor of "Doctor Strange in the Multiverse of Madness." So if you've been itching to get in on some Battle Royale as the Sorcerer Supreme, now is the time.
Michelle Williams is extremely committed to the Venom movies, it seems
Much can be said of the "Venom" movies up to this point, but they are in no way lacking in the talent department. Case in point, Michelle Williams is one of our finest actors working today and she has been along for the ride thus far as Anne Weying alongside Tom Hardy's Eddie Brock. In a recent chat with Variety, the Oscar-nominee discussed her work in the Marvel Comics adaptations a bit, saying the following:
"Pretending that a monster is getting into your body and then taking over and leaving your body, that's hard. I want to keep growing, and 'Venom' is an important step in my growth."
It is downright amazing hearing an actor of Williams' caliber describe a movie like "Venom: Let There Be Carnage" as an important part of her growth as a performer. That makes it seem all the more likely that she'll sign on for "Venom 3." More power to her.
Was the Spider-Man edited out of the Morbius post-credits scene?
More weird #Morbius news.

In the (stupid) mid-credits scene, Vulture flies up to Morbius, thanks him for meeting w/ him, & says "it has something to do with Spider-Man".

The Spider-Man line has inexplicably been removed from every single print at ALL of my local theaters 🤔 pic.twitter.com/2CfaVoO7pn

— DR Movie News 📽 (@DRMovieNews1) May 10, 2022
Here's an odd thing that has begun making the rounds. The "Morbius" post-credits scenes not only (confusingly) included Michael Keaton's Vulture, but they also included the first actual mention of Spider-Man in Sony's Marvel universe, which currently also includes the "Venom" movies. However, as noted in the above tweet, it seems that, well into the movie's disappointing theatrical run, those mentions of Spider-Man have been edited out. While this has yet to be verified by Sony or any other websites with sources on the ground, this is indeed a curious development. The real test will be seeing if the lines have been altered when the movie arrives on home video.
Sorry Marvel fans, Mephisto was never part of the plan
One of the most prevailing fan theories over the last year and a half is that Mephisto was going to end up being a major villain somewhere in the MCU. It all started with "WandaVision" and has persisted well after that show concluded. So, was the villain ever in the cards for "Doctor Strange in the Multiverse of Madness?" The film's writer Michael Waldron has cleared that up in an interview with Variety, saying the following:
"No. Only in jokes. Only in bits I did in the writers room and in text messages I sent to ['WandaVision' head writer] Jac Schaeffer. Mephisto was never in play for us."
So there we have it, everyone. No Mephisto. Yet …
Doctor Strange in the Multiverse of Madness crosses $500 million at the box office
Doctor Strange in the Multiverse of Madness passed the $500M global mark on Tuesday.

The film grossed an est. $16.1M internationally on Tuesday. Estimated international total stands at $294.2M, estimated global total stands at $507.8M.#DoctorStrange #ScarletWitch #BoxOffice pic.twitter.com/pxE8Do0yue

— BoxOfficeReport.com (@BORReport) May 11, 2022
Amazingly enough, after less than a week in theaters, "Doctor Strange in the Multiverse of Madness" has already amassed just shy of $508 million at the global box office. As the folks at Box Office Report point out, the film's Tuesday earnings around the world helped push it over the $500 million milestone, which is downright remarkable considering that very few movies have made that much during their entire theatrical runs in the pandemic era. Yet, Marvel's latest managed to do so in mere days. It seems all but assured that this one will join the $1 billion club, and quite possibly sooner rather than later, depending on how well its second weekend goes. "Doctor Strange 3" seems all but guaranteed at this point, and that ball has already been teed up in some ways.
Scarlet Witch arrives in Marvel Future Revolution
Lastly, those who play the mobile game "Marvel Future Revolution" can now enjoy playing as Wanda Maximoff, aka the Scarlet Witch. As noted by the above post from the game's official Instagram account, the character has been added to the game, and the version included is indeed inspired by her appearance in "Multiverse of Madness." The inclusion of zombie Strange and a screen-accurate Wong in that artwork also indicates just how much they are leaning into the tie-in with director Sam Raimi's film. Those who are interested in getting in on the action can learn more or download the game by going to the "Marvel Future Revolution" website.