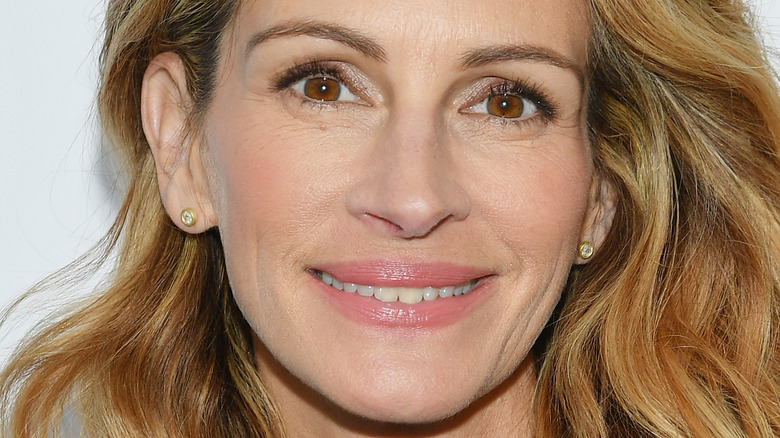 While some actors are known for being wonderful, others are infamous for their less than pleasant behavior on and off set. Sometimes, actors that play the sweetest characters on-screen can turn out to be some of the worst people in real life — that's why they're actors, right? Plus, many don't shy away from showing their true colors as soon as they don't get their way. With fame and success often comes privilege, and many of the following stars don't seem to be afraid to flex the power that comes with massive celebrity.
As Bill Murray once put it during a 2009 appearance on the "Joy Behar Show" (via Vulture) being difficult may just be a natural form for some celebrities to take on. "I think everyone becomes a jerk for about two years when they become famous," he said. "… You end up behaving poorly because there's just no training for it." Arguably, the majority of the following names may have enjoyed more than their two years' worth of such behavior by this point.
Some of the names on this list might surprise you while others won't at all — some just can't hide their shady side. As a result, the biggest jerks in film may not be people you'd want to cross in real life. Let's dive right into the tea.
Reese Witherspoon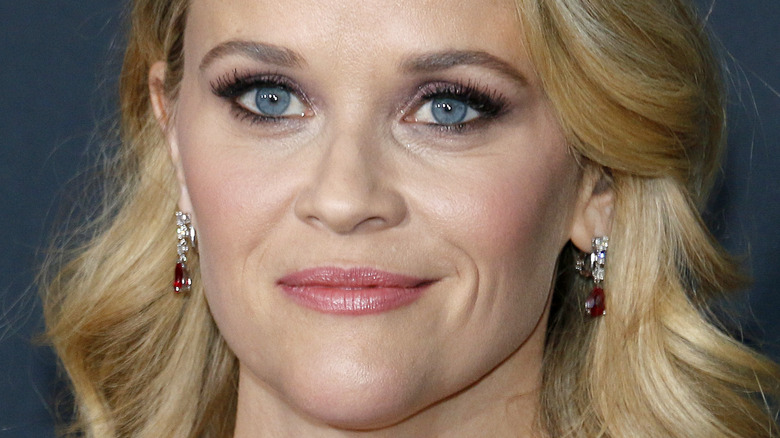 In April 2013, TMZ reported that Reese Witherspoon and her husband James Toth were arrested after a night of drinking. In the early hours of the morning, the former talent agent was allegedly spotted driving erratically by police, and the two were pulled over. During Toth's sobriety test, Witherspoon allegedly started getting rowdy, leaving the car.
The star was then alleged to have flexed her Hollywood kudos by asking, "Do you know my name?" The officer answered that he did not, to which Witherspoon replied, "You're about to find out who I am … You are going to be on national news." The couple was arrested and booked shortly after the incident with Toth facing charges of driving under the influence while Witherspoon was accused of disorderly conduct. Despite the mess, the couple never appeared in court. Instead, Witherspoon was ordered to pay $100 while her husband was issued a $600 fine and 40 hours of community service, per ITV News.
Days after the arrest, Witherspoon made a public apology for her behavior. In a statement published by Entertainment Weekly, she copped to having drunk too much alcohol and suggested she was acting out of fear. "I was disrespectful to the officer who was just doing his job," she wrote. " The words I used that night definitely do not reflect who I am." A year later, she told reporters at the BFI London Film Festival (via The Hollywood Reporter) that the incident had altered her public image.
Tobey Maguire
Tobey Maguire is an actor most known for his depiction of Peter Parker in Sam Raimi's "Spider-Man" trilogy. However, it's been alleged that the web-slinging sweetheart he portrayed is nothing like who he is in real life. In the '90s, the actor was part of the infamous "P*ssy Posse," a group of young Hollywood bachelors which included Leonardo DiCaprio, Lukas Haas, and Kevin Connolly, that were notorious for their partying and romantic pursuits. According to Molly Bloom, a woman who'd come to organize weekly private poker parties attended by the posse, Maguire was purported to be a challenging presence. "Tobey was the worst tipper, the best player, and the absolute worst loser," she wrote in her memoir, "Molly's Game" (via Vanity Fair). "I had to worry about my job security if he lost."
A former cocktail waitress, Bloom allegedly took home as much as $50,000 a night in her new role as Hollywood's Poker Princess. When Maguire decided she was making too much money, he tried to humiliate her in front of everyone by ordering her to bark for a $1,000 chip (via Vanity Fair). There have been other suggestions that Maguire is kind of a jerk behind the scenes. In 2003, for instance, Variety reported that Jake Gyllenhaal was in talks to replace the actor in "Spider-Man 2" after Maguire had reportedly exhibited difficult conduct during pre-production.
Julia Roberts
Julia Roberts has been working as a successful actor almost non-stop since the late '80s. With such an impressive resume, it's hard to imagine her as anything less than a joy. Unfortunately, there are a fair few celebrities who can't stand Roberts and may have suggested otherwise.
Her "I Love Trouble" co-star, Nick Nolte, is one such individual. In 1994, Los Angeles Times reported rumors that the pair reportedly didn't get along on set, and the lack of chemistry was obvious on screen. Everyone seemed keen to deny the rumors, but the co-stars appeared to make their true feelings clear during interviews. Speaking to The New York Times, Roberts suggested she actually found Nolte to be likable. However, she added, "He's also completely disgusting." Nolte defended himself to the Los Angeles Times (via The Independent) and said, "It's not nice to call someone 'disgusting.' But she's not a nice person. Everyone knows that."
The cattiness doesn't stop there. While filming 1991's "Hook," Roberts was allegedly nicknamed "Tinkerhell" by the cast and crew due to her apparently disagreeable behavior. This was said to include sitting in her trailer for hours at a time, per Entertainment Weekly. The actor denied the allegations to the outlet. Regardless, Spielberg griped about the experience to "60 minutes." While he commended her talent, he stated, "It was an unfortunate time for us to be working together." He then tellingly avoided responding to a question about whether he'd work with her again.
Shia LaBeouf
In 2019, it seemed like Shia LaBeouf was making a new name for himself in Hollywood. After producing and starring in a few widely acclaimed indie films, the artist-slash-actor was cast in Olivia Wilde's "Don't Worry Darling." However, scheduling conflicts had reportedly caused him to leave the project, and it was later revealed that he was actually dropped, per Variety. While the outlet described allegations that the actor was difficult to work with, Wilde confirmed the news to People and suggested she kept a zero-tolerance approach to bad behavior on-set. "The no a**hole policy, it puts everybody on the same level," she explained.
When singer FKA Twigs accused LaBeouf of sexual battery and assault, Wilde was one of the many women to publicly show her support. Twigs filed a bombshell lawsuit against the actor in 2020, citing verbal and physical abuse.
LaBeouf's violence off-set seemed to follow him into the professional world too. The darker he became in private, the darker his characters appeared to become. Most notoriously, while working on the set of "Lawless," Mia Wasikowska was completely terrified by the actor's method-drinking process. Speaking to Page Six (via The Cut), the actor explained that he used moonshine to get into his role, claiming that he needed to look sufficiently bloated to portray the character. His antics nearly caused Wasikowska to leave the film. "She was calling her attorney, like, 'Get me the f**k out of here,'" LaBeouf said. " … I was really pretty aggressive about it."
Jared Leto
Jared Leto has made quite the name for himself in Hollywood due to his extreme method acting techniques. On "Suicide Squad," that meant bugging his co-stars with horrifying Joker-esque gifts. Meanwhile, his "Requiem For a Dream" process was so radical that it was rumored to have almost destroyed his relationship with Cameron Diaz in 2000.
22 years later, "Morbius" director Daniel Espinosa confirmed rumors that the Oscar-winning actor took it up a notch by staying in character even for bathroom breaks. He told Uproxx that Leto initially used his character's crutches to limp to the bathroom. When this took too long a wheelchair was arranged, along with someone to push Leto around in it. Espinosa remained philosophical about the star's decision. "Hey, man, it's people's processes," he said.
Leto has a history of being a jerk to journalists as well. In a 2016 "Rolling Stone" interview with Brian Hiatt, the actor took the journalist on a dangerous hiking path filled with jagged terrains. When it became impossible to safely hike through, he told Hiatt that he was just messing with him, before guiding them to a more reasonable path. Meanwhile, in a 2013 interview with The Telegraph, the actor repeatedly and emphatically pretended not to know what "My So Called Life," is — the TV show that launched his career. "Either you dismiss Jared Leto as a big jerk, I realize, or you go with it," wrote journalist Emma Forrest following the frustrating exchange. Indeed.
Gwyneth Paltrow
In 2013, actor Gwyneth Paltrow was named the most hated celebrity in the world by Star Magazine (via Daily Mail). Despite her successful career in film, the "Goop" founder has cultivated a bad reputation seemingly based on her eccentric choices and apparent ignorance of her own privilege. Paltrow has long riled people up by making insensitive comments, like the time she once told Conan O'Brien (via Daily News), "I would rather die than let my kid eat Cup-a-Soup."
When she isn't taking swipes at affordable convenience foods, she's been known to make inappropriate and backhanded comments which don't paint her in the best light. In 2019, for instance, Vulture noted that the star had told the same anecdote to three different publications wherein she essentially credited herself for the popularity of yoga. Meanwhile, in 2006, she shared her shock that great actors like Reese Witherspoon were wasting their talents on mediocre projects. "You think, 'Why is she doing these stupid romantic comedies?' But of course, it's for money and status," she told The Guardian.
Speaking of money, Paltrow often insists that her fortune was self-made, despite the fact that her father was a television producer and her mother was an actor. However, Paltrow has maintained that she didn't take a dime off her parents. "[My father] said, 'You are completely on your own. So he never gave me anything … he never helped me with my rent, I never had a trust fund," she told the Independent.
Terrence Howard
Terrence Howard's reputation for being a jerk dates back decades. In 2007, for instance, he raised eyebrows during an interview with Elle when he suggested he's attracted to women who look like him, before offering his bizarre take on essential feminine hygiene requirements. As the "Crash" star saw it, women are unclean unless they use baby wipes on themselves. While his personal life has also been fraught with drama and assault allegations, his professional life hasn't fared much better, either.
As a TV executive once alleged to the "New York Post," "It's an industry joke that he collects more assault raps than acting accolades." When he was dropped from "Iron Man 2," Entertainment Weekly reported a rumor that it was due to the actor's difficult behavior behind the scenes. The outlet reported that there may have also been a dispute over the star's salary — a rumor apparently dispelled by Marvel Studios, per New York Post.
A source alleged to the outlet that Howard has had issues with his temper, explaining, "Terrence has to be in control of everything, all the time. When he doesn't get his way, he loses his s ** t very easily." However, the actor has suggested that he'd unfairly garnered a reputation for being difficult simply because he wouldn't comply with expectations. "I get all these accolades," he told Rolling Stone in 2015. "… But now they've set it up that Terrence is difficult, and so that has followed me."
Tom Cruise
Tom Cruise is famous for his roles in "Top Gun", "Jerry Maguire," and "Eyes Wide Shut". But throughout his time in Hollywood, he has built a reputation for being difficult to work with. Two decades after starring alongside him in the 2000 action flick "Mission Impossible II," Thandie Newton told Vulture that the Hollywood legend was a lot to deal with during filming. "I was so scared of Tom. He was a very dominant individual," she said. "He tries super hard to be a nice person. But the pressure. He takes on a lot. And I think he has this sense that only he can do everything as best as it can be done."
Former Scientologist Leah Remini praised Newton for her comments. She even accused the Church of Scientology of controlling Cruise's public image, telling The Daily Beast that their PR machine had perfected his good guy image. "But if you actually look at his actions, they're not consistent," she said. Quite. That same year, Cruise attracted controversy when audio footage from the set of "Mission: Impossible 7" appeared to capture him explicitly scalding crew members for breaking Covid-19 protocols, per The Sun.
Though his outburst went viral, he assured Empire (via Los Angeles Times) that he held no regrets for it given how heavily the pandemic had postponed production. "I was thinking about the people I work with, and my industry," he said. "… It was very emotional, I gotta tell you."
Jesse James
The reality star and occasional actor Jesse James has a reputation for being a serial cheater. When he was married to America's sweetheart, Sandra Bullock, Radar reported that he'd been cheating on the "Speed" star with a number of women, prior to their divorce in 2010. In true jerk form, when Daily Mail asked him about his infidelity, he appeared to show little remorse. "In general, both women and men cheat," he said. "It's part of life."
During his seven-year marriage to drag racer Alexis DeJoria, James allegedly returned to his old habits. In 2020, Daily Mail reported that the "Monster Garage" star had cheated on his wife with at least 20 other women. He even allegedly sneaked his mistresses into their marital home in Austin, Texas for sex while his wife was away. A friend close to DeJoria told the outlet, "Jesse has been cheating on her since they first met, it never stopped, she's only now realizing just how bad it was."
To no one's surprise, James also allegedly cheated on his former fiancee Kat Von D with a whopping 19 women. The tattoo superstar and beauty mogul shared the allegations in an extensive Facebook post in 2011. Writing that she wanted to believe her partner was better than what was written about him in the tabloids, Von D admitted that she'd made a mistake. She wrote, "I know I deserve a big fat 'I told you so,' from everyone." He's consistent if nothing else.
Patrick Dempsey
Patrick Dempsey played medical heartthrob McDreamy on "Grey's Anatomy" for 10 ten years before his character was killed off, leaving fans devastated by his absence. However, according to Lynette Rice's "How to Save a Life: The Inside Story of Grey's Anatomy" (via The Hollywood Reporter), his departure might've been for the best. Despite playing lovers on screen, Dempsey allegedly did not get along with his costar Ellen Pompeo. Producer Jeannine Renshaw told Rice, "She just didn't like that Patrick would complain that 'I'm here too late' or 'I've been here too long' when she had twice as many scenes in the episode as he did."
The book also detailed how executive producer James D. Parriot was brought on set to oversee Dempsey's final days. He alleged that along with showrunner Shonda Rhimes being unhappy with the star's behavior, many cast members had trouble working with him too. "He sort of was terrorizing the set," Parriot is quoted as saying in the book. " … He had this hold on the set where he knew he could stop production and scare people."
In 2015, Radar reported that he was fired due to his bad behavior and dwindling work ethic. Tellingly, his exit received very little fanfare on set. Dempsey told Entertainment Weekly that his final day was like any other. "It was very quiet … I got in my car, got in rush-hour traffic, and two hours later I was home," he explained.
Ellen Degeneres
For years, rumors have swirled that Ellen Degeneres is not as nice as she seems. As suggested by a Buzzfeed list concerning all of her most awkward exchanges with guests, she may have exhibited jerk behavior right in front of our faces the whole time. After all, who can forget the time Dakota Johnson challenged Degeneres over strange claims that she wasn't invited to her 30th birthday party? Her reputation worsened in 2020 when comedian Kevin T. Porter encouraged people on Twitter to share stories about her being mean. Raising money for the LA Regional Food Bank with the post, the "Gilmore Guys" podcast star wrote, "She's … notoriously one of the meanest people alive." The post was flooded with anecdotes about Degeneres' allegedly terrible behavior on set and off.
Months later, "The Ellen Degeneres Show" was hit by allegations of being a toxic workplace. Buzzfeed News published a bombshell report which suggested a Black employee had experienced a flurry of microaggressions from fellow crew members, including racially insensitive comments about her hair. Meanwhile, a second report from the outlet alleged that there was an environment of sexual misconduct and harassment on set. This went on for years right under Degeneres' nose, putting her integrity, as well as that of the show, under a microscope. Per The Hollywood Reporter, Degeneres addressed the allegations in her season 18 opening episode. "I learned that things happen here that never should have happened," she said. "I take that very seriously."
Jennifer Lawrence
Jennifer Lawrence rose to fame in the 2010s for her quirky personality and her roles in box office hits like "The Hunger Games" and "Silver Linings Playbook." With her notable proclivity for red carpet pratfalls, the star seemed relatable and down to earth. However, her star power has noticeably dwindled ever since. The downfall may have begun in 2016 when Lawrence made some insensitive comments during an appearance on "The Graham Norton Show."
Sharing an anecdote about filming "The Hunger Games" in Hawaii, the star was all chuckles as she described being wilfully disrespectful to some sacred rocks on the island. "You're not supposed to sit on them, because you're not supposed to expose your genitalia to them," she explained, laughing. "I, however, was in a wetsuit for this whole shoot — oh my god, they were so good for butt itching!" Per Daily Mail, the backlash was swift and ferocious, forcing Lawrence to issue an apology via Facebook. She stated that she intended the story to be self-deprecating rather than offensive.
Along with being a public nuisance, Lawrence can apparently be conspicuously unpleasant to fans, too. While in conversation with Adam Sandler for Variety, the actor confessed, "Once I enter a public place I become incredibly rude, I turn into a huge a**hole." The reason, she stated, was a defense mechanism to help maintain privacy. So, if you're fan hoping for a selfie with the star in the near future, you're probably out of luck.