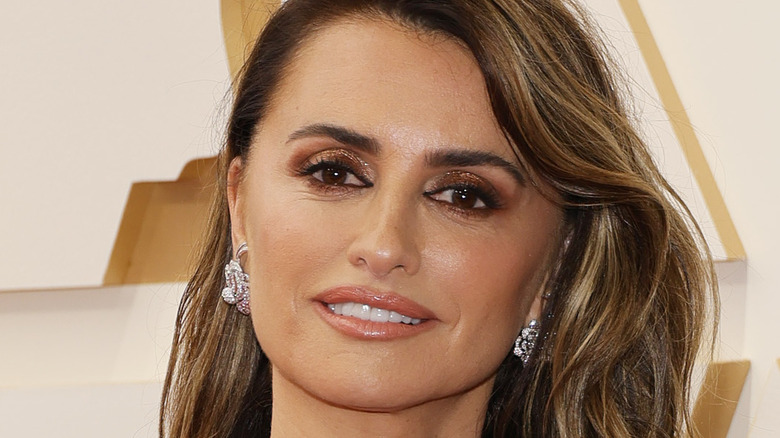 Penélope Cruz Sánchez, who is known to the world as Penélope Cruz, is arguably one of the most beautiful and successful actresses working in Hollywood today. She was born on April 28, 1974, to working-class parents in Madrid, Spain. She once described her childhood to The Guardian, saying, "We only had the basics, but we had so much love that I'm very grateful for the upbringing I had."
Her father Eduardo was a mechanic and her mom Encarna was a hairdresser. Cruz is the eldest of three siblings and was a very active child, which led to her parents' frequent frustration. According to Hello, Cruz said, "My mother used to give me to my grandmother for the holidays and scream, 'I can't take this child.'" Determining that dance lessons would be a good outlet for her energy, she was enrolled in ballet lessons and studied at Spain's National Conservatory.
Later she would set her sights on acting and, after winning a talent competition, Cruz began appearing in commercials and music videos (per Brittanica). At the age of 16, she starred in her first movie, "Jamón, Jamón," with fellow actor and future husband, Javier Bardem. Since then, Penélpe Cruz has received four Academy Award nominations and has won once for Best Performance by an Actress in a Supporting Role in Vicky Cristina Barcelona (2008). She married Bardem in 2010 and they have two children together, a son, Leo, and a daughter, Luna.
Penélope Cruz was a ballet dancer for many years
Penélope Cruz built her successful acting career on a foundation of discipline that she developed during her many years as a dancer. Cruz's parents enrolled her in ballet classes at the age of 4 so she would have a place to use her energy productively. In a 2010 interview for "60 Minutes," she told Charlie Rose, "I had too much energy so my parents decided to put me in ballet school … Thank God … because I didn't know what to do with myself."
She is grateful that she weathered the demands of her time as a ballerina, which she credits for helping her to prepare for the often grueling conditions that come with working on movie sets. "If I hadn't had the discipline of all those years in the dance world, it would have been much, much tougher," she said. "I mean, it — it goes too far sometimes. I mean, I used to take my toenails — they would die from dancing — so I would just take the whole toenail and throw it away, and not feel anything. But I loved it."
She is the eldest of three children
Penélope Cruz came from a tight-knit family and is the eldest of three children. Her sister, Mónica Cruz, is three years younger and is also a dancer and actress. Mónica studied ballet and Flamenco at The Royal Academy of Dance (per TheThings) and worked as her sister's body double in "Pirates of the Caribbean: On Stranger Tides" (per Pop Sugar). The two sisters have also worked together to design clothing collections for brands like Agent Provocateur and Mango (per The Guardian). Penélope fondly recalls the times that she and her sister spent drawing together as children, and wondered if that had been a precursor to their foray into fashion design.
Their brother Eduardo Cruz is 11 years younger than Penélope and is involved in the music side of the entertainment business. He began composing at 14 years of age (per IMDb) and enjoys the genres of electronic music and film composition. He had the opportunity to work with famed composer Hans Zimmer on Penelope's film, "Pirates of the Caribbean: On Stranger Tides." Since then, he has composed music for movies, commercials, video games, and more. He also dated famous Latina actress Eva Longoria after she was divorced from Tony Parker (per Pop Sugar).
Penelope Cruz has had the same agent since she was 14
At the tender age of 14, Penélope Cruz went to a theater and saw the movie that would change her life and send her on the trajectory of becoming an actress. Writer and director Pedro Almodóvar's "Tie Me Up! Tie Me Down!" had such a profound effect on her that she decided to get an agent that very day according to what she told Times Talks (via YouTube). With hopes of becoming an actress, Cruz attended a cattle call hosted by agent Katrina Bayonas (per Backstage). Initially, Bayonas refused to let Cruz audition because she was so young, but after returning several times and pleading her case Bayonas finally agreed.
Initially given lines from "Casablanca" to read for the audition, Cruz asked to do something more age-appropriate, to which Bayonas agreed. Cruz returned the following week and channeled her frustration with the agent into an improvised scene where she played an angry young woman. "It came naturally, said Cruz, "because I really was very angry with her for turning me away two times." Blown away by her performance, Bayonas decided to sign her up as a client. Out of the 300 women that had vied for representation, Cruz was the only person she signed.
She met future husband Javier Bardem when she was just 16 years old
Penélope Cruz started landing movie roles and one of them was in a Spanish film called "Jamón, Jamón." Just 16 years old at the time, she played a role that many considered quite scandalous. Future husband, Javier Bardem, recalled working with Cruz on the film in an interview with GQ. He acknowledged their attraction saying, "Yes, but she was underage. Nothing happened. There was obvious chemistry between us. I mean, it's all there on film; it's like a document of our passion. One day we're going to have to show the kids –- imagine! 'Mummy, Daddy, what did you do in the movies together?' Well, my children, you should celebrate this movie as you're here because of it!"
They subsequently remained friends but didn't work together again until they were both cast in The Woody Allen film "Vicky Cristina Barcelona" in 2007. As the end of the shoot drew closer, Bardem began to worry that a romance might never happen, but things progressed at a wrap party and they've been together ever since. They married quietly in the Bahamas in 2010 and have worked on several projects together since reuniting. Despite being one of Hollywood's power couples, they are fiercely private about their relationship. She told Tatler that they made "a really good decision for us, not to talk about our relationship. It would feel very strange to do it a different way. I just couldn't do it."
Penélope Cruz is best friends with Salma Hayak
Penélope Cruz counts fellow movie star Salma Hayak as one of her closest friends. The two have known each other for many years since they worked on the 2006 film "Bandidas" together. Cruz says that their relationship got off to a great start when upon arriving in the United States, Hayak insisted that Cruz stay with her and not at a hotel. She told the story of Hayak's meaningful gesture on "The Ellen Show."
"I was coming here for two months and I didn't know anyone here," Cruz said. "And she picked me up and said, 'You're not going to the hotel. You're coming to my house because this is hard at the beginning and you're going to feel very lonely.'"
Hayak's generosity and hospitality sparked the beginning of the two women forming a sister-like bond that continues to this day. In an interview with The Guardian, Cruz recalled another episode that strengthened their relationship even further. She told Times Talks (via YouTube) that one night when Hayak was getting ready to attend a premiere, the power went out in her house and she needed to have her hair done. She called Cruz, (who had spent her childhood in the salon with her mom) to come over and do her hair by candlelight. "That one really trusts me," said Cruz.
Pedro Almódovar is an integral figure in Cruz's life
In an interview with Christiane Amanpour on CNN, Penélope Cruz spoke about what she considers the most important creative relationship of her life — her longtime association with writer and director Pedro Almodóvar. "We've done seven movies together and I'm very lucky that he can imagine myself doing things that I, maybe I cannot even see myself doing … ." Cruz describes a relationship that is based on trust, love, and deep friendship.
Cruz's desire to work with Almodóvar happened after she saw his film, "Tie Me Up! Tie Me Down!" as a teenager. She shared the moment that she decided she wanted to be an actress on Times Talks. "It was a life-changing experience. I came out of the theater. I took a walk by myself and I decided in that moment to try to become an actress, just to give it a try."
From there she describes her intense desire to meet him and work with him, and how she felt that he would be an important figure in her life one day. Soon afterward she would secure an agent and start her career. After seeing the first two movies she was in, Almodóvar called her and they began their decades-long collaborative journey.
She had some famous boyfriends before she got married
Prior to marrying fellow actor Javier Bardem in 2010, Penélope Cruz had significant relationships with some other well-known movie stars. Cruz and Tom Cruise met in 2000 during the production of "Vanilla Sky," but only began dating the following year after his marriage to Nicole Kidman came to an end. They dated for three years and split up in 2004. A source close to the couple told People at the time, "The relationship just ran its course and they decided not to be girlfriend and boyfriend anymore. Through most of the relationship, they were both shooting movies in separate parts of the world." The pair continued their friendship and Cruz even met Cruise's daughter Suri shortly after her birth (per People).
According to In Style, the following year Cruz started dating Matthew McConaughey after they met on the Moroccan set of "Sahara." They broke up in 2006, and although there was speculation that McConaughey began dating future wife Camila Alves when he was still with Cruz, he denies it. McConaughey went on to marry Alves, with whom he has three children and Cruz would soon be involved with Javier Bardem.
She won an Oscar in 2009
Penélope Cruz has been a staple at the Academy Awards for many years (per El País). Her first trip down the red carpet occurred in 1994, when "Belle Époque," a film she co-starred in, was nominated for (and won) the Oscar for Best Foreign Language Film. Since that year, she has attended the awards show several times. In 2000, she was tapped to present the award for the same category and had the honor of reading long-time friend and beloved collaborator Pedro Almodóvar's name when the envelope was opened.
She was on hand when her husband Javier Bardem collected the statue in 2008 for Best Supporting Actor and then captured the Best Supporting Actress category herself the following year for her role as Maria Elena in "Vicky Cristina Barcelona." By doing so, she became the first Spanish actress to receive the coveted award. "I grew up in a place called Alcobendas, where this was not a very realistic dream," said Cruz during her acceptance speech. She also joked that she might be the first person to faint right there on the stage (via YouTube). In 2022, Cruz and Bardem were both nominated, but neither one of them won.
Cruz married Javier Bardem in 2010
After knowing each other for many years, sparks really began to fly between Penélope Cruz and Javier Bardem on the set of "Vicky Cristina Barcelona" in 2007. Bardem told GQ, "But, again, neither of us would make the first move. I don't know if we were shy or trying to be too professional. Anyway, it got to the very last day of filming and nothing had happened. So I thought, 'F***! We better get drunk!' Luckily a friend of ours threw a wrap party and, well, the rest is history. Thank god!" The duo began dating and Us reported in 2009 that the couple had gotten engaged.
They wed in a quiet ceremony in The Bahamas the following year amid rumors that she was pregnant (per Brides). Now, more than a decade into their marriage, the couple still keeps their relationship very private. Bardem shared his feelings about Cruz during the production of "Vicky Cristina Barcelona," "Oh, boy. She has that feistiness. There are those scenes where we are arguing, she's throwing plates, and so on. I had to wonder, 'Do I really want this?' She has what I call the loving blood. Passion for everything. That's what I find attractive. There is beauty and there is being sexy. Penélope has both."
She was a brand ambassador for Chanel
In 2018, Karl Lagerfeld, long-time creative director for Chanel, chose Penélope Cruz to be a brand ambassador. Cruz, who attended her first Chanel show in 1999 (and had worn many of his designs in the intervening years) was delighted at the opportunity. "It's such an iconic brand and Karl is a genius, and I've been admiring everything he's done since I was a little girl, so it's such a pleasure working with him. He's like the king of fashion and we had a really, really interesting photo shoot, so to be in front of his camera is an adventure," Cruz told WWD. The actress even wore several of his designs in Pedro Almodóvar's "Broken Embraces."
When Lagerfeld died the following year, scores of stars showed up at Paris Fashion Week to pay tribute to him and walk in his final, posthumous runway show. Cruz, who was featured in a stunning black and white photographic campaign shot by Lagerfeld himself, participated in the show along with other luminaries including Cara Delevingne, Naomi Campbell, and Kaia Gerber. She carried a white rose on her walk down the runway in tribute to the designer (per ET).
Motherhood changed the way Cruz chooses films
Penélope Cruz first became a mother in 2011, with the birth of her son Leo and then again in 2013, with the birth of her daughter, Luna. She and her husband Javier Bardem are raising their children in the city of Madrid in their native country of Spain. "When you're a mother, everything changes," she said (per AP). In an interview with The Telegraph, she said that she'd always wanted to be a mom, "But even if you think you know what it's going to be, it's so amazing what happens when you see your kid for the first time: you then see the world differently for the rest of your life, because you're always going to think about somebody else first."
Since having children, she's cut down on work and chooses her projects more carefully. Before becoming a parent, she used to make four or five movies annually, but now takes on only a couple of projects a year (per The Standard). "I want to be able to raise my children myself, so that makes the decision. You really have to really look carefully when you say yes to a film." She described the adjustment as a natural progression and says that where the film is shooting and how long it will take strongly factors into her decisions nowadays.
She has a strange relationship with social media
Penélope Cruz and her husband Javier Bardem are raising their children in Madrid, far from the intense scrutiny of Hollywood (per CBS). As a mom of two young children, she claims to have a peculiar relationship with social media and worries about its effects on children and their mental health. Despite the fact that she has six million followers on Instagram, Cruz says that she intends to keep her children from using it until they are at least 16 years old. Lamenting that she's in the minority of people who think like this, she considers it a duty that is tantamount to protecting their mental health.
She told CBS Sunday Morning, "I have a strange relationship with social media where I use very little of it in a very careful way. There is something that is not making sense and it's especially affecting younger generations" (via YouTube). Cruz is deeply worried about young children being exposed to too much of it as their brains are developing, as it could possibly have negative effects on how young people see themselves. She feels that, in some way, this era doing an experiment on children who are not mature enough to handle the responsibilities or the repercussions that come with using it.
Cruz and Bardem were both nominated for Oscars in 2022
This year, Penélope Cruz and Javier Bardem entered a very small club, and one that includes only five other couples; both were nominated for Academy Awards for their acting performances. Cruz was up for her role in long-time collaborator Pedro Almodóvar's "Parallel Mothers," and Bardem was nominated for his turn as Desi Arnaz in "Being the Ricardos." The glamorous husband and wife team showed up on the red carpet in grand style. Cruz wore a Chanel gown that reportedly took 680 hours to make (per People). If they had both won, they would have been the first married actors to do so, but unfortunately, neither received the Oscar.
Bardem told People, "I mean, the fact that we are both nominated … in the same year, it's something that is really unique." He also told Deadline, "We were on the sofa, cuddled together waiting to see what was going to happen. When they announced my nomination first, I was very excited, but it wasn't a true celebration until we heard she was also nominated. We would not be able to truly celebrate together if one of us was disappointed. As soon as her nomination came through, we really felt the emotion of what this all means. This really hit us deep in our hearts to be able to share something so beautiful and so special together."