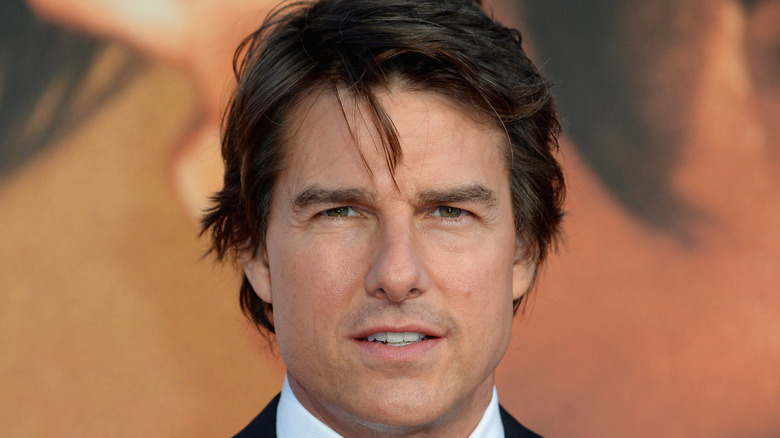 When Thomas Cruise Mapother IV, as his folks called him, appeared alongside fellow young guns Matt Dillon, Patrick Swayze, Rob Lowe, Emilio Estevez, and Ralph Macchio in Francis Ford Coppola's "The Outsiders" in 1983, few would have earmarked the 21-year-old for world-beating success. His bit part as greaser Steve Randle was pedestrian at best. Yet in his next film, "Risky Business," Cruise pulled out all the stops in his first lead role. This laid the foundation stone for a career that would see him take off into the stratosphere like an F14 Tomcat. Three years later, Cruise became a household name thanks to his career-defining role as the troubled but lovable rouge Maverick in "Top Gun." A star was born and it's been lighting up the hills of Hollywood like a champagne supernova ever since.
Fast forward to three Golden Globes, three Academy Award nominations, and a portfolio of record-breaking blockbuster films later, and one of the world's highest-paid actors is pretty much in cruise control. Yet behind that dazzling smile of porcelain perfection, the trademark shades, and the happy-go-lucky demeanor, there's always been a lot more to Cruise than meets the eye. His relationship with Scientology and his more bizarre public outbursts may have ruined a lesser celeb, but with Cruise, they just serve to make him more star-like. If you're going to go Mach 2 with your hair on fire, you might as well do it in style. It's time to throw caution to the wind, buzz the tower, and fly right into the calm at the center of the storm that is the untold truth of Tom Cruise.
Cruise attended a lot of different schools and was bullied regularly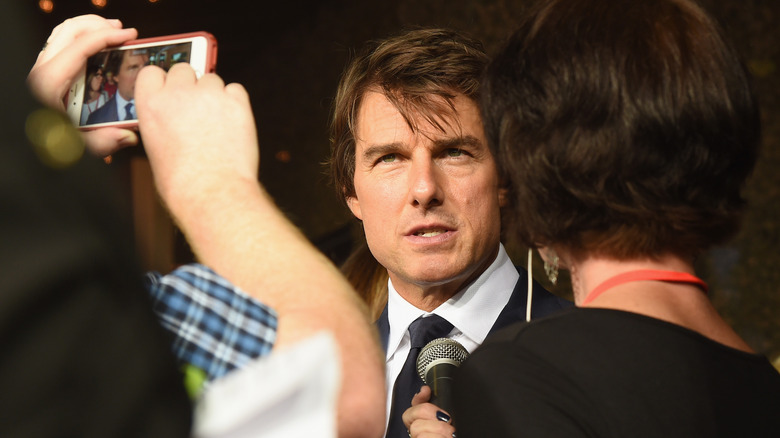 Starting a new school is a big deal for any young and impressionable kid. Learning to cope in a new environment, making new friends, fitting in, sussing out the bullies, and assessing the lay of the land is pretty exhausting stuff. Yet imagine having to attend 13 different schools when growing up? Tom Cruise did and all that adapting to being the new kid on the block must have left its mark on his character! In an interview with Roger Ebert, Cruise confessed that his early life lacked stability. He was born in Syracuse and lived in various cities in America and Canada. During third, fourth, and fifth grade, he attended Robert Hopkins Public School in Ottawa. His time in sixth grade was spent at Henry Munro Middle school where his resilience, determination, and competitive character manifested themselves in his talent for floor hockey and athletics.
He later became a football linebacker in high school but, after he was caught downing beer before a game, the coach called time on his burgeoning career. Cruise has revealed that his family's financial status and habit of continually relocating led to him being bullied when young. He said that he was mocked by the other kids because of his accent, his shoes, and pretty much everything else. After a stint at seminary school in Cincinnati, Ohio, Cruise finally graduated from Glen Ridge High School in New Jersey, with a strong interest in acting that had been blossoming like a promising bloom since the fourth grade.
He was diagnosed as a dyslexic aged 7
When Cruise finally closed the door on his academic life in 1980, according to People, he described himself as a "functional illiterate." Cruise explained, "When I was about 7 years old, I had been labeled dyslexic. I'd try to concentrate on what I was reading, then I'd get to the end of the page and have very little memory of anything I'd read. I would go blank, feel anxious, nervous, bored, frustrated, and dumb. I would get angry." Throughout school and well into his career, Cruise said he felt like he was harboring a secret. He explained how his head ached and his legs hurt when he attempted to study and was desperate to keep his dyslexia hidden with every new school he attended.
As an aspiring actor, Cruise's frustration with his condition reached boiling point. Reading scripts and memorizing lines was the bread and butter of his craft, but it was something his dyslexia prevented him from mastering. Cruise compensated for his inability to read scripts cold at auditions by getting the director to talk about the character and winging it. "I got pretty good at ad-libbing," he revealed. Yet he could only carry on flying by the seat of his pants for so long because in his own words, "the trapdoor was going to open up and that would be it." Cruise credits his introduction to Scientology during the release of "Top Gun" in 1986 as the remedy to his dyslexia. He states he finally learned to read through Scientology founder L. Ron Hubbard's Study Technology learning method.