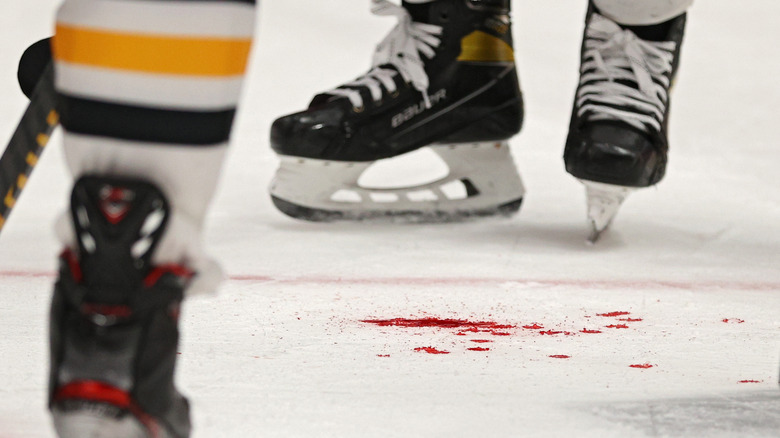 People say fans watch NASCAR for the crashes, and you could probably say the same about ice hockey and fights. While in most sports, assaulting your opponent would be frowned upon, in hockey, it's part of the game. Sure, there are limits to what is allowed, but if you've been to a hockey game that didn't have any fights, you might actually have been watching figure skating.
All this is to say: Hockey is a violent sport. It's dangerous. Not only are punches thrown on the regular, but the players wear sharp blades attached to their feet and race around on ice at tremendous speed. Honestly, it's a miracle more people haven't died playing hockey over the years, especially when you consider that most of the protective gear they wear are relatively new developments.
That protective gear only came into being once players had been badly injured, sometimes permanently. And each subsequent horrific injury would lead to more changes. Today, the NHL is much more safety conscious, but there are still some protective measures they could take – ones other ice hockey leagues have already adopted – and have chosen not to. It's a fine line between keeping the game exciting and keeping the players safe, one the NHL is constantly trying to skate. But it means that in order for major changes to be made to how professional hockey is played in North America, usually, something seriously tragic has to happen. Here are tragedies that changed the NHL forever.
The David Booth hit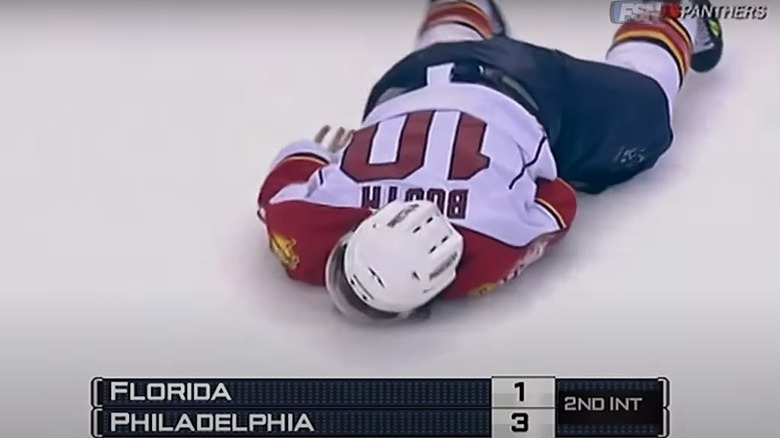 Hockey is a physical sport, but that doesn't mean every aggressive move is safe or acceptable. ESPN reports the Florida Panther's David Booth learned this the hard way in 2009, when he received a direct hit to the head, fell and bashed his head on the ice, and lost consciousness. He woke up in the ambulance with no idea where he was. "It was like I was possessed. I was trying to break the seat belts," Booth said.
His concussion was so bad that he doesn't remember being hit, or even being in the hospital. While Booth was able to play again after his injury, he said it permanently affected not only his "cognitive abilities," but it also made him less aggressive on the ice, in a way that almost sounds reminiscent of PTSD.
One team's general manager explained, "Because of that hit, we had to make some adjustments to the way the game was being officiated. To make a safer environment, and to protect our players." The new regulation, Rule 48.1, was added for the 2010-11 season. While the rule's wording had to be adjusted a bit after two years, the goal was the same: to make sure dangerous hits like that happened less. According to SB Nation, after 2013, the rule read that a player isn't allowed "a hit resulting in contact with an opponent's head where the head was the main point of contact and such contact to the head was avoidable."
The Eddie Shore-Ace Bailey Incident
While every player who steps onto the ice knows that hockey is a violent contact sport, there are still some hits that are so bad, even hockey players can be shocked by them. One of these was the career-ending injury Toronto Maple Leaf Ace Bailey received when he was hit by the Boston Bruins' Eddie Shore in 1933. Toronto's then-assistant general manager explained (via hockey historian Brian McFarlane), "We all saw Shore put his head down and rush at top speed. He struck Bailey across the kidneys with his right shoulder and with such force that it upended Bailey in a backward somersault, while the powerful Shore kept right on going."
Bailey, on the other hand, hit his head on the ice. The arena went silent as spectators realized how bad the situation was. The player was convulsing on the ice in front of the fans. The hit fractured Bailey's skull in two places, and would require two surgeries. While he lived and escaped any serious brain damage, his career was over.
As for Shore, he wore a helmet for the rest of his career, before that was at all common, because he knew more than most how quickly things could go wrong on the ice. Shore and Bailey would show there was no malice between them when they shook hands at a benefit game to raise money for Bailey. (The ex-player later told McFarlane, "I bought a house with that money, and had plenty left over.")
Ronny Keller's icing injury
During a hockey game, you will see players "icing," a defensive and offensive player racing towards the end of the rink as fast as they can to get the puck, meaning they are also skating very quickly towards the boards. This dangerous situation led to many serious injuries in the NHL. The New York Times lists some major incidents, including Ludek Cajka sustaining "severe spinal injuries" in 1990, Pat Peake's shattered heel in 1996 that forced him to retire, and two players' broken and fractured femurs in 2008 and 2011 that saw them each lose a year on the ice.
But it was a tragedy in a different league entirely that would convince the NHL to change their rules. In 2013, the Swiss B league player Ronny Keller (pictured in yellow) ended up paralyzed after slamming his head into the boards during a race for the puck. While on a purely technical level it wasn't an icing incident, for all practical purposes, it was pretty much the exact same thing.
The NHL knew they had to avoid more tragedies. Jim Rutherford, general manager of the Carolina Hurricanes told The New York Times, "I've seen enough injuries related to the race for the puck. I like … hybrid icing." Hybrid icing allowed the referee to stop the dangerous race under certain circumstances. According to CBS Sports, players liked the hybrid icing idea too, and after testing it out in the 2013-14 preseason, gave it their "overwhelming" support.
The death of Bill Masterton
Only one person has ever died from injuries sustained during an NHL game, according to ESPN. His name was Bill Masterson. It happened in 1968 when he was just 29 years old. In a time before helmets were at all common, a combination of a trip quickly followed by a hit sent Masterson flying.
The memories of the people who witnessed his subsequent injury are disturbing. "It sounded like a baseball bat hitting a ball," his teammate André Boudrias said about Masterson's head hitting the ice. Even those in the stands could tell something was badly wrong. Hockey fan Ken Lindgren recalled, "We watched his head bounce. He didn't move after that. It got deathly quiet." It quickly became clear this was not a normal hockey injury. "His eyes were gray at the time — it was like a horror picture," Boudrias said. "I knew he was done."
While wearing a helmet might have helped Masterson, and his death did convince some players to start wearing them, the real legacy was how seriously concussions are now taken in the NHL. It's likely Masterson had a previous concussion that hadn't healed, which contributed to his death. "You know the diagnosis of a concussion back in those days?" asked Masterson's former coach Murray Williamson. "You hold out four fingers. If the guy only sees two, you send him back out there because it doesn't matter anyway."
The NHL gives out the Bill Masterson Memorial Trophy every year to "players who show perseverance, courage, and sportsmanship."
Mark Howe suffers 'one of the worst injuries in the history of the sport'
When anyone who knows about hockey describes an injury as one of the worst ever in that notoriously violent sport, you know you're about to hear something seriously icky. Well, according to no less a source than the NHL itself, a lot of people have described the injury Mark Howe obtained on the ice during a game in 1980 as just that.
Who better to paint a word-picture of the gruesome ordeal than the man himself? When covering a player at the net, Howe recalled, "… we had incidental contact that immediately knocked me off my feet, and I went sliding. I actually thought I was dying then."
Why? He'd been ripped open by a piece of metal. "The way the old nets used to be designed, it was like a piece of sheet metal at the bottom of the net and it was designed to deflect the puck into the top of the net," Howe explained. "It pierced into me about 5-6 inches … it scrapped up where my rectum is and just missed my spinal cord." Howe eventually recovered and even continued his career, but he knows it could have been much worse: "Had that thing gone in me a quarter of an inch either way, I would have been wearing a colostomy bag or it would have been over." Needless to say, the design was changed to stop that from ever happening again.
Jiri Fischer's cardiac arrest
Jiri Fischer wasn't even on the ice when tragedy struck. In 2005, while sitting on the Detroit Redwing's bench, he went into cardiac arrest. He was only 25, so this was completely unexpected. But medical staff managed to get his heart started again, thanks to CPR and an automated external defibrillator (AED). Fischer has no memory of what happened, and when he woke up in the hospital he assumed he'd taken a bad hit on the ice. "I didn't know how I was resuscitated until I saw it on TV," he told M Live.
Now, Fischer brings attention to the device that saved his life. You've probably seen AEDs in medical shows, and in some public places. But they should definitely be in more locations, and Fischer knows without a doubt that includes hockey arenas. "Having an AED in every rink is definitely the responsible thing to do," Jeff Thieler, head of Serving the American Rinks told USA Hockey Magazine in 2011. By 2014, that goal had been met.
Fischer's career was ended by the medical event, but he did return to the ice to play in benefit games to raise money for more AEDs in his local area. And as of February of 2020, they had made a big difference to almost a dozen families. President of the Canadian Hockey League team Saginaw Spirit, Craig Goslin told M Live, "Because of this event, because of Jiri Fischer, there are 11 people walking around today who wouldn't be."
The death of Alexei Cherepanov
While Jiri Fischer was lucky enough to survive thanks to prompt medical care when he went into cardiac arrest, it was the death of another player in very similar circumstances a few years later that may have finally pushed the NHL to get serious about putting AEDs in every hockey arena. But the tragedy didn't happen in the NHL, or even in North America.
According to Puck Agency, in 2008, 19-year-old Alexei Cherepanov, who'd been a first-round pick in the 2007 NHL Entry draft, was playing in a game for Russia's Kontinental Hockey League when he died from a cardiac arrest. His teammate Jaromir Jagr was sitting next to Cherepanov when he collapsed on the bench.
Eerily, Jagr would go on to play in the NHL with Rich Peverley, who also collapsed on the bench due to a cardiac arrest in 2014. Hearing the news brought it all back. "It's pretty scary stuff because I remember what happened in Russia. I think the trainers and the doctors did a great job and probably saved [Peverley's] life," Jagr said. "Back in Russia, they weren't ready for that." Cherepanov's former agent Jay Grossman looked at the positive. "I do think what happened to Alexei did have an impact in terms of attention people have placed in having defibrillators present all the time and in good working condition … Nobody can bring Alexei back. But if what happened to him helped save someone's life, it's the best we can hope for."
Jacques Plante's smashed up face
Looking back on it, it's frankly astonishing that ice hockey goalies didn't wear masks for decades and decades. As goalie Jacques Plante explained (via CBC) about his experience in the rink, "You had no mask and the coach kept telling you: 'Use your head.' And I did." Of course, using your head with no protection in a game like hockey is going to lead to some painful results, so after "a few broken bones in the face," in 1959, Plante decided "if I've got to use my head, I might as well wear the mask."
Weirdly, the major concern of others wasn't for Plante's face or even that it would make him seem weak to wear protection: It was how it would affect the ladies. According to The Hockey Writers, Plante said, "When I first put on the mask, the boys all told me I would scare the women. They wouldn't come to see the games anymore. I'll tell you something, if I went on the way I was going, pretty soon my face would look worse than the mask." (He's pictured here in the background wearing his mask.)
Obviously, women still watch hockey, and eventually, all goalies wore masks. When Plante died in 1986, CBC reporter Terry Walker said, "He'll be remembered most for being the first goaltender to wear a face mask on a regular basis. Before, coaches didn't like the idea of goalies wearing something that might distract them, but Plante played just as well after adopting the face mask." His broken bones protected countless other players.
Gerry Dejardins and Bernie Parent's eye injuries
One of the least protected parts of our fleshy, easily injured bodies are our eyes. And when you are a playing a sport with sticks and pucks flying around, this means eye injuries are pretty much inevitable. In the late 1970s, two goalies received bad eye injuries. By then, virtually every goaltender was wearing a mask, but as the injuries proved, they weren't necessarily effective at protecting the bits they needed to. USA Hockey Magazine says Gerry Desjardins' and Bernie Parent's eye injuries finally convinced many goalies to start wearing masks that offered more protection.
In 1977, Desjardins was hit in the eye by a puck. The injury ended his career and resulted in a cataract, which The New York Times reported required surgery to remove.
The Morning Call reports that in 1979, the lens of Bernie Parent's left eye was ripped open during a game (pictured). "I remember it well," said Parent. "It was a Saturday afternoon. The defenseman's stick came up high. It was just an accident. The guy was standing in front of the net. He turned around, lost his balance, and hit me in the eye with his stick. It was painful. But that's the way it goes." After the injury, it took months before Parent's sight in that eye was even partially restored. His hockey career was over, but he decided to use his eyes for good, announcing in 1984 he would be donating his corneas when he died.
Richard Zedník's neck injury
Hockey is a sport where everyone involved is essentially wearing shoes with sharp knives attached on a slippery surface. Considering this, it's amazing more people haven't been gravely injured from having parts of their bodies slashed open by other players' skates. But it has happened, and it's just as horrific as it sounds.
One example occurred in 2008. Olli Jokinen was involved in a tussle for the puck, according to Tales From Sport, when he was knocked off his feet, his skates shooting up in the air – right into the oncoming neck of Richard Zedník. It was a horrific sight. Zedník recalled, "I felt like somebody stabbed me, I knew exactly what happened and I knew exactly what I had to do. When I got to the bench, I knew it was an artery, the way the blood was going. I don't want to think about it, but I was in pretty bad shape." The images of the blood-covered ice are shocking. Thankfully, Zedník survived the injury and even continued to play in the NHL. (He's pictured the year after his injury, with the scars on his neck just visible.)
Zedník's injury started a serious dialogue on requiring neck guards in the NHL, and other leagues do wear them as standard. But as of 2022, there's been no change. However, the injury did prompt the NHL to require "all team doctors must be trained in trauma care" and to sit right behind the bench so they can help immediately.
The 1987 Flyers-Canadiens brawl
One tragedy that led to a rule chance in the NHL wasn't tragic in the sense that people were injured, but in the shame it brought on the game. The Athletic calls it "brawl that changed the NHL forever." According to The New York Times, in 1987, before Game 6 of the Wales Conference Final had even started, the opposing teams got into a 15-minute slugfest. Apparently, the Philadelphia Flyers didn't like part of the Montreal Canadiens' warmup routine. Many of the players came out of the locker rooms to join in, only partially dressed in their uniforms.
While some amount of fighting is expected in hockey, everyone saw this as well beyond the pale. "The National Hockey League sank to a new low last night, and that's an (extreme) low indeed," sportswriter Frank Dolson wrote. "Those were major hockey league players out there making a mockery of their sport." Canadian hockey broadcaster Don Cherry said, "I don't mind the odd brawl, but I didn't like that." The NHL executive vice president Brian O'Neill weighed in that the brawl "brought dishonor to the league." And Jim Gregory, the league's executive director of hockey operations said, "We don't need this. It's bad for our business and our league. I don't like it. There's no place for this in the National Hockey League."
One player was suspended and 36 were fined. And the NHL changed their rules to make sure it wouldn't happen again, including instituting a 10-game suspension for any player who got off the bench to join in a fight.