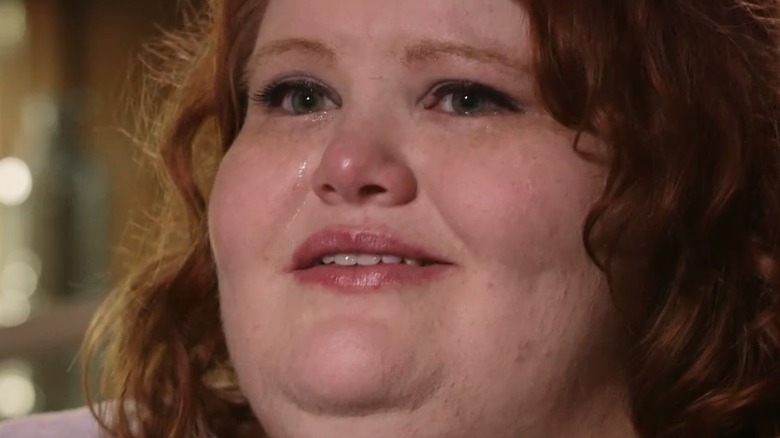 Plenty of reality shows feature dramatic transformations, but few chronicle the intense metamorphoses that are documented on the popular TLC program My 600-lb Life. Since its inception in 2012, dozens of men and women have had their lives changed, thanks to the intervention of Dr. Younan Nowzaradan. Based in Houston, Texas, Nowzaraden performs weight loss surgery on patients who oftentimes are desperate to improve their quality of life before it's too late. And while the journey is never easy for these people, it's worth it to be able to reclaim their lives and accomplish goals they had previously given up on.
Some of these brave souls have gone on to become social media stars, thanks to their reality television fame. That gives us additional access into their lives, allowing us to keep up on what happens — even after their follow-up segments have aired. So without further ado, here's the skinny on some of the most popular stars from My 600-lb Life. You won't believe how amazing they look today!
Melissa Morris achieved her lifelong dream after My 600-lb Life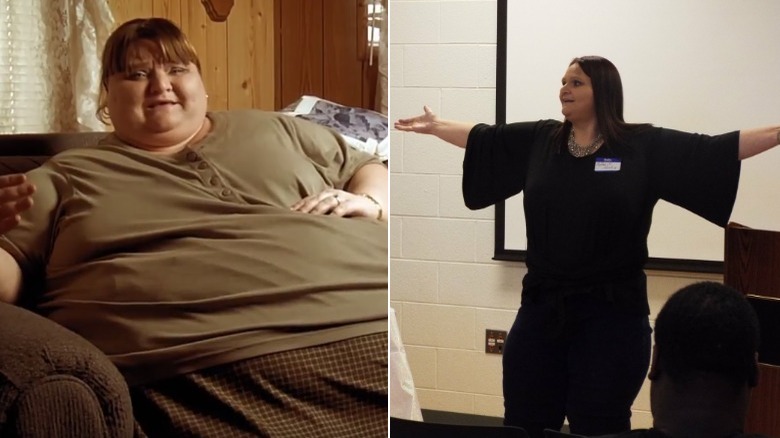 The OG of My 600-lb Life, Melissa Morris was the very first person featured in the show. These days she's in a much different place. While an episode of My 600-lb Life: Where Are They Now? revealed that Melissa's weight has fluctuated over the years, you can see on her Instagram page that that she's living her best life every day.
If you're familiar with Melissa's journey, you know that having children was something she desperately wanted. Despite her unlikely odds (a doctor once told her she only had a 2 percent chance of getting pregnant, according to her TLC interview), Melissa became a mom to Allona on May 1, 2010. Today, she's a mom three times over, according to a post on her Instagram page.
On top of her motherhood duties, which definitely keep her busy, Melissa also speaks publicly about her journey. She's also been active in Weight Watchers for several years now. Additionally, she's been going to concerts, enjoying time at the beach, catching baseball games, and reading books. There's no slowing her down!
My 600-lb Life star Zsalynn Whitworth found a man worthy of her love
Season 2 of My 600-lb Life opened with Zsalynn Whitworth's story, which famously included her manipulative and unsupportive husband, who prioritized his fetish over Zsalynn's literal life. Fortunately for her, the couple finally got a divorce, which she confirmed in a follow-up segment. They still share joint custody of their daughter, but the romance is long since over.
In the segment, Zsalynn also got candid about her emotional state. She admitted that she struggled with loneliness and depression, as well as her cravings for sweets following the divorce. In spite of those challenges, however, she decided that she wants to press forward and finally get skin removal surgery. She also expressed a desire to be more active and start dating — certainly worthy ambitions.
And it paid off! From the looks of it, Zsalynn found someone special. Check out this adorable photo she posted on Facebook of her making goo goo eyes at a new man — good for you, girl! Additionally, you can see just how much her daughter Hannah has grown up to be her mama's mini-me in this photo. Looks like everything's going swimmingly for Zsalynn now!
My 600-lb Life's Paula Jones is now a confident selfie queen and outspoken advocate
Paula Jones, who had an especially emotional episode in Season 2 of My 600-lb Life, is living the dream of long-term weight loss success these days. For one, you can tell just by looking at pictures of Paula on her Instagram and Facebook pages that she's in great shape, especially when you consider where she started.
She's not afraid to pose in a swimsuit, or post selfies with her arms bared, which shows that she knows she's cute! But Paula also keeps herself accountable, admitting when she has to stick to her diet and work out on the reg. And while she's faced health issues like kidney stones, that hasn't stopped her from staying the course of her weight loss journey.
These days, Paula speaks publicly at weight loss events. She's also outspoken about the obesity epidemic, which has claimed the lives of some of her friends and loves ones. "It is so senseless since it is preventable," she shared in a post. "It just isn't easy." Indeed it isn't, but Paula sure is a role model.
Following My 600-lb Life, Amber Rachdi became a full-blown social media star
Of all of the stars who have come out of My 600-lb Life, Amber Rachdi is the emerging Instagram queen among them. She updates her account regularly, showing off her makeup skills, her super cute hairstyles, and her new outfits. She even rocks the notorious Instagram eyebrow pretty flawlessly — way to slay, girl!
Although Amber is a social media star now, she has no plans to appear in a follow-up episode, citing some pretty serious beef with the production crew as the reason. "The experience was very disorganized and jarring and there's not a whole lot I can say using my grown-up tact," she revealed in an interview with Starcasm. "They ran late, reshot difficult to replicate scenes, and really sort of acted like bullies." She said they also didn't respect her boundaries, and tried to push her to do things she didn't want to do.
But Amber also shared that she continues to take good care of herself, and work out regularly. Other than having to recover from Hurricane Harvey, which she posted about on her Facebook page, it sounds like all's well in her world.
Joe Wexler got his happily ever after after My 600-lb Life
On Season 3 of My 600-lb Life, viewers were introduced to Joe Wexler, who weighed in initially at nearly 800 pounds. Fortunately Joe was able to get help from Dr. Nowzaradan, who performed gastric bypass surgery on him after he lost 140 pounds on his own — impressive.
"It was really tough — one of the hardest things I ever did," he said of the experience in an episode of My 600-lb Life: Where Are They Now?. After that, Joe accomplished milestones like driving, getting skin removal surgery, and losing 500 pounds. In his follow-up segment, he also revealed that he had met a woman named Sarah, and that they were dating. Sarah also had a daughter. Things got serious quickly, and the couple got married. Unfortunately, things did not work out with Sarah, as they divorced in 2019, according to Starcasm. As a result of her alleged infidelity, Joe admitted gaining back some weight, but was determined to lose it again.
Joe is also working hard in the IT sector and taking online courses, with big ambitions for the future.
Laura Perez found a wonderful new love who supports her ambitions after My 600-lb Life
Laura Perez has experienced lot of changes since her episode of My 600-lb Life. However, some of those changes weren't very positive. In an episode of My 600-lb Life: Where Are They Now?, Laura opened up about the difficulties that she and her husband Joey were facing as a couple, including eviction. But there were deeper issues at play as well.
"I want to keep becoming more independent, and get a job, and have a career," she revealed. But Joey didn't want her to do that. When she told him about her beauty school ambitions, he got really upset — clearly he didn't support her dreams, and just wanted her to stay home, dependent on him.
Rather than feel trapped, Laura stopped by beauty school anyway during the episode. And according to a since-deleted post on her Facebook page, she's remarried to a new man! She gushed about it in a comment on a previous post, which has since been deleted, saying that she's moved on from a relationship that damaged her. And the new beau? "Thank god he is a great hardworking, loving, caring man that puts me first," she wrote. "I'm blessed to have him." Congrats, girl!
My 600-lb Life star Charity Pierce faced setbacks but never gave up
Toward the end of Season 3 of My 600-lb Life, viewers met Charity Pierce. At her largest she clocked in at almost 800 pounds, one of the bigger individuals to appear on the show at that time. Fortunately, Charity was able to help herself, thanks to the intervention of Dr. Nowzaradan.
She underwent weight loss surgery, and lost over 400 pounds, according to an episode of My 600-lb Life: Where Are They Now?. She also had several skin surgeries, including the removal of a 57-pound fatty tumor and 38 pounds of tissue from her abdomen. She doesn't look like the same person at all! Charity isn't alone on her journey anymore either, as her daughter also struggles with her weight, which was chronicled in the follow-up episode. And while the pair have faced setbacks, they're also working their hardest to get through it — together.
Despite what she and her family are going through, Charity also remains true to the meaning of her name. In a post on her Facebook page, she said she was buying items to donate to the homeless. That's a good way to give back!
Unfortunately in March 2020, Charity revealed that she'd been diagnosed with kidney cancer and had a kidney removed. That September, her daughter shared that her mother was "had some struggles but is doing great now."
Nikki Webster feels "exuberantly gleeful" as her career and love life thrive post-My 600-lb Life
Nikki Webster was all smiles in an episode of My 600-lb Life: Where Are They Now? — a stark contrast from her episode of My 600-lb Life. For one, Nikki was able to go shopping for a pair of pants for the first time in ten years — what a huge accomplishment!
As she slipped into a pair of blue jeans, you could tell how thrilled she was. "I feel womanly, and sassy," she gushed. "It takes a lot for me to feel sassy." Go ahead, girl! A new pair of pants isn't the only new thing in Nikki's life. Her weight loss has also enabled her to excel at work, something she couldn't do before. "I can finally really contribute," she said.
But the really big news? Nikki shared a Facebook post in March 2018 revealing that she had recently gotten married — to Marc, who viewers were introduced to on her follow-up episode. And as she wrote on another post, she's loving life. "I've been able to experience a happiness I never thought possible. It's not that I'm just content… I'm exuberantly gleeful," she shared. What a happy ending.
My 600-lb Life star Brittani Fulfer credits her husband for being her rock
Brittani Fulfer is almost unrecognizable these days compared to how she looked in My 600-lb Life. Viewers first saw the dramatic changes in her first episode of My 600-lb Life: Where Are They Now?. Then in a later follow-up episode, an even more svelte Brittani appeared after additional surgery, with renewed energy to reach her goals — though it was a bumpy ride. But she made it, and celebrated by going to the beach without a shred of shame. Woo body positivity!
Additionally, Brittani has been squeezing every drop out of life lately, according to her Facebook page, which appears to have since been deleted. For one, she posted that she got to see her favorite band in concert — Third Eye Blind — something she couldn't have done two years ago, she said. She's also been having adventures out and about with her friends, according to another post.
Through it all, Brittani's husband has been by her side, supporting her. "I am forever thankful to my husband," she wrote in a Facebook post. "He is truly my strength and without him I do not know where I would be."
My 600-lb Life's Milla Clark is 600 pounds lighter
What a journey it's been for Milla Clark, who weighed in at a whopping 751 pounds in her Season 4 episode of My 600-lb Life. In addition to that, she was confined to her bed, and relied on her children to tend to her most basic hygiene. To top it off, she hadn't left her home in two years, and couldn't stand on her own two feet.
Fortunately, Milla was able to get the help she desperately needed. By the end of her episode, she was approved for weight loss surgery, having shed 150 pounds and made the effort to stand up. But that was just the beginning, as she continued to steadily make some seriously dramatic progress. After multiple skin surgeries and a double knee replacement, Milla hit the 152-pound mark, according to her follow-up episode. That's a 600-lb difference, and a record breaker for the show!
You can keep up with Milla on her Instagram page, where she promotes her healthy habits and shares her love of walking – something she couldn't do for many years. What an accomplishment!
My 600-lb Life star Ashley Dunn Bratcher is the mom she always wanted to be
When viewers first met Ashley Dunn Bratcher in her Season 4 episode of My 600-lb Life, she relied on her young son Patrick to help her get things done around the house, like laundry and cooking. That was something she was deeply ashamed of, as she felt like she should she be the one caring for him, and not vice versa. But at 725 pounds, she was limited in her mobility.
Not content with her life, Ashley made the brave decision to conquer her eating habits and get weight loss surgery. By the time her second follow-up episode rolled around, Ashley celebrated a total weight loss of 350 pounds, nearly half of her entire body weight. With that loss came newfound freedom, too, which gave Patrick his childhood back. Now Ashley is the wife and mother she always wanted to be!
Unlike many of the partnerships in My 600-lb Life, Ashley and her husband didn't break up when she decided to change her life. Rather, they celebrated their ten-year wedding anniversary in 2019, according to a post on her Facebook page. Congratulations, you two!
My 600-lb Life's Chay Guillory is living her best life with arguably the most life-changing transformation
Chay Guillory's Season 3 transformation on My 600-lb Life is arguably one of the most dramatic of them all, and for more than one reason. First, at the end of her debut episode, she had lost a total of 119 pounds, enough to bring her under the 500-pound mark. Then, by the end of her first follow-up episode, she was down to 379 pounds, showing continued and consistent success on her weight loss journey. But during that episode, she also dropped another bomb: Chay came out as transgender, and began to live her life as a woman. Congrats, Chay!
In Chay 's most recent follow-up episode, viewers learned that she was ready for skin removal surgery. Additionally, Chay is getting closer to her 180-lb goal, at which point she will qualify for gender confirmation surgery. And as if that wasn't enough amazing news, Chay announced in an Instagram post that she's engaged to her boyfriend, Patrick! And in 2020, she revealed she'd gotten married! Given where Chay started, it's absolutely incredible to see how far she's come. It's no wonder she said that she's never been happier!
Bettie Jo Elmore continues to thrive with a growing family since My 600-lb Life
When Bettie Jo Elmore began her weight loss journey of Season 3 of My 600-lb Life, she wasn't in good shape as she weighed 654 pounds. But thanks to her commitment and hard work, she's a long way from where she was during those dark times, despite the many obstacles that she's had to overcome.
Mainly, in Bettie's follow-up episode, she found out that she had a growth at the base of her spine. And while that's usually not too much of an issue as it can be removed surgically, that wasn't an option for Bettie because she was — get this — pregnant! Knowing that surgery would put her baby at risk, Bettie opted to risk the paralysis the growth could cause her.
By her second follow-up episode, Bettie was on bedrest due to her high-risk pregnancy. But fortunately, everything turned out well, as she and husband Josh welcomed a bouncing baby boy in August 2016. And according to a post on her Facebook page, which she seldom updates, she went back to back to working on weight loss as a major goal in April 2017. Good luck, Bettie Jo!
My 600-lb Life's June McCamey married the woman of her dreams
Viewers of My 600-lb Life first met June McCamey during Season 4, when she was deep in the throes of grief over losing her son Mack to gun violence. Despite the enormous pain of that loss, which is what compelled her to overeat enough to weigh 590 pounds, June managed to get her eating habits under control with the help of Dr. Nowzaradan.
Tragically, in her follow-up episode, June was once again grieving, this time over losing her son Kenneth, which honestly just sounds too horrible for words. But even in the face of so much pain, June managed to lose enough weight to qualify for her first skin removal surgery, though she often pushed back against doctor's orders.
Fortunately, not all is sadness in June's world, as she's made incredible progress on her weight loss journey, and loves her body enough to show it off to the world with pride. Additionally, she got married to the woman of her dreams in 2019, according to a post on her Facebook page, which appears to have since been deleted. We wish you all of the happiness in the world, June!
My 600-lb Life star Nicole Lewis put in the hard work and reaped the rewards
All of the stories featured on My 600-lb Life involve hardship in some form, but Nicole Lewis really had to overcome some harrowing traumas. But pains from the past didn't stop the mom and Juggalette from putting in the hard work to lose weight and improve her quality life.
In an episode of My 600-lb Life: Where Are They Now?, viewers learned that Nicole had lost even more weight, bringing her total lost to 326 pounds as of the airing. She also got approved for her first skin removal surgery. That's a serious accomplishment!
These days, she's doing better than ever, according to her Facebook page, which appears to have since been deleted. She celebrated five years with her love, Charlie, in March 2018, and according to a video she posted of them both at the gym, she revealed: "Charlie is my everything." Sounds like they are taking good care of each other. She also announced in a July 2018 post that she got a job she really wanted. Things are definitely looking up for her after lots of hard work.
My 600-lb Life star Cillas Givens is less than half the man he used to be
Of all of the stars on Season 7 of My 600-lb Life, Cillas Given had a story that ended on a super high note. After enduring a seriously lonely childhood and stunted transition into adolescence, Given really didn't have a lot going on for him. Lonely and emotionally troubled, Given turned to food for comfort, to the tune of a peak weight of 729 pounds. Clearly he needed a big change if he was going to make it.
Fortunately for Cillas, he had the support of his girlfriend Jessica and her children, as well as the intervention of Dr. Now. By the end of his episode, he had lost a staggering 388 pounds, more than half of his entire body weight. Finally, things were starting to look up for Cillas and his family.
By the looks of it, Cillas is still continuing to make progress despite having a rather hectic life, based on the photos on his Facebook page. It looks like he's slimmed down even from April of 2019, if the photograph he used for a GoFundMe is any indication. Congrats on losing the weight, Cillas!
Destinee Lashaee's transformation since My 600-lb Life is nothing short of jaw-dropping
What a journey it's been for Destinee Lashaee, one Season 7 star of My 600-lb Life. After being assigned male at birth and dealing with a tumultuous upbringing in the foster care system, Destinee found herself incredibly depressed. Then, after coming out as a transgender woman (following coming out as a gay man), Destinee faced additional isolation — and was severely traumatized by the untimely death of her brother. By the time her episode premiered, Destinee was 669 pounds and was fully aware that she was running out of time.
Fortunately Destinee was able to turn it all around, thanks to weight-loss surgery and effective mental health care. So when the cameras finally stopped rolling, Destinee had dropped 229 pounds, meaning she weighed 440 pounds and was clearly working the program.
Fast-forward to today, and prepare to have your jaw drop when you see how much progress Destinee has made. She's not afraid to strut it on social media, either on her Facebook or her Instagram page. Perhaps the best news is that Destinee qualified for skin removal surgery on her abdomen, and she is loving her life more than ever.
My 600-lb Life's David Bolton has kept off the weight, and he got engaged
When David Bolton began his weight loss journey with Dr. Now, he weighed in at 747 pounds, and he was unable to work or do much for himself. Fortunately, the Season 6 star was able to turn it all around and lose a whopping amount of weight, finishing his episode at 420 pounds. Later, fans of David learned that he had slimmed down even more, thanks to a family member who said in a Facebook comment that the My 600-lb Life star was 295 pounds, as reported by Starcasm.
In addition to a seriously impressive weight loss, David celebrated another milestone when he and his longtime girlfriend announced that they were getting married, according to a post on his Facebook page. "A wave can start with a single ripple and my ripple was Carrie the love of my life my future my soul," he wrote on Facebook (via Starcasm). Congrats, you two!
In other news, David was the second cast member of My 600-lb Life to file suit against Megalomedia, accusing the production company of a variety of ills, according to Starcasm.
Justin McSwain looks like an entirely new person since his days on My 600-lb Life
South Carolina native Justin McSwain was 688 pounds when he decided to turn his life around and get weight loss surgery. Perhaps one of the most compliant patients to appear on My 600-lb Life, he responded well to Dr. Now's program, and he managed to lose half of his body weight by the end of his Season 7 show. Justin closed out his episode by getting matching tattoos with his father to commemorate his journey.
Justin's healthy efforts were far from over, though, as he's nearly unrecognizable in photos on his Facebook page. While he hasn't publicly said how much weight he's dropped, it's clear that Justin continues to put in the work, and he is looking super svelte and happier than ever. He spends his time palling around with his dog, traveling to places like New Orleans for vacation, attending conferences about being a bariatric athlete, and getting inked with fellow My 600-lb Life alumni.
According to his Facebook profile, Justin has moved back to South Carolina, where he works as a graphic designer.
My 600-lb Life star Tiffany Barker looks amazing and has celebrated a huge personal milestone
Tiffany Barker made the decision to get healthy after her size made it impossible for her to work and therefore she was reliant on her boyfriend for care and support. At about 673 pounds, she had a lot to overcome, which wasn't made any easier by the unhealthy habits that her boyfriend continued having at home. But Tiffany managed to prevail, ending her episode over 250 pounds lighter than where she started.
Tiffany continued her progress even after the camera stopped rolling, and not just with weight loss. According to a post on her Instagram page, Tiffany was able to celebrate accomplishing yet another personal goal. "Today, I got sent home early from work for hitting overtime," she shared in the accompanying video. "Never thought I'd be able to do that physically and still be able to function." Well done, Tiffany!
Tiffany also broke up with her boyfriend, which she shared in a comment on a since-deleted Instagram post.
Alicia Kirgan from My 600-lb Life continues to put in the work
Like nearly all of the stars of My 600-lb Life, Alicia Kirgan had a traumatic childhood that left lasting scars, thanks to her parents' fighting and substance issues. To that end, Alicia turned to food for comfort, which eventually led to the addiction that caused her to weigh in at a peak of 622 pounds.
Fortunately, with Dr. Now's help and a lot of effort, Alicia was able to stop causing herself damage and start focusing on her health. By the end of her episode, she was down to 436 pounds, and from the looks of it, she's still making some pretty insane progress. "The last three years, while amazing, have been some of the most challenging of my life, and with all the changes ahead of me I don't see it easing up… but this is life," she wrote in a Facebook post. "This is what I worked hard to be able to do, live a fulfilling exciting life!" No wonder she's all smiles on her social media!
My 600-lb. Life's Lindsey Witte is still making progress in life and in love
Season 8 of My 600-lb Life was a pretty wild ride, with its fair share of stars unwilling or unable to successfully work Dr. Now's program. However, when it came to Lindsey Witte, that wasn't the case, though she started out in a pretty dire place at 648 pounds. You may recall when her partner, who was scared for Lindsey's life, told her to "eat death, Lindsey," when she made poor diet choices.
Thankfully, Lindsey got her eating and drinking under control, and dropped over 200 pounds by the time the cameras stopped rolling. These days, she shares her progress in a Facebook group, and she continues to make progress with her weight loss journey. "I am finally loving the person [staring] back [at] me in the mirror and I'm constantly evolving," she shared in a Facebook post (via Starcasm). "There isn't a day that goes by where I am not thankful, grateful or believe I am extremely blessed for this second chance at life." We love to see it!
Christina Phillips from My 600-lb Life looks totally different now
When My 600-lb Life's Christina Phillips decided she needed to change her life, she was 708 pounds at just 23 years of age. At the time, Christina was eating approximately 7,000 calories per day, which is exponentially higher that the recommended daily allowance (via Healthline). It's no wonder, then, that Christina turned to Dr. Now for help.
Fast-forward to today, and you can barely recognize the woman who Christina once was. In fact, at one point, she'd dropped so much weight (her lowest recorded weight was 172 pounds) that she struggled with her body image, as she had a ton of excess skin. Fortunately, Christina has found her happy place, and she now runs 5Ks and spends quality time with her nephews. "I am alive, I am better than I was and all I can do is focus on myself," she revealed in a chat with Starcasm. "I'm thankful for where I am at and being able to share my story with others."
To top off the good news, Christina announced she was pregnant in an August 2020 Facebook post, and she later changed her Instagram bio to include "Mommy to Ethan 2/3/21." Congrats, Christina!
My 600-lb Life's James Jones has lost an astonishing amount of weight
My 600-lb Life star James Jones weighed in at 728 pounds the first time he stepped on Dr. Now's scale. Having lost both his father and his sister to weight-related issues, James knew that he couldn't keep going down the path he was dangerously treading on.
In fact, James got so serious about the doctor's program that he shed over half of his bodyweight by the end of his episode. And it didn't stop there! "I weighed 239 [pounds] last month when I went to the oncologist," James revealed in a 2019 interview with Starcasm. That means he has dropped nearly 500 pounds, which is one of the most impressive losses in My 600-lb Life history. That puts him pretty close to Christina Phillips, who underwent a seriously stunning transformation herself.
You can find James on social media, as he's fairly active on his Facebook page. Other than sustaining some injuries from a pretty major car accident, he appears to be thriving, and we couldn't be happier for him!
My 600-lb Life's Sarah Neely's life just keeps getting better and better
When Sarah Neely was first introduced to viewers of My 600-lb Life, she was 642 pounds and 24 years old. Additionally, she had a majorly bad cellulitis infection and was unable to care for herself or her body. To that end, she departed Ohio and relocated to Texas to seek help from Dr. Now.
While her first few months in the doctor's program didn't go very well, Sarah eventually got on track, dropping to under 400 pounds by the time the cameras were shut off. After that, she continued to shed excess pounds until she weighed in at a svelte 197 pounds (via Starcasm). That is some insanely good progress!
While it hasn't all been sunshine and roses for Sarah — she struggled with addiction and entered rehab in 2019, according to an Instagram post — things just keep getting better and better for her. For one, she got married in 2020, according to a Facebook post; months later, she and her husband welcomed their first child into the world, according to another post. Clearly, Sarah is living her best life!
Brandi Dreier from My 600-lb Life is loving life as a mama
When Brandi Dreier started her weight loss journey with Dr. Now, she was nearly 600 pounds. Due to childhood sexual trauma and parents with substance abuse issues, Brandi found comfort when she turned to food, which numbed the pain and brought her a welcome distraction. However, things spiraled out of control, and she knew she needed help.
Brandi had tried to lose weight before, but it wasn't until My 600-lb Life came along that she found a way to turn her life around. "We've been trying to go through this process for a long time, and it just happened at the right time," she said of her and her sister in an interview with People. "I was terrified of going on camera, but it was a once-in-a-lifetime opportunity so we took it."
Take it she did, as by the end of her episode of My 600-lb Life, Brandi had dropped over 200 pounds. She clearly lost even more than that, if her Facebook posts are anything to go by (via Starcasm). Additionally, Brandi welcomed her second child with her partner in late 2020, according to Starcasm. Talk about a happy ending!
My 600-lb Life's Kandi Dreier is so much healthier today than she was
You can't talk about Brandi Dreier without also discussing her twin, Kandi Dreier. Like her sister, Kandi's weight was a serious problem, as she was 604 pounds when she stepped on Dr. Now's scale on My 600-lb Life. But like her sister, Kandi was determined to reclaim her life and shed her excess weight. So she rolled up her sleeves and got to work.
However, when Kandi was on the operating table during her weight loss surgery, her heart stopped and a pulmonary embolism, and she had to be put into a medically-induced coma. Fortunately, she eventually rallied and was able to make a full recovery. "There's not been any other setbacks," she revealed in a chat with People. "It's like it didn't even happen."
Kandi is looking slender these days, which you can see in a post on her Facebook page. She's also a doting aunt who's gotten into kayaking and started dating a new woman in 2020.
Travis Henry from My 600-lb Life has kept a lot of the weight off
Another success story from Season 8 of My 600-lb Life was Travis Henry, a musician and songwriter from Texas. After experiencing childhood neglect and developing abandonment issues, Travis found solace in food when the people in his life let him down. However, Henry's life changed when he met his wife, Yazmin; after a long period of rendering her an enabler, Travis decided to turn things around.
Travis was 617 pounds when he first stepped on Dr. Now's scale, but he quickly started making progress on his weight loss journey. By the end of his episode, he'd lost 240 pounds and was able to resume all of the activities that he couldn't do at his peak weight. Of course, that made Yazmin incredibly happy.
Travis occasionally posts on Instagram, so that's how fans know that he and Yazmin are still going strong. He shared a snap of the two of them heading to the movies (before COVID-19), something he wasn't able to do at 600 pounds. He also posted a vlog on his YouTube page, so you can see what Travis' day-to-day life is like. Love it!