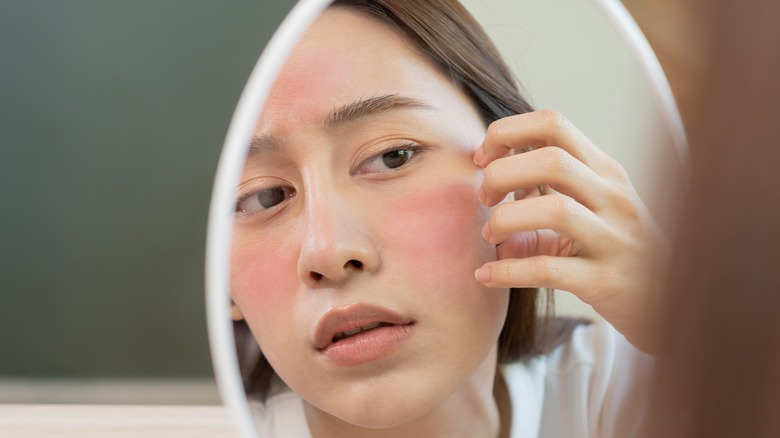 We may receive a commission on purchases made from links.
If you're one of the approximately 415 million people around the world who suffer from rosacea, you know the struggles of taking care of your skin and preventing a flare-up all too well. Something as simple as enjoying a spicy taco or a glass of red sangria could trigger an unpleasant flare-up consisting of redness, acne-like bumps, a burning sensation, and the skin feeling hot to the touch (per Mayo Clinic). For people with rosacea, wearing skincare that will soothe your skin and not irritate it is crucial for preventing flare-ups.
While the exact causes of rosacea aren't known for certain, there are several possible theories researchers have posited. According to MedlinePlus, some studies report a connection between rosacea-prone skin and the combination of atypical blood vessels with an overactive immune system. Rosacea is marked by the tendency of the blood vessels under the facial skin to dilate easily, which causes the flushing.
Per Everyday Health, there are four types of rosacea: erythematotelangiectatic (persistent redness and flushing), papulopustular (redness and acne-like blemishes), phymatous (enlarged pores and "thickened skin around the nose"), and ocular (red/irritated eyes and a "gritty sensation in the eyes"). While shopping for skincare products that will alleviate the symptoms of rosacea can be difficult, there are several options out there that will help you, whether you're looking to reduce the appearance of redness or gently exfoliate pustules without irritating your skin.
How we selected products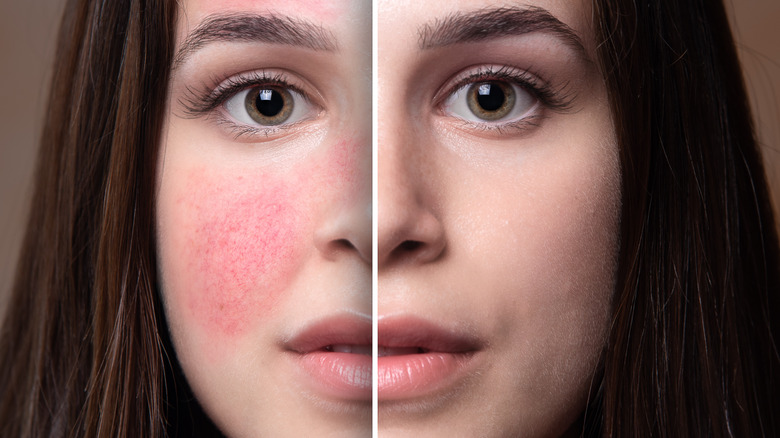 Across the various scientific studies and articles we referenced while researching, the common finding dermatologists agree upon is that people with rosacea have compromised skin barriers. A dysfunctional skin barrier can result in increased transepidermal water loss, or the loss of crucial hydration from your skin, per National Rosacea Society. Dry skin is more vulnerable to a rosacea flare-up. Therefore, it's critical for people with rosacea to implement skincare products that restore the skin's moisture barrier (via the American Academy of Dermatology).
Using moisturizers with gentle, barrier-repairing ingredients is the most important part of a skincare routine for rosacea-prone skin in both preventing flare-ups and alleviating the effects of one. We focused our recommendations on moisturizing products that contain healing ingredients and avoided products that could contain possible irritants. These possible irritants include strong exfoliating acids (e.g., glycolic and salicylic acids), retinol, menthol, and eucalyptus (via Byrdie). The recommended products don't contain these irritants but do contain several soothing, restoring ingredients that are scientifically proven to benefit rosacea-prone skin.
The brands we suggest span from dermatologist-recommended drugstore brands to medical-grade products designed by dermatologists and cosmetic chemists. After a thorough investigation into the triggers and symptoms of rosacea, as well as possible remedies, we compiled a list of the best products for rosacea-prone skin that are dermatologist-recommended and guaranteed to help keep your skin cool.
Best face cleanser for rosacea-prone skin
Even for "skinimalists," cleansing is a necessary step in your skincare routine (via Everyday Health). Trying to look for a cleanser that won't disrupt the skin's natural microbiome and won't damage your moisture barrier is something that can be beneficial for everyone, but it's absolutely essential for those with rosacea (via Indian Journal of Dermatology, Venereology, and Leprology).
Using a gentle cleanser like Sweet Chef Oat Milk Latte Cleanser with soothing oat kernel extract can help nourish inflamed skin. One Target customer raved about the cleanser, saying, "It does not irritate or aggravate my rosacea, which is fantastic!" Oatmeal retains hydration and reinforces the skin barrier, which is why it's a common home remedy for rosacea. Keeping your skin moisturized will make your skin much less vulnerable to a rosacea flare-up.
According to WebMD, Colloidal oatmeal works by locking moisture into your skin, and it also has anti-inflammatory properties that help keep your skin's pH levels balanced. This oatmeal cleanser even removes makeup and leaves your skin feeling supple without stripping the skin of its moisture. The coffee seed and vitamin B12 present in the product both have antioxidant properties, which add yet another layer of protection for your skin barrier.
Buy the Sweet Chef Oat Milk Latte Cleanser from Amazon for $15.99.
Best toner for rosacea-prone skin
With rosacea being an inflammatory skin disease, the condition can result in a significantly diminished skin barrier, per the Journal of Drugs in Dermatology. That's why it's important for people with rosacea to focus on using products that can help fortify the skin's moisture barrier. Board-certified dermatologist Dr. Lauren Levy recommends TONYMOLY Wonder Ceramide Mochi Toner as a product that can strengthen the moisture barrier.
The product contains ultra-hydrating hyaluronic acid and ceramides, which help replenish the skin barrier and retain moisture, especially for those who deal with rosacea (via the Journal of Drugs in Dermatology). The toner also contains centella asiatica, an ingredient that has made waves in the skincare industry for its various benefits to the skin. A study published in the Indian Journal of Pharmaceutical Sciences demonstrated that centella asiatica can help reduce facial redness due to the ingredient's calming, moisturizing, and anti-inflammatory properties.
Repair your skin barrier and buy the TONYMOLY Wonder Ceramide Mochi Toner from Ulta for $23.
Best serum for rosacea-prone skin
Incorporating a face serum into your skincare routine is vital for all skin types and conditions. Serums tend to contain active ingredients in lightweight formulations that quickly sink deep into your skin, per WebMD. Making sure to use a serum that doesn't contain potential irritants is important if you have rosacea.
That's why dermatologists recommend a La Roche Posay product called Rosaliac AR Serum for people with rosacea. In addition to a skin-soothing ingredient called Ambophenol, the product also contains thermal spring water, hydrating glycerin, and a calming dipeptide called Neurosensine. According to a randomized controlled trial published in the Journal of Drugs in Dermatology, combining Neurosensine, Ambophenol, and thermal spring water — as this serum does — can be used as a treatment in the management of rosacea symptoms. Using this serum that is specifically designed for rosacea-prone skin can help prevent the skin from reacting to triggers, which can ultimately result in rosacea flare-ups.
Buy the La Roche Posay Rosaliac AR Serum from Amazon for $41.99.
Best lightweight moisturizer for rosacea-prone skin
Purchasing dermatologist-recommended products is a great start for building a skincare routine for rosacea-prone skin. Even better is buying skincare products designed by cosmetic chemists who have researched and developed cutting-edge skincare innovations. AlumierMD is a line of medical-grade skincare products developed by renowned researchers Karl Litner, Ph.D. and Mindy S. Goldstein, Ph.D. Litner is known for introducing peptides to the skincare industry, while Goldstein developed several actives for Estee Lauder (via AlumierMD). The brand is only available to purchase through reputable skincare professionals.
For people with rosacea, AlumierMD HydraLight Moisturizer is a lightweight gel moisturizer that is a true powerhouse. While the moisturizer contains several potent actives and nourishing natural ingredients, there's one ingredient that stands out in this formulation — Tetrapeptide-14. Per INCIDecoder, Tetrapeptide-14 reduces redness and soothes the skin by blocking molecules responsible for inflammation, which can aid in the treatment of rosacea.
When this peptide is mixed with green tea, honey, and Boswellia, as is the case with this moisturizer, it results in a compound called Granactive AR-1423. A 5% concentration of this compound reduced redness from rosacea by 50% over a 4-week study, per Grant Industries, Inc. Other standout ingredients in this moisturizer include refreshing aloe along with anti-aging and hydrating peptides, making this a jam-packed product that will help you address the signs of aging without irritating your skin. You can kiss your retinol serum goodbye!
Purchase the AlumierMD HydraLight Moisturizer from The Skin Consult for $64.
Best multitasking moisturizer for rosacea-prone skin
According to LookFantastic, SVR Laboratories is a skincare brand that was founded by French dermatologists in 1962. The French pharmacy brand is full of products that are praised by dermatologists across the web. The brand's Sensifine AR Creme is a highly-effective, multitasking moisturizer for rosacea-prone skin.
The cream contains a green tint that helps correct redness, making it the perfect two-in-one moisturizer and makeup primer (via Look Fantastic). However, the coolest feature of this moisturizer is its "heat-regulating" capabilities that keep your face cool, calm existing redness, and prevent flare-ups. The moisturizing cream also contains soothing licorice extract and 2.5% Endothelyol. Per Givaudan, Endothelyol controls inflammation, has a brightening effect, and can even "improve rosacea in 28 days." Endothelyol works by blocking proteins that are responsible for inflammation and minimizing the release of histamine, which can worsen a rosacea flare-up (via Euro Beautiful, Advanced Specialty Care).
Keep it cool, calm, and collected, and buy the SVR Sensifine AR Creme from Amazon for $21.57.
Best eye cream for ocular rosacea
Ocular rosacea is a type of rosacea that consists of the inflammation of the eye area, per The Mayo Clinic. Symptoms of ocular rosacea include irritated bloodshot eyes, blurred vision, a gritty feeling in the eyes, and red, swollen eyelids. It's imperative for anyone who uses an eye cream to look for ingredients that won't trigger the already delicate eye area, but it's even more crucial for people with ocular rosacea.
One eye cream that is gentle on the skin is the Avène Soothing Eye Contour Cream. The eye cream contains calming chamomile extract, as well as hydrating and moisturizing ingredients like Avene thermal spring water, hyaluronic acid, and vitamin E (via Beauty Gab). Over time, the appearance of the undereye area will improve, with any redness and inflammation subsiding.
The eye cream is specifically formulated with sensitive skin in mind and is even endorsed by the National Eczema Association and the American Contact Dermatitis Society. The sensitive skin-friendly ingredients can also be beneficial for people who have ocular rosacea.
Best tinted moisturizer for rosacea-prone skin
If you have severe redness from rosacea, it may be tempting to wear a full-coverage foundation. Luckily, cosmetic formulations have come a long way, and enhancing your natural beauty has never been easier. Even people with rosacea-prone skin can enjoy letting their skin peek through by wearing a tinted moisturizer.
One option that caters to vulnerable skin prone to redness is the Hero Cosmetics Rescue Balm + Red Correct. The company's original rescue balm, recommended by dermatologists for its ability to heal skin inflammation, now comes in a version with a green tint that changes to beige and adapts to your skin tone (per Hero Cosmetics).
The product contains calming beta-glucan, anti-inflammatory spirulina, and anti-aging peptides. The moisturizer also doubles as a color-correcting primer, in case you want to wear it under foundation, per Hero Cosmetics. Board-certified dermatologist Rina Allawh said, "A sheer, green-tinted primer is a good choice for a makeup base and it may help visually correct the redness and even out skin tone."
According to InStyle, the product also blends into melanated, rosacea-prone skin, leaving no white cast behind. This makes it a perfect option for a "no makeup" day. Additionally, it intensely nourishes the skin and boosts collagen production, therefore repairing dry, flaky patches. This is critical in strengthening a weakened skin barrier, as commonly seen in rosacea-prone skin.
SOS — save our skin and buy Hero Cosmetics Rescue Balm + Red Correct from Amazon for $12.99.
Best sunscreen for rosacea-prone skin
Excessive exposure to sunlight can be a major trigger of a rosacea flare-up, according to Healthline. That makes wearing sunscreen even more critical for people with rosacea. Sticking to gentle mineral formulas and avoiding potentially irritating chemical sunscreens is vital in protecting your skin from UV damage, and it ensures you won't have to worry about a reaction to the product.
Dermatologist Andrea Suarez, a.k.a. Dr. Dray on Youtube, recommends the Hero Cosmetics Force Shield Superlight Sunscreen as a zinc-oxide formula that reduces the appearance of redness. Board-certified dermatologist Maryann Mikhail spoke to Hero Cosmetics about the importance of using mild skincare products if you have rosacea, including using an SPF like the brand's Superlight Sunscreen.
The mineral sunscreen contains ectoine, a marine-derived extremolyte that retains moisture, decreases redness, and protects the skin from radiation (per the Journal of Cosmetic Dermatology). Another ingredient derived from seawater, Aeromonas ferment extract, is also in the sunscreen and works to relieve and repair the skin barrier. The formula also contains several soothing botanicals and has a green color-correcting tint to correct redness without leaving a major white cast. One of the botanicals is the adaptogen tulsi, or holy basil (via Healthline). Tulsi has antibacterial, antioxidant, and anti-inflammatory properties — a triple threat that can help alleviate the symptoms of rosacea.
Here comes the sun, and it's alright. Buy Hero Cosmetics Force Shield Superlight Sunscreen from Amazon for $19.99.
Best night cream for rosacea-prone skin
According to the National Rosacea Society, strengthening your skin barrier by keeping your skin moisturized, is vital in preventing rosacea flare-ups. People with rosacea often have a damaged skin barrier, which can result in greater transepidermal water loss from your skin. Using moisturizer at night is especially crucial in protecting the skin's precious moisture barrier. Board-certified dermatologist Rita Linker told Forbes, "Nighttime is the best time to rejuvenate the skin while you sleep." That's because your skin produces less sebum at night, which causes increased transepidermal water loss at night, per The Healthy.
OTC Derm, a website that shares skincare recommendations from board-certified dermatologists, recommends the Cetaphil Redness Relieving Night Moisturizer for rosacea-prone skin, and especially for those who suffer from erythematotelangiectatic rosacea, or rosacea that is characterized by sustained redness.
The night moisturizer contains soothing allantoin and licorice root extract, as well as ceramides that help repair a compromised moisture barrier that is commonly seen in rosacea-prone skin (per Cetaphil). Therefore, this product is especially beneficial for people with dry skin, a factor that can ultimately make people with rosacea more vulnerable to flare-ups. The product also works to protect skin against tightness, irritation, and roughness.
Soothe your skin and buy the Cetaphil Redness Relieving Night Moisturizer from Amazon for $10.90.
Best primer for rosacea-related redness
There are plenty of primers that promise to neutralize redness, but there's one that also alleviates the redness over time so you won't have to cover up your skin as much. The Indeed Labs Nanoblur Colour Corrector in the shade Green corrects redness and blurs pores, according to dermatologist Andrea Suarez, who goes by Dr. Dray on her YouTube channel. Per Woman & Home, the product will also plump up the skin and give a "soft-focus" appearance to the skin that will reduce the appearance of those pesky fine lines.
Other than the visible cosmetic improvements you can see immediately after wearing this primer, there are also beneficial skincare ingredients. The primer contains Tetrapeptide-14, a redness-reducing peptide that has been proven to benefit rosacea-prone skin, as well as soothing honey.
Go green and buy the Indeed Labs Nanoblur Colour Corrector in Green from Ulta Beauty for $16.99.
Best treatment for rosacea flare-ups
Avoiding rosacea flare-ups is often easier said than done. Things like eating spicy food, drinking alcohol, exercising, sun exposure, and even cold temperatures are all potential triggers for a flare-up (per WebMD). Luckily, there's a treatment that can soothe your skin after a flare-up and treat the symptoms of rosacea — PROcure Rosacare Hyaluronic Hydrogel.
The gel contains soothing licorice extract as well as hydrating and refreshing vitamin E, allantoin, hyaluronic acid, and cucumber extract (via PROcure). Dr. Andrea Suarez, a dermatologist who goes by Dr. Dray on her YouTube channel, highly recommends the product as it's specifically formulated for rosacea and doesn't contain any potential irritants like menthol or eucalyptus. On the other hand, it also contains ingredients that are proven to be beneficial for rosacea-prone skin, like anti-inflammatory niacinamide and licorice extract, which has anti-redness properties.
Suarez also pointed out that the product contains green-tinted chromium pigments which help color-correct any redness. While this product will help soothe a rosacea flare-up, you can also wear it as a moisturizer to prevent flare-ups. That's because the shea butter in the gel prevents transepidermal water loss, which can lead to an impaired moisture barrier and can subsequently trigger flare-ups, per YouTube.
Buy the PROcure Rosacare Hyaluronic Hydrogel from Walmart for $10.08.
Best anti-inflammatory treatment for rosacea-prone skin
According to MedlinePlus, azelaic acid is often prescribed by dermatologists for the treatment of rosacea. The anti-inflammatory properties of azelaic acid make it an especially effective treatment in people with papulopustular rosacea, or rosacea that's characterized by acne-like blemishes (per Expert Opinion on Pharmacotherapy). Within 15 weeks, experts report that people with rosacea can expect to see a significant reduction in redness and papules. Azelaic acid also acts as a gentle exfoliator that can be tolerated on rosacea-prone skin, per Healthline.
The Ordinary Azelaic Acid Suspension 10% is an affordable azelaic acid product for people with rosacea that comes recommended by dermatologists. The triple threat product will brighten hyperpigmentation, reduce acne, and diminish redness.
This azelaic acid helped Rob, a blogger behind "Minimal Fit," who had severe rosacea. According to Rob, the product reduces redness, clears the skin of blemishes, and gently exfoliates the skin without causing irritation. After using the product twice a day for 18 months, he found that the redness on his skin went away and his skin looked like what it had before his onset of rosacea.
Buy The Ordinary Azelaic Acid Suspension 10% from Ulta Beauty for $10.
Best soothing aloe gel for rosacea-prone skin
The peer-reviewed journal called "Clinical, Cosmetic and Investigational Dermatology" notes that aloe vera gel is an effective natural treatment that can be applied topically to calm rosacea-related inflammation through its hydrating, anti-inflammatory, and antioxidant properties. This makes aloe gel a great option to cool the skin down and reduce redness after a rosacea flare-up, per Healthline.
Board-certified dermatologist Dendy Engelman told Insider, "[Aloe] helps prevent transepidermal water loss." According to Engelman, losing moisture can make the skin "more likely to become irritated, itchy, and dry." Keeping your moisture barrier hydrated is important in preventing a rosacea flare-up.
Skinfood Aloe Vera 93% Soothing Gel is an affordable aloe vera gel that can calm dry, irritated skin (via Ulta). With a 4.5-star rating on Ulta, the gel also contains hydrating hyaluronic acid and soothing beta-glucan.
A customer who reviewed the aloe gel on the product page said, "I've been using this for a couple of years to help with my rosacea. When it's flaring up, this feels so good because it is cool on the skin. Definitely recommend." The aloe gel also has a 4.6-star rating on Influenster, with one reviewer saying she uses the product to cool her cheeks and forehead down when she's going through a rosacea flare-up.
Buy the Skinfood Aloe Vera 93% Soothing Gel from Amazon for $8.09.
Best skincare device for rosacea-prone skin
When you think of red and blue light, you may think of the Jedi fighting the Sith with lightsabers. In real life, when red and blue light therapy are coupled together, they can reduce rosacea-related redness and papules (per The Journal of Medical Case Reports). According to Cleveland Clinic, red light therapy can help decrease inflammation while banishing the bacteria that can cause blemishes, all without drying out your skin!
Blue light therapy has even helped actress Sophia Bush with her mild rosacea, per Health. But if you don't have the money for in-office light therapy treatment, there's an at-home device that may deliver similar results. Lightstim for Acne is an LED light wand device that emits both blue and red light. This device can alleviate redness, soothe irritation, and calm blemishes. Chelsea Gilson, who writes for her blog called "Traveling Fig," said this device helped treat her rosacea, adding that it not only helped her during major flare-ups, but also prevented rosacea-related breakouts by strengthening the skin barrier and killing off bacteria.
May the force be with you! Buy Lightstim for Acne from Sephora for $169.