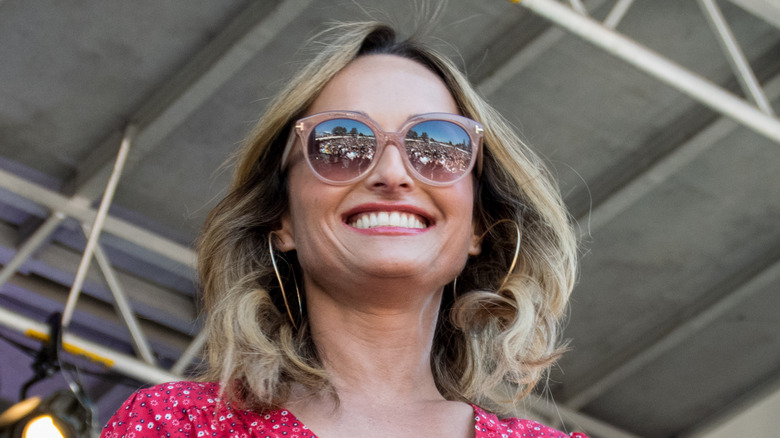 Celebrity chef stardom is a modern phenomenon. Our competitive nature chases thrilling cooking contest shows while our multitasking tendencies attract culinary demonstrations to de-stress from daily responsibilities. Celebrity chefs have the unique ability to bridge a gap between entertainment and mastery, bringing us into their own intimate and personal world with a passion so strong, it oozes through the television screen and establishes trust between chefs and their doting audiences.
As Time Magazine examines, celebrity chefs carry great influence. We look to them for advice, cooking tips, and ingredient explanations. We aspire to be experts just like them, so all it takes is one magazine feature or tweet to prompt a home cook's desire for the latest and greatest high-speed blender. Some chefs vouch for products and others for activism, but no matter the message, we listen.
For the sake of time, we've done the research for you and constructed a thorough list of celebrity chef tips with revealing promise. Here is our top selection of underutilized ingredients that celebrity chefs swear by.
1. Parmesan rinds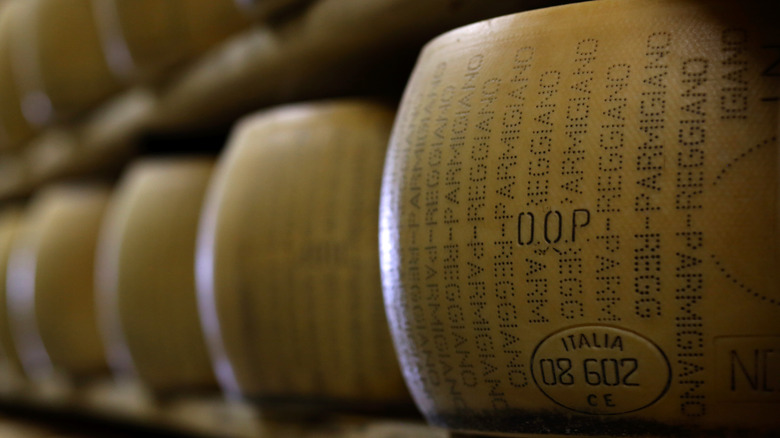 Giada De Laurentiis has a foot in nearly every culinary door, from television and restaurants to cookbooks and kitchen product lines. The De Laurentiis recipe vault is studded with eclectic influences — produce-driven California plates, light and healthy recipes, and indulgent desserts all play a part — but cheese graters, Roma tomatoes, and all things Italian cuisine are central to her culinary outlook.
Parmesan cheese, however, is an obvious cornerstone ingredient to her repertoire. Salty cheese chunks with engraved Parmigiano rinds have received plenty of airtime on De Laurentiis' numerous Food Network shows. Gratings top pasta, shavings garnish salads, and coatings bake to golden perfection on top of Italian casseroles. But after the prized meaty center is all used up, De Laurentiis doesn't throw the rinds away. Instead, she saves them in a plastic bag and stores them in the freezer for later use (via Yahoo).
The waxy rind imparts a buttery richness that melts into slow-cooked broths, soups, and tomato sauces, leaving simmering spoonfuls teeming with complex umami flavor (via Giadzy). So, the next time you grate your way through a Parmesan cheese wedge, don't toss the rind. Instead, start a freezer collection to make a "magic potion" of your own.
2. Tahini
Made from ground-up sesame seeds, tahini paste imparts a seductive creaminess, upfront nuttiness, and pleasant bitter undertone to the beloved healthy chickpea spread, aka hummus. But hummus barely scratches the tahini surface.
Canadian chef and Top Chef Canada host Eden Grinshpan can't name an ingredient she loves more, and her tahini passion might just change the Middle Eastern condiment's U.S. trajectory. Full of praise for the sesame paste, Grinshpan shares, "Once you go down the tahini road, there's no turning back" (via Coveteur). Her most recent cookbook "Eating Out Loud" honors Grinshpan's tahini enthusiasm. Recipes for garlicky tahini, charred tahini, and green tahini push the established boundaries. But when it comes to sweet treats, Grinshpan tells Chatelaine that the salted halva chocolate chip cookies are her favorite creation. Made from sesame paste and honey, halva adds nutty, marshmallowy air pockets to compliment melted chocolate chunks, tahini-infused dough, and a flaky salt finish.
Just like any other ingredient, no two tahini pastes will taste the same. Ethiopian, Israeli, and Lebanese sesame seeds all impart a unique regional flavor that influences the final tahini product (via Bon Appétit). Effusive bitterness can overpower tahini's nuanced qualities, so finding a smooth paste with a pleasantly light bitter flavor is often a good quality indicator.
3. Anchovies
Anchovies are highly polarized, but Iron Chef Bobby Flay won't let popular opinion shake his fondness for the salty fish. With dozens of cookbooks, TV shows, and restaurants to his name, Flay loves to share impactful tips for bold and flavorful dishes that reinforce his competitive aptitude for throw-down match-ups.
Anchovies are a Flay pantry staple, so much so, he compares their salt-forward taste and effortless flavor-boosting capabilities to the timelessly fashionable bacon (via Food Network). A personal pantry tour unveils rows of dried chiles, spices, and canned tomatoes, but his stand-out secret weapon hides in a small glass jar packed with oil.
Anchovies are often misjudged, leaving pizza eaters who find the small fillets garnishing their wood-fired pies skeptical. Flay admits to using anchovies as an undercover flavor enhancer all the time, employing the tiny fish to bolster dynamic umami flavor in many dishes. An episode of "Bobby & Giada in Italy" does just that. Flay helps cook up a Roman anchovy butter pasta, utilizing the power-house fish to add extra richness.
4. Tomato passata
Simmering pots full of rusty orange-red tomato sauce have plenty of uses, but Rachael Ray has a go-to tomato product for all her saucy needs that doesn't get enough love, at least not here in the U.S. On The Rachael Ray Show, the chef explains that passata "is made from fresh, ripe tomatoes that are ground and put into a bottle."
The main difference between tomato passata, or passata di Pomodoro in Italian, and tomato sauce lies in its uncooked nature. Although some cooks claim passata can also consist of cooked and pureed tomatoes, most agree that it stands out as being uncooked (via The Kitchn). It's also important to note that no added seasonings or vegetables are mixed into passata's tomato base.
If Ray is cooking with tomato product, odds are tomato passata is involved. Unlike many store-bought tomato sauces, Ray points out that passata doesn't contain any added sugar. Recipes such as her garlicky tomato sauce incorporate passata as the stand-alone tomato ingredient while her "You won't be single for long" penne alla vodka accentuates the puree's naturally sweet juiciness in conjunction with more toothsome canned tomatoes.
5. Whole grain mustard
Self-proclaimed cocktail queen and "back to basics" culinarian Ina Garten surpasses celebrity chef status and heads straight to royal tiers. With over three million Instagram followers thirsty for Garten's exhaustive cooking tips, word travels fast when she advocates for an indispensable pantry item collection.
A few years ago, Garten unveiled one staple she can't live without — mustard (via Bon Appétit). But she doesn't halt her condiment infatuation at classic French Dijon mustard. Garten raises the bar, vouching for whole grain mustard's unique texture and claiming that "the two of them together are great in vinaigrettes and sauces." The creaminess of Dijon and the texture of whole grain mustard create a magical emulsion with an iconic mustardy bite. Her crispy chicken thighs with mustard sauce stay true to this method, incorporating both mustards into one creamy sauce and relying on the whole grain mustard to add a sassy surprise pop with every bite.
6. Stale bread
José Andrés is both a chef and a humanitarian, but feeding people is at the forefront of all culinary outreach avenues. As the founder of World Central Kitchen, a nonprofit organization that provides food disaster relief, Andrés knows a thing or two about the impact of a freshly cooked meal. Wasting any food at all goes against his benevolent spirit, so Andrés is sharing a passionate petition to save day-old bread chunks and use their aged character to create culinary magic.
Andrés shared one of his favorite ways to cook with stale bread inspired by his Spanish upbringing, as part of Earth Day's #NoFoodWasted challenge run by MSNBC in 2015. Migas is a typical Spanish dish made from stale bread, lots of olive oil, and onion. Andrés shared his rift on the classic, featuring migas with paprika-studded chorizo and sweet grapes (via Twitter). Stale bread chunks work to chorizo's oily advantage, soaking up all the flavorful greasy bits.
Andrés also recommends using up extra bread in soups, such as sopa de ajo or Castilian garlic soup (via Today Show). Cold soups like gazpacho and Andalusian salmorejo resuscitate day-old bread with a little water before squeezing out the excess and blending in juicy summer tomatoes for an unanticipated creaminess.
7. Maggi cubes
A Top Chef contestant, restaurateur, author, James Beard Award nominee, and Food & Wine Best New Chef awardee barely scratches the surface of Kwame Onwuachi's accomplishments (via The New York Times). Meanwhile, when it comes to sharing his culinary talents, Onwuachi's Trinidadian, Nigerian, Jamaican, and Louisianan heritage is a driving force. One of his favorite ingredients touches on his Nigerian roots and takes the shape of a small cube.
Maggi cubes are a common seasoning in West Africa and a cornerstone ingredient in Jollof rice, one of Onwuachi's go-to comfort foods (via The Washington Post). He is so passionate about this flavor-bomb ingredient that he imported tubs of Maggi cubes from Nigeria when he opened his D.C. restaurant Kith and Kin. Although it is no longer open, his impactful culinary footprint and homage to traditional Nigerian flavors forever changed the restaurant world.
Onwuachi has since introduced the mighty Maggi cube to actress and singer Selena Gomez on her HBO show "Selena + Chef" with his Jollof rice recipe. Pakistani and Afghani chef and food writer Shayma Saadat remembers adding Maggi cubes to lentil daals and yakhni, a flavored broth for cooking rice, while cookbook author Andrea Nguyen insists that a "real banh mi" isn't complete without a Maggi flavor boost (via The Washington Post). It's only a matter of time before the U.S. catches on to the spirited umami building block.
8. Pickle brine
Alex Guarnaschelli made headlines showing off her high-end kitchen to fans (via Food & Wine). Amidst the impressive gadgets and decor, she has an entire shelf dedicated to sauerkraut and pickles. With such a vast pickle collection, you can bet the chef makes a point of using up leftover brine. She doesn't limit its use to cocktails or consuming it plain for numerous health benefits (per Healthline). Instead, she incorporates the brine into upcycled recipe components.
Guarnaschelli shares an easy recipe for salad vinaigrette on Instagram, using leftover brine for an added touch of acid and salt. For her "door-of-the-fridge-vinaigrette," she combines one part each of pickle juice and balsamic vinegar, three parts olive oil, and a healthy spoonful of Dijon mustard for thickness. Guarnaschelli also notes that she uses the brine to re-pickle new vegetables or to add a splash of salt and acid to marinades (via Twitter).
9. Pepitas
Pepitas are so much more than just a salad garnish, and Pati Jinich, host of "Pati's Mexican Table" on PBS, shares just how transformational they can be. The seeds are a foundational ingredient in many Mexican dishes including salsas, moles, soups, and even drinks (via Pati Jinich Website). According to Jinich, Mayans started grinding pepitas into seasoned sauce bases, and centuries later, pumpkin seed pastes originating from the Yucatan Peninsula are sold in markets in Mexico and worldwide.
Not only are pepitas incredibly nutritious — they're packed with antioxidants, fiber, and healthy fats (per Healthline) — but blending them creates an incredibly creamy texture. According to The Spruce Eats, pepitas are pre-shelled and ready to be cooked. Much like nut-based milk, the seed's oils emulsify with liquids, causing the sauce to lighten in color and develop an unctuous texture that lingers on the tongue.
Pepitas are small but in numbers can transform almost any aromatic base into a thick and luxurious sauce. Jinich adds pepitas to her Mole Poblano in addition to peanuts, almonds, and raisins. Four types of chiles, onions, tomatoes, and tomatillos forge the iconic mole paste base.
10. Duck fat
Chef and former Top Chef contestant Richard Blais is known for his molecular creations. But according to Food & Wine, gellan gum and liquid nitrogen aren't the only two pantry staples Blais swears by. He believes everyone should have a hefty duck fat supply, claiming that "Anything cooked in duck fat has a flavor that you can't get from oil or clarified butter."
Blais recommends either roasting a duck and saving the rendered fat or buying it from the grocery store. Either way, Bon Appétit likens the excess oil to liquid gold and notes that it can be stored in the fridge for weeks or in the freezer for months. Duck confit is a classic French preparation, and Blais won't argue against cooking duck legs in their own fat. His San Diego Restaurant Juniper and Ivy features a rotating menu including items such as a kale Caesar salad with duck confit.
A well-stocked pantry isn't Blais' only endearing quality; he has a sense of humor too. On his website, Blais claims duck fat makes up half the secret to his perfectly coiffed and iconically styled hair.
11. Kombucha
Born in Seoul, Korea, and raised in Los Angeles, California, Roy Choi grew up with diverse food cultures. Both worlds inspired the Kogi BBQ Taco Truck, which transformed LA streets and kick-started a food truck trend that would eventually sweep the nation. Choi's endeavors stretch beyond his fusion tacos and his fans know that he is always ready to use ingredients in new and unexpected ways.
Case in point: In 2018, Choi incorporated one of his favorite beverages — kombucha — into remarkable dining room plates at his Chinatown restaurant Chego (via LA Weekly). Choi commonly integrates fermented foods into recipes so it wasn't that far-fetched to splash some kombucha in a dish. A partnership with a national kombucha brand challenged him to use the fermented beverage creatively to make cooking with kombucha cool. He adds the fermented tea to salad dressings, cold noodles, and even sorbets, but recommends the novice kombucha drinker try deglazing a pan of caramelized pan drippings with the beverage (via My Recipes).
12. Green garlic
Alice Waters is the brilliant mind behind Chez Panisse, but her impact echoes way beyond the award-winning restaurant's square footage. For over five decades, Waters has built a food empire with fresh local produce at the center of it all (via National Endowment for the Humanities). Among the abundant options, green garlic is one of Waters' favorite spring-time farmer's market finds. According to Food52, green garlic is essentially immature garlic. Pulled from the ground before the bulbs can dry out, it graces market stalls with great variability — some resembling green onion and others with identifiable cloves. A pleasant mild garlic flavor sets this early bird crop apart from its older siblings.
An excerpt from Waters' book "Coming to My Senses: The Making of a Counterculture Book," highlights her deep respect for the simple intricacies of cooking with garlic. She discovered its range of flavors following a fleeting season of pre-mature harvests yielding young and delicious green garlic. It's a pivotal ingredient in Chez Panisse's potato soup, and she shares, "I loved the taste of that soup — it was so pure, a really gentle flavor," adding "You always want garlic to taste like that" (via The Daily Beast). James Beard was among the first to taste that soup, but the passion behind her green garlic appreciation lives on in the hearts of all who Waters fed.
13. Amchur
New York Times food reporter and cookbook author Priya Krishna knows her way around Indian spices. The Dallas, Texas, native published "Indian-ish" in 2019, a food-forward familial tribute exploring the intersection of Indian influence in American society — a true reflection of Krishna's flavorful upbringing. Krishna includes only one chicken recipe in her most recent cookbook and credits the lone dish's success to a single ingredient — amchur (via Bon Appétit).
Krishna explains that amchur is made from unripe mangoes that are dried out in the sun and then processed into an indispensable seasoning powder. She raves about amchur's acidic boost, which instantly transforms a neutral protein like chicken breast. Not only does it add a bright flavor but it also helps to tenderize the meat. She recommends subbing lime or lemon juice for amchur's enticing acidic flavor or mixing the tart mango powder into softened butter to spread on sweet summer grilled corn.
14. Cold pressed rapeseed oil
Nigella Lawson's cooking philosophy is designed to fulfill and satisfy the cook — not just those who dine. British Food writer Bee Wilson praises Lawson's "How to Eat" cooking method, sharing "It was the first book to make the case so persuasively that home cooking did not need to apologize for not being restaurant cooking" (via The New York Times).
In 2014, an admirer wrote to the chef asking about a very particular UK ingredient — cold pressed rapeseed oil. According to Lawson's website, small batches of rapeseed are crushed with a stone to extract oil. The temperature cannot exceed around 80 degrees Fahrenheit to preserve the natural flavor in the final oil product. North American rapeseed oil, on the other hand, uses high-pressure machinery and high heat to extract the oil, resulting in a flavorless canola oil-like product.
BBC Good Food compares cold pressed rapeseed oil to "British olive oil." With the seed's natural pepperiness left intact, Lawson recommends using the "gloriously mustardy and nutty" oil as you would extra virgin olive oil — in a vinaigrette and drizzled on vegetables. Or try the satisfying breakfast she shares on her Facebook page: toast with cold pressed rapeseed oil and soft-boiled eggs.
15. Cilantro stems
Award-winning chef and famous "Chopped" host Aarón Sánchez is on a mission to preserve an unlikely portion of a highly esteemed herb. According to Sánchez, cilantro is one of his favorite ingredients but it is only complete when both the leaves and the stems make the final cut (via Food & Wine). The bulk of cilantro's zesty flavor lives in the stems, so when Sánchez sees lonely leaf garnishes, he calls it a "gringo move."
An exclusive interview with Hola! revealed another use for underutilized cilantro stems. Sánchez recommends saving all vegetable scraps from a week's worth of cooking and simmering the leftover bits with water to create a homemade vegetable stock. Throw it in the freezer and use the flavorful broth for soups and sauces.
In addition to softened corn tortillas, expert meat placement, and exclusive white onion usage, Sánchez claims the secret to an elite taco is using the entirety of a cilantro bunch (via Food & Wine). There is no need for tedious leaf stripping. Grab a handful, run a sharp knife through the herbaceous bundle, and sprinkle with reckless abandon.
16. Silken tofu
Andrea Nguyen from Viet World Kitchen is a tofu connoisseur, as her cookbook "Asian Tofu" confirms. The book documents her long-standing dedication to uplifting the soybean product, and although her knowledge of Asian food is vast, she has a special place in her culinary heart for tofu.
The Kitchn interviewed Nguyen, not about tofu in general but with a specific focus on silken tofu — an underutilized ingredient in many parts of the world. According to Nguyen, unlike firm tofu, its texture is soft and pudding-like. Thanks to its production which uses extra rich soy milk, silken tofu has a unique fatty flavor and creamy consistency that's incredibly satisfying.
With such a delicate yet luscious texture, silken tofu can present itself in many different ways. It can be cooked or not, served hot or cold, or blended to amplify its natural creaminess. Nguyen recommends using it in soups, purées, and even desserts.
17. Ssamjang sauce
Momofuku restaurants are famous across North America, but founder David Chang's knack for innovation, bold statements, and challenging the status quo is the secret sauce behind the food empire's success. His mission to share the stories behind different foods guides his creativity, and his fans are eager to follow.
The New York Times coined Chang's bo ssam — a brined and slow-cooked pork shoulder with a sweet and salty brown sugar caramelized crust — a "miracle" in 2012. Flashy chunks of buttery fall-apart pork steal the show, but the ssamjang sauce often gets overlooked. The sauce is an essential component of the recipe, transforming the dish into "the dreamiest sliver" (via The Washington Post).
According to New York Times Cooking, the word ssamjang actually means a sauce for wraps, so each variation — store-bought or homemade — is unique. Bon Appétit notes that the two essential components are doenjang and gochujang. The former is a slow-fermented soybean paste and the latter is a spicy Korean red chili paste. When the two are combined and mixed with sesame oil, garlic, and honey, the delicious result is an umami sauce for dipping grilled or braised meats.
18. Hawaij
An underrated Yemeni spice found its way onto Minnesota farmland as one of Food Network celebrity Molly Yeh's essential pantry ingredients. Hawaij — a spice blend consisting of cumin, coriander, black pepper, cardamom, turmeric, and ginger — features warm and peppery notes, linking the "multipurpose" spice to other seasonings like garam masala and ras el hanout (via Epicurious). Per Bon Appétit, hawaij translates to mixture in Arabic and refers to sweet and savory blends. Every hawaij mix is unique as different spice ratios lend to infinite variation (via Epicurious). For example, a blend used to flavor coffee is heavier on ginger, cardamom, cinnamon, cloves, and nutmeg, much like pumpkin spice warms trendy autumnal Starbucks cups.
Yeh uses it wherever she can, adding the cozy spice mix to soups, chicken pot pie, casserole bakes, and even carrot cake. Cookbook author Amjaad Al-Hussain speaks to the spice blend's versatility, proposing unexpected applications beyond savory proteins. Al-Hussain elevates pumpkin pie, fruit crisps, and gingerbread with the warm and complex mixture.
19. Preserved lemon
When Padma Lakshmi welcomed Delish into her home kitchen, Top Chef fans peeped an exclusive look at the distinguished host's fridge contents. In the deep dive, Lakshmi unveiled a tart and pickled ingredient that she swears by and considers to be an "unsung hero of Moroccan cuisine."
According to Delish, Lakshmi stocks preserved lemons (or lemon achar) like the rest of the world stocks milk. The lemons are stored in aromatic saffron and nigella seed-infused oil, ready to add an intense salty lemon flavor to nearly anything. Preserved lemons are salt-cured, which removes moisture and concentrates the lemon's essential oils and juices. Lakshmi likes to chop them up and sauté them with olive oil, garlic, and lean protein, deglazing the pan with a bit of water to create a fragrant, flavor-packed sauce (via Delish).
Lakshmi's love for preserved lemons is not limited to Delish's exclusive fridge raid. When a Twitter user inquired about upping their lemon game, she tweeted back with only two words and a lemon emoji: "Lemon achar!" She even shared her own homemade preserved lemon recipe for the Twitter-sphere to enjoy.
20. Fonio
Senegalese-born chef and cookbook author Pierre Thiam is introducing the world to West African flavors with passionate gusto. His fine-casual restaurant Teranga in New York City sources ingredients from West African farmers and his latest cookbook highlights a regional grain. Thanks to Thiam, fonio is now sold all over the country (via Fortune).
The New York Times conjectures about fonio's trendy quinoa qualities, Bon Appétit awarded it the title of "America's new favorite super grain," and Fortune Magazine named fonio the "it" grain in 2020. Fonio is super nutritious and gluten-free with a cooked texture that resembles polenta or cream of wheat and welcomes saucy ragouts or meaty braises. The New York Times praised Thiam's roasted salmon with cheesy fonio grits while Bon Appétit applauded a fluffy fonio pilaf and duck plate.
Thiam pays tribute to fonio's 5,000-year history in his cookbook "The Fonio Cookbook: An Ancient Grain Rediscovered," but in 2017, he began promoting the ancient grain with a fonio product of his own (via Bakery and Snacks). Yolélé advocates for new markets for African-grown crops, propelling the "miracle grain's" retail presence. In fact, from May to April of 2020, Yolélé's fonio sales grew by over 600% (via Fortune).
21. Berbere seasoning
For Marcus Samuelsson, one very flavorful and brightly colored spice blend is essential to his cooking. Samuelsson tells Travel & Leisure that he always brings back an assortment of berbere seasoning from trips to Ethiopia. The dynamic mix of chili, salt, cardamom, garlic, and ginger reflects his heritage, both Ethiopian and growing up in Sweden. Berbere is prepared all over Ethiopia, but Samuelsson only discovered its complex lure years after becoming a chef.
He adds it to beef tartare, slow-cooked stews, fish, guacamole, and even cocktails (via Travel & Leisure). One of his favorite fusion dishes is adding berbere spice to classic meatballs served with pasta, couscous, or cracked wheat. But for Samuelsson, the magic comes down to playing around with berbere and leaning into experimentation. As he states himself, "Spices are windows into the countries they come from. Once you have good spices, you don't need much more."
22. Herring
At first glance, herring might not scream hip and current. After all, the ingredient is rich in history and cultural tradition. As Joan Nathan notes in a The Philadelphia Inquirer feature, herring is a well-established Jewish grandfather favorite. But Nathan argues that herring also amplifies refined restaurant plates, and for the last decade, chefs have re-evaluated a traditionally resolute ingredient and embraced its experimentation.
A piece in the Chicago Tribune identifies herring's notable popularity in Scandinavia and the Netherlands but admits that its American identity naturally hints to Jewish delis and Hanukkah feasts. But that is slowly starting to change. Nathan commends restaurant plates that showcase French smoked herring quenelles, herring with wasabi and yuzu kosho paste, and smoked herring Caesar salad (via The Philadelphia Inquirer). Last year, New York City's Aquavit resumed its annual summer festival for at-home consumption, honoring the underutilized fish and giving us all reason to give it a chance (via The New York Times). For the home cook, grilling, frying, or sautéing herring fillets in a generous herby butter pool are all great options.
23. Dried mushrooms
Fresh produce receives the bulk of culinary attention, but insider tip from a North Carolina chef questions that isolated thinking. Katie Button practices what she preaches, including a specific dried ingredient at her Asheville restaurant Cúrate. Button swears by the uniquely intense flavor of dried mushrooms and uses it to her advantage when constructing new restaurant plates (via Food & Wine).
When mushrooms are dried their natural flavor intensifies, adding an incredible depth that not even fresh mushrooms can achieve. Having shelf-stable dried mushrooms stocked in the pantry is a great way to reduce waste while appreciating infinite possibilities. Button explains, "They're reduced down to their perfect mushroom essence, so you get that back out in a really big way."
Button loves to brew dried mushrooms with slow-cooked chicken stock, but a quick pulse in a spice grinder turns the umami powerhouse into a powdery seasoning for fish or meat (via US Foods). Innovative opportunities are limitless, and it's only a matter of time before this underutilized fungi ingredient receives the hype it deserves.