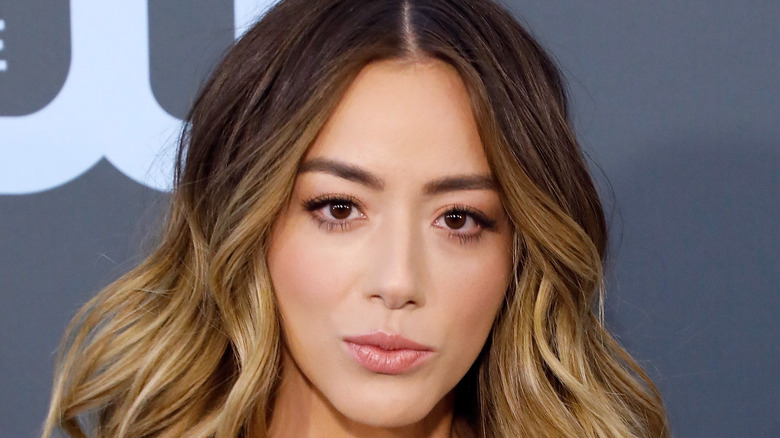 Over the past decade, actor Chloe Bennet rose to fame, mostly thanks to primetime TV. While the Chicago native first got her start in 2010 by hosting a short-lived Nickelodeon dance show, it's clear her big break came two years later on the ABC drama "Nashville." However, it was her next role on the Marvel TV series "Agents of S.H.I.E.L.D." that really made Bennet a star. For seven years, beginning in 2013, Bennet played superhero "Daisy Skye Johnson/Quake," and like anything Marvel touches, the series was a hit. Bennet even gushed to Collider, "Being on a show like this is not a small feat for someone." She added, "It's an honor to be a part of such a special experience."
Outside of her major TV gigs on "Agents of S.H.I.E.L.D." and "Nashville," Bennet appeared on the big screen with roles in the films "5 Years Apart" and "Valley Girl." While Bennet has found steady acting work throughout her career, she's also made headlines for other reasons, like speaking out against Asian discrimination in Hollywood, and because of her past relationship with controversial YouTuber Logan Paul.
However, since "Agents of S.H.I.E.L.D." ended in 2020, Bennet has kept more of a low profile, remaining out of the spotlight both professionally and personally, even posting a bit less on social media. So is she still acting, and if not, what has she been up to? We break down what happened to Chloe Bennet to find out.
Her show Agents of S.H.I.E.L.D. ended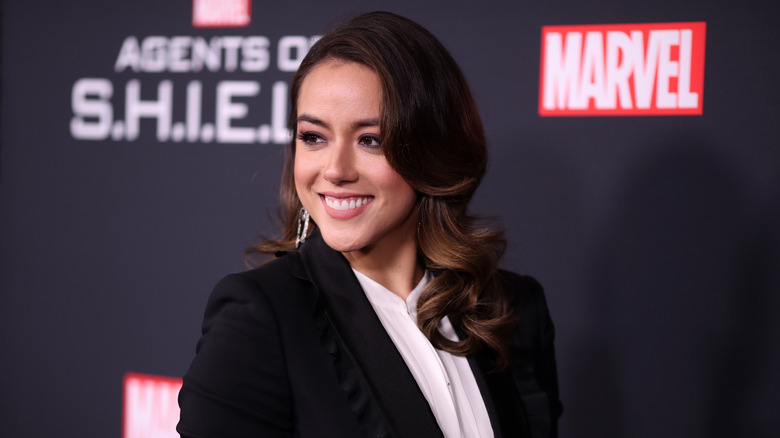 It's fair to say that Chloe Bennet is best known for playing "Daisy Skye Johnson/Quake" on the TV series "Agents of S.H.I.E.L.D.," which she starred in from 2013 to 2020. Being part of the Marvel world was a game changer for Bennet that she apparently didn't see coming. She revealed to Looper, "I don't think I realized when I first auditioned for the role how much this entire entity, how much this character, how much this universe and how much S.H.I.E.L.D. was going to be just a part of me for the rest of my life."
With that said, it makes sense that the series ending personally impacted Bennet, especially since it was her main job for the majority of her 20s. She dished to Collider, "I've definitely come out of this show a completely different person. …yet more me." However, Bennet's not necessarily thrilled with how the show concluded, admitting in an interview with BriefTake, "I think I have mixed emotions…I wanted a little bit more of a goodbye with each character on screen."
Perhaps that's why Bennet said she's open to reprising her role as Quake. "I mean, I have such a soft spot for her," she told Looper. Yet in 2022, Bennet shot down rumors that she would be returning for another upcoming Marvel series. She clarified on her Instagram Story (via Screen Rant), "I am in no way attached or involved…in the Secret Invasion Marvel thing."
Chloe Bennet voiced animation
A reason why fans may not be seeing Chloe Bennet on screen could be because she's done a lot of voice acting. Per her IMDb, Bennet began doing animated films in 2014 when she voiced a character in "Tinker Bell and the Legend of the NeverBeast." From there, Bennet's voice was heard in the animated series "Jake and the Never Land Pirates" before she took on the animated version of her "Agents of S.H.I.E.L.D." character "Daisy Johnson/Quake" in multiple TV specials for Marvel.
It was definitely the film "Abominable" that was Bennet's most notable animated work, considering she voiced the lead role as "Yi." Bennet gushed to The Beat, "She was just everything that I wanted to see when I was a kid on screen," adding, "Just the fact that it's genuine representation of an Asian girl as the protagonist and hero of the film." Because of that, the movie was extra special to Bennet, who also explained to Digital Spy, "The story is so universal, but the authenticity of the culture on screen is completely real."
It seems Bennet really enjoys her time in the studio when recording her part as well, despite it being different from what she's used to as a TV actor. She told The Beat, "All sense of vanity was kind of left at the door and you really just have your voice and the emotion." She continued, "When it's all you have to focus on it is incredibly tricky in one way, but it's also really freeing in another."
She returned to singing in Valley Girl
Chloe Bennet seemingly returned to her roots by singing professionally again in the musical "Valley Girl." The former "Nashville" star performed several songs in the film as her character Karen, and she appeared on the movie's soundtrack. While the musical seemed to be getting a lot of hype during filming, Nylon reported that because of controversy with co-star Logan Paul, its release date was pushed back from 2018 to 2020. Perhaps because of that, it wasn't the breakthrough into the big screen that it could have been for Bennet.
"Valley Girl" wasn't Bennet's first time singing, though, since she began her career as a pop star in China under her birth name, Chloe Wang. Bennet told PopSugar how that came about, recalling, "I was in the Second City improv group and taking voice lessons. … And so that teacher connected me to a producer who works with Avril Lavigne and all these people in China." That led her to move to Shanghai at age 15, but it wasn't necessarily as fun as it sounded. She told The Philadelphia Inquirer, "It was pretty difficult… Every day was the same: six hours of dance and four hours of Mandarin."
Although Bennet found success in China with millions of people watching her perform, it wasn't something she was interested in continuing. She explained, "It felt like I was taking on a character and acting like a pop star instead of being a pop star."
She dropped out of Powerpuff Girls
In March 2021, Chloe Bennet was getting a lot of hype after it was announced that she was cast as one of the leads in the highly-anticipated live-action version of "The Powerpuff Girls." It appeared that playing "Blossom" would be Bennet's next big TV role after "Agents of S.H.I.E.L.D." Bennet expressed her excitement on Instagram when debuting Blossom's signature red hair, writing, "A female, asian, red headed, superhero (again). … Go ahead and normalize being anything you want hunnyyy."
That's probably why it was pretty surprising when just months later, Variety reported that Bennet dropped out of the project after filming the pilot. This came after The CW made the decision to push back the show in order to redevelop it. CW chairman/CEO Mark Pedowitz explained, via The Hollywood Reporter, "The pilot didn't work. …we wanted to give it another shot. It may have felt a little too campy…"
Of course, that impacted the actors, including Dove Cameron, who plays "Bubbles." She had a positive outlook on the reshoots though, dishing to ET, "You never get to do that as an actor, go back and be like, 'What would I have done differently?'" However, that change of plans didn't work for Bennet's schedule. This led to fans speculating, per Looper, that her absence meant she would reprise her role as "Daisy Skye Johnson/Quake" in another Marvel TV show, "Secret Invasion." Yet Bennet denied any involvement, so the reason why she's busy remains a mystery.
Chloe Bennet spoke out against Asian discrimination
Chloe Bennet has been vocal about the lack of Asian representation in Hollywood. Bennet's real last name is Wang, but she decided to use a stage name. She explained why in a now-deleted Instagram comment, writing (via NPR): "…Hollywood is racist and wouldn't cast me with a last name that made them uncomfortable." Unfortunately, it was past experiences that led Bennet to feel that way. She told NPR, "An uncomfortable amount of my feedback had to do with the fact that I didn't look like what they expected me to look like." She added, "I had a casting director tell me, 'You're not quite white enough for the role, but you're not quite Asian enough for the best friend role.'"
Bennet made it clear that she still uses her platform to fight discrimination so no other Asian actor has to do the same. "It's really about changing the narrative and changing the content for Asian-American actors," she told the outlet. While Bennet did acknowledge in a 2020 interview with Looper that Hollywood has become more inclusive, she admitted, "The change isn't necessarily complete." She elaborated on that, "There's a trend of Asians in Hollywood. They're like, 'Oh, Asian movies work'… But being Asian isn't a trend to me."
Things may be going in the right direction, but Bennet believes there's still more work to do. She explained to ET that representation needs to be the norm, not the exception.
She broke up with Logan Paul
Chloe Bennet's personal life has apparently kept her busy, in that she's been through a few break-ups. The "5 Years Apart" actor's most famous relationship was with her "Valley Girl" co-star, Logan Paul, whom she dated in 2018. While some fans didn't understand why Bennet was dating the controversial YouTuber, it was clear she was head-over-heels for him. She even tweeted to a fan who questioned their romance, "​​Cause he's kind, creative, funny, vibrantly curious about life…and he's one of my best friends." She added, "He's changed my life for the better and I've done the same for him."
The two didn't work out, but they seemingly ended things on good terms. Following their split, Paul unexpectedly gushed to ET, "That girl changed my life. I have so much love for her." He also explained why their time together was so special, saying, "She, in many ways, became a light for me in a time where I did not have one. I carry on today in my life values that she's instilled."
Bennet's next rumored relationship was more low-key but didn't appear to end as well. That was presumably with "Power" actor John Cody, whom Bennet was said to have dated in 2020 since they posted (since-deleted) photos snuggling on social media and claimed to be isolating together during the pandemic. They didn't last long either, and in 2021 Bennet revealed in an Instagram post that she was single, jokingly suggesting her habit of night gardening was the reason.
The Nashville actor had health issues
Chloe Bennet has struggled with health issues that she had previously kept hidden from the public. The "Valley Girl" star took to her Instagram in 2020 to share that she suffers from Endometriosis after she underwent surgery to treat it. In a post from her hospital bed, Bennet explained that she decided to finally share her condition to raise awareness and to help remove the shameful stigma that often surrounds women's health issues. She emphasized, "That feeling of embarrassment is the exact reason why so many women don't seek out treatment." Bennet added that it was other women telling their stories before her that helped her deal with her condition.
Yet that wasn't the first time Bennet opened up about her own health to help others. When working with the organization Child Mind Institute, she disclosed, "I've suffered from severe anxiety and on-and-off depression for the past ten years," also mentioning her ADD diagnosis. Through that campaign, Bennet used her story to connect with children who have similar issues. "My advice to you is you are not alone. Do not feel ashamed for being this way. You are not crazy," she said.
It seems that health and wellness have always been important to Bennet. She confessed to Bello mag, "I see a therapist on a regular basis and that has helped me so much." Bennet also encourages others to do the same, saying, "I'm a huge advocate for people taking care of themselves mentally."
Chloe Bennet contracted COVID-19
Chloe Bennet's health hit another setback in late 2020 when the "Intercept" actor was diagnosed with COVID-19. She took to her Instagram Story in January 2021 to share with her followers that she learned of her diagnosis after taking a test on Christmas morning when she woke up with a fever and difficulties breathing. Not only did Bennet's whole family get the virus, but she seemed to struggle with the symptoms especially, writing on her Instagram Story (via People), "I'm young, healthy, and diligent about my health and this virus still knocked me the f*** down…"
Bennet claimed that she decided to disclose her diagnosis to her fans to bring attention to the fact that COVID-19 was still rampant and impacting people. She explained, "…I want to iterate to anyone who still may not be taking covid seriously, please please please f***ing do."
It's safe to assume that because of their sickness, Bennet's family Christmas was also not ideal. While it's unclear how Bennet contracted COVID, she did make it clear that she tried to stay healthy. She wrote, "I always wore a mask, social distanced, and took all the necessary precautions and still I got VERY sick."
Chloe Bennet happily turned 30
Chloe Bennet hit a major milestone in 2022, turning the big 3-0. Unlike a lot of people in Hollywood, the "Nostradamus" actor wasn't shy about her age, sharing photos of her birthday festivities on Instagram and writing "30 !!!!!!!!!!!!!!!!!!!!!!!!!!!!!!" in the caption. In another post, she even claimed, "might die of happiness from my birthday which feels counterproductive."
Yet it wasn't just her party that made Bennet happy, it apparently was actually turning 30. A month before her birthday, she expressed (via a social media video re-posted to YouTube), "I'm so excited to not be in my 20s," adding, "I haven't been this excited for a birthday since I was like 8." Although Bennet claimed that others saw her hitting a new decade as a negative thing, she didn't feel that way. In fact, she told PopSugar in 2018, "All of my insecurities about age have always been about my youth. …about not feeling good enough because I was so young in such a professional setting."
For Bennet, it appears age is just a number, especially since she told Vanity Fair, "I've never felt like I fit the age that I was supposed to be." It seems that ultimately Bennet doesn't care about doing what others think she's supposed to be doing in life either. She dished, "I'm defining myself right now, and it has nothing to do with a man or my job or whether I have kids or not, whether I'm married or not, and it just has everything to do with who I am."