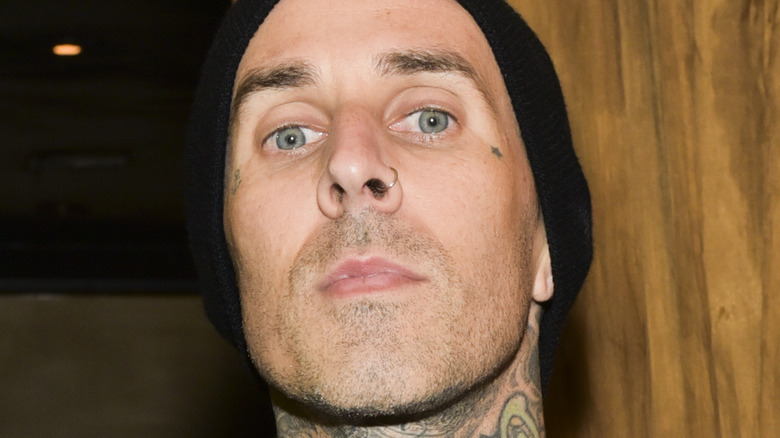 We may receive a commission on purchases made from links.
You probably know Travis Barker for his unparalleled drumming skills, copious tattoos, and engagement to a certain Kardashian, of which the two also got (sort of) hitched in a random Las Vegas wedding. Best known as the drummer of Blink-182, Barker has built an empire based on his passion for music. Throughout his career, he's contributed to numerous multi-platinum albums, collaborated with top artists from multiple genres, and emerged as one of the most noted rock drummers in history. Barker is at the peak of modern rocker celebrity — and that comes with a pretty handsome payday.
According to Celebrity Net Worth, Barker is worth an estimated $50 million, which, predictably, is nothing to sniff at. Our assessment, which is based on public financial disclosures, market research, and information from inside sources, includes Barker's known salaries, real estate holdings, royalties, and endorsements (the biggies), though it excludes things like estimated taxes, fees, and lifestyle expenses. Follow along as we explore just exactly what has contributed to this famous drummer's millions.
The musician came from humble beginnings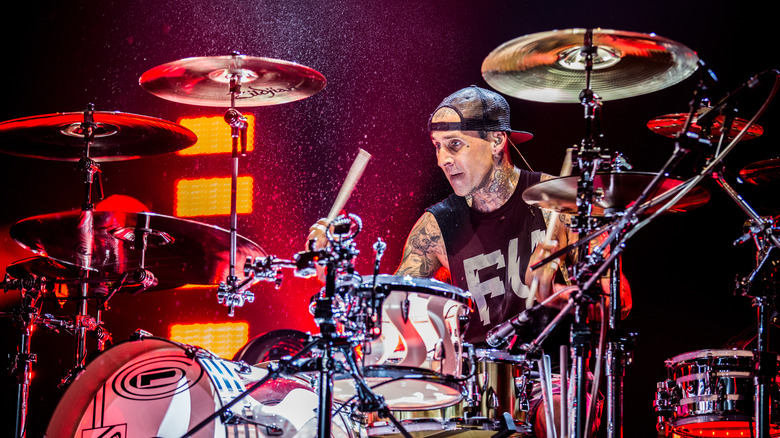 When it comes to Travis Barker's millions, the celebrity drummer is entirely self-made, meaning he hasn't acquired substantial generational wealth from family. Barker was born in November 1975 to parents Randy and Gloria Barker. The pair had fairly blue-collar professions — his mother worked as a babysitter while his father was a mechanic. Barker also has two sisters (via Celebrity Net Worth), so money was tight for the family of five, especially after his mother tragically died when Barker was only 13 years old.
Though details of his family's exact financial situation aren't public knowledge, Barker's parents did prioritize funding his passion for drumming. According to Barker's memoir, "Can I Say," his parents bought him his first drum kit when he was just 4 years old and paid for professional lessons throughout his childhood and teens. His mother even told him before she died to keep playing the drums. "Keep doing it, no matter what anybody else says," she told him (via The News International).
His early fortune was a result of his success with Blink-182
Though Travis Barker wasn't a founding member of Blink-182, the band's success picked up when he joined the band — which then consisted of Mark Hoppus and Tom DeLonge after founding member Scott Raynor reportedly left the band in 1998 (per All Music). Barker's first album with Blink-182, entitled "Enema of the State," was released in June 1999. Largely considered the band's breakthrough effort, the album went five-times platinum in the U.S., selling more than 5 million copies in the states and 16 million copies worldwide (per Best Selling Albums). Barker has recorded five more chart-topping albums with Blink-182 since "Enema of the State" (per All Music), solidifying his name as an in-demand collaborator.
Though the band famously went on an "indefinite hiatus" in 2005, Blink-182 got back together in 2009, as All Music noted, and they remain an active band — consisting of Alkaline Trio's Matt Skiba, who joined the band in 2015, along with Barker and Hoppus — to this day. With some 50 awards and nominations throughout the group's career, some sources estimate that the band as a whole is worth about $200 million (via Wealthy Persons).
Travis Barker has branched out in his music career
Travis Barker hasn't isolated his drumming talents to Blink-182, growing his empire beyond one band. He released a solo album in 2011 called "Give the Drummer Some," featuring Lil' Wayne, Snoop Dogg, Kid Cudi, and Steve Aoki. He is a member of the supergroup Transplants and is an "exclusive on-album drummer" for Goldfinger and FEVER 333.
Much of his later success has been through collaborations with well-known artists, with the drummer becoming sought after for features in a variety of genres. Throughout the years, Barker has lent his drumming talents to acts like +44, Steve Aoki, Willow Smith, Yungblud, Halsey, Mod Sun, and more. He's even teamed up with countless rappers like The Game, Yelawolf, Lil' Peep, and even Ye (aka Kanye West) in his career.
Most recently, he's been noted for his chart-topping collaborations with Machine Gun Kelly as the rapper branched out into pop punk music. This has turned into a friendship, with the two taking their well-known significant others (Kourtney Kardashian and Megan Fox) out on double dates. Kelly explained to Nylon in September 2021 that Kardashian and Fox want to keep the guys away from the studio at times. "Me and Travis invent ways to go to the studio, even if we have absolutely no reason to be in there," he said.
All of these features come with a payday and royalties, building up Barker's fortune as he experiments with different genres and artists.
He launched his clothing line in 1999
As he began his career with Blink-182, Travis Barker channeled some of his earnings into starting the clothing line Famous Stars and Straps. The line was heavily influenced by punk and hip-hop culture, fusing edgy fashion with oversized, logo-dominant looks. Famous Stars and Straps quickly became associated with skating and BMX culture, becoming a mainstay of both scenes during the 2000s. "Some of it is definitely more for the skaters," Barker explained to Apparel News of the line in 2006. "Some of it is more for roughnecks and hoodlums."
The clothing line is still around today, although the operation is seemingly smaller in scale than in its heyday. Famous Stars and Straps now appears to operate based on drops, as the site is currently advertising a soon-to-come 2022 drop. Though the brand was once sold at skater-focused retailers, like PacSun, during the mall rat days (per Apparel News), excess stock now appears to be listed only on the brand's dedicated Amazon storefront. Still, the brand has been a decades-long source of income for Barker, especially as he was just starting out in music.
Travis Barker once starred in a reality show called Meet the Barkers
Back in the mid-2000s, Travis Barker and his family were actually the stars of a documentary-style reality show. "Meet the Barkers" was a two-season MTV effort chronicling the life of the Barker family. The show featured Barker, his then-wife Shanna Moakler, their two kids, Landon and Alabama Barker, and Moakler's child from a previous marriage, Atiana De La Hoya (yes, Atiana's father is famed boxer Oscar De La Hoya).
The reality show only lasted for 16 episodes, ending as Travis and Shanna's marriage began to fall apart, per The Things. Though the two divorced in 2008, Travis and Atiana remain close to this day. In his memoir, "Can I Say" (via The Things), Travis says he also decided to pull the plug on the show when it strayed from documenting his real life and became more like a variety show. Still, the show undoubtedly contributed to his overall financial fortune, especially in the mid-to-late 2000s.
Travis Barker had to pay child support
Travis Barker has two children with his ex-wife, model and actress Shanna Moakler. Since Barker has to pay Moakler child support, his net worth has been all but confirmed by legal documents. In February 2016, Barker filed a request to have his $19,000 monthly child support payment reduced to $2,900, citing a reduction in income. In the filing, he claimed his annual income had dropped from about $2 million to around $600,000 per year. Barker listed his own net worth in the filing as around $40 million.
But that was 2016. Since then, Barker has been doing a lot more in music, including collaborations with chart-topping artists like Machine Gun Kelly, Halsey, Yungblud, and Willow Smith. These lucrative collaborations likely account for some of the growth between his estimated net worth of $40 million in the 2016 court filing and his most current, as of this writing, net worth estimations of $50 million.
He's appeared in an array of movies and TV shows
Aside from starring in his own reality TV show and working the celebrity interview circuit, Travis Barker has been a guest star on several TV shows and movies, including "The Simpsons," "CSI: Crime Scene Investigation," and "American Pie" (per IMDb). Though it's not clear how much money Barker has racked up in movie and TV features, celebrities are often paid for their appearances in scripted TV and film, making additional royalties for especially successful ventures. "American Pie," for example, would qualify as a likely ongoing royalty check for Barker (even though his role was quite small), given the film's continuous airing on cable TV and streaming services.
The famous drummer has also been featured in several documentary films on rock music and tattoo culture, according to his IMDb page. Documentary interview subjects, however, don't often receive royalties for appearing in journalistic-style media to maintain authenticity of their testimonies.
He's founded two separate record labels
Travis Barker has also dabbled in the production side of music in his career, representing a variety of artists — including himself. In 2004, he founded the record label LaSalle Records, a division of Atlantic Records. LaSalle Records represented Barker, his supergroup Transplants, and some small artists. As of 2022, LaSalle Records appears to be largely defunct, with the label last releasing music in 2016 and last posting on Instagram in 2018.
In 2019, Barker founded DTA Records, which is a division of Elektra Music Group. This active label releases many of Barker's collaborations with various artists, but also notably represents Avril Lavigne and JXDN, per the DTA Records website. It's not known how much Barker has made from these ventures, but it's worth noting that representing himself via his own labels undoubtedly puts more money in his pocket at the end of the day.
Travis Barker is a low-key restaurant investor
Seemingly coming out of left field for the drummer, Travis Barker is a noted restaurant investor in the California area. Barker, who was inspired to become vegan after surviving a plane crash in 2008, is a main investor behind the upscale Los Angeles vegan restaurant Crossroads Kitchen, per Los Angeles Magazine.
Before becoming vegan, Barker was reportedly vegetarian since age 15. Despite his own dietary choices, he did invest in two California-based Wahoo's Fish Taco locations in the mid-2000s, which he reportedly still owns. One location in Norco famously has one of Barker's drum kits hanging upside-down from the ceiling. Notably, the restaurant does have vegan and vegetarian options on its menu at both locations, allowing Barker to eat there. It's unclear how much Barker makes from these ventures, yet both are widely successful amongst different crowds. He can often be seen dining at both Wahoo's and Crossroads.
He owns a CBD brand called Barker Wellness Co.
As if he isn't busy enough as an entrepreneur, Travis Barker launched a wellness company in February 2021 focused on CBD products called Barker Wellness Co. The brand sells THC-free, vegan broad-spectrum CBD products — including tinctures, pain relief cream, and bath bombs — via a dedicated online retail storefront.
According to the retail site, the musician was inspired to create Barker Wellness Co. after his physically demanding profession as a drummer led him to CBD for pain relief and overall healing. "Our founder, Travis Barker, understands the toll a busy lifestyle can take on your health. His demanding schedule as a professional musician led him to examine every aspect of his health," the Barker Wellness Co. site reads. "This eventually led Travis to discover cannabinoids and their unique ability to nurture both body and mind."
The musician further explained to Rolling Stone in October 2021 that, before finding CBD, he had "tried everything from cryotherapy to massage therapy," but, for him, CBD provided the most relief.
In 2015, the rocker released a memoir
Travis Barker may not be a traditional author, but he certainly has a compelling story to tell. With the help of award-winning journalist Gavin Edwards, Barker released his memoir "Can I Say: Living Large, Cheating Death, and Drums, Drums, Drums" in 2016. At more than 400 pages, the book documents all aspects of Barker's life, from his experience with substance use, his early life, his rise to stardom, and the harrowing story behind the plane crash that almost took his life in 2008.
In a 2015 interview with Complex, he said that writing the memoir, for him, was therapeutic and that, had it not been for the experience of writing a book, he never would've been so open about these multiple aspects of his life — and open he sure is. "I just wanted to do everything I could to make mine as real as possible," he said.
Though the book has not topped any traditional best-seller lists, it's a popular memoir in the rock scene and earned Barker significant media attention upon its release. Years after the memoir's release, it still sits in the top 20 punk rock biographies on Amazon as of April 2022, ranking above similar titles by Billy Idol and Debbie Harry.
The drummer owns tens of millions in property
Property is a huge financial asset to consider when calculating celebrity net worth, and Travis Barker has no shortage of real estate to his name (per Variety). In 2014, the famous drummer reportedly dropped $4 million on a four-bedroom home in Los Angeles, according to Variety. He then sold the property for about $4.5 million in 2017. In 2017, Barker bought a $2.8 million mansion in Calabasas, California, which he then put on the rental market in 2019. He reportedly asked for a staggering $27,500 per month in rent, per Dirt.
Barker recently bought a $12 million Palm Springs mansion with Kourtney Kardashian in late 2021, which reportedly acts as their main home. Barker also reportedly owns several other properties in Southern California: a $9.5 million mansion in Calabasas, which he purchased in 2007; a $1.5 million Bel Air home that he bought in 2010; a home in San Bernardino; and a modest $480,000 Riverside home on Lake Elsinore, which he bought in 2004, per Variety.
He reportedly spends a lot of money on drums, tattoos, and cars
Travis Barker is known for his love of drums, tattoos, and cars. Though he likely can get steep discounts on all three thanks to his celebrity status, Barker still reportedly spends a good chunk of change on his passions. He has more than 100 tattoos by top tattoo artists like Mister Cartoon, Chuey Quintanar, Franco Vescovi, Scott Campbell, and more. In an interview with GQ, Barker said he estimates his ink covers more than 70% of his body. Barker has even tattooed over existing tattoos, adding to the cost of his collection, as he shows off in this Instagram photo. Though there's no estimate available for the cost of his ink collection, let's just say it's probably knocked a hefty amount off his net worth.
As far as wheels, Barker told Men's Journal in 2020 that he had eight cars. Then Kourtney Kardashian bought him an '80s Buick GNX, worth an estimated $205,000, for his birthday in 2021. As of March 2022, the U.S. Sun claims that Barker's car collection is worth at least $1 million, though it's hard to know exactly what's in his garage.
He bought Kourtney Kardashian an engagement ring worth $1 million
To give you a sense of Travis Barker's massive net worth, the musician has no problem dropping an estimated $1 million on a singular piece of jewelry. Barker proposed to Kourtney Kardashian in October 2021 with an engagement ring estimated to cost anywhere from $500,000 to $1 million, according to Brides. The Lorraine Schwartz-designed ring, which looks to be either white gold or platinum, clocks in at an estimated 10 to 12 carats. It features a main elongated oval-shaped solitaire diamond which sits on an incredibly thin pavé band. Simply put, it's a true stunner.
Since an engagement ring is a gift, its estimated $500,000 to $1 million worth technically adds to Kardashian's wealth (since she'd be entitled to the gifted ring if the marriage dissolves). But let's be real: Barker won't miss a mere $1 million, thanks to his healthy bank account and lucrative endeavors. In fact, he's likely made most of it back already.