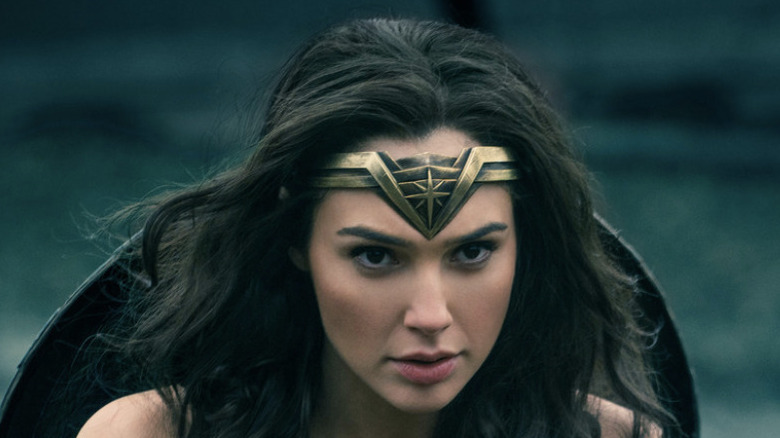 As the saying goes, not all superheroes wear capes. Not all of them have superpowers, either, unless those superpowers are being a billionaire (see Bruce Wayne aka. Batman), being a genius whose experiments went wrong (see Bruce Banner aka. the Hulk), or a mix of being a billionaire genius (see Tony Stark aka. Iron Man). Superhero movies have been around for a while, but they've never been more present than in the last decade. New comic book adaptations of beloved heroes come out every year, and extended universes by publishers like Marvel and DC Comics span multiple platforms over dozens of films and TV shows.
Like many other industries, the movie business remains, a boy's club, and few female directors had been able to land the job of directing superhero movies until recent years. It's an exciting time to be able to see our heroes reinterpreted through a female lens, whether it's in the form of beloved female superheroes deserving of a feature film, new heroes being introduced, or simply heroes we have known and loved for a long time. Here are the 12 best superhero movies directed by women.
Tank Girl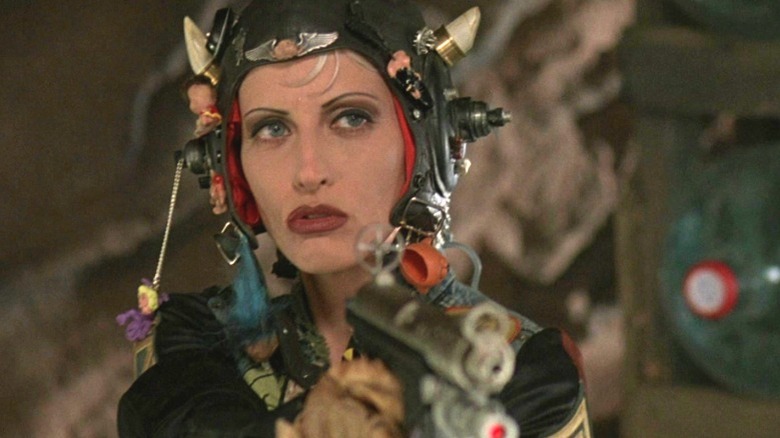 "Tank Girl" is a post-apocalyptic sci-fi film directed by Rachel Talalay, who has more recently been very active on television, directing episodes of "Sherlock," "Doctor Who," "Riverdale" and "The Chilling Adventures of Sabrina." The movie, based on a British comic series by the same name created by Jamie Hewlett and written by Alan Martin, follows the adventures of the eponymous Tank Girl, Rebecca Buck (Lori Petty), and her friends in the Australian outback after a comet strikes the Earth, causing a decade-long drought.
"Tank Girl" bombed atrociously when it was released back in 1995. It was hated by both critics and fans of the comics, but it has since garnered a cult following. The film mixes a bunch of effects, including animation, to simulate the original comic's style and energy. If not faithful to the outrageous original material, it at least succeeds in being campy, unadulterated fun. Talalay had high hopes for the film, but she ended up butting heads with the producers and losing control over the final product. Nevertheless, it found its audience, which then grew into the healthy fandom the film enjoys today.
The Matrix
They might not have been out as transgender women publicly back then, but the Wachowski sisters nevertheless delivered a strong transgender allegory with "The Matrix" trilogy in the late '90s and early aughts. "The Matrix" was also visionary: Its depiction of the predatory, capitalistic internet is a pretty spot-on prediction of how it evolved.
The main character of the series, Neo (Keanu Reeves), is by all definitions, a superhero, complete with flying and healing abilities (inside the Matrix, that is). His existence was predicted by the mysterious figure of the Oracle: He's the One who is prophesied to free humankind from their enslavement by the machines. The whole trilogy was a massive hit and collected many accolades, including a total of four Academy Awards. It also created a plethora of strong moments and images that pop culture absorbed, creating new tropes and recreating old ones in the science-fiction genre. The film was also a technical triumph thanks to some groundbreaking visual effects by VFX artist John Gaeta.
Punisher: War Zone
Before Anna Boden and Chloe Zhao, there was Lexi Alexander. She was the first woman to direct a movie about a Marvel character — even if that movie wasn't produced by Marvel Studios. Alexander is a martial artist turned director, and consequently, she has a knack for fight scenes. Released in 2008, "Punisher: War Zone" was the third attempt at bringing the Marvel vigilante to the big screen, but the movie initially bombed with critics and at the box office.
The movie still reached the fans of the Punisher, though, and has grown a cult following since. It's now considered the best adaptation of the character. Alexander was hell-bent on getting it right and made sure to respect the source material, even reproducing panels and using dialogue directly from the comic. The result is a bold and very violent superhero film with gorgeous, vibrant lighting and over-the-top action sequences.
Batman: Year One
Animated superhero movies have been around for much longer than the blockbuster live-action ones we know today, and DC still produces many animated movies and shows based on its sprawling repertoire. Storyboard artist and director Lauren Montgomery has been a fixture in modern DC animated movies and TV shows for almost two decades. She directed the adaptation of the 1987 comics story arc "Batman: Year One" with Sam Liu, and it was a success with both critics and fans
The film is very faithful to the source material by Frank Miller and David Mazzucchelli. It depicts Bruce Wayne (voiced by Ben McKenzie) coming back to Gotham after spending a decade abroad, studying martial arts after his parents' death. In parallel, Lieutenant Jim Gordon (voiced by Bryan Cranston) is arriving in town for the very first time. Cranston's casting is one of the film's highlights, and he brings gravitas to the character. "Batman: Year One's" later release on DVD and Blu-Ray features "Catwoman," a short by Montgomery, which cements Eliza Dushku in the titular role after she is introduced as Selina Kyle in "Batman: Year One."
Justice League: Doom
Right on the heels of "Batman: Year One," Lauren Montgomery directed "Justice League: Doom," a stand-alone sequel to her previous Justice League movie, "Crisis On Two Earths," which she collaborated on with Sam Liu. Many voice actors from previous movies in the DC animated universe came back to reprise their roles, notably Nathan Filion as the Green Lantern, Susan Eisenberg as Wonder Woman, and Tim Daly as Superman.
The movie is based on the 2000 comics story arc "Tower of Babel" by Mark Waid and follows the creation of the Legion of Doom, a group of villains put together by Vandal Savage (Phil Morris) to kill the members of the Justice League. While the plot twist seems a bit contrived (and was even spoiled directly on the back of the Blu-ray box!) and the movie runs a bit short at only 77 minutes, "Justice League: Doom" is action-packed and very entertaining.
Speed Racer
The Wachowski sisters make this list for a second time with their adaptation of the Japanese manga and anime series "Speed Racer." It might have bombed when it was released back in 2008, but it's now considered a brilliant cult classic. "Speed Racer" is the story of an 18-year-old racecar driver called Speed Racer (yes, that's his name!), whose only superpowers are his driving abilities.
The film is an explosion of colors and campy, over-the-top characters. Speed (Emile Hirsch) wants to avenge his brother Rex, who died during a race that was fixed by a mega-corporation called Royalton Industries and expose the corruption and crime that permeates his world's racing industry. "Speed Racer" is anime brought to life, and the starring actors are devoted to the seriousness of their cartoon characters. Yet, it's not an easily-digestible family movie. Its multiple overlapping timelines and complex anti-capitalist plot make "Speed Racer" a true Wachowski epic.
Wonder Woman
Directing the very first "Wonder Woman" feature film had been an ambition of Patty Jenkins for over 10 years, but creative differences between her vision and Warner Brothers' expectations delayed the project. When it was finally made, it took on the role of a test with audiences to see if they would enjoy a superhero movie directed by a woman and starring a woman. To nobody's surprise (except studio execs), it performed very well at the box office and with critics.
"Wonder Woman" is a classic origin story for the iconic DC Comics superhero, and one of the lightest, funniest movies in that particular cinematic universe. Jenkins does a great job of not making Wonder Woman's identity as a woman the main element of her story. Having grown up isolated in Themyscira, Diana (Gal Gadot) has a very pure and innocent nature that is soon challenged by the atrocities of war. She also experiences the simple pleasure of friendship and the thrill of discovering a whole new world. She has little respect for hierarchy or establishment simply because she has never been restricted by them. Diana's attitude is refreshingly simple and matter of fact.
Captain Marvel
"Captain Marvel" was directed by the duo of Anna Boden and Ryan Fleck, who have been co-directors on a number of projects. They also collaborated on the script with Geneva Robertson-Dworet. Two more women are credited for working on the story, Meg LeFauve and Nicole Perlman. As the Marvel Cinematic Universe's first female-led movie (and its 21st), it came with high expectations. The movie works as a dual origin story for both Captain Marvel, also known as Carol Danvers (Brie Larson), and Samuel L. Jackson's Nick Fury.
While it wasn't the MCU's best outing, "Captain Marvel" still broke a few stereotypes and unwritten rules. Having an almost-exclusively female team behind both script and direction is quite a feat, and that's not the movie's only progressive element. It also features a heartfelt friendship between two women, something that even non-superhero movies struggle to depict. The relationship between Danvers and fellow Air Force pilot and best friend, Maria Rambeau (Lashana Lynch), is beautiful to see, and Lynch's performance is amazingly layered.
Birds of Prey (And the Fantabulous Emancipation of One Harley Quinn)
Margot Robbie's Harley Quinn needs little introduction in her stand-alone movie, "Birds of Prey (And the Fantabulous Emancipation of One Harley Quinn)," having already been presented to the audience in 2016's "Suicide Squad." Far from being an origin story, "Birds of Prey" is an emancipation tale. Quinn's relationship with the Joker has fizzled out, and she's now a free agent in Gotham City.
Robbie was deeply involved in the making of "Birds of Prey" as both its star and producer and also collaborated on the script with writer Christina Hodson. They convinced DC to hire a female director, and Cathy Yan was the lucky gal. She was fresh off the success of her feature debut, "Dead Pigs." "Birds of Prey" is an exhilarating roller-coaster of a movie and gives the all-female cast of heroes plenty of space to be their own complex characters inside Harley Quinn's unreliable first-person narration. Yan handles action sequences incredibly well for a newcomer to the genre and integrates great little touches of feminine experience that make it seem that much more authentic.
Black Widow
Considering the character of Black Widow (Scarlett Johansson), also known as Natasha Romanoff, was introduced over 10 years ago in "Iron Man 2," the release of her stand-alone movie was a long time coming. Fans had been clamoring for it for years, and with the character's fate at the end of "Avengers: Endgame" coupled with the numerous delays caused by the COVID-19 pandemic, it felt like too little, too late for many.
However, "Black Widow" gives us something exciting for the future of the MCU: the introduction of Romanoff's little sister, Yelena Belova (Florence Pugh), and the hint that she will be taking on the mantle of Black Widow in the series for the foreseeable future. Director Cate Shortland delivers a typical spy film with plenty of action and intense fight sequences but also a lot more conversation than usual. The family reunion between Romanoff and her fake parental figures, Alexei (David Harbour) and Melina (Rachel Weisz), is a great source of off-beat comedy. Pugh's chemistry with Johansson is electric, making us wish we could have more of the sisterly duo than just this quick glimpse of their reunion.
The Old Guard
Charlize Theron has proven again and again how good she can be in action-packed movies, and "The Old Guard" is no exception. Based on the graphic novel series of the same name by Greg Rucka, who also wrote the screenplay, "The Old Guard" is about a group of mysteriously immortal mercenaries who have been fighting their way through the centuries, waiting for their turn to age and die.
Gina Maria Prince-Bythewood directs with the same sensitive humanity she brings to all her projects. She was behind other films such as "Love & Basketball" and "The Secret Life of Bees." "The Old Guard" is another film that manages to balance meaningful conversation with intense fight sequences, and it delves deep into the consequences of having such formidable powers as healing from any wound and living forever. Prince-Bythewood had been intrigued by concepts like immortality before making "The Old Guard," and the grounded, dramatic aspects of the story were what motivated her to take the project.
Eternals
How does an auteur filmmaker such as Chloe Zhao get hired to direct a Marvel superhero movie? "Eternals" comes on the heels of Zhao's Oscar win for her indie drama "Nomadland." While it plays out like a classic Marvel flick, it still looks and feels like a Zhao movie. She injects the film with her signature golden-hour shots and a slow, contemplative pace, offering some of the most beautiful images from the franchise yet. She makes the best out of the complex galactic stakes that come with entities like the Eternals and the Celestials.
"Eternals" introduces over a dozen new characters, beginning with the Eternals themselves. They're a group of immortal beings who were sent by the Celestial Arishem to Earth to defend humans against the monstrous Deviants. Zhao got the opportunity to assemble the most inclusive and diverse group of superheroes ever, and also staged the MCU's first ever sex scene!