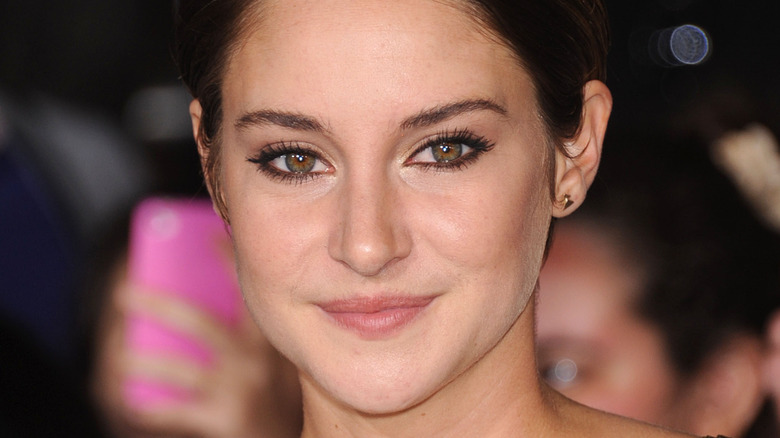 Shailene Woodley's acting career started early and accelerated quickly when she made a rare leap from starring in an ABC Family series to working with an Oscar-winning actor; while she was in the midst of shooting "The Secret Life of the American Teenager," she appeared alongside George Clooney in "The Descendants." But it was a decision Woodley made a few years later that would rouse an enormous amount of interest in her life and gift entertainment reporters with an abundance of eyebrow-raising comments that made exceptional clickbait.
While many aspiring actors work hard for decades and never break into the entertainment industry, Woodley didn't initially feel any drive to make acting a lifelong profession. "As a teenager and as a child, I always thought acting was a hobby," she told The New York Times in 2020. She even considered turning down a coveted role in the 2014 movie "Divergent," which was based on a massively popular young adult book series. She later told The Hollywood Reporter that "The Hunger Games" star Jennifer Lawrence convinced her to do it.
Woodley recalled Lawrence writing her an email that read in part, "Yes, there are some hard things, but there are so many beautiful things that will come from an opportunity like this." One downside for Woodley was finding herself under a media microscope. The holistic practices that she spoke so earnestly about, including sunning her vagina and eating clay (per Into the Gloss), were ruthlessly ridiculed, and her shady side was exposed.
The actor has been accused of promoting potentially harmful health hacks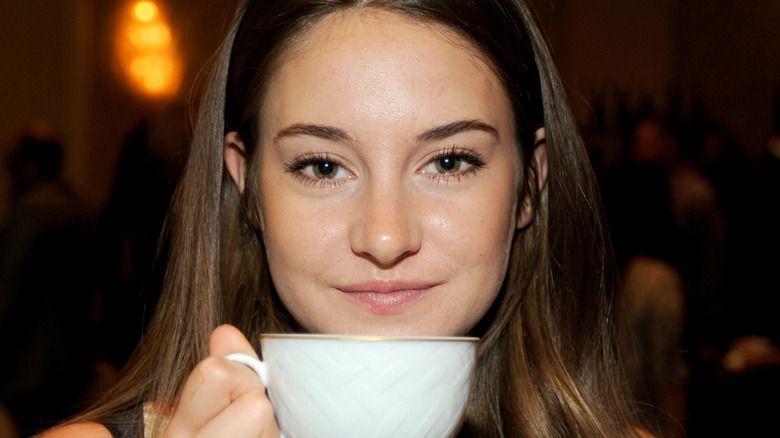 Thanks to Shailene Woodley's infamous 2014 Into the Gloss interview, we were inundated with headlines like "Celebrity Fact Check: Does Your Vagina REALLY Need Vitamin D?" According to the expert Women's Health interviewed for this particular piece, Woodley's practice of spending an hour exposing her ladybits to the sun to prevent various vaginal issues could be more harmful than helpful, leading to a sunburn on a very sensitive part of the body and even potentially causing skin cancer.
Woodley also told Into the Gloss, "Clay is one of the best things you can put in your body," claiming that it cleanses the body of metals. She got this tidbit of health advice from a random taxi driver and advised her fans to talk to their taxi cab drivers about what treatment options might be right for them. But a medical expert told HuffPost, "Removing metal from the body is not necessarily good," and long-term consumption of clay could have negative side effects. "It might also cause lead poisoning, muscle weakness, intestinal blockage, skin sores, or breathing problems," according to WebMD.
We're also just going to guess that most medical professionals would not endorse Woodley's healthcare plan, which seems more suitable for a witch living in the deep woods than a celebrity with access to world-class medical care. "I make my own medicines; I don't get those from doctors," she told Flaunt in 2013.
She made a kissing scene a miserable experience for a co-star
Some of Shailene Woodley's alternative health habits come with unwanted side effects. "When you first start eating clay, your bowel movements, pee, and even you, yourself, will smell like metal," she told Into the Gloss. Actor Miles Teller probably would have preferred for Woodley's mouth to have a metallic taste when they were filming makeout scenes for their 2013 movie "The Spectacular Now." "She would take these herbal supplements… and they tasted like crap. And she would always eat them right before we had a kissing scene!" Teller told Vulture. He described the supplements in more detail to Variety, saying, "It's like a dirt pouch, and it smells like crap."
Teller admitted to Vulture that he similarly annoyed Woodley by drinking Gatorade before they locked lips, but he also suffered due to Woodley's environmentally friendly method of staying hydrated. "She always has a mason jar and 100% of the time it smells like crap," he told Variety. Their onscreen smooches had the potential to be even worse for Teller if they were shot after lunch. While talking to Bon Appétit about her passion for fermented foods, Woodley said, "I sort of love that semi-rotten flavor, too." Oh, and when it comes to oral hygiene, she doesn't floss. In a 2019 appearance on "The Ellen DeGeneres Show," she revealed that she swishes sesame oil around in her mouth instead.
The furor over Shailene Woodley's thoughts on feminism
When Time asked Shailene Woodley if she was a feminist in 2014, her answer landed her in hot water. "No, because I love men, and I think the idea of 'raise women to power, take the men away from the power' is never going to work out because you need balance," she said. And when it comes to achieving equality between the sexes, she placed the onus on women to change their behavior, suggesting they are holding each other back. "I don't know how we as women expect men to respect us because we don't even seem to respect each other," she said.
Woodley's views were an op-ed magnet, with some writers suggesting that she didn't fully understand what a feminist is. "There is nothing about feminism or the ideals behind it that even point to there being some sort of need for men to lose power in order for women to have it," Bustle argued, while the title of a Jezebel article read, "Shailene Woodley Has Some Thoughts on Feminism, and They Are Not Good."
Woodley flip-flopped on feminism in 2017, telling The New York Times, "I would today consider myself a feminist." But Allure took issue with what she said next: "…we will start introducing a type of matriarchy, which is what this world needs." The outlet pointed out that this is contrary to the feminist call for equality, as it seems to suggest that women should have power over men.
She had harsh words for a popular young adult franchise
Two years after the final movie in the "Twilight" franchise hit theaters, Shailene Woodley starred in her own film based on a series of young adult books. Because "Divergent" and "Twilight" had a crossover target audience, maybe it wasn't the best idea to slam the latter. "'Twilight,' I'm sorry, is about a very unhealthy, toxic relationship," Woodley told Teen Vogue (via Variety) in 2014. "She falls in love with this guy and the second he leaves her, her life is over and she's going to kill herself! What message are we sending to young people?"
While she was no Twihard, Woodley later told E! News she was pleased that her "Divergent" character was being compared to Bella Swan, the teen who becomes infatuated with a brooding bloodsucker in the movie that Woodley had previously blasted. "It's totally flattering just to be compared to characters like that," she said, adding that "Twilight" star Kristen Stewart and another actor she was garnering comparisons to, Jennifer Lawrence, "both seem like strong, confident women … That's a compliment, right?"
But Woodley would later disparage the movie that was earning her such praise. "That particular project was very demanding because we had a deadline to turn out a product, so the creativity levels involved weren't as high as they could've been," she said of "Divergent" in a 2019 interview with The Daily Beast. Two years earlier, she'd told The Daily Beast that after "Divergent," she wasn't interested in spreading herself out with franchises, so she didn't audition for "Fifty Shades of Grey" — a film based on "Twilight' fan fiction.
How she dissed Kylie Jenner
Shailene Woodley doesn't keep up with the Kardashian-Jenners. When Sugarscape spoke to her about some of the biggest pop culture stars of the day in 2015 (via Cosmopolitan), she was unable to fulfill the outlet's request to make a face like Kylie Jenner posing for a selfie. "I have no idea who that is. I'm sorry!" she said. But in her defense, she didn't seem to be into selfie culture at the time. That same year, she spoke to ET about why she isn't on social media. "I feel like I don't have time," she said. "…And your poor thumb … the dexterity of your fingers, to constantly be scrolling on your phone."
At one point in time, Woodley didn't have to worry about resisting the temptation to doomscroll like the rest of us when away from home, because she didn't have a device to do it on. "I'm not a big technology person. I don't even have a smartphone. I don't even have a cellphone!" she told The Daily Beast in 2017. But she did eventually give in to Instagram's allure and create an account — she even takes selfies.
Kylie shouldn't feel too offended about Woodley having no clue who she is. After seeing Joseph Gordon-Levitt in a movie for the first time around 2011, Woodley told Glamour that she called her agent and said, "There's this guy you have to represent! He's such a talented actor. I can't believe no one knows about him!"
The actor trashed television watchers
"I don't watch TV, and I never have!" Shailene Woodley told The Daily Beast in 2014. But let's rewind back to 2009 when the actor spoke to The TV Chick. Woodley confessed that while she didn't tune in all the time, she was watching "Project Runway" and "Top Chef," adding, "I watch every episode of 'Glee,' I love it." When she broached the topic of her viewing habits again while on the red carpet at the 2017 Emmys — an event that celebrates achievements in television — she dissed fans of the very medium that earned her an invite by suggesting that there's a better use for one's free time. "All my friends who watch TV, I just always ask them when they have time to," she told E! News. She added, "I'm a reader. So I always read a book instead of turning on my TV."
As if this weren't cringe-inducing enough, Woodley had received a nomination in the outstanding supporting actress in a limited series or movie category for her work on "Big Little Lies." She lost the Emmy to her co-star Laura Dern, and if Woodley didn't have any time to read the comments on Twitter, it was probably for the best; her red carpet remarks earned her a thorough roasting. "Why would you spend your life creating something you yourself find useless, Shailene Woodley?" tweeted one critic. "Maybe she should read some pilot scripts given how her film career has been going," read another sick burn.
The environmentalist admitted to being a bit of a hypocrite
Shailene Woodley is passionate about protecting Mother Earth. "If we want to save the planet, then I think we need to start saving ourselves in order to do that," the environmental activist told Interview magazine in 2013. Per The Hollywood Reporter, Woodley usually drinks out of a Mason jar instead of plastic containers, and she partnered with American Express — a purveyor of plastic products — to do something about the proliferation of plastics in the ocean. But in a 2019 interview with Gotham, she confessed, "I still use single-use plastics, probably three or four times a day in my daily lifestyle."
Woodley's traveling habits have also come under scrutiny for not being environmentally friendly. In 2022, Mercury News noted that she and her then-fiancé, Aaron Rodgers, had taken numerous flights on private jets. The outlet pointed out that private flights can cause more than 10 times as much pollution as flying commercial. Woodley is aware that her jet-setting lifestyle is at odds with her environmental activism. "Yes, I'm contributing to the fossil fuel industry with the amount of airline travel that I do. I try to be as carbon neutral as possible," she confessed to Gotham. And while she tries to save water by following the "if it's yellow, let it mellow" rule when using the toilet at home (per E! News), she confessed to The New York Times, "What I absolutely do every day, though, is shower more than anyone should."
She feet-shamed a random guy
Imagine that you're just a regular guy who gets photographed covertly, becoming the unwitting subject of a tabloid article. This is what happened to a man whom the Daily Mail mistook for Green Bay Packers quarterback Aaron Rodgers in November 2021, per Sports Illustrated.
The Daily Mail claimed that its pictures of the guy were proof that Rodgers, who had tested positive for COVID-19, was breaking quarantine. Instead of simply denying that the look-alike was her then-fiance, Shailene Woodley made certain that the poor man couldn't be flattered by the mistake. For a post on her Instagram Story (via Who? Weekly), she went full-blown NFL analyst by circling the man's feet and sketching arrows pointing at them. "i know Aaron's body VERY well. first off, his feet, ahem and no offense to this rando dude, are a LOT bigger," she wrote. She used a winking emoticon to make it clear that she was also referencing another body part. To add to the man's mortification, she shared the Daily Mail's photo of him sitting in his car and wrote, "also, cute car, dude, but Aaron would never drive this."
The identity error came after Rodgers confessed to being unvaccinated, which led to speculation about Woodley's vaccination status — after all, she did tell Flaunt that she mixes medicine herself instead of going to the doctor. But according to The Hollywood Reporter, one of the shows she was filming around that time had a vaccination requirement.
The actor trashed a TV series she starred on
One of Shailene Woodley's first big television roles was on the ABC Family (now Freeform) series "The Secret Life of the American Teenager." There were signs early on that her pregnant teen character's journey wasn't going to play out the way Woodley wanted it to. "Well the first season, I was just like 'please let her smile,' because every day I'd read the script and be like 'Oh, I have to cry again tomorrow,'" she told The TV Chick in 2009.
It eventually became evident that her character's experience with pregnancy was meant to scare teens into abstaining from sex, per Bustle, and the show began promoting other conservative practices like wearing promise rings. While Woodley didn't single out any specific issue she had with the show, she told Interview magazine in 2013, "It got to the point where I felt like there was kind of a conflict in terms of what I was preaching to the world and what I actually believed as a human, which was rough." She echoed this sentiment to Bustle in 2020, saying, "Legally I was stuck there. To this day it's one of the hardest things I've ever had to do."
If the series' pro-abstinence stance was something Woodley disagreed with, she managed to use her blossoming career to let the world know this was the case. "I lost my virginity like seven times on screen!" she enthused.
Shailene Woodley complained about wearing couture
Shailene Woodley has admitted that she occasionally enjoys dressing up for Hollywood events. "I get to be like a five-year-old again, wearing my Cinderella dress," she told Interview in 2013. However, she's also complained about having to relinquish control of her wardrobe to stylists who disapprove of her personal style. While speaking to Who What Wear in 2019 about being pressured to wear one particular couture gown, she revealed that she's actually not a big fan of the happily ever after aesthetic. "I felt like a mannequin, like a fairy princess," she complained. "I got on all the best dressed lists, but it felt gross to me."
Woodley's feelings about fashion eventually evolved, and she found a way to balance who she is with how she's expected to present herself on the red carpet. "I'm there for my boss, for my employer, so part of that comes with wearing the uniform," she told The Hollywood Reporter in 2014. However, she admitted that she would much prefer to dress like a hippie on the way to the gym, complete with those foot-shaped rubber shoes that got so mercilessly mocked when she rocked them at a Golden Globes afterparty in 2012. Woodley used the furor over her footwear to shame her critics, telling Vulture, "If people spent as much time thinking about the genocides going on in Africa and around the world as they do the shoes that actors wear to after-parties, the world would be a much more peaceful environment."
Why she hates taking photos with fans
Like many young stars in Hollywood, Shailene Woodley has fans who closely follow her career and personal life. But while their admiration and support help ensure that she thrives in the entertainment industry, she doesn't really understand why they behave the way they do. "I don't pay any attention to the fan thing, because I think it's a very strange culture nowadays," she told Marie Claire in 2014. "…I can't relate to any of these girls or boys who scream. It's idolizing someone you don't know." Speaking to Flaunt, she revealed that she was never that passionate about a celebrity growing up.
Woodley fears that fans who approach her and ask for photos might use the images to misrepresent their relationship with her, so she usually declines their requests. "In all reality, you didn't meet me. …and now all the sudden on Instagram your story that you're telling the world is that 'I met Shailene Woodley, we hung out, and now here's a photo of us,'" she told Glamour. She revealed that she consoles disappointed fans by hugging them instead, but they don't always respond politely when she turns them down. "Some people just cannot grasp the idea that I rejected their ask or request for a photo," she said. If they try to snap a picture without asking her permission, she told C Magazine, she will demand that they delete it and tell them, "I feel violated and that was inappropriate."
She was social media-friendly with Aaron Rodgers' ex before dating him
It didn't take long for Aaron Rodgers to move on with Shailene Woodley after People confirmed his split from professional racecar driver Danica Patrick in July 2020. Per Us Weekly, rumors swirled that Rodgers and Woodley were an item that same month, and Rodgers revealed that they were engaged in February 2021. Woodley had previously dated Ben Volavola, a professional rugby player, and it seems as though she wasn't looking for romance when Rodgers entered her life. "I've chosen to be single for a while," she said in an April 2020 interview with The New York Times.
Before she started dating Rodgers, Woodley had liked a few of Patrick's social media posts, per Daily Soap Dish. The two women even interacted on Instagram, and Woodley snapped a selfie of what she looked like after participating in Patrick's online fitness program. It's unclear if the two women were close friends or just Instagram acquaintances, but according to the gossip site Terez Owens, an anonymous source made an unsubstantiated claim that Patrick is the one who introduced her ex to Woodley. Again, this has not been confirmed, but according to Page Six, Woodley, Rodgers, and Patrick have all consulted the same astrologer, so they seem to share the same social orbit.
It looked like marriage wasn't written in the stars for Rodgers and Woodley when they ended their engagement in February 2022, per People, but according to E! News, they attended a wedding together the following month.
Shailene Woodley's pandemic travels with Aaron Rodgers raised eyebrows
Shailene Woodley and Aaron Rodgers' jet-setting romance was met with disapproval from critics who believed that the couple wasn't taking the COVID-19 pandemic seriously enough. When Woodley and Rodgers attended the Kentucky Derby together in May 2021, Sportskeeda noted that no one in the group they were with was wearing a mask. Vulture also pointed out that the couple flew to Hawaii when state officials were cautioning people not to travel there. Their excursions faced further criticism after Rodgers admitted to being unvaccinated, and in a February 2022 appearance on "The Pat McAfee Show," he apologized to Woodley and others for the negative impact his actions had on them.
While Rodgers got fined by the NFL for going maskless around reporters, per The New York Times, he and Woodley did wear masks when they filmed a promotional video for Disney. However, there's one mask Woodley won't be caught dead wearing. Her shady side might surface from time to time, but it seems that no amount of criticism will keep her from being her authentic, free-spirited self. "I really don't feel there's any need to put on a face or be anything other than who you are because otherwise it's exhausting," she told The Hollywood Reporter. Woodley added, "It's really hard to keep up with the lies or the fabrications or the masks that we put on out of self-preservation. The only person that ends up coming back to haunt [us] is ourselves."