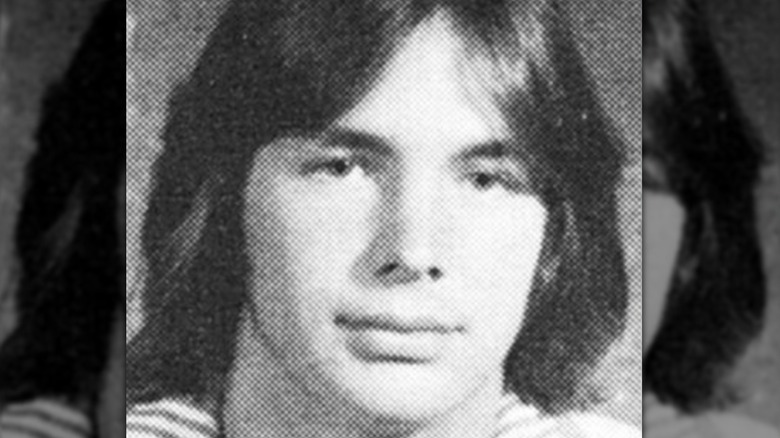 Garth Brooks is one of the most successful solo performers of all time and has been making music professionally since the 1980s, according to Ken Burns for PBS. To say he's recognizable would be an understatement, but it's his transformation over the years that really turns heads. From the moment he landed on the country music scene, Brooks has been making music history, breaking records, and bringing a love of country music to multiple generations. His enormous success as a country musician has allowed Brooks to branch out in surprising ways throughout his career, taking chances and still coming out on top time and time again.
From his beginnings in Oklahoma to his chart-topping success in Nashville and everything in between, the transformation of Garth Brooks might be better categorized as a complete metamorphosis. While we can't wait to see what comes next for the superstar, let's take a look at the stunning transformation of Garth Brooks.
Garth Brooks had a talent-filled childhood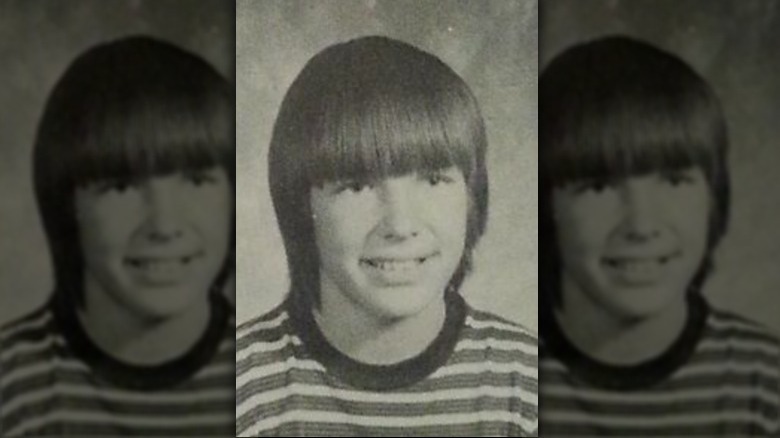 Troyal Garth Brooks (yes, Garth is his middle name, he's named after his father) grew up in Oklahoma as the youngest of six children, per his Country Music Hall of Fame biography. His mom, Colleen, was actually a country singer signed to Capitol Records in the 1950s, and the whole family was musical as a result. According to Wide Open Country, Brooks described childhood family music nights during a 1994 interview with Playboy. The whole family got in on the act, in one way or another.
"Friday and Saturday nights at the house, Jerry played guitar, Jim played the harmonica, Mike played guitar, Betsy played guitar, and, of course, Dad played guitar," Brooks told Playboy. "Mom sang her butt off, Dad sang, Betsy sang, Jerry sang, Jim sang, Mike sang. Kelly and I played the wax comb." It's no wonder that Brooks would go on to become such a talented musician.
He was quite the athlete in his younger years
Though music may have been in his blood, it was sports that initially caught the interest of Garth Brooks. Brooks played high school baseball, but that wasn't his only high school sport (via The San Diego Tribune). He was also the quarterback of his high school football team, according to coach Milt Bassett in an interview with The Oklahoman. Bassett also revealed that when the team was off to a not-so-great start, the future country superstar was replaced as starting quarterback.
Perhaps that's when Brooks turned his sights (and his throwing arm) to the javelin throw. He attended Oklahoma State University-Stillwater on a track and field scholarship for the event, but revealed in a Facebook live episode of "Inside Studio G" that he wasn't a very good athlete or student (though being a scholarship recipient suggests otherwise). Still, he enjoyed his time as a college athlete, sharing that meeting people from all over the country and other parts of the world was a brand new experience for him. "So it was a good chance for me to kind of broaden my horizons because I'd never been out of Yukon, Oklahoma," he said.
He married songwriter Sandy Mahl shortly after graduating college
While Brooks may have enjoyed his time as a college athlete, something arguably much more important happened to him while he was attending college — and it wasn't just graduating with a degree in advertising.
Brooks met his future wife Sandy Mahl in his senior year. Though reports about how Brooks and Mahl first met vary, the two both attended Oklahoma State University-Stillwater (Brooks is three years her senior). Brooks graduated from OSU in 1984, and he and Mahl tied the knot two years later, according to Good Housekeeping.
When Brooks released his self-titled debut album in 1989, Mahl became not only his partner in life, but his partner in songwriting as well. She co-wrote the song "I've Got a Good Thing Going" for the album. She also helped write the song "That Summer" for Brooks' 1992 album "The Chase." In an 1989 interview with UPI, Brooks revealed that Mahl convinced him to stay in Nashville after having already left once before when things weren't going well. "I was ready to head back the second time when the band fell apart. She kept me out here," he said.
Garth Brooks was inducted into the Grand Ole Opry early in his career
According to the Country Music Hall of Fame, being inducted into the Grand Ole Opry in Nashville is one of the highest achievements in country music, but it isn't a guarantee even for big stars. As Nashville's News Channel 5 points out, there are some huge names in country music who aren't members. Garth Brooks, however, was inducted as a member of the Grand Ole Opry on October 6, 1990, just a year after releasing his self-titled debut album (via Opry).
For Brooks, membership in the Grand Ole Opry was truly the pinnacle of his young career. According to the book "Country Music Culture" by Curtis W. Ellison, Brooks said of his induction, "To be recognized as a member is among the class of honors that will never be topped, no matter how long or how far my career goes." That's saying a lot, considering just how far his career has gone and continues to go.
Brooks and Mahl started a family in the '90s
While Brooks was skyrocketing to fame and growing as an artist in the early '90s, he was also transforming into a father. According to The Things, biographer Rick Mitchell notes in "Garth Brooks: One of a Kind, Workin' on a Full House" that Brooks and Mahl had planned to wait a few more years before having a baby, but life had other plans. He and Mahl welcomed their first daughter, Taylor Mayne Pearl Brooks, in 1992, followed by August Anna Brooks in 1994 and Allie Colleen Brooks in 1996.
After welcoming that first daughter, Brooks knew that his career would eventually need to take a backseat to fatherhood. Per the Tennessean, it was while rocking his oldest shortly after her birth that he made her a promise. "I said, 'Look, by the time you're 6 years old, that's when school starts, I'll be done.'"
For Brooks, nothing compares to being a father. He told People in 2015, "Kids are the greatest joy and the greatest heartache you'll ever have."
His love of baseball led to a stint as a pro baseball player
While it may have been the javelin throw that earned Brooks a college scholarship, it was a love of baseball that truly lived in his heart.
In 1998, the Las Vegas Sun reported that Brooks joined the San Diego Padres for two days of their spring training. According to Fox 5 San Diego, Brooks signed a contract with the San Diego Padres the following year and was invited to spring training yet again. In an interview at the time, Brooks said, "I'm coming down there to play ball… and hopefully when they look at me and see the Padres uniform on my chest I'd like for them to stand proud and say, you know, 'The guy's trying to be a ball player.'"
Although he wasn't exactly a star player, he signed with the New York Mets for spring training the following year (via ESPN), and with the Kansas City Royals in 2004. Of his time with the Royals, Brooks told The Oklahoman, "The guys have told me not to quit my day job."
Garth Brooks fully transformed himself into a new person in 1999
A stint with Major League Baseball wasn't the only career shift Brooks toyed with in the late '90s. When you are a mega star, you can get away with some questionable career choices without much consequence (just look at some of the awful movies actors sometimes agree to make). Perhaps that's why Brooks didn't sweat the possible consequences when in 1999 he debuted the alter ego Chris Gaines.
According to the Tennessean, Chris Gaines was a character created for a movie, but the soundtrack "The Life of Chris Gaines" was released ahead of the movie, and … let's just say it didn't quite go according to plan. There was no acknowledgement on the album that Brooks was the man behind the wig. People were confused, the album flopped, and the movie was scrapped. Despite the outcome, Brooks stood behind his dramatic transformation for the sake of art.
"I don't know anything about movies, but what I do know about art is you give your heart and soul to it," Brooks said. "So, if you're going to play a character, you become that character in my book. And, you do it without apology."
At the height of his music career, Garth Brooks retired
Despite the Chris Gaines failure, Brooks had never been a bigger star than when he announced his retirement from recording and performing in 2000. According to Billboard, Brooks said at the time that he was retiring until the youngest of his daughters finished high school, over a decade away.
Brooks told the Tennessean that at the time, his manager was trying to convince him not to use the word "retirement" when making the announcement about stepping away. He did anyway, though it wasn't easy to actually say it out loud. After all, he was walking away from one of the biggest careers in country music. He told People years later, "People said, 'How could you walk away from music?' But being a dad — there's nothing that can touch that."
In fact, Brooks fully embraced his retirement, telling People in the same interview how he became part of the community around him in a brand new way. "The dads across the soccer field looked at me as a dad just like them," he said. "And I was very grateful."
In 2001, Garth Brooks and his wife divorced
Another thing that directly impacted Brooks' decision to retire was the end of his marriage to his college sweetheart Sandy Mahl.
According to Good Housekeeping, Mahl said in an interview for the A&E documentary "Garth Brooks: The Road I'm On" that Brooks' mega fame was hard on the family, particularly the couple's marriage. "He'd be gone eight to 10 weeks at a time. He'd come home, [and] there would be number-one parties, or shows, or CMAs, or ACMs, American Music Awards, so it was constantly going," she revealed. "But we both grew apart really, really quickly."
It was as the divorce loomed when Brooks realized he couldn't maintain the career he'd created. He told the Tennessean that Mahl had essentially been functioning as both parents while he was touring and he knew that would no longer be the case. The couple's divorce was finalized in 2001.
He then married a fellow country superstar in 2005
While Mahl was Brooks' college sweetheart, the person he calls the love of his life is his second wife, country star Trisha Yearwood. In a 2013 interview with Ellen Degeneres, Brooks said that he and Yearwood met in 1987, and that it had a surprising impact on him. When Kent Blazy, who'd introduced the pair, asked Brooks what he thought of her, Brooks told Degeneres, "I said, 'Well, it's strange, 'cause I felt that feeling like when you just meet your wife,' but I'd been married for 13 months."
So while Brooks and Yearwood collaborated musically, even recording and touring together (via Country Now), it wasn't until after his divorce from Mahl that the country stars started dating. Brooks proposed onstage in May 2005, and the couple got married that December.
Miss Yearwood, as Brooks and his daughters call her, has loved becoming part of the family. Talking about Brooks' daughters, Yearwood told People, "They were a gift that I didn't know I needed. I didn't know how much children brought into your life until I got a chance to be a part of their lives."
Brooks came out of retirement for a Las Vegas residency
While Brooks retired from his country music career to focus on his family, he did make the occasional appearance during that time, including performing at President Barack Obama's inauguration in January 2009. It wasn't until later that year, however, that someone finally convinced Brooks to get back to semi-regular performing.
CNN reported that Brooks performed two secret shows at the Encore Theater in Las Vegas in the summer of 2009 that ultimately led to a much bigger gig. Brooks announced in October 2009 that he was coming out of retirement for a Las Vegas residency, thanks at least in part to a gift from billionaire Steve Wynn (via the Hollywood Reporter). Wynn told reporters at the press release, "In order to accomplish this goal, I will confess I had to buy him a jet plane."
The private jet allowed Brooks to make the trip to and from Oklahoma each week during the five-year weekend residency, so he could stand by his promise to his daughters to drive them to school every day until they were in college.
Garth Brooks is a lifelong learner
As Brooks commuted to and from Las Vegas on the weekends during his residency, returning to see his kids off to school during the week, he apparently had a bit of down time. In May 2011, Brooks made a surprise appearance at the Oklahoma State University Graduate School commencement ceremony, but he wasn't there as a country music superstar — he was there as a graduate.
According to the OSU website, Brooks took advantage of the school's distance learning program to complete his master's degree in business administration from the Spears School of Business. While Brooks told Billboard a few years later, "The most un-fun part [of his career] is the business," it's clear that he does understand the business at least, and that he's always looking to learn more. After all, how many performers, country music or otherwise, do you know who have a bachelor's degree in advertising and an MBA?
From 2014-2017, he went on an impressive world tour
At the end of his Las Vegas residency in 2014, Brooks was finally ready to really come out of retirement, and not just on the weekends. It helped that his youngest daughter told him she decided she wanted to go to college in Nashville. Brooks told Billboard of his daughter's revelation, "I'm sitting there going, 'Holy cow, she wants to go to Nashville. This might be the perfect opportunity to move back with her.'"
In a July 2014 press release, Brooks announced his comeback world tour and a new album, exclusively available digitally on his website. In September 2014, Brooks launched the Garth Brooks World Tour, which lasted for three years until December 2017 and sold more than 6.4 million tickets, according to Billboard. He played multiple shows in each city and sometimes did two shows in a single night.
Despite his years away from the industry, Brooks revealed to Billboard at the end of the tour, "I have never felt more like part of the business than I have right now. I've never felt more welcome."
In 2021, Brooks performed for President Biden's inauguration in a show of unity
Garth Brooks has never shied away from an important cause. Take for example his song "We Shall Be Free," which (according to Taste of Country) was written in response to the Rodney King beating and riots and for which the video was debuted prior to his performance of the national anthem at the Super Bowl in 1993. For Brooks, doing the right thing isn't about political affiliation, but some fans were still shocked when he agreed to perform at President Joe Biden's inauguration in 2021.
"I might be the only Republican at this place, but it's about reaching across and loving one another," he said (via ABC News). In an interview ahead of the inauguration, Brooks shared, "This is not a political statement, this is a statement of unity."
There you have it, folks — Garth Brooks bringing the country together, one performance of "Amazing Grace" at a time. Talk about a transformation.