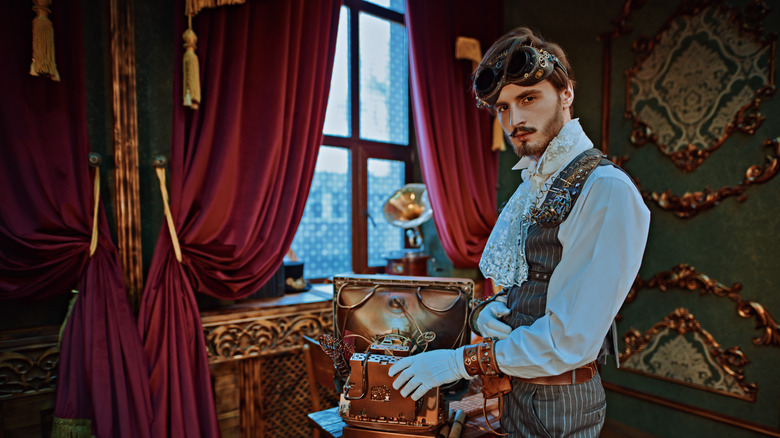 We may receive a commission on purchases made from links.
Steampunk embodies the soul of the engineer, the machinist, and the tinkerer, creating fantastic imagery that borders on the magical. According to The Spruce, the steampunk style developed in the 1980s as a science fiction sub-genre. This subculture is a whimsical take on history, imagining a world where steam is the primary energy source.
Steampunk is also an artistic style that grew from the aesthetics of the fictional genre. Elegant victorian decor pairs with rugged industrial details to create an otherworldly look. The raw materials used to create gadgets, clocks, gears, tubing, and steam-powered apparatuses are prevalent in the fashion and decor of steampunk. Metal, leather, wood, and brass transport you back to a fictional version of the mid-19th century. Steampunk decor and design make plain spaces feel nostalgic and whimsical, with a touch of darkness. The look can also be easily created in your home on a budget with secondhand pieces and decorating savvy. Here are some tips and tricks to bring the charm and individuality of steampunk into your living space.
Go retro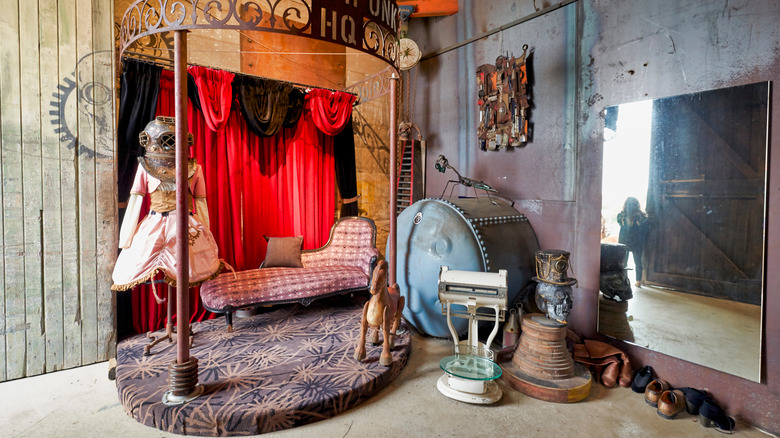 The Victorian era sparked the vision of steampunk fantasy. According to Decor Outdoor, science fiction writers of the 1970s like Jules Verne and H.G. Wells combined a retro Victorian spirit with futuristic technology to inspire an entirely new genre. While steampunk design draws inspiration from the elegance of the Victorian era, the setting and feeling can come from any historical period if you incorporate the correct decor elements. For example, you can decorate with dark and moody Gothic decor to achieve a steampunk theme.
The key is combining historical pieces with industrial concepts. This style creates a surreal feeling that brings past and future together into a fantasy world. For instance, pairing the soft, romantic glow of the 1600s with heavy elements like brick, brass piping, or dark machinery creates an intriguing juxtaposition. Think Victorian meets science fiction. Ensure your theme features retro decor with futuristic elements before you start decorating.
Incorporate stone, brick, and tile
When you are developing the steampunk design concept within your space, start from the beginning. What existing elements do you have in the room? Utilize exposed brick, high ceilings, or a rough, unfinished hearth. Make these elements the foundation of the overall design. Most interior design approaches revolve around changing or repurposing these features, but steampunk design puts a spotlight on them and allows them to shine.
All About Steampunk suggests utilizing the raw materials you have to work with, and incorporating softer, polished elements to offset them. Highlight the natural and distressed surfaces to your benefit, rather than hiding or covering them. Use them as the groundwork for your steampunk spot. Maintaining raw surfaces like these may require some cleaning or prep work to reduce the possibility of damage (via Beautiful Homes). Make sure you're cleaning your exposed brick the right way. If your space is newer or refurbished, you may discover some hidden gems beneath the drywall, or you could even DIY your own exposed brick wall for a cool effect.
Sepia tones rule your palette
Your color scheme is key to nailing the steampunk character. Muted neutrals, warm browns, blacks, and darker reds or greens dominate the steampunk palette. Think of antique sepia-toned photos, and you've got an idea of the ambiance. This style brings a lot of darker tones into the mix, but you can offset them with lighter shades. Creams, dusty pastels, and taupes blend well with the darkness. However, don't go brighter than a muted cream, or you will inject too much modernity into your space.
The Steampunk Explorer researched over 765,000 Flickr images to determine the frequency of colors used in steampunk-themed photos and found that dark orange tones were in the majority, with over 20 percent of photos featuring these colors. Ultimately, steampunk palettes tend to tilt toward the warm and muted. While they include other colors besides sepia tones, those colors tend to have low saturation. Incorporate this palette into your space for an authentic steampunk feel.
Romance the stone (and the copper and leather)
Soften the harshness of steampunk's raw materials and dark palette with delicate and romantic elements. Use the dusty pastels and creams to create areas of warmth that accentuate and lighten the room. We are going for a nostalgic feel, with soft elements among the hard lines. Lift the shadows and bring a sense of comfort and elegance to your space by incorporating linen and lace fabric. This tip also adds a level of contrast that will help you pull off a steampunk vibe in your home.
DIY Morning suggests drawing inspiration from the softer side of nature to find these elements. You can also decorate with white or dried flowers to set a romantic mood. Hang a bouquet of dried flowers over your bed or string them around a mirror in your living room. Sheer and flowing drapes are another way to add an ethereal element to any room. Warm lighting, butterflies, feathers, and antique books will complete the atmosphere.
Add texture with leather and lace
Steampunk decor is a bold combination of masculine and feminine elements, like leather and lace. Using this same concept in your interior design is essential when selecting your decor. A way to break up the dark industrial elements like stone, metal, and gears is to incorporate opposing textures. Add some light crochet wall hangings or ornamental mats to pair with your dark woods and leather. Or some delicately round mirrors, soft lamps, or flower-filled vases to contrast with all your straight lines from piping or brick walls.
According to Homes & Gardens, using texture in interior design helps keep the room from looking flat and adds visual interest and complexity to a space. Adding a soft rug to a coarse, terra cotta floor or a soft linen coverlet over leather furniture adds depth and warmth that you could not achieve without the contrasting textures. Rugs, cushions, and blankets are subtle ways to incorporate texture into your home.
Bring the metal back
You're not likely to find the same level of intensity in other design concepts as steampunk. There is really no rivaling decor style. Have an older home with copper plumbing that you find intrusive? How about an old tin ceiling that is rusting or warped? Embrace the metal and showcase it to full effect in your steampunk design. Our instinct is to hide or cover up features we first see as ugly but highlighting these flaws can add depth and appeal.
Utilize both form and function in steampunk decor using metal. According to The Spruce, adding metal touches will give your home an authentic steampunk atmosphere. Find inspiration from the artists at Etsy with pieces like industrial piping shelves, riveted wall art, and even light switches made entirely from gears. Remember, steampunk is also an art form that utilizes repurposed scrap metal as a basis for many decorative pieces, clothing, and furniture. Highlight old furniture with bits of salvaged metal or machinery for a creative look.
Play with leather and wood
Time to tap into your edgy side for the darker side of steampunk style. From armoires of polished mahogany to deep leather couches, dark furniture pieces will form the backbone of your living space. Shop secondhand (or rummage through your grandparent's attic) for antique furniture or DIY bruised or damaged items with a fresh coat of dark stain and some steampunk accents like metal knobs.
Foyr suggests utilizing antique or refurbished pieces for your Victorian-inspired home. Of course, many furniture artists and designers create vintage-inspired pieces brand new, but to stay budget-friendly and create an item that fits your space perfectly, consider breaking out the drop cloth and getting down and dirty. Take a second look at clawfoot tubs, ladder bookshelves, and inexpensive steamer trunks as accessories, and you're well on your way. You can always visit places like Wayfair or Rustic Deco for shopping inspiration.
Time to go antiquing
You probably won't be surprised to learn that antiques are integral to the steampunk aesthetic. By design, steampunk should propel you back in time wistfully and fantastically. There is no better way to do this than with unique period pieces. Stained glass, barometers, telescopes, typewriters, and old glass bottles can be salvaged and utilized as accents in your space. After creating a foundation with your color palette, stone, metals, and furniture, hit up a local antique shop (or seven) and enjoy picking out objects that match the mood of your living space.
Impressive Interior Design suggests including bowler or top hats into your façade. Consider the old coat racks designed for a gentleman's hat (possibly completed with a hanging timepiece or monocle). This tip is one of the most fun parts of steampunk design. Pick something you would never put into a traditional home, and see how it livens up the room. Steampunk is timeless, and it never goes out of style.
Incorporate clocks into your tinkering
As we dig deeper into the details of our steampunk space, it's time to focus on accents. Consider adding pieces related to the period, like gadgets with gears and dials. Incorporate pipes and tubes from steam-powered mechanisms into walls or desks. Scrounging together old-timey contraptions might be challenging to pull off, so it's helpful to turn again to places like Etsy for these tidbits.
One of the main features of steampunk culture is clocks. They are everywhere, whether on a pocket watch, a mantel clock, or the looming grandfather clock that chimes every hour. This feature could be a nod to the whimsical time-traveling aspect of steampunk, or it could just be that clocks are so dang cool. According to Architectural Digest, clock placement is an art form that can tie a room together. If you happen to have a large piece that you are unsure how to add to your space, there are many creative ways to decorate around a clock.
Embrace machinery
During your antiquing journey, keep an eye out for any equipment that might have survived from the 1800s. Early telephones, pocket watches, and coffee machines are quintessential steampunk elements to consider. If you want to delve into some niche steampunk themes, opt for lab equipment (now entering the land of incredible photo-ops). Gold stars for actual functioning items, but it's not necessary. The end goal is to create a unique atmosphere. Decorating with these old gems is a great way to keep the period alive in your living space.
Any item with rivets and cogs means you are on the right track. The goal is to add a touch of industrial flair to your antiques. Home Designing highlights some items for sale that fit the bill, including an old-style table lamp. These functional gadgets are a great option if hitting tons of antique stores is not your thing.
Let there be light
Now for one of the best parts, let's bring everything together with an industrial-chic lighting scheme. Edison bulbs are a novel way to create a vintage feel in your space. The visible filaments add a touch of wonder and warmth, and the varying styles and shapes are a lot of fun. According to Ideal Home, lighting sets the tone for the home, whether you are highlighting specific aspects of your decor or illuminating the whole space. The fixtures you choose are essential.
We are shooting for warm lighting, closer to 2700 to 3000 Kelvin. Think about the pre-electric gas lamp look or bulbs fresh out of the inventor's shop in 1840. Use accent lighting to accentuate segments of the space. Bistro lighting is a fun way to add depth of field to your higher ceilings. You can also create your own DIY steampunk lamp (via Decor OR Design). If you have the space and the courage, try a chandelier.
Deck the halls with maps, maps, maps
Now it's time to adorn our walls. These surfaces are a blank canvas for steampunk art, namely, old photos, maps, herbariums, and blueprints. Some artists celebrate the steampunk aesthetic with elaborate pieces featuring gears, machine parts, and various metal items.
If you are new to DIY, consider starting with wallpaper. You can find old, Victorian-style patterned choices. According to Victoria & Albert Museum, the frieze-filling-dado scheme was highly fashionable in the 1880s for Victorian homes. The style broke up blank space and monotonous walls. You can find inspiration for this timeless style at The Victorian Emporium or even on Amazon. One primary theme you can utilize on your steampunk walls is travel and exploration. Dried herbs and flowers pressed in glass with exposed frames provide a touch of the globetrotting feel that steampunk culture exudes. Maps from bygone eras (especially older ones with misshapen continents) are perfect for pulling the whole style together.
Use steamer trunks as stylish hideaways
In our steampunk styling, modern storage options may spoil the desired effect. There are many ways of squirreling away household items in steampunk fashion by being creative. Instead of filing cabinets, TV stands, and bookshelf storage containers, opt for a retro-inspired piece. Trunks and suitcases, armoires, and antique rolltop desks complement the Victorian feel while adding sturdy, masculine functionality to your space. Wayfair has a few appropriate options, and if you want to go all-out, consider some suitcase shelves as seen on Lizzy and Erin.
One popular addition to a steampunk living room is a steamer trunk coffee table. These vintage trunks are sturdy, handsome, and made to last. Brepurposed highlights a chic side table option fashioned from an antique trunk. If you have concerns about spills and messes, Amazon sells coffee table-sized tempered glass that you can secure with self-adhesive cabinet bumpers.
Steampunk style in public spaces
Steampunk is a subculture blending science and magic, and it's spreading throughout the world. As steampunk festivals pop up annually and the culture becomes better appreciated, you can find more and more examples of this design style in public places. According to Colossal, the Enigma Steampunk Bar in Romania is a stunning illustration of steampunk in motion. With dramatic lighting, intricate detail, and interactive moving parts, this bar is truly a work of art that shows how form and function can make the best bedfellows.
Another example is the Pushkin Café in Moscow. This iconic restaurant nestled inside a renovated 18th-century mansion in central Moscow is like walking into a different time (via Insider). Even the servers' uniforms are straight out of a Victorian story. There is also a steampunk museum in New Zealand called Steampunk HQ. These are just a few places to consider in your worldly travels around the globe. Whether you are exploring the world or bringing some whimsical history into your living room, the elegance and spirit of the steampunk world is a timeless perspective that never fails to fascinate.