Front doors are one of the biggest aesthetic choices we'll make for our home's exterior, but it's often an afterthought to many homeowners and renters. While many of us assume the front door only serves aesthetic purposes, they also provide increased levels of security and weatherproofing to the home, according to Pella.
Historians can trace doors as far back as ancient Egypt and Mesopotamia, when slabs of wood were hinged over doorways (via Renewal by Anderson). While one of the most well-known forms of early historic doors was in King Solomon's Temple, where olive wood was carved (via Biblical Archaeology Society).
Throughout history, the front door was designed and adapted to fit the aesthetic and purpose of the time period. The Holy Door at St. Peter's Basilica in Rome is cast in bronze and features various biblical references (via Kempenfelt Windows & Doors). While the Portal of the Last Judgment or the main entrance of Notre Dame Cathedral features carvings of souls who are to be resurrected and judged originally crafted in 1230. Your front door might not be as grand or symbolic, but it's definitely a focal point worthy of some care and attention!
Using the wrong type of door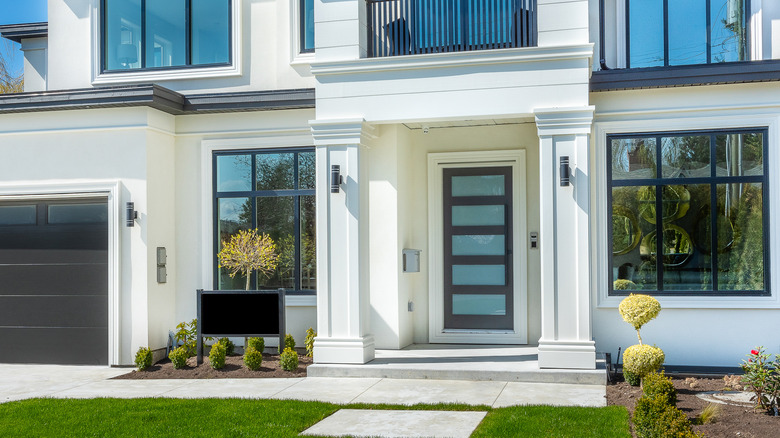 A common mistake many homeowners and restorers make is using the wrong kind of door — not all doors are made the same or serve the same purpose. According to Manhattan Door, interior doors are typically manufactured to be lighter and thinner than exterior doors, and, as a result, they generally cost less than exterior doors. Interior doors are also made of a wide variety of material, like wood, glass, or metal, while exterior doors require special treatment and materials that can withstand the weather in their climate.
While interior doors can be double panels or French doors, they are only a single door construction, while exterior doors are often double doors or customized to the home. Additionally, because exterior doors have to withstand the elements, they're specifically treated to withstand moisture, have a reinforced metal frame, and are solid to their core, while interior doors are often hollow.
According to The Spruce, exterior doors can be installed inside, while an interior door should not be installed as an exterior. Many people decide to thrift vintage exterior doors because of their charm and utilize them inside. This does require some extra work to protect the door and the door frame, but it also allows increased soundproofing and insulation in the home.
Letting price be the main factor
Another mistake people make when purchasing a door is by going strictly on cost. Not all exterior doors are made the same. While some doors are more aesthetically pleasing, others also provide extra energy efficiency and protection. On average, a single steel frame front door will range from $1,500 to $2,250 to replace, while wood entry doors average around $1,500 to $2,500 to replace, according to Remodeling Costs.
According to Feldco, cheap front doors are rarely energy efficient because they're made so cost-effectively. Replacing a builder-grade door with a cheap one may increase your energy bill based on the type of door you originally had. Additionally, cheap doors rarely are made of strong material, making them easy to break down or break into. While purchasing a more expensive door may increase your costs up front, in the long term, it could save you money in repairs and energy efficiency.
Additionally, doors are made in a variety of materials, such as fiberglass, wood, and metal. These allow you to pick a door based on your home concerns, environment, and budget. For example, fiberglass entry doors are durable, energy efficient, and can withstand heat and cold (via Pella).
Not considering door maintenance
Many people don't know that their doors require regular maintenance to ensure they have a long life and can continue to offer security and insulation. Exterior doors are constantly exposed to the elements, and even doors that are made with the highest-quality materials are bound to break down and get damaged under certain conditions.
According to Bob Vila, doors that are facing strong sun are prone to paint peeling. It's recommended that you should sand and repaint your front door every two to five years, adjusting as needed based on the level of sun exposure the front door gets. Additionally, when a door is installed, the door jamb should be finished, but it's often left unfinished from the factory. Leaving it unfinished allows for more moisture and insects to get into the door. To finish your door jamb, simply prime it, or use a spray on treatment.
According to Angi, exterior doors should be dusted every week and cleaned with a mild dish soap on a regular basis. Additionally, wood finished doors should be waxed and polished on a regular basis based on their material. For example, polyurethane polish is waterproof and can yellow in the sun, while wax-based polish hides scratches.
Installing the door incorrectly
While it's easy to assume installation of a front door involves simply hanging it on a door hinge, that assumption is incorrect. According to Fisher Lumber, many people install their front door using the wrong size hinges. If hinges are too small, they won't be able to hold the weight of the door long term, causing it to drag on the floor or loosen in the frame. Additionally, many homeowners will use incorrect tools that cause them to warp screws or the wood. For example, over-tightening screws will place tension on a wood door or door frame, causing them to warp.
According to This Old House, to replace a front door properly, you should remove the old door, including hinge screws and fasteners. Next, any interior trim that's in the door should be removed. It's also important to caulk around the new door where the exterior trim will meet the wall and to install a Z-flashing. A Z-flashing is often overlooked but it's important to prevent water or weather elements from seeping in around the door (via How to Look At a House).
Before installing a door, it's also important to check the threshold and make sure it's level. If the door is not level, it can cause structural damage and result in warping the door frame. Next, based on the door material, the door should be fastened properly, using the correct type of fasteners for the structure, whether it's wood, masonry, or another material.
Deviating from the home's aesthetic
Front doors are one of the easiest aesthetic choices we can make in our exterior spaces. There are a wide variety of doors that can be installed, all in different materials, sizes, and designs, and with different fixtures and functions.
According to Home & Gardens, a flat, solid door is a great way to make hardware stand out, especially in mid-century modern homes. Wood paneling allows homes to have a contemporary, classic look. These doors also provide an increase of security because they can't be looked into or out of. On the other hand, glass front doors look beautiful in modern houses, coastal themes, or mid-century homes.
If you're looking to match your front door to your home style, it's important to consider the material and size of the door (via Arch Daily). For example, wood is commonly used because it's so versatile, while glass can be used to allow light into dark entryways. These door styles may not match the aesthetic of a home, but can be customized to mimic other types of material, allowing them to be longer-lasting and aesthetically pleasing.
Choosing the wrong material for their climate
The most popular materials for exterior doors are fiberglass, wood, and steel. According to Exterior Medics, for a climate that has cold weather, the best exterior doors are insulated, such as doors made of solid wood, insulated metal, or fiberglass insulated. Additionally, in some climates, installing a storm door to protect the existing door will be recommended. For hot climates, it is also recommended to get an insulated door to keep out heat, but instead of a storm door, it's recommended to install a screen door. A screen door allows you the option of letting air flow throughout the home. Additionally, while a metal door will perform well in a cold climate, it isn't recommended in a hot climate because it will be hot to touch and heat will be absorbed into the home.
Experts also recommend avoiding wood doors in areas that have high humidity because they are known to swell when exposed to humid conditions and will not retain their original shape. Additionally, if a front door is in direct sunlight, it's recommended to avoid doors that are glass or use glass windows in their design unless it's stained glass, which will limit the amount of light that can come in. This is because glass is not always treated or properly insulated, which can cause problems later down the line.
Not considering energy efficiency
Not every door on the market is energy efficient, and many people do not choose to get energy efficient doors, simply because they didn't know that was an option. According to Window World, energy efficient doors, also called insulated doors, allow homeowners and renters to save money on their energy bills because they seal well, keeping out the elements while keeping in your air conditioning or heat.
For a door to be energy efficient, all its materials need to work together to reduce heat flow and reduce air leakage. The amount of efficiency in building materials is rated with U-factors and R-values. The U-factor measures how quickly heat flows from one side of the door to the other. A general rule of thumb is doors that are more energy efficient have a low U-factor. The R-value, on the other hand, determines how well-insulated a door is. The higher the R-value, the more insulated it is. In general the value needs to be between 13 to 21.
Not sealing the door after installation
One of the most common mistakes when a door is installed is that people forget to seal the door. Sealing the door allows for it to be better-insulated and to keep weather conditions out of the home. Additionally, it can increase the lifespan of the door because less moisture will get into it.
To properly seal a door, pick a caulk that matches your conditions and needs. The Department of Energy recommends people fill wide gaps with a non-expanding foam, then use caulk around the seams, according to SFGate. This helps waterproof the door without warping the door frame.
Doors also need to get resealed or repaired when they start showing signs of alignment issues. According to Better Door, when a door catches or gets jammed easily, or the gap across the top of the door is uneven, it's a good sign that the door is out of alignment. Many doors can be fixed by having their hinges tightened or getting new screws in a larger size to better reinforce the hardware. However, sometimes resealing and repairing is needed. This can be done by installing a weatherstripping system on the door frame, adding in a door sweep, or using non-expanding foam with caulk.
Choosing the wrong hardware
Exterior doors are different from interior ones, largely because of the extra protection and security they offer. While door hardware may not be the first step you think of when it comes to security of your home, it's one of the most cost-effective options. According to Family Handyman, exterior doors should be secured in 3 ways, replacing the deadbolt, replacing the deadbolt door strike plate with a four-screw strike box, and using long wood screws in the door strike plate.
Door hardware not only increases security but it can boost curb appeal. According to Quality Overhead Door, every entryway handle option serves a different purpose, has different security features, and can fit into your lifestyle and daily use better. For example, a doorknob can be paired with a deadbolt or electronic lock for more security. It's also incredibly easy for anyone to install. A door lever is a great option for those who have a harder time gripping a handle or knob, and can be paired with deadbolts for more security. Additionally, you can opt for an electronic door lock, which can be a favorite for landlords and Airbnb hosts, because they can be tracked via app and the code can be changed with ease. They also offer the backup of keys and allowing for temporary access codes for guests that only last for a set time.
Avoiding door lites and sidelites
When it comes to replacing a door, many people avoid door lites and sidelites because they're intimidating, with so many options, colors, styles, fits, and purposes to choose from. Door lites are the glass paneling inside the door. Sidelites are lites that are placed on the side of a door (via Aspire Doors). Homes either have real lites or faux lites. Faux lites are attached to glass using snap-in grills, which reduce the cost and make them more available to homeowners. Real lites are built directly into doors and cannot be swapped out separately, while a faux lite allows you to swap out broken lites with little effort. Real lites also increase the home value more than a faux lite will.
While door lites are decorative by nature, they can also provide an extra level of security and varying amounts of privacy. According to Jeld Wen, door lites on a front door can add as much as 5% to a home's value.
Using the wrong paint
Painting an exterior door is not as simple as painting an interior wall. Because the doors are exposed to weather conditions, like rain, snow, sunlight, and hail, they can take a beating very quickly. While many people choose to use a wood finish for their door, and only need to stain and wax the surface on a regular basis, others choose to paint the surface.
According to HGTV, if you're going to paint your front door, it's important to properly prep the surface using sandpaper, a heat gun, or stripping chemicals to remove old paint build-up. For stubborn paint, you can also use steel wool or pressure washing. According to Renovate With Character, the best paint for a front door is paint that is designed specifically for exterior surfaces. Usually these are available in a glossy or semi-gloss, but some brands offer an eggshell finish. However, it's important to note that flat paints are harder to clean and will show any imperfections left by the preparation process. Additionally, it's important to pick a primer that is the same formula as your paint. You should never mix oil-based primers with water-based or latex paint. The type of paint you pick will depend on the type of door you are going to paint. Your local paint store specialist should be able to match the door type with their brand's formula.
Not considering accessibility
One of the most common factors homeowners don't consider when replacing a door is ADA compliance. ADA does not cover private apartments and homes, but fair housing laws do require owners to make reasonable accommodations or modifications if requested by a resident, according to Real Page. For that reason, those who may want to rent or just ensure their homes are accessible for loved ones or themselves, should consider looking at the accessibility of their front door. Nowadays, it's incredibly easy to add finishes and alter a door so it matches ADA requirements or swings in instead of out (via List in Progress).
According to Architectural Digest, ADA-Compliant design is making its way into residential design. If you're unsure if your home is compliant with ADA standards, you can contact an interior designer. Many designers are required to know ADA compliance standards in order to get a license.
Not understanding their door's warranty
Virtually every new exterior door and window comes with a warranty by the manufacturer or installation company. Having a warranty tells you that the manufacturer stands behind their products and you can trust their quality, according to Franklin Window & Door. Your warranty will depend on several things, including the manufacturer, the type of door, and even what type of climate you live in.
Additionally, different materials tend to have different warranties. Fiberglass often carries a seven to 10 year warranty on factory-finished models, while steel depends on the manufacturer and location, having warranties from five to 15 years.
According to Pella at Lowes, it's important to ask your window and door expert what parts of the product are covered by a specific warranty. Even if everything is made by the same company, they often have different warranty timelines and exceptions based on the material, product, and use. Additionally, some warranties are voided if the product is not professionally installed. It's important to check with the manufacturer to ensure this is not the case for your exterior door if you plan to install it yourself. Additionally, not all warranties are transferable. Having a warranty that transfers is a great selling value for your home.
Not considering the increase of home value
When replacing a door, we don't often think about the increase in home value that added curb appeal can offer. A front door with transferable warranty and energy efficiency can increase your home value with very little up-front cost on your end. According to Remodeling Magazine, a new exterior door can have an average return on investment of 74.9%. A new exterior door adds value to a home because it adds curb appeal and color. However, some colors do better than others (via Home Advisor). Black can go with almost any home design aesthetic and can increase your home's resale value the most, while red is an eye catching color that can draw in more buyers.
Different door types, designs, and sizes can increase value in your area. The best way to find out which works the best for your home is to consult a contractor or interior designer, advises The Money Pit.