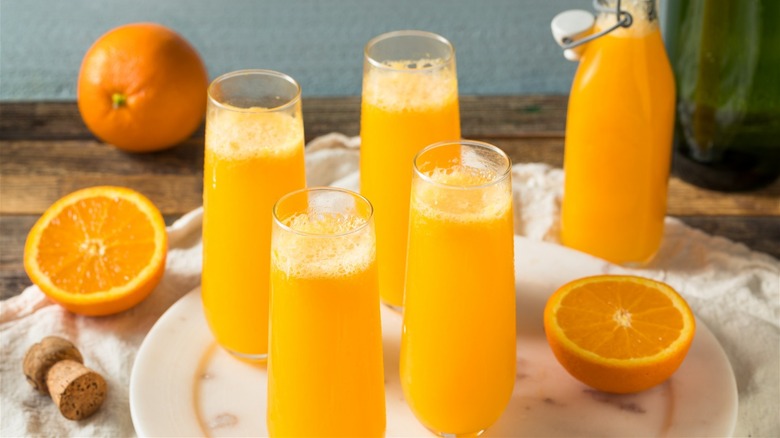 Although sparkling wines have traditionally been reserved for special occasions, more imbibers are realizing there's no time like the present to pop a bottle. Bubby helps to make every day a special occasion, and when you add a little bit of orange juice, it transforms into a perfect brunch-ready cocktail.
Sparkling wine can be made in several different ways. The most famous is the traditional method, which was created in Champagne, France. There's also Cava, which is made in Spain, Prosecco made in Northern Italy, and many more styles from around the world.
According to World History, sparkling wine dates back to the 17th century in the Champagne of France. Since then, it's been lighting up celebrations, and regular evenings, around the world. Here's our roundup of the best sparkling wine and Champagnes for mimosas. Grab a glass and keep reading to see which bottles you should pop during your next brunch.
Santa Margherita Prosecco Superiore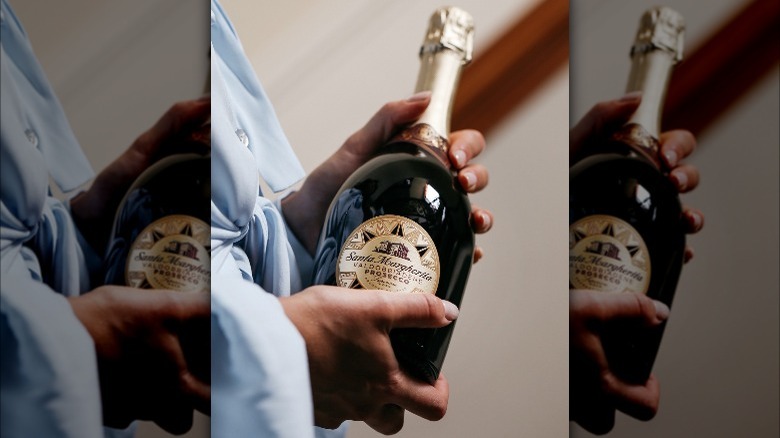 Prosecco is an ideal sparkling wine to use in mimosas because it's light and fresh, pairing perfectly with orange juice. Prosecco must be made from the Glera grape and Santa Margherita wines use grapes from an area called Valdobbiadene. Wines that adhere to the standards may be given the status Denominazione di Origine Controllata e Garantita (DOCG). This is an indication of a wine's reputation and the highest designation of Italian wines, and this Santa Margherita Prosecco has earned that status.
Santa Margherita's Valdobbiadene Prosecco has notes of juicy pineapple, stone fruit, and apples. You will be tempted to drink this alone, and of course, you can, but with a splash of orange juice, you'll see just how nicely this wine can pair with your favorite brunch dishes. Sparkling Winos considers this bottle a guaranteed "crowd-pleaser" so this is a bottle you can grab on your way to brunch and know it'll put a smile on your friends' faces.
La Marca Prosecco
La Marca Prosecco's baby blue label is synonymous with elegance. As a winegrowing cooperative, the wine leverages the efforts (and grapes) of more than 5,000 winegrowers from the Northern Italian region of Veneto.
This Prosecco, from 100% Glera, has a beautiful pale yellow color. There are some notes of green apple, citrus, honeysuckle, and stone fruit. La Marca Prosecco is fresh, juicy, and delicious. There are limited amounts of residual sugar so the wine will not taste sweet on the palate, which is perfect for all the mimosa lovers out there. Instead of tasting cloyingly sweet when added to orange juice, this Prosecco retains its structure to be a Prosecco that's perfect for sipping with or without orange juice.
La Marca Prosecco is roughly $17.99 per bottle, making it an approachable sparkling wine that delivers plenty of value for its price point. It's so good, you'll need to grab more than one bottle.
McBride Sisters Black Girl Magic Sparkling Brut California NV
McBride Sisters Black Girl Magic Sparkling Brut blends Chardonnay and Chenin Blanc into a dry sparkling wine that's both elegant and exciting. Expect some floral notes, along with tropical fruit like melon and pineapple. There may also be some green apple and stone fruit on the palate. This Non-Vintage sparkling wine is made with California grapes and clocks in at 13% alcohol.
The McBride Sisters have a story that reads like fiction. They were raised in two different parts of the world and reunited as adults. Both had a passion for wine and since living in the same part of the world in 2005, they got to work creating their very own wine brand.
With its chic white label and festive gold foil capsule, Black Girl Magic Sparkling Brut is practically event ready. Just add OJ (or the topper of your choice) and enjoy. And to take it up a notch, instead of pouring from a jug of pre-made orange juice, why not squeeze a few local oranges into this sparkling wine to make it even more custom. McBride Sisters Black Girl Magic Sparkling Brut is $24.99.
Mionetto Prosecco
You may have already spotted or even tasted Mionetto Prosecco. With its diagonal orange band in place of a traditional label, it's eye-catching indeed. But a wine's label can only tell us so much about what is in the bottle. In the case of Mionetto, you can expect a crisp and bright wine that has some green apple and pear, and citrus rind. It's not too complex, which isn't at all a bad thing, as this is the type of wine that will join in perfect harmony with orange juice.
The grapes used to make Mionetto come from the Treviso appellation in northern Italy. Here the earth is made of clay, which gives the vines ample minerals to grow healthy grapes. According to Forbes, the wine from this region has an earthier flavor.
This Mionetto offering is an ideal sparkling wine for mimosas and if you run out of OJ, you'll have no issues sipping this on its own. You can pair your Mionetto with a splash of peach juice and a pat on the back for transforming an already delicious Prosecco into something completely different.
Nicolas Feuillatte Reserve Exclusive Brut
As the world's fourth best-selling brand of Champagne, Nicholas Feuillatte knows a thing or two about crafting a good bubbly, per The Drinks Business. The brand's Reserve Exclusive Brut has made our list because it's simply delicious Champagne at an approachable price point. It can be painful to mix Champagne with anything – most are pretty perfect on their own. But if you do decide to go for quality, you can't go wrong with the iconic Blue Label.
This Champagne is 40% Pinot Noir, 40% Meunier, and 20% Chardonnay, which helps the winemakers to get the wine's acidity and structure into balance. You may pick up some notes of honey and wild strawberry. The fine bubbles and the vibrant notes make it the perfect base for a mimosa. Keep it simple and just add a few splashes of orange juice so you can still taste how delicious the bubbly Champagne truly is.
Mumm Napa Cuvee M
Napa is known around the globe as a world-class wine-growing region. Its reputation for Cabernet Sauvignon and Chardonnay is no secret. And Mumm has taken it one step further by making a delicious sparkling wine right in the United States. Mumm's Cuvee M is a sparkling wine with some notes of brioche, juicy peaches, and wild strawberries. You may also pick up some notes of vanilla and honey.
As an off-dry wine, it will have some sweetness and make for a more playful mimosa experience, while also pairing well with food. This will work with some spicier brunch dishes. So if you've been looking for the perfect mimosa to pair with your Indian and Asian dishes, look no further. It's a blend of several grapes: Chardonnay, Pinot Noir, Pinot Gris, and Pinot Meunier. Add some mango juice to up the sweetness and drink this luxurious mimosa with a heaping stack of blueberry pancakes.
Ziobaffa Organic Prosecco
If you see "organic" on a wine label, it means the grapes were farmed without synthetic pesticides or unnatural fertilizers, just like the organic fruits and vegetables in your local market. In the case of Ziobaffa's Organic Prosecco, they use 100% organic Glera, Chardonnay, and Pinot Grigio grapes from the Veneto region of northern Italy. The result is a crisp Prosecco that's delicious and versatile, and pairs with everything from your favorite sweet breakfast to savory dinner options.
You may pick up notes of apple and banana along with some floral notes. The bubbles are fine and provide that typical Prosecco freshness. This is the sparkling wine to grab when you're headed to brunch with a friend who only shops at farmer's markets. Add a splash of organic orange juice, or better yet, the juice of a fresh-squeezed blood orange. And to stay in the spirit of high-quality Italian fare, pair this mimosa with a spread of sweet Italian baked goods from your favorite local bakery.
Segura Viudas Cava Brut
Cava is the name for the renowned sparkling wine from Spain. Most Cava is made in northeast Spain, but can actually be made in more than 150 villages throughout the country, according to Decanter. The Segura Viudas Cava is made from Macabeo, Parellada and Xarel-lo grapes. It's a fresh-tasting sparkling wine that doesn't have any sweetness. You may pick up some notes of green apples and lemon or lime zest.
Segura Viuda lists a few pairing options on their website. Dishes like smoked fish with tartar sauce, baked pork ribs with maple syrup and roasted peppers, and tofu and paprika dip are a pretty diverse array of suggestions. That's a testament to the versatility of the Segura Viudas Organic Cava Brut. Grab a bunch of fresh bagels, and heaps of flavored cream cheeses to create a memorable brunch with a Segura Viuda Organic Cava Brut mimosa. Oh, and don't forget the smoked fish. The oiliness and richness of smoked fish are perfect with a light bubbly drink like Cava.
Eins-Zwei-Zero Sparkling Riesling
There are plenty of reasons to skip alcohol, whether they're health-related, religious, or just a general effort to consume less of the stuff. According to Nielsen, the no- and low-alcohol beverage sales increased by 10% in 2021. The growing interest means there are more alcohol-free options than ever before.
Eins Zwei Zero by Leitz is a non-alcoholic sparkling wine from Germany. Alcohol is the source of much of wine's signature texture, so it's hard to replicate that once you remove it. But Leitz has crafted an alcohol-free wine that comes close. It may not be mistakable for a traditional wine, but it's the perfect bottle to bring to get-togethers when you'd rather stay sober.
This sparkling Riesling has all of the crisp apple notes of your favorite traditional Riesling without the hangover. Bring this bottle along when you want to join the brunch festivities but have an important meeting first thing in the morning the next day.
Ruffino Prosecco
Ruffino Prosecco is the ideal sparkling wine if you're on the hunt for a quality Prosecco that won't empty your pockets. It's all the things you expect from an enjoyable Prosecco — crisp, fruit-forward, with generous bubbles. There's a good chance you'll spot this in your local grocery store or wine shop. If you see it, grab it and your favorite brand of orange juice. You won't regret it.
The Prosecco has some aromas of strawberries and of course the typical green apple and citrus zest. Those fruit notes allow it to pair wonderfully with orange juice. It's not going to be upstaged by the orange juice, and it won't be competing flavors. Instead, the Prosecco and orange juice will coexist magically in your glass. You can pair this mimosa with all-day brunches that turn into dinner. Traditional North American brunch items such as omelets and crispy hash browns with ketchup are the perfect food for a Ruffino mimosa.
Antech Brut Nature Blanquette de Limoux
Antech has been making sparkling wine for six generations. The French sparkling wine house specializes in Blanquette de Limoux, which is both a name of and a specific place for sparkling wine in Southern France. Antech uses the grapes Mauzac, Chenin, and Chardonnay to make the Brut Nature. And although it doesn't seem to be proven, according to WineSearcher, locals like to say Blanquette de Limoux is even older than Champagne.
This is the ideal brunch sparkling wine because of its very elegant bubbles and lemon and apple peel notes. There may also be some very delicate notes of buttery brioche.
When you add just a tiny splash of orange juice, you'll still be able to enjoy the lovely texture of the wine. To keep with the French theme, this mimosa would work well with an assorted platter of cheeses, like goat cheese, blue cheese, and some cream-based cheeses.
Gruet Blanc de Noirs
Blanc de Noir is the French term for a white wine made from black grapes. In the case of Gruet's Blanc de Noirs, this wine is pale salmon and will have some creaminess, along with some aromas of pear.
If you're curious about what an American sparkling wine tastes like, here's your chance. This wine is straight out of New Mexico and is family-owned and operated. Gruet proves you don't have to venture outside of the country to find a good value sparkling wine. Whether American or not, this is a must-try sparkling wine. Cheap Wine Ratings even calls the wines "outstanding".
To sip, incorporate this lovely sparkling wine into your brunch, add some freshly squeezed orange juice, and pair it with a bacon and cheddar quiche. The wine's bright acidity will work well with the saltiness of the bacon and the creaminess of the milk and cheese in the quiche.
Billecart Salmon Brut Rosé
Champagne is often used in place of sparkling wine, so it made sense to include one on the list. All Champagne is sparkling wine, but not all sparkling wines are Champagne. The Champagne Billecart-Salmon Brut Rosé is lively, and it has wonderful fruit notes, which Vinepair compares to "raspberries in cream with melon." And the subdued pink color is practically begging for its own Instagram photoshoot.
One splash of juice is all it takes. But to elevate your mimosa game, grab a bottle of Elderflower syrup or liqueur, such as St. Germain. It'll help preserve the beautiful color of the Billecart-Salmon Brut Rosé and add a subtle floral note. If you do want to pair this mimosa with a brunch dish try it with a smoked salmon platter, complete with cream cheese. The cold champagne and floral notes will help to cut the fat of the salmon and cream cheese.
Paula Kornell Sparkling
Terroir is a term that's used in wine to describe a sense of place. Not only is it the minerals in the earth that nourishes the vines, but it's the climatic conditions that helped to grow the grapes and the placement of the land. And while that's more associated with French wines, there are plenty of American wines that are impressively distinct.
Paula Kornell Brut, for example, is a sparkling wine that is elegant and refined and can compete with some of the best Champagnes. The wine uses Chardonnay and Pinot Noir from some of the coolest sites in California, which help to make the wine have desirable qualities. There is the aroma of fresh peaches and the gentle honeysuckle notes. And then there are the fine bubbles and bright acidity. This wine is ideal for lingering brunches that feature a wide array of food. Shakshuka with toasted bread and chicken and waffles would work well with a mimosa made from Paula Kornell Brut.
Graham Beck Brut NV
If Graham Beck was good enough for Nelson Mandela's inauguration and Barack Obama's victory celebration, it's certainly worth a shot. The South African sparkling wine is a reasonably priced bottle that rivals Champagne. Sparkling Winos says for the quality and the price point, it doesn't get much better. South Africa has a healthy sparkling wine output and Graham Beck's Brut NV shows exactly why. This wine has smooth bubbles with some notes of lime. There's also a subtle creaminess and nuttiness there if you pay close enough attention.
Because it is bone dry, it is the perfect palate cleanser. And you can keep it classic and stick with orange juice, but Graham Beck's Brut NV would also be great with a splash of peach juice. If you decide to venture out of the classics, pair your peach juice mimosa with a heaping stack of lemon ricotta pancakes for an unforgettable brunch experience.
Henners English Brut
The world is going wild for English sparkling wine. So if you'd like to try one, Henners classic sparkling wines are a great starting place. This white sparkling wine is made from three grapes — Chardonnay, Pinot Noir, and Pinot Meunier. You'll definitely notice some citrus notes and maybe some apple and pear, to boot.
Under normal circumstances, anyone would be thrilled to drink this lovely sparkling wine on its own, but when brunch duties call, so does the orange juice. A splash of OJ will also help to ensure the bottle lasts, so you can savor this wine just a little bit longer. Because this wine is not at all sweet, you can keep the addition of orange juice to a minimum, to ensure this is the perfect brunch drink. It will pair well with ultimate breakfast foods that combine eggs and bread. So next time you're craving eggs benedict, don't forget the Henners Brut.