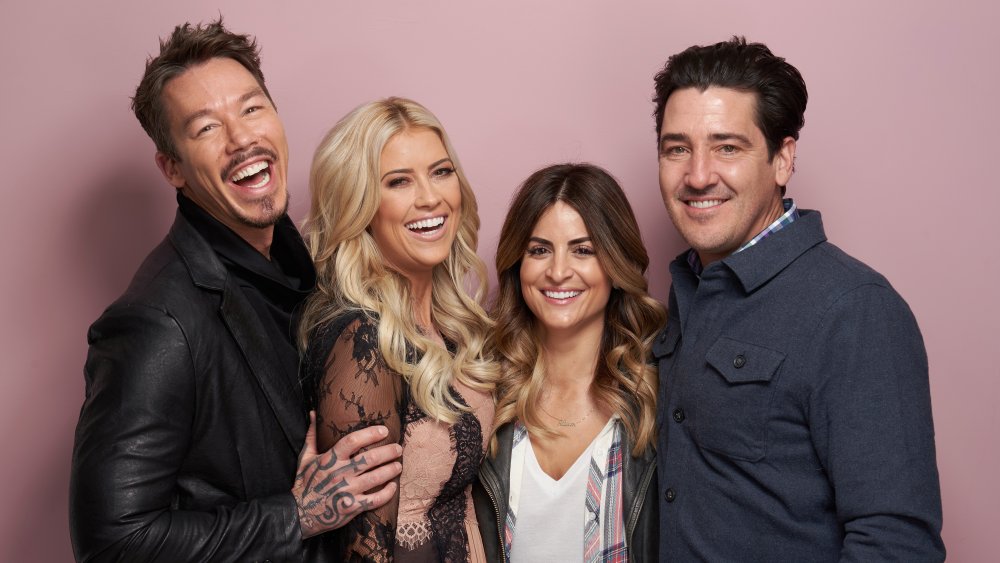 We may receive a commission on purchases made from links.
The richest HGTV stars might surprise you, though many HGTV stars are the real deal. Before their claim to fame, they were just working to make a living in the real estate industry. Then when HGTV came calling, their businesses began exploding, and their wallets were better off too. Who knew that they'd develop such a big fan base from flipping houses?
Renovating a house may be rough, but it's nowhere near as difficult as the journeys some of these stars had to endure on the road to success. Flip or Flop star Tarek El Moussa, for example, got his start while living in his mom's garage. "I was so motivated living in that garage that within 120 days, I made enough money at the age of 22 to buy my first million dollar home," he told Fox News. In fact, HGTV has made most of its stars millionaires.
From renovations to riches, these are the network's richest stars. Some of them just may just surprise you.
HGTV made Jonathan and Drew Scott's two of its richest stars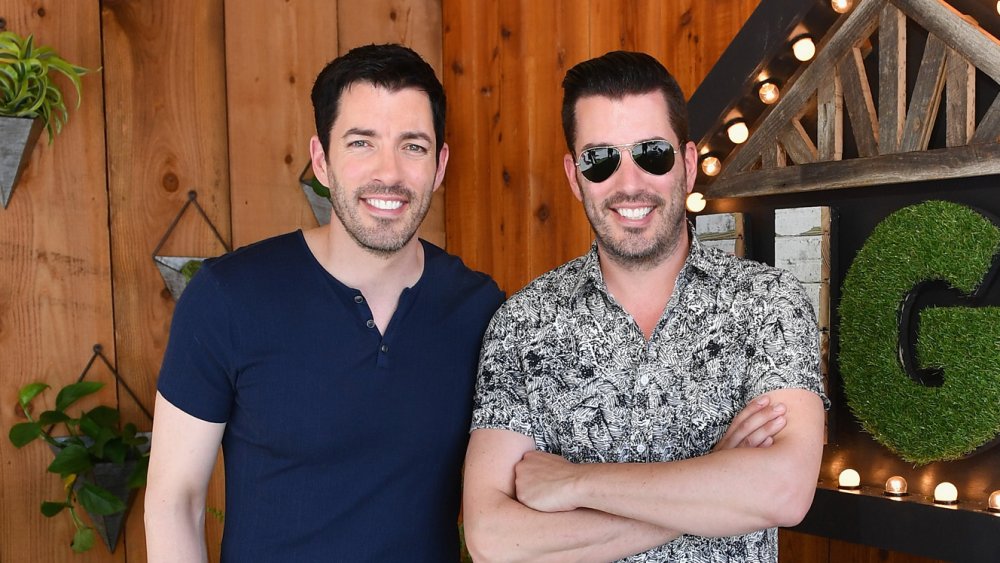 Growing up as aspiring actors, real estate was a way for Drew and Jonathan Scott to make money to fund their movies. They paid only $250 for their first flip — and got $50,000 out of it. "That's when the light bulb went on saying, 'There's something here,'" Jonathan told Smashing Interviews Magazine.
Following their first few flips, the duo we now know as the Property Brothers were called to host several real estate shows because of their background. "At first, I remember thinking, this is lame — I don't want to be a host, I want to be a superstar, I want to act," Drew admitted to USA Today. However, after thinking about the opportunities hosting would give them, they gave it a shot. "It took us in a direction we never would have imagined," Jonathan told Smashing Interviews Magazine.
How much are the Property Brothers worth now? A cool $200 million, making them two of HGTV's richest stars (via Celebrity Net Worth). "It all comes down to slow motion renovations and tight jeans," Drew joked. "That's the winning recipe."
Mike Holmes has the perfect name for an HGTV host and is one of the network's richest stars
Whatever happened to Mike Holmes? Though he isn't on HGTV anymore, he's still one of the richest stars on the network — worth a hefty $30 million (via Celebrity Net Worth).
It all started with Holmes' own construction company. As a contractor, he was consistently seeing the same mistakes being made in homes, and knew he could help homeowners "make it right." After all, Holmes' name was made for the home renovation business — and his shows Holmes on Homes and Holmes Makes It Right. "I appreciate being in the position to educate people on what's right, whether it's how a home should be constructed or how it should be inspected," he told Working RE.
Holmes' can-do attitude and "make it right" motto are what made homeowners everywhere trust him. In fact, he was named Forbes' third most trustworthy celebrity in 2012 (via PR Newswire). "It amazes me, after doing my television show all these years, that I'm still seeing homeowners making the same knucklehead mistakes over and over," he told DIY Network. However, without these "knuckleheads," Holmes wouldn't have his millions.
Chip and Joanna Gaines worked hard to become two of HGTV's richest stars
How have Chip and Joanna Gaines changed since Fixer Upper's premiere? Somewhere in between a hit HGTV show and their home decor lines, Chip and Joanna Gaines became millionaires. Before, this Fixer Upper couple was worried about paying their mortgage and putting food on the table for four kids. "We reached a certain point in our career to where we kind of felt like we could take a breath for the first time," Chip admitted to Success Magazine.
While running their construction company, a producer noticed them (via CBS Sunday Morning). They knew they'd spend their lives renovating houses, but never thought they'd ever end up on air. "And never on this national, like, platform," Joanna told Entertainment Tonight. Who knew that the Gaines couple would go on to start their own network someday?
In addition to their dozens of renovations, the Gaines' constructed themselves a $20 million net worth, minting them as one of HGTV's richest stars (via Celebrity Net Worth). "It's a dream come true, because at the end of the day, what we're passionate about is creating home for families," Joanna said.
Bryan and Sarah Baeumler are some of HGTV's richest stars
In Canada, where many HGTV stars seem to hail from, Bryan and Sarah Baeumler are hard to miss. Their series, Island of Bryan, became HGTV Canada's most-watched program on the network (via Corus Entertainment). The series is so successful that it's made them some of HGTV's richest stars, and led to Bryan boasting a net worth $20 million (via Celebrity Net Worth).
Because of the great ratings and fans raving, the Baeumlers were brought to big screens to the states in March 2020. "If the show does as well in the U.S. as it has in Canada, it could just ruin our anonymity," Bryan told the Sun-Sentinel. Here, however, this couple is known by a different name. In the U.S., Island of Bryan became Renovation Island.
The series follows the Baeumler family's move to the Bahamas, where they're renovating a resort they hope to open. After airing in the U.S., Renovation Island drew in 60 percent more viewers to the network every Sunday night (via Discovery), so it seems safe to say that the Baeumlers will be making even more bank now.
Christina Anstead's house flips flipped her life and made her one of HGTV's richest stars
Christina Anstead — who's undergone a stunning transformation — never thought she'd end up on HGTV. "TV changed my life," she shared on Instagram. After all, it's made her one of HGTV's richest stars, with a net worth $12 million (via Celebrity Net Worth).
While many fans may know Anstead from Flip or Flop, she actually got her start as a judge on the home renovation competition Brother vs. Brother. She was sought out for having an eye for design. "While I never wanted to be on TV, stepping out of my comfort zone and into the unknown has always been my thing," she continued, and the world fell in love with her as part of the dynamic duo on Flip or Flop.
Despite going through not one, but two public divorces, Anstead has kept her focus on house flips. She's continued to work with her ex-husband, Tarek El Moussa, and even opened up to the world on Christina on the Coast. "I enjoyed every second of it," she told Yahoo!. "And I think in the end that's all that really matters."
Candice Olson became one of HGTV's richest stars while "kicking and screaming"
Even though Divine Design and Candice Tells All are off the air, Candice Olson is still taking on more in the world of decor. HGTV catapulted her own collection and, today, made her one of its richest stars, with a massive net worth of $10 million (via Celebrity Net Worth).
While this designer had originally planned to study medicine, her passion for interior decorating drew her in. "That became my whole world when I graduated," she told The Washington Post. She went on to work for a few design firms before creating her own booming business in 1994.
Olson soon ended up appearing on local television, sharing her eye for design with daytime viewers. HGTV caught her on air and gave her a call. However, she wasn't as excited about it as she should be. "I went into TV kicking and screaming," Olson explained in her book Candice Olson On Design (via Hooked on Houses). TV wasn't something she was used to, but, obviously, she was amazing at it. It made her a millionaire.
Tarek El Moussa's flips have made one of HGTV's richest stars
Tarek El Moussa was just your typical real estate agent when the market crashed in 2008. So in order to make money, he started flipping houses. "I saw that the [potential] profit was huge," he told Business Insider, and he was right. With a great new gig that was constantly making money, El Moussa invested in a camera crew to document his flips — and his flops. HGTV came calling, and the rest is history; Flip or Flop propelled him to the top. Today, this host is worth a whopping $10 million and is one of HGTV's richest stars (via Celebrity Net Worth).
However, starring alongside his ex-wife, Christina Anstead, drew a lot of attention to the duo when they divorced in 2016 (via Today). "[It was] the absolute worst thing in the world," he told USA Today, "Now I embrace the fact that people know all about me."
His success led to a spin-off series, Flipping 101 With Tarek El Moussa, where he advises house flippers. "Literally half the time they don't listen to me and it makes for good TV," he continued.
Hilary Farr has become one of HGTV's richest stars
One of HGTV's richest stars, host Hilary Farr, wants homeowners to love the house she's designed for them — and it seems she's loving her paycheck too. As of this writing, this Love It or List It star is worth a startling $8 million (via Celebrity Net Worth), so how exactly did she get there?
Surprisingly, this designer was set for show business. She was an actress early on — fun fact: you can catch her in The Rocky Horror Picture Show — but she also had a knack for flipping houses. "I loved redecorating and renovating houses I lived in and always sold for a profit," Farr explained to MEAWW, adding, "I was in heaven doing what I realized I was really good at and loved, and making money too."
HGTV provided the perfect opportunity for Farr to combine her callings for design and living a life on camera. "I love the crew and I love my co-host, David," she told Baltimore Media Blog. "I'm doing what I love to do." The paycheck doesn't seem to be so bad either.
Nicole Curtis, one of HGTV's richest stars, makes money both on air and on Airbnb
Long before HGTV made a star out of Rehab Addict Nicole Curtis, her house flips came with many hardships. "There are people who think that all of this came easily," Curtis told Country Living. "I want them to know I was working for $9.75 an hour at Banana Republic, I was waiting tables, I was cleaning toilets."
Luckily, HGTV helped Curtis make her next move. Though Season 1 of her hit series had her dumpster diving for materials to save money, HGTV has eventually made her one of its richest stars.
Curtis was always a real estate agent with a love for renovation — especially for houses that no other homeowners would ever take on. Because of that, she isn't able to make any money from her flips, and instead, still owns every one of them. "I don't sell them, because otherwise I would lose money on every single one of them," Curtis revealed to KTLA 5. To make up for lost funds, she lists them as Airbnbs, and obviously it's working. She's now worth an amazing $7 million (via Celebrity Net Worth).
Egypt Sherrod should have known she'd end up as one of HGTV's richest stars
Real estate runs in Egypt Sherrod's family. "So you can imagine thanksgiving dinners," the Property Virgins host told MadameNoire. This alone was what deterred her from diving into the real estate industry as a young adult, and so she instead dove headfirst into radio. "But as I got older and wiser, I realized you have to do smarter things with that money, and I grew up knowing that real estate was the foundation of wealth," she continued — and she's right. It's made her worth $6 million, and one of HGTV's richest stars (via Celebrity Net Worth).
Sherrod began by flipping her own houses to make money. However, after wasting cash on commissions for other real estate agents, she decided to become one. She never gave up working on the radio on the side, so when HGTV came calling, it was a dream come true to combine broadcasting and building up houses. "I jumped at the opportunity and felt like it was a gift from God to finally have a platform that shows all the different sides of me," Sherrod added.
After his surprising audition, David Visentin became one of HGTV's richest stars
David Visentin was working as a real estate agent when he got a call to audition for Love It or List It. Though he was new to the TV industry, his sister worked at a network and urged him to try out. "About a week later, my sister called me and said, 'Hey, you're shooting the pilot in a week,'" he explained to Monsters & Critics.
Visentin seemed destined to star alongside designer Hilary Farr. Though the two are known for arguing on TV — after all, it is a competition — it sure looks like he's loving it after over a dozen seasons on air. "Me and Hilary have a lot of fun together," he told The Real Estate Talk Show. There's also the paycheck, of course. He's now one of HGTV's richest stars, with a net worth of $6 million (via Celebrity Net Worth).
However, while HGTV gives Visentin a full plate, he still keeps himself busy on his breaks from shooting. "I sell real estate for a living," he continued, so that accounts for some of his cash, too.
Cortney and Robert Novogratz are two of HGTV's richest stars
When HGTV's Home by Novogratz was on air, it had quite an effect on Cortney and Robert Novogratz. When they flipped their first place, "we acted as the contractors, architects and designers," Cortney admitted to Forbes. It was figuring out how to flip houses on their own that made them stand out. "It was the beginning, although in some ways I feel like I'm just getting started!" So far, they've made themselves worth $4 million, rendering them two of HGTV's richest stars (via Celebrity Net Worth).
Along with their seven children, their own design line, and their second role managing their kids' acting careers — because, come on, they've already had major success on the small screen — this couple obviously likes to stay busy. Jumping into other aspects aside from interior design is what Cortney attributes her success to. After all, it's the perfect way to bring in a big paycheck. "I'll never be the richest," Cortney said, but that's never been what it's all about. "It's about constantly seeking happiness for myself and for those around me." She also has seven mouths to feed!
Scott McGillivray was struggling to find a place to live, and now he's one of HGTV's richest stars
"Income Property comes from a very honest place," the show's host Scott McGillivray said in a promo. "That's how I got started." Renovating properties on his own is what has gotten McGillivray a lot of money. As if this writing, he's worth $4 million (via Celebrity Net Worth)
It all started when McGillivray, now one of HGTV's richest stars, was in college and couldn't find a place to live. That's when he had an epiphany. "If I lived in the house and rented it out to my friends, I would make money living here versus paying rent every month," he explained to Hoss Magazine. As a business student, he decided to take action. "It just kind of spiraled from there," he said. By the time he was 25 years old, he had 25 properties in his possession.
When HGTV came along, McGillivray was able to share his expertise with a wide audience. Though the paycheck is pretty nice, it's helping homeowners that he says is the most rewarding. "I love seeing people get a good return on their investment."
Alison Victoria dealt with a lot of drama to become of of HGTV's richest stars
At only 10 years old, Alison Victoria's parents let her redesign their basement, which sparked into a lifelong passion for design (via HGTV). While this Windy City Rehab host has made herself a millionaire since, her home renovations weren't always easy. "Because this business isn't easy," she admitted on A Spoonful of Paolo.
Victoria made headlines after viewers witnessed her cut ties with her business partner, Donovan Eckhardt, during Season 2. His failure to get a grip on their finances led to her firing him. "[It's] your reputation that you have built, really from the ground up, since you were a little girl," she told People. "And I'm not going to let one person destroy that."
Though the situation surprised fans, Victoria didn't let it veer her off track. After all, she'd created Windy City Rehab as a way to showcase the raw side of renovations. "It's my real life, so it's not just TV," she told Paolo Presta. Fortunately, Victoria has come out victorious, now with net worth of $3 million (via Celebrity Net Worth) — one of HGTV's richest stars.
David Bromstad never gave up on his design dream, and is one of HGTV's richest stars today
When David Bromstad won the first season of Design Star, he was pretty much set up for HGTV stardom — not to mention that it also made him a millionaire. "If this show didn't happen, then I don't know where I would be," he admitted in a promo for the network.
Growing up as an aspiring artist, Bromstad was barely scraping by. However, he knew his dream wasn't too far off. Once he won HGTV's famous design competition, he quickly became famous himself. "I'm completely blessed, you know?" he told Adwerx. "I went from starving artist to not-so starving." Though interior wasn't the kind of design he was used to, he has since become seriously skilled at it.
Bromstad now is known for hosting My Lottery Dream Home, where he helps new millionaires find the house they've always wanted to have. He speaks from experience too, now that his net worth is $2 million, and he's one of HGTV's richest stars (via Celebrity Net Worth).