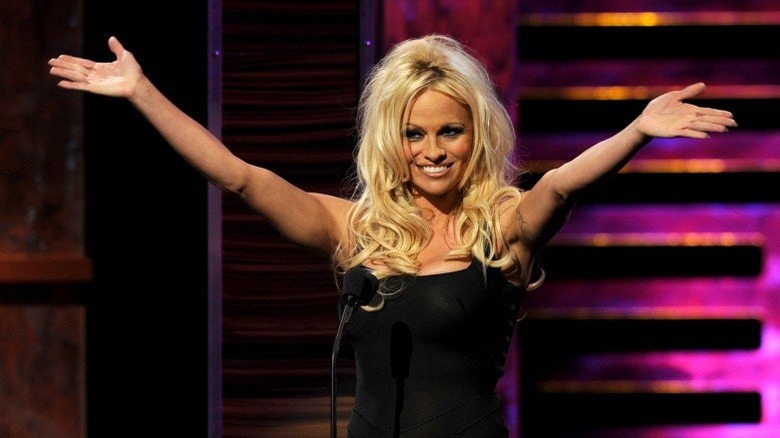 We may receive a commission on purchases made from links.
There are very few out there who won't recognize the name Pamela Anderson. A model and actress, Anderson has been making big waves since her career began in 1989. Never afraid to create a bit of controversy, the starlet became known for her personal life just as much as her career.
She has bared it all, from her covers for Playboy to her openness in discussing her life and relationships during interviews. There has never been a dull moment with Anderson, and she has always allowed us to join her on the ride throughout her life and big changes. So let's take step back and look at the stunning transformation of Pamela Anderson over the years.
She had a traumatic childhood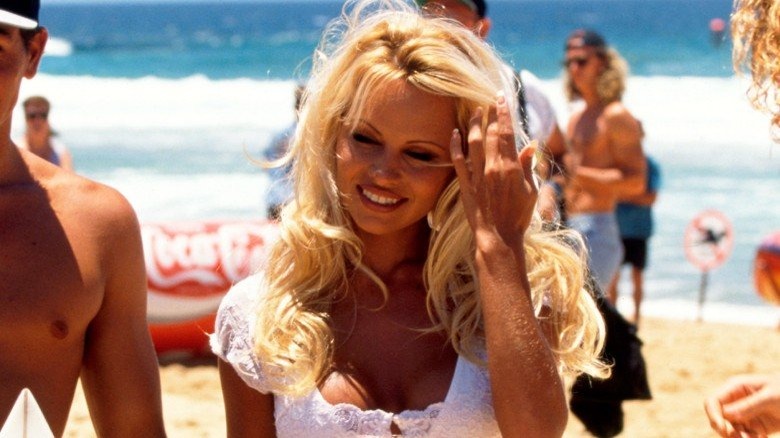 Anderson was born on July 1, 1967 in British Columbia, Canada. Childhood and early teen years were very difficult for Anderson; a topic she only began opening up about publicly in 2014. According to the LA Times, she spoke out about her past during a charity event at the Cannes Film Festival that year, where she was kicking off the Pamela Anderson Foundation. She described the foundation as "dedicated to human, animal and environmental rights."
It was this night that Anderson opened up about her troubled past. Anderson said at the event, "I did not have an easy childhood… Despite loving parents, I was molested from age 6 to 10 by my female babysitter." She continued on to describe her teen years, saying, "I went to a friend's boyfriend's house… While she was busy, the boyfriend's older brother decided he would teach me backgammon, which led into a back massage, which led into rape — my first heterosexual experience. He was 25 years old, I was 12."
But even with such a difficult childhood, Anderson stayed strong. She shared a quote from her mother at the event that evening. "Sometimes when you smile, it's not because you're happy… It's because you're strong." It was strength that helped Anderson move on from this time and make a name for herself.
She was the original "Tool Time" assistant on Home Improvement
When you think of Home Improvement, you probably think of Tim Allen, power tools, and a neighbor who can only be seen from the nose up as he looks over the fence in the yard. You probably don't think of a Playboy model. Still, Home Improvement was Anderson's first acting gig (which she told Elle she didn't even audition for) and she played Tim's first assistant, Lisa, on the show-within-a-show, "Tool Time."
For the first two seasons, Anderson's character Lisa was the person who brought Tim whatever power tool he was using to cause a nearly-guaranteed disaster on the show. That is, until she left Home Improvement for a little known show called Baywatch and was replaced by Debbe Dunning who played Tim's new assistant, Heidi. Anderson returned for one episode in 1997 and the storyline was that Lisa was returning from school, but then left again as she was off to bigger and, er, better things.
The beginning of Baywatch
Speaking of Baywatch, Anderson told Elle she didn't really audition for that either. "They were just like, 'Are you Pamela Anderson? You have the job.'" It seemed like success was following Anderson wherever she went — not just in modeling, but now in TV too.
When asked by Harper's Bazaar how she felt being in a swimsuit every day on set, Anderson said, "I was really comfortable in my skin and I didn't care so much. I thought, nobody's perfect and imperfections are sexy. And you know, I would've been on the beach anyway, so I was shocked that they hired me and paid me. I never thought I was a great-looking person or a great-looking woman."
She also shared in that interview that during the first season, the show didn't want her to wear makeup in order to look natural. Despite her confidence, makeup wasn't something she wanted to give up. The then-25-year-old told them she agreed, but had other plans. "I would go to Lexi's [makeup artist Alexis Vogel] at 3 a.m. and she would put eyelashes and liner on me and we just created that look, then I would show up, and they'd go, 'You're already wearing makeup!' and I'd say, 'No I'm not!"
Branching out into movies
Despite her television and modeling success, Anderson was ready for something more, and that something was movies. Her first credited role was in 1993's Snapdragon in which she played a beautiful blonde woman with amnesia who may or may not have been a prostitute killing her clients. We won't spoil it for you.
After that, she starred in 1994's Raw Justice as a prostitute who had to go into hiding after witnessing a murder (are you sensing a trend?). Then in 1996 came Barb Wire, in which she starred as the title character who is a nightclub owner, mercenary, and bounty hunter during the fictional Second American Civil War, and Naked Souls, in which she played an artist and the neglected girlfriend of a scientist whose body has been possessed by an older, mad scientist.
Admittedly, many of her early roles put the emphasis on her figure, but people were at least starting to notice her outside of her nude spreads and red swimsuit.
First comes marriage, then comes a total violation
When she was getting her start as a '90s movie star, her personal life started making its way into the news. It started in 1995, as shared by Billboard, when the 27-year-old married Tommy Lee, the drummer for Mötley Crüe, after knowing him for four days. While she wasn't the first — and certainly not the last — celeb to tie the knot with someone after a whirlwind romance, that's not what made headlines.
Someone stole a sex tape that Anderson and Lee made on their honeymoon and leaked it online, where it was shown for five hours and tripled the traffic to the Internet Entertainment Group website. Anderson and Lee went to court to stop it. Ultimately, they reached a settlement that allowed the tape to be shown as part of a subscription service on the IEG website.
During an appearance on Watch What Happens Live (via Us Weekly), Anderson explained why she ultimately stopped fighting the online distribution of the tape during her second pregnancy. She said, "I was seven months pregnant with Dylan and thinking it was affecting the pregnancy with the stress." Anderson said in the same interview that she's never even seen the tape.
The tape wasn't the only reason her marriage made headlines
Anderson and Lee were known for their outrageous behavior and tumultuous marriage. It went so far that Lee was arrested for assaulting Anderson. She described the relationship to Elle, saying, "There was all this hype and we were running around in rubber outfits and he's puffing my dress with cigarettes and I get pregnant and then I had a baby, and then all of a sudden he wasn't paying attention and it became this crazy thing and that blew up."
But even through the bad times, Anderson wanted the relationship to work. She told the magazine that her mother blamed herself for Anderson's relationship. "She didn't want me to put up with things that she put up with. …But that's kind of what we do, don't we? They're a model. No matter what. Even when I knew better, I still thought, 'Well, maybe it's still going to work out.' And then I went too far."
Anderson and Lee divorced in 1998, but she told People magazine years later that he was the love of her life. "We had a wild and crazy beginning that was too much for both of us," she said.
Adding mom to her list of jobs
Even though Anderson's marriage with Lee didn't work out, they had her two children together, and she wanted to make sure she did everything she could to raise them right. She spoke of this with Contributor magazine, saying, "I didn't really take too many acting jobs after I had babies. I thought, 'How can I sustain myself by doing as little as possible, but not taking jobs for purely money and be able to have a meaningful life?"
Anderson was 31 years old at the time of her divorce and removed herself from Hollywood to give that meaningful life to her kids. She said during the interview, "My most important job was to look after my children and to be there for them. I never had nannies and I wanted to just be with them as much as possible, to share the attention that I had with animals. For some reason I've been provided for. I always tell my kids the universe validates good decisions. If you are doing your part, you'll be okay. But you do have to do as much as you can every day."
She bounced back with V.I.P.
While her relationships were front and center in the tabloids, Anderson was determined to continue making a name for herself acting. She landed the role of Vallery Irons on the TV show V.I.P. in 1998, a role that one reviewer called a "better Pamela Anderson show than Baywatch." The show ran from 1998-2002 and Anderson found herself now front and center of each of those episodes.
The show's success even inspired a video game in 2001, for which Anderson supplied the voice of for her character. While Anderson's renewed television success on V.I.P. may be something you remember (considering it pulled in pretty decent ratings early in its run), you may not remember her less successful runs on the two shows she did afterward.
A health scare took over
In 2001, Anderson experienced a scary moment as she was diagnosed with hepatitis C. She claims she got it from Lee after they shared a tattoo needle while on vacation. She spoke with Esquire about the moment she found out. "My doctor says, 'You have hepatitis C.' And I go, 'Okay, how do I get rid of it?' And he's like, 'You can't. This is what you're going to die from." At the time, Anderson was in the middle of filming her show, V.I.P., and wasn't sure what would come next.
She said, "This wash came over my body. And then the doctor says, 'Do you know how you got it?' I said no. And he said, 'Your husband never told you he had it?' It kind of threw me for a while. Obviously, it's a hard thing to tell someone, but I wish he could have had the nerve to tell me. Obviously, his ego was more important than my life." And even with such scary news, the 34-year-old continued on and showed her strength at a difficult time in life.
Then, years later in 2015, Anderson shared that she was cured of the disease, saying, "I've been too busy, I think it really hasn't even hit me yet, but it's exciting because now I get 20 years back on my life."
The TV shows you've probably never heard of
Stripperella was an animated series based on a comic by Stan Lee in which Anderson provided the voice for Erotica Jones, a "stripper by night and superhero Stripperella by even later at night." One of the reasons it only lasted for a single season starting in 2003 is that Anderson, the show's creators, and the parent company of the network were all sued by a stripper who claimed she was the original creator of the show and gave Stan Lee the idea during a "private dance session." In 2005, Anderson tried again with the series Stacked, in which she played Skyler, a down on her luck party girl who was tired of her own shenanigans and ready to change her life. Sound familiar? It, too, only lasted a single season.
Pam the writer
If conquering modeling, television, movies, and even video games weren't enough, Anderson took on writing as well. Her debut book, released in 2004 and titled Star, was called "funny, sexy, and utterly compelling" by the Amazon.com editorial review. She followed it up with the sequel Star Struck in 2005, which she admitted was partially inspired by her marriage to Tommy Lee. While she hasn't continued the semi-autobiographical series, her life has certainly had enough excitement to fill up a few more installments.
She married Kid Rock
Another very well-known relationship in Anderson's life was with Kid Rock. They were on and off for many years, until they married and subsequently divorced in 2006.
The star opened up to Elle about the destructive nature of her relationship, saying, "The rock-star thing became very destructive, like, wow… I didn't know what I was doing. I just kind of became that thing. The hair, that rock-star kind of lifestyle, just living a dream. It kind of took over. It started out very innocent, and then I turned into a cartoon character. And I started to feel like a cartoon character."
She continued on to discuss her regrets at that time in life, saying, "I did things I'm not proud of… I don't really want to get into all that." And as time has continued on, Anderson has continued to have complicated relationships, but she knows what she wants both for herself and her family. She shared during the interview, "I want to be married and have a traditional committed relationship for my kids and represent that for them… I don't want any more wild and crazy. I don't want any more silly. I want something real."
Her relationships didn't become any less complicated
Anderson may have moved on from her rockstar relationships after Kid Rock, but that isn't to say that her relationships became any less complicated. At the 2007 MTV Video Music Awards, Anderson's ex husband Tommy Lee got into a fight with her other ex-husband Kid Rock. Kid Rock reportedly said it wasn't about Anderson, and maybe that's to be believed since she then married her friend Rick Salomon while in Las Vegas in October 2007.
Of course, that wasn't to be a happily ever after considering she she sought annulment just four months later, in February 2008. Things only got more complicated when Tommy Lee went on record that he and Anderson were trying to work things out in June 2008. But in 2013, Anderson told Ellen DeGeneres (via E!) that she and Salomon were friends with benefits. Then she remarried Salomon in 2014, only to divorce him in 2015.
Anderson was linked with French soccer star Adil Rami in May 2017, but in June 2019 she revealed in a shocking Instagram post that "The last (more than) 2 years of my life have been a big lie." She wrote scathing details of their relationship in her caption and subsequent comments on her own post, accusing her ex of "physical and emotional torture."
A starring role in reality TV
Anderson has always been open in interviews about her life, so it should come as no surprise that the model and actress was ready to hit reality television too. The star has been on a few of the shows, including Big Brother: Australia, Dancing with the Stars and Dancing on Ice, among others.
After competing on Dancing with the Stars in 2010, she loved it so much that she came back in 2012 for the all-star edition. At that time, the 45-year-old went on Ellen to discuss why she was back on the show, sharing, "I want to learn everything I can. Dancing is really great. I like to use my body." She had also previously shared on Twitter (via The Guardian) that the show enabled her to "rise above the crap in life" and "makes her feel safe."
In June 2019, Anderson returned to reality TV, but this time in a supporting role. Her son, Brandon Lee, is one of The Hills: New Beginnings' main cast members, but viewers of the nostalgic reboot get to see little snippets of Anderson in action as a mom.
Putting the focus on causes she believes in
For years, Anderson has been a well-known animal activist. In recent years, she's branched out to even more causes, including human, animal, and environmental rights with the Pamela Anderson Foundation.
As she described to Contributor, "Activism is sexy. …Having a meaningful sensual life means caring for others. People think sometimes, 'Oh, you've reinvented yourself.' I'm the same little girl I was with my cat that walks sideways and taking in misfit animals. I've always loved animals. I had an affinity with them from a very early age. As soon as I started getting attention, I wanted to share the attention with something more meaningful like animal rights. Now I'm the chair of the board of directors at Sea Shepherd. I'm on the board of directors for PETA and I'm on the Russian council of IFAW. They're really big parts of my life."
No matter the cause, Anderson says she doesn't do any of it for the fame. She told W magazine in 2017, "I'm doing it for animals and people who are vulnerable and can't speak for themselves. It was never my intention to get any credit for any of it, and people are just noticing."
Older, wiser, and with a few regrets
To say Anderson was known for her, er, assets, might be an understatement given her history of nude modeling and the various movies in which she played prostitutes, strippers, or similar characters that placed a focus on her figure. So when she had her breast implants removed in 1999, it was a big deal.
According to the Chicago Tribune she said, "It's something I've been wanting to do for a long time and I'm very happy with my decision." Still, Anderson wasn't quite satisfied. She had her breasts augmented again, but this time in a smaller cup size. When, during a 2016 interview for W magazine, she was asked if she regretted anything in her life, she reportedly rolled her eyes toward her chest and said, "Not that we need to point it out," while her makeup artist added, "Let's just say that at some point, we all realize that less is more!"
Continuing to take on roles with a new purpose
It's pretty obvious that Anderson is far from slowing down. She continues to work passionately with causes and organizations she cares about. She has also taken on new roles in film and television that show a new side to her.
In 2016, the 48-year-old spoke with W magazine about her role in the short film Connected, saying, "This is the first time I've ever been in a serious role… I've done Baywatch, and other things on TV that I could do with my eyes closed — run around in a bikini, et cetera. But it was fun to play a really dramatic character."
She then talked about her next steps in life, saying "What's your purpose now? You've raised your kids, and now they think you're a little crazy, because you're trying to do all these self-help things. You become distant from everybody. You're searching for answers." But it's clear Anderson has some of those answers and will continue to do the work that makes her happy and gives her the opportunity to still spend time with her family.
A controversial cause (and possibly a romance)
In 2016, Anderson was linked to WikiLeaks' editor-in-chief Julian Assange, who had been seeking asylum in the Ecuadorian Embassy in London to avoid being extradited to Sweden. After visiting Assange multiple times in 2016 (and bringing him lunch in the above photo), she said in a statement, "It's crazy that Julian is still being held as a political prisoner." She continued, "He is a hero. Everyone in the world has benefited because of WikiLeaks — he has sacrificed so much — to simply share the truth."
Considering her frequent visits with Assange, a listing for the Free Assange organization on her foundation's website, and Anderson asserting that he's "one of my favorite people," it's no surprise that people wondered if they were romantically involved. While Assange and Anderson have both spoken of the other with respect and admiration, whether there was ever more to it than that is anyone's guess.
Ultimately, Ecuador revoked Assange's asylum and he was dramatically arrested in; April 2019. He was sentenced to jail in Belmarsh prison in southeast London. In June 2019, Anderson revealed to LA Times that she is working on getting Assange out of jail, stating that, "Keeping him in the public eye is really important, so he doesn't get killed."
She's started focusing more on her health
For Anderson, part of being an animal activist is being vegan, but paired with some other choices she's made in recent years, it's clear that after years of partying, she has more of a focus on her health than ever before. According to Elle, Anderson not only gave up drinking, but also started focusing more on mindful and healthy activities like meditation and Pilates. She also completed the 2013 ING New York City Marathon while fundraising for Sean Penn's J/P Haitian Relief Organization. To say that's a change from her Goldschläger days would be an understatement.
She's also changed up her look
Anderson's breast size isn't the only thing that changed over the years. In fact, she debuted a glam look at the 2017 Cannes Film Festival that was called "nearly unrecognizable" by Us Weekly. From photos alone, it's clear that Anderson is going for a more natural look when it comes to makeup. "I want to try little tricks to lift your eye or make your lips feel like they look more pouty." Her other 2017 looks have been no less gorgeous, including baring some cleavage at Formula 1's Amber Lounge Fashion show in Monaco.
Even though she seems to have adopted more demure looks these days, Pam wouldn't be Pam without a few risqué photo shoots up her sleeve, like the shots she did with photographer Luke Gifford in Saint Tropez, featured in W magazine. The shots involved some starkly different outfit changes, from classic old Hollywood glam to a coat with boots (and not much else). "I actually like aging," Anderson told W magazine in a separate interview back in 2016. "Getting older isn't the end. I know I have so much to look forward to." Say what you will, but the 14-time Playboy model has certainly still got it.
Who is Pamela Anderson?
Anderson is actually the one who summed herself up pretty clearly, telling Harper's Bazaar, "Just because I've been on Baywatch and in Playboy doesn't mean I don't have a heart, soul and brain!" We continue to see Anderson using all three of those in all of the work she does, while at the same time looking flawless.
She told W magazine in August 2017 that she has another book on the way, which, at the time was going to be called The Sensual Revolution, but was published in April 2018 under the name Lust for Love. She described to W that the book is about desensitization in our world of ever-advancing technology. As Anderson takes on even more of an activist role (alongside whatever entertainment influence she's sure to exert as well), we can't wait to see what she comes out with next.