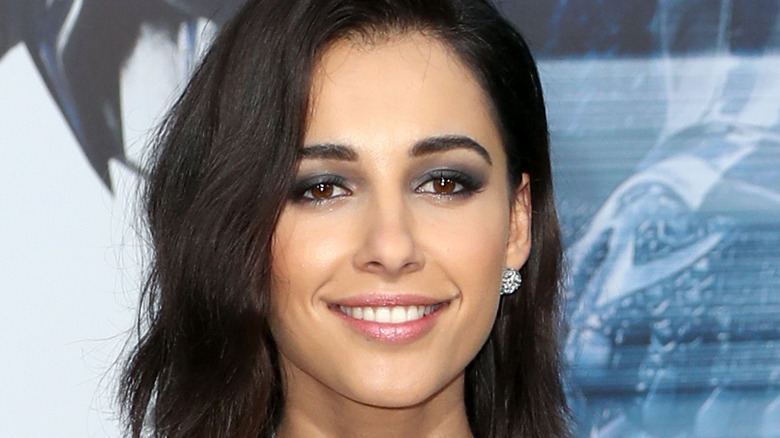 Naomi Scott has arrived in Hollywood. By adding the live-action "Aladdin" and "Charlie's Angels" reboot to her resume, the British singer and actress — who played the pink ranger in the "Power Rangers" movie — is set to be the next big thing in the movie industry. But this is hardly one of those overnight success stories.
Long before she was playing Princess Jasmine, Scott was a teen appearing in Disney Channel projects and then a 20-something trying to make the always-difficult transition toward more serious adult projects. "I had a couple of years in my early 20s when I was nearly getting jobs and not getting them," she told The Telegraph.
But she's grateful for the valuable lessons that she learned during that period in her life. "That was a really important time because I learned: Does my world fall apart? Am I letting this be my identity?" she said. "I'm so glad I went through that before going on a world platform." Now that she is on a world platform, it's time that we learn a little bit more about her. Here's the untold truth of Naomi Scott.
Her mom and dad are both pastors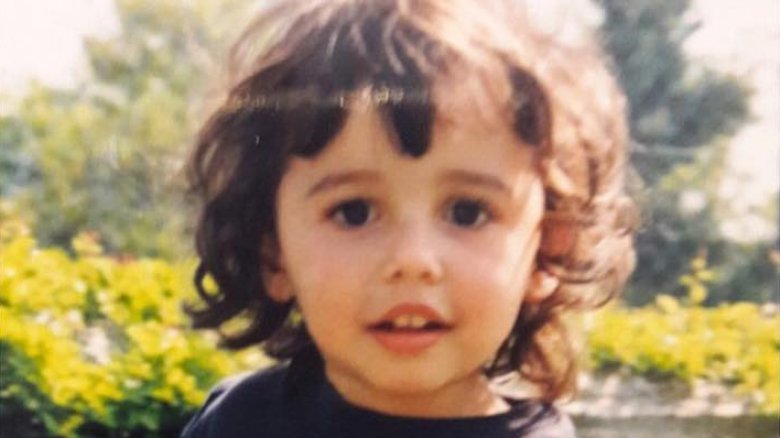 Because Naomi Scott's parents are both pastors at a Pentecostal church in the U.K., one might think that she had religion forced on her while growing up. But Scott told The Telegraph that wasn't the case at all. She credited her parents with giving her room to find religion on her own, which ended up making her faith stronger in the long run and helped her relate better to non believers. "Yes, I have a belief system," Scott said, "but I don't know everything, and we're all just as messed up as each other."
Scott called her parents' church "diverse" and "a big family." It's also where she started singing. She was a part of the church band and would sing gospel music every Sunday. Scott told Hypebae, "Growing up in the church fostered an inner spirituality that also introduced me to the concept of music having a deeper meaning."
Bend it Like Beckham 'was literally made for me'
Like so many other kids in the U.K., Naomi Scott played soccer in her youth. And it sounds like she would have kept playing the sport, better known as football in the U.K., if she was good enough. She told the U.K. edition of Vogue, "Loved football, but you hit a certain age and you feel like that's not something you can do anymore. I do remember that and feeling like, 'Why can't I do it too?'"
So when the British romantic comedy "Bend it like Beckham" was released in 2002, Scott — whose father is English and whose mother's family emigrated from India to Uganda and then ended up in the U.K. — connected with the film on a whole other level. She said it was her favorite movie growing up. "It was an Indian girl who wanted to play football," Scott told Vogue. "That movie was literally made for me. I just thought I was Jesminder."
The coincidences don't end there. Scott told Vogue (via the Daily Mail), "I even played football in that same park as a kid. That was me."
First kiss gone bad
You never forget your first kiss — but if your first kiss went the way Naomi Scott's did, maybe you would want to. Things didn't go as smoothly for her as one would hope for such a big moment. She told W magazine in a video interview that her very first smooch went down behind the sports hall in her secondary school and that the boy didn't exactly whisper sweet nothings in her ear afterward. "I remember he said — this is so racist — he said I had curry breath," Scott recalled. "After I kissed him he said I had curry breath." Harsh.
Was the boy making a stereotypical remark about Scott due to her Indian background? Or did she, in fact, have curry breath in that moment? Scott doesn't seem to rule out either scenario. "I could have very well had curry breath, by the way," Scott said. "It depends what my mom made the night before."
She was discovered by chance
Talk about being at the right place at the right time. Naomi Scott was discovered when she was singing at her parents' church at age 12. Kelle Bryan — a member of '90s R&B girl group Eternal — just so happened to be on hand in another room and immediately was taken aback by Scott's voice. "I was speaking at her mum and dad's church and I heard this person singing in the background," Bryan told The Sun. "I said, 'I want to sign her'. I hadn't seen her, I didn't know what she looked like, I just heard her voice."
Bryan represented actors and not singers, but she very much wanted to represent the young girl, so she encouraged Scott to go into acting. "She was like, 'But I don't act,'" Bryan told The Sun. "I was like, 'Yeah, yeah, we'll work on that — you will.'" Clearly, Bryan has a good eye for talent.
She and Disney go way back
"Aladdin" isn't the first time Naomi Scott has worked with the empire that brought (and still brings) magic into every child's home. She appeared in Disney's U.K. sketch show for teens, "Life Bites," in 2009 and then followed that up with the 2011 Disney Channel TV movie "Lemonade Mouth," which she filmed in Hollywood when she was 17. "I was very green, it was my first movie," she told The Telegraph. "I learnt on the job; I had no training, no drama school."
Scott said the TV musical still holds a special place in her heart: "I gained lifelong friends and people still recognize me most from that movie." She's not kidding about the lifelong friends part. The band got back together, so to speak, in 2015 as depicted in the photo Scott posted on Instagram. And in 2017, "Lemonade Mouth" co-star Bridgit Mendler joined Scott at the premiere of Scott's film "Power Rangers," as evidenced by Mendler's Instagram post with a sweet and supportive caption: "So proud of my sis @naomigscott tonight you are the most beautiful and kicka** pink ranger ever."
She married this athlete super young
Not only did Naomi Scott get discovered in her parents' church, but she also met her future husband and journeyman soccer player Jordan Spence there. Scott was 16 at the time and would go on to marry Spence in 2014 when she was 21. If you think that's really young to get married, you're not alone. Scott feels the same way. "I was never that person who wanted to get married young. It was never what I yearned for, but isn't that the way?" she told The Telegraph.
Scott is quick to point out that Spence is no dumb jock. She said he's an "avid reader" and he cooks. But as Scott's career is starting to heat up, Spence seems to be struggling to find stability in soccer. He has bounced around various clubs in England such as West Ham, Ipswich Town, and MK Dons and occasionally found himself unemployed. Spence jokingly told the East Anglian Daily Times in 2017, "Normally it's the actresses that are out of work, not the footballer!" Back then, he also said, "She's working on a few things. … Hopefully we get some family success this year." If he only knew!
Her lines were cut from an Oscar-nominated movie
Naomi Scott was so excited to have a small part in the 2015 Oscar-nominated Matt Damon film "The Martian" that she picked out a special outfit and invited her friend to the film's special premiere in London. But as she told "Jimmy Kimmel Live," that excitement eventually turned to disappointment when she realized her lines had been cut from the film.
In retrospect, Scott feels she didn't deliver her best work in "The Martian." "I really don't blame them, because I was terrible," she told The Telegraph. "It was all such a big deal, Ridley Scott directing and so on, that I got really nervous and choked, just dry-mouthed. I completely froze."
If anything, the experience taught her how difficult it is to be an actor who comes on set to film just one scene. "Now if I am a lead in a movie, I go out of my way to make that actor feel really comfortable." And just FYI, she wasn't completely cut out from the movie. She's in there briefly — she just doesn't say anything.
She teamed up with Diddy … sorta
You might have heard one of Naomi Scott's songs already and not even realized it. Her track "Hear the Bells" off of her "Invisible Division" EP was featured in a 2015 commercial for Sean "Diddy" Combs's DeLeon Tequila. "I'm so excited…" Scott captioned her Facebook post of the 15-second commercial, which was part of DeLeon's The Next Level ad campaign and ran frequently (and strategically) during "Mad Men."
The ad campaign for the high-end tequila also featured music by blues legend Muddy Waters. Combs told AdAge, via statement, that people today want "quick, enticing content" and "You have to capture them with the first beat." Scott said the song — which was the first track on her first EP — was personal for her. She told HuffPost, "it was about me falling in love for the first time." Who would have guessed this special moment in her life would inspire a song that would end up in a tequila commercial?
She played matchmaker for Becky G
Not only is Naomi Scott a singer and actress, but she's also a matchmaker — at least she was for Becky G. In an interview with Mega 96.3 FM, fellow singer and actress Becky G said Scott told her, "Girl, you're awesome, you deserve to be with a man," when they were filming the 2017 "Power Rangers" movie. Scott then took it a step further, telling Becky G, "I already know who you're going to marry."
The person Scott had in mind was Los Angeles Galaxy soccer player Sebastian Lletget, who had previously played with Scott's husband, Jordan Spence. Becky G initially resisted, claiming she was focused on her career, until Scott showed her a video of Lletget. She tried to play it cool when in reality she was into the soccer stud. "It kind of all went from there," Becky G said. The two began dating and judging by Becky G's Instagram pics, are still going strong. Well done, Naomi!
Topshop was her saving grace for her Aladdin audition
The audition process for Jasmine was extensive. It's said hundreds of actresses around the world tried out for the role of the princess in the live-action "Aladdin." Naomi Scott told W magazine she bought a navy blue top with big sleeves for the audition, which she figured was "perfect." It wasn't Jasmine's trademark light blue outfit, but that's a good thing. She said she didn't want to look like a cosplayer.
Following the audition, Scott was asked to come back, only this time the casting directors had a few requests. Scott told W magazine they asked, "Could she, uh, put a bit more makeup on and maybe a dress?" Believe it or not, Scott claimed she didn't own a dress at the time, so it was off to the store to get one. And not some high-end boutique either. She told W magazine she ran to Topshop and bought a flowery dress. "It was light blue," she said. "I never wore it again." Scott landed the role of Jasmine months later and, it would appear, now has more dresses in her closet.
The Aladdin casting backlash hurt
What should have been one of the most exciting moments of Naomi Scott's career turned sour when news of her "Aladdin" casting was met with backlash. Scott's dad is British and her mom's family moved from India to Uganda (and eventually to the U.K.), but critics felt the role of Jasmine should be played by someone of Middle Eastern descent. Yeah, the story takes place in the fictional city of Agrabah, but the legendary tale that inspired the movie was set in Baghdad.
Scott admitted that she has a hard time ignoring the online trolls. "It's hard, man," she told W magazine. "I'm not going to lie to you and say I never look at Twitter to see what people are saying about me. Anyone who says that is a liar! So you have to train yourself. It's actually like a discipline not to look."
In an interview with The Telegraph, Scott echoed those sentiments, saying "You genuinely cannot please everyone. That feeling of being misunderstood by people commenting about me — if I put energy into that, I will get nowhere." Asked if the backlash hurt, Scott responded, "Of course. You're human."
Singing is her first love
She might be better known for her acting career than her music, but Naomi Scott seems to want to change that. "Music is my first love," she told The Telegraph, adding that she realized at age 11 that she was "pretty good at this." Acting wasn't part of the plan. It kind of just happened, thanks to Kelle Bryan. "However, acting is an avenue that has opened doors," Scott told Hypebae. "I will eventually switch gears to solely music, but at the moment it is both."
Scott released her debut EP, "Invisible Division," in 2014 and followed that up with her "Promises" EP in 2016. She told The Telegraph that she has resisted signing with a label so that she has "creative control" over her music and because there is "strength" in owning her masters and publishing. Even with her acting career on the rise, Scott is determined to make music happen. She's just waiting for the right moment. "I think that I have the bits that can translate commercially when the time is right," Scott told W magazine.
Keeping the faith
Just because she's gone Hollywood doesn't mean Naomi Scott has lost sight of her faith. She told the U.K. edition of Vogue that religion continues to be a major part of her life: "[My faith is the foundation] of every decision I make, and of my marriage." Some wonder how Scott and husband Jordan Spence balance their faith and high-profile careers, but Scott insisted it's not that hard. "I don't know how I would do life without my faith," she said in an interview with children's charity Compassion. "… Quite honestly, I don't see it as this separate thing, this add on thing. My faith is just a part of who I am and what I do."
Her faith also has a heavy influence on her music. "There has always been a connection between my faith, and realizing that music can have a soul and purpose," Scott said to Hypebae, "which has ultimately affected the way I approach the art."
She initially turned down Charlie's Angels
Elizabeth Banks clearly liked what she saw from Naomi Scott on the set of the "Power Rangers" movie because she wanted her to play one of the leads in the "Charlie's Angels" reboot that she was directing. Banks' peeps reached out to Scott's peeps and, according to Banks' interview with W magazine, "They were like, 'Well, she's doing 'Aladdin.' Bye!'"
So what changed? The "Charlie's Angels" start date was pushed back and no longer conflicted with the "Aladdin" shoot. Scott auditioned for the role and Banks said studio execs knew after 40 seconds she was the right fit. "I was looking for an everywoman," Banks said. "A relatable girl next door that audience members could look at and go, 'If that girl can become a Charlie's Angel, then I can, too.'" Scott was joined on the big screen in late 2019 by fellow Angels Kristen Stewart and Ella Balinska.
Naomi Scott learned how to speak up in the film industry
Naomi Scott has learned a few things since she started working in the entertainment industry as a young actress. One thing she learned early on, as she told Vogue in 2021, is to speak up and be more assertive. "We've all been there — when you feel uncomfortable or you're not sure about something and if you speak up you're kind of made to feel like, 'Oh you're being a bit difficult' — and I would just say it's never going to be as bad as you think," she explained.
As a young star, she appeared on the Disney U.K. show "Life Bites" before starring in the Disney Channel movie "Lemonade Mouth." It was around that time that she was presented with an opportunity to potentially have her own Disney show, but she turned it down to follow her own way.
"There was an opportunity for me to kind of follow in the footsteps of maybe some of those other girls; have your own show around you that has to do with music, etc., etc.," she told Collider in 2021, adding, "And it's so interesting that at 18 years old — 17, 18 — I knew that wasn't what I wanted to do."
She was instantly drawn to her role on Anatomy of a Scandal
When Naomi Scott received the script for the Netflix limited series "Anatomy of a Scandal," she knew she had to jump on the project. "There was no hesitation," she told HeyUGuys in 2022, calling the story "fascinating." She added: "I binge-read the script … The character I thought was really interesting and complex." Scott plays Olivia Lytton, a parliamentary aid who accuses a Tory MP of sexual assault in the Netflix series.
What sealed the deal for Scott was when she found out who her cast members would be — established actors Sienna Miller, Rupert Friend, and Michelle Dockery. "Of course I wanted to be a part of it," she told BuzzFeed.
Scott prepared for her role in the "gripping courtroom thriller," as she described it during an appearance on "Jimmy Kimmel Live," by doing lots of research through books, documentaries, and even YouTube (via BuzzFeed). She admitted she would've preferred to have attended a court case in person, but the pandemic quashed those plans.
She's not often recognized by kids as the actress who played Jasmine
Naomi Scott may have played the iconic Princess Jasmine in Disney's "Aladdin" live-action retelling, released in 2019, but she's not often recognized without the trademark sparkly green ensemble.
During her appearance on "Jimmy Kimmel Live" in 2022, she told the host that kids don't often recognize her as the Disney starlet. "Believe it or not, I look very different in my day-to-day life than I do in the movie," she said with a laugh.
However, she told Kimmel that she'd recently ventured into a coffee shop and overheard a little girl tell her mom that she was Princess Jasmine. Scott described her appearance that day as less than movie star material. She was wearing a tracksuit and no makeup. "The mom was like, 'Honey, that ain't Princess Jasmine,'" Scott recalled. The actress said she then introduced herself to the girl and confirmed she was the princess as a "reward" for recognizing her.