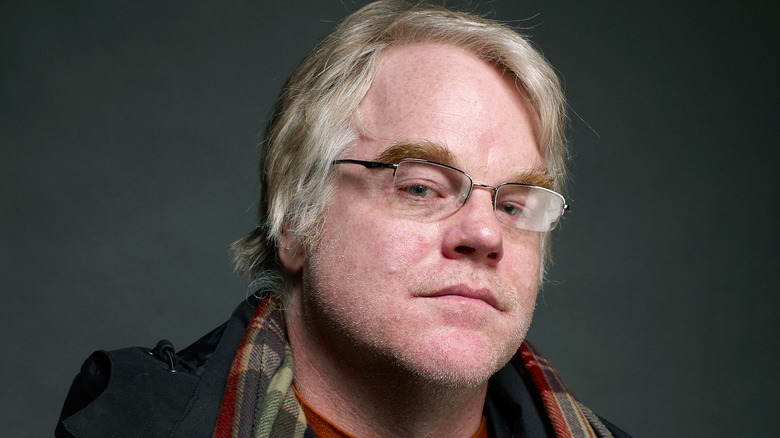 Whenever a beloved celebrity dies, the event becomes something of a cultural flashpoint. In some cases, it can bring people together as they reminisce about what the individual meant to them or ultimately brought to the world. In cases where the deceased was a controversial figure, conversations surrounding their death can become contentious. From Heath Ledger to Osama bin Laden, Chadwick Boseman to Kobe Bryant, many remember where they were when they got the news.
For actors, musicians, and artists, the work they created while alive imbues them with a certain immortality. Particularly when an actor died young, their surviving work keeps them eternally young in the eyes of generation after generation of admirers.
Films takes months to create, and some television shows can go on for a decade or more. As such, actors spend many days on set (even when they might not be doing so well, physically or mentally), and Hollywood history is littered with tales of actors who died in the middle of production. Aside from the inherent tragedy, this can pose a huge problem for the production, as producers grapple with how best to proceed.
In some cases, the film or series is scrapped altogether; in others, inventive solutions are proposed. Read along to discover which actors died within days of filming what would be their final scene, and how this ultimately impacted their project's production.
Heath Ledger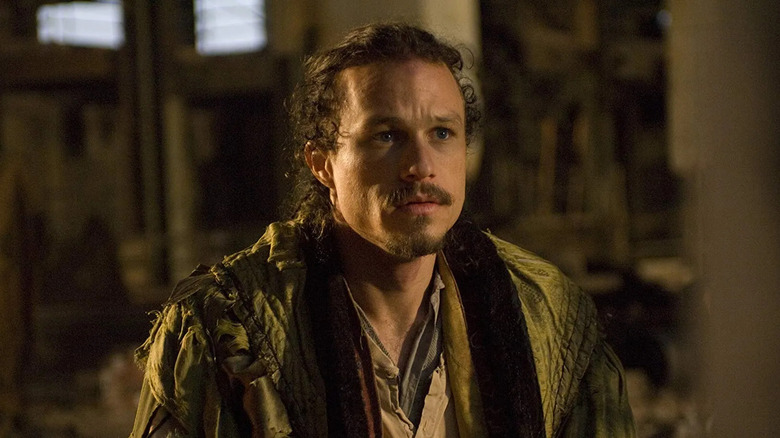 In January of 2008, the news of actor Heath Ledger's death shocked and saddened the world. The 28-year-old Australian had completed shooting the much-anticipated film "The Dark Knight" — which wouldn't come out until that summer — and was working on a new movie at the time of his death. Ledger rose to stardom in the 1990s, starring in the teen film "10 Things I Hate About You" across from Julia Stiles.
At the time of his death, Ledger was in the process of filming Terry Gilliam's "The Imiganarium of Doctor Parnassus," which came out the following year. The film follows Doctor Parnassus (Christopher Plummer), the leader of a traveling theater troupe. Many years earlier, Doctor Parnassus made a deal with the devil that earned him immortality. The only catch is that he promised his firstborn daughter, Valentina (Lily Cole), to the devil when she turned sixteen. To spare her from this fate, Doctor Parnassus makes another deal with the devil, promising to deliver five souls in exchange for his daughter. Ledger plays a mysterious new "barker" — someone who advertises a show on the street — with a dark past.
Prior to his death, Ledger had just returned from shooting the film in London and was set to resume filming in Vancouver the following week. Rather than using CGI to recreate Ledger's presence in the film, director Terry Gilliam chose to cast three actors (Johnny Depp, Jude Law, and Colin Farrell) to portray Ledger's character, Tony, in the film. The "Imaginarium" that the film centers on invites patrons into a dream world of their choosing, and it is in these fantasy realms that Tony transforms into Depp, Law, or Farrell, depending on the scene and the desires of the patrons – so the film essentially offered a clever, organic plot device to get around Ledger's incomplete work.
Clark Gable
Born in Ohio in 1901, Clark Gable was one of the most popular actors in the golden age of American cinema, frequently referred to as "The King of Hollywood." Celebrated for starring in classic films like "Gone With The Wind" and "It Happened One Night," Gable was known for playing suave leading men alongside stars such as Joan Crawford and Myrna Loy.
One of the few actors on this list to have completed filming before death, Gable's final film was 1961's "The Misfits," which also starred Marilyn Monroe and Montgomery Clift. (Tragedy would befall three stars of the film that decade — Monroe died in 1962, and Clift's health deteriorated until he died in 1966.) Gable suffered a heart attack just two days after filming concluded and was quickly rushed to the hospital. He died ten days later, at the age of 59, after suffering from a coronary thrombosis.
"The Misfits" is a Western written by Arthur Miller and directed by John Huston. The film follows Roslyn Taber (Monroe), an ex-stripper who has just filed for divorce. Roslyn meets Gay Langland (Gable), an aging cowboy and gambler, and Guido Racanelli (Eli Wallach), a former WWII aviator. The trio decides to move into Guido's unfinished home in the desert, after which they encounter Gay's friend, the ex-rodeo rider Perce Howland (Montgomery Clift). While there, the four start a business catching wild horses. It's a moving film, and its melancholy themes are made all the more relevant considering the untimely death of its stars. If there's one thing viewers can be grateful for, however, it's that Gable finished shooting his scenes prior to his death, which allowed the film to be completed as written.
John Candy
It always feels tragic when people with a gift for making audiences laugh are taken too soon, and that was certainly the reaction to comedian John Candy's death in 1994. The beloved actor had his big movie break in 1984 when he starred in "Splash" alongside Tom Hanks, and would go on to appear in many successful comedies such as "Planes, Trains, And Automobiles," "Spaceballs," and "Cool Runnings."
At the time of his death in March of 1994, Candy was living in Durango, Mexico while working on the film "Wagons East." He was only 43 years old when he died. A Western comedy set in the 1860s, "Wagons East" follows James Harlow (Candy), an alcoholic cowboy hired by a group of settlers tired of the wild west, who want to head back east. Unfortunately, Candy's last film was far from his best, and it performed poorly at the box office. In his review of the film, Roger Ebert suggested that "​​It is possible he never appeared in a worse [film]," lamenting what a shame it is that it was indeed his final film.
Because Candy hadn't finished filming his scenes at the time of his death, producers had to get creative in completing the film. While shooting was initially halted, director Peter Markle went on to use special effects and a body double in order to expand Candy's presence on screen. An actor with a similar-sounding voice recorded additional dialogue that Candy hadn't gotten a chance to film himself. While this type of technology is now employed with some frequency — see Carrie Fisher in the "Star Wars" sequels — it was somewhat controversial at the time, with audiences wondering if this was technology gone too far.
River Phoenix
It seems like every generation has a cautionary tale of a talented young person gone too soon, and for some, that 1990s person was River Phoenix. Sometimes compared to James Dean, who died at a similar age, Phoenix felt like his career was on the verge of soaring. Known for starring in films like "Stand By Me" and "My Own Private Idaho," he instead died at the age of 23 on Halloween night in 1993.
At the time of his death, Phoenix was shooting a film called "Dark Blood," which was never completed. According to director George Sluzier, he had just seen Phoenix hours before, as he was leaving the hotel following a day of shooting. There were less than three weeks remaining of the shoot, but Sluzier opted not to finish the film at the time.
Sluzier decided to re-edit it and release the film as-is in 2013, despite pressure from the Phoenix family to leave it be. Speaking with The Herald, Sluzier described how he recovered the film in 1999, just two days before it was set to be destroyed. Sluzier said the retrieved film constituted about 69 percent of the final movie. Responding to the Phoenix family's criticism of the film's release, Sluzier told The Hollywood Reporter, "No one seems to understand that an artist wants to finish his art, just like a painter would want to finish his unfinished painting. The family's response is understandable, but it's an immature point of view."
Philip Seymour Hoffman
In February of 2014, Philip Seymour Hoffman died at the age of 46. At the time of his death, the in-demand Hoffman had been filming the final film in "The Hunger Games" franchise, "Mockingjay – Part 2," having completed 47 of his 55 days of scheduled shooting. Prior to his role in "The Hunger Games," Hoffman was well known for playing unique, eccentric roles, having starred in films such as "The Master," "Almost Famous," and "Capote," for which he won Best Actor.
Since Hoffman hadn't yet completed shooting "Mockingjay — Part 2," director Francis Lawrence was left with a significant problem to solve. "I regret to have that kind of label of it being his last film. Because obviously, there's not quite enough of him in it," Lawrence told USA Today. Following Hoffman's death, Lawrence tried to give the cast and crew time to mourn, resuming shooting with half-days and no extras before bringing the full crew back to set.
In order to solve the problem of Hoffman's absence, his character was removed from group scenes where it wasn't strictly necessary that he be there. In scenes where his presence was necessary, they had a stunt double wearing Plutarch's clothing. According to star Jennifer Lawrence, it was incredibly difficult seeing the stunt double on set, as it reminded everyone of Hoffman's absence when he had only died just days earlier. "It took a week when I wasn't waking up and having to remember (Hoffman) was gone. We all suffered that together," Lawrence said.
James Dean
The rebellious tragedy of Dean's characters became a reality in the fast-rising actor's own life when it was cut tragically short at the age of 24. Prior to his death, Dean had just finished shooting his role in "Giant," an epic Western co-starring Elizabeth Taylor and Rock Hudson. Dean was best known for "Rebel Without a Cause" (released a month after he died) and "East of Eden," both of which exemplified Dean's persona as a symbol of teenage angst.
"Giant," which was directed by George Stevens, is set in the first half of the 20th century and was shot on location in Marfa, Texas. The set was a rather volatile one, as biographer Don Graham notes that Hudson and Dean hated each other during filming and were constantly at odds. Taylor, who was very close with Hudson and eventually became close with Dean as well, had to act as a mediator between the two men.
Though Dean had finished his portion of shooting when he died, the film had not yet wrapped. According to Graham, "He died on a Friday and then on Saturday, they kept shooting." Taylor was devastated by Dean's death and was hospitalized shortly thereafter when she fell ill. Dean had become interested in car racing prior to filming "Giant," but Stevens was reportedly so worried about Dean having an accident that he put it into the actor's contract that he couldn't race while the film was shooting. Dean, seemingly finished with production, was driving his Porsche to race in Salinas when he crashed the car on the interstate and died.
Dean's character had a climactic "Giant" scene where he was supposed to make a drunken banquet speech; ever the Method actor, Dean had filmed the scene while actually drunk, mumbling his lines. After the star's death, Stevens deemed the dialogue unsalvageable and had actor Nick Adams go back and overdub Dean's speech.
Jean Harlow
Though an icon of classical Hollywood cinema, Jean Harlow's legend hasn't been preserved as well as some of her peers. While Marilyn Monroe is often the first person that comes to mind when you think of famous Hollywood blondes, Harlow came first and, in fact, Monroe actually studied Harlow's image as a young girl. Unfortunately, like Monroe after her, Harlow also died young, at the age of 26 in 1937.
Harlow was a Hollywood sex symbol and an icon of "pre-code" American cinema, starring in films such as "Hell's Angels," "Dinner at Eight," and "Bombshell." In the mid-1930s, Harlow was drinking heavily and began to have health problems. Her final film, "Saratoga," had to be delayed because she had an operation to have her wisdom teeth removed, resulting in sepsis that lasted for two months.
On May 29, she was filming a scene with co-star Clark Gable where her character was meant to have a fever. Harlow began feeling very ill and was taken back to her dressing room. The first doctor who was called diagnosed Harlow with an inflamed gallbladder, but a second doctor correctly recognized that she was actually suffering from kidney failure. On June 6, she was taken to the hospital, where she died the following day. It has been speculated that her kidney failure may have been the result of Scarlet Fever, which she had as a child.
About 90% of the film had been completed at the time of Harlow's death, and the studio was planning to either scrap the film or re-shoot Harlow's scenes with another actor. Following an early screening and a load of fan mail they received, MGM decided to keep Harlow's scenes and complete the film using a body double named Mary Dees.
Oliver Reed
Ridley Scott's 2000 film "Gladiator" is a beloved one, but there were many struggles in getting the film off the ground. Stars Russell Crowe and Joaquin Phoenix were reluctant to join the film in the first place, and the script was still being re-written as shooting was in progress. The biggest blow to the production, however, was the death of cast member Oliver Reed, an icon of rebellious manhood.
Oliver Reed was a British actor known for playing a wide variety of roles, many of them villainous characters. Known as much for his movie roles as he was for his outsized persona — which included raucous drinking and partying — Reed starred in films such as "Oliver!" and "The Three Musketeers."
Reed's final film was Scott's "Gladiator," and he died during the production of the film in a typically swashbuckling way. A notorious drinker, Reed had promised Scott that he wouldn't drink while filming, and he kept his promise by only drinking on the weekends. One Saturday night, Reed was visiting a local pub and encountered a group of sailors who challenged Reed to a drinking contest. One account of the evening reported that Reed drank "eight pints of beer, a dozen shots of rum, half of a bottle of whiskey, and some cognac" when all was said and done. Later that evening Reed collapsed, dying of a heart attack shortly thereafter. Scott and his team employed CGI — a relatively new technology at the time — to complete Reed's scenes and finish the film.
John Ritter
It's always a shock when an actor dies in the middle of filming a television series, and that was certainly the case when sitcom veteran John Ritter died in September of 2003. Best known for playing Jack Tripper on the 1970s sitcom "Three's Company," Ritter had gone on to build a solid career in TV ("Hooperman" was a critical favorite, as was "Hearts Afire") and movies (he showed his range in hits ranging from "Sling Blade" to the "Problem Child" films), and was very much still a star when he "8 Simples Rules … for Dating My Teenage Daughter" debuted in 2002 with him in the lead alongside a young Kaley Cuoco.
While working on the sitcom in September of 2003, Ritter fell ill and was taken to the hospital. While it was initially thought he was having a heart attack, he later had surgery for a tear in his aorta. He died that evening, on his five-year-old daughter's birthday. He would have turned 55 the following week.
At the time of his death, Ritter had completed filming the first three episodes of Season 2. The final episode he filmed aired a month after his death, and the storyline turned to depicting the family reckoning with his character's death. James Garner and David Spade were brought on to the series, and with a shortened "8 Simple Rules" moniker, the re-tooled show would go on for another season.
Redd Foxx
A comedy legend whose personality at times seemed too outsized to even fit on a television screen, Redd Foxx died in 1991 at the age of 68. At the time of his death, Foxx was filming a new sitcom called "The Royal Family," which had just begun its freshman season. Prior to the series, Foxx became a legend in the nightclub comedy circuit, and his famously foul-mouthed routines were effectively channeled into cantankerous junk man Fred Sanford in the Norman Lear sitcom "Sanford and Son," which ran from 1972 to 1979. Foxx had several failed sitcoms after the show concluded, and "The Royal Family" was seen at the time as a possible comeback vehicle.
The series had premiered in September, and Foxx collapsed on set during a rehearsal in October. He was rushed to the hospital, where he died of a heart attack. As Joshua Rich commented in Entertainment Weekly, "It was an end so ironic that for a brief moment cast mates figured Foxx — whose '70s TV character often faked coronaries — was kidding when he grabbed a chair and fell to the floor."
Following Foxx's death, "227" standout Jackée Harry joined the show as the eldest daughter in the family. By the time the new episodes with Harry aired months later, the ratings had gone weak, and CBS canceled the series before it could finish its first season. "You lose Redd Foxx and you're losing the heart of the show," said David Bushman, a television curator at the Museum of Television and Radio.
Martha Mansfield
Born in 1899, Martha Mansfield was a theater and silent film actress noted for her role as Millicent Carew in the 1920 film "Dr. Jekyll and Mr. Hyde," which also starred John Barrymore. She also starred with silent film stars Bela Lugosi in "Silent Command" and Rudolph Valentino in "His Wonderful Chance." Mansfield's death at the age of 24 is one of the strangest in Hollywood history, cutting short a promising career.
In 1923, Mansfield was playing the lead role in a Civil War film called "The Warrens of Virginia," which was shot in San Antonio, Texas. Mansfield plays a woman living in the south who falls in love with a Union soldier. One day in November, Mansfield was sitting in a car while taking a break from filming. When a smoking passerby threw a match in her direction, it "ignited her Civil War costume of billowing hoopskirts and flimsy ruffles," The New York Times reported. She was rushed to the hospital and died from severe burns the following day, on November 30, 1923. It was never discovered who threw the match in the car.
Despite Mansfield's death, the movie — which was written by the elder brother of filmmaking legend Cecil B. DeMille — was finished and released in 1924, with Mansfield's role significantly reduced and co-star Rosemary Hill promoted instead as the female lead. With no known surviving prints, "Warrens" has been deemed a "lost film" (one of many from the era), making her final performance something of a Hollywood mystery.
"It's difficult to tell what direction Martha Mansfield's career might have taken had she lived; not enough of her work survives to judge her talent," wrote Eve Golden in her 2001 book "Golden Images: 41 Essays on Silent Film Stars." "As it stands, Martha was part of that brief transition period between the becurled, girlish actresses of the 1910's and the sleek flappers of the late 1920s."