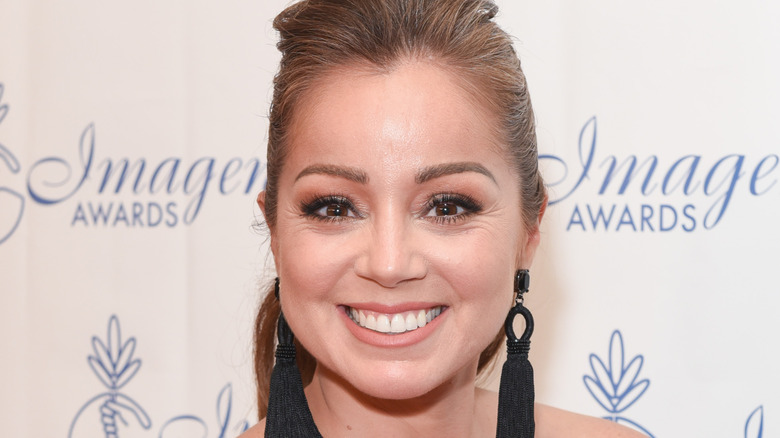 We may receive a commission on purchases made from links.
It is more likely than not that you are familiar with chef and author Marcela Valladolid. Her career has been a remarkable one. From architecture student to chef, from budding food editor at Bon Appétit to Food Network host, Valladolid never missed a beat. She clambered her way up the steep and seemingly unending mountain that constitutes a career in food media, and eventually, she found herself at the top — an international TV personality who has hosted and appeared on a wide range of established food programs. Outside of the studio, Valladolid has also found time to publish several well-received cookbooks, all of which champion her Mexican American culture.
Throughout her journey, Valladolid has been focused on educating people in the U.S. about Latin American food and celebrating all the different aspects of the heritage she is proud to represent. Despite the ups and downs, her passion for family, food, and culture shines through in every aspect of her career.
Marcela Valladolid's love for cooking was ignited by her aunt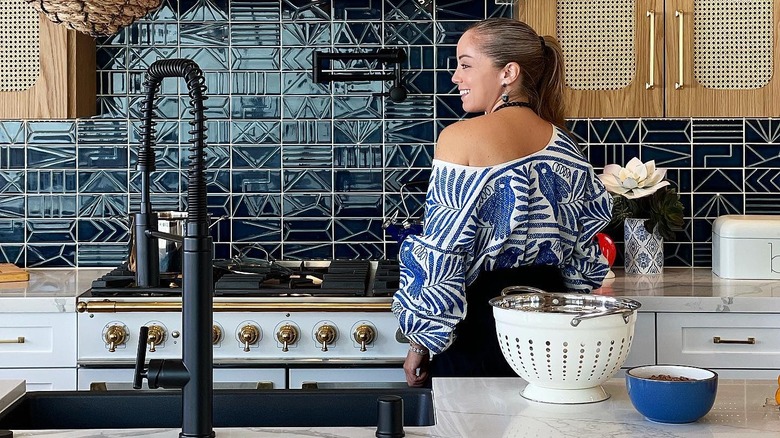 Born in 1978 among the sunny streets of San Diego, California, Marcela Valladolid might have had little inkling of how important food was going to be in her life. However, splitting her time as a child between San Diego and her family home, just across the border in Tijuana, Mexico, gave her ample opportunity to subconsciously delve into two distinct cultures and cuisines (via HuffPost).
During her childhood, Valladolid also discovered just how deep American stereotypes about Mexicans and their culture can run. Speaking to Parents Latina Magazine, Valladolid recalled her school friends coming to visit and saying "Oh my God, this is actually really beautiful. This is not like Taco Bell!" Perhaps unsurprisingly, experiences like this helped ignite a spark in Valladolid to dedicate her life to championing Mexican and Latino culture.
The other major influence on Valladolid's love of cooking is her aunt and namesake, Marcela Rodriquez. As Valladolid told Food & Wine, her aunt opened her own culinary school in Tijuana at just 26 years old. Her passion for food and for teaching caused Rodriguez's school to quickly grow. Along the way, she also managed to inspire her young niece to quit architecture school and pursue a culinary career.
She underwent extensive culinary training
A summer spent doing odd jobs around her aunt's kitchen gave Marcela Valladolid some rudimentary experience, while also developing her deep respect for Mexican cooking (via Food & Wine). Speaking to The Wall Street Journal, Valladolid fondly remembers one of the first dishes she cooked under her aunt's guidance. "I had to make poblano rice. Poblano is a Mexican chili, one of the less spicy chilies … All you have to do is put it over a gas flame and char it then you peel it and puree it and mix it up … It's absolutely amazing, really luxurious, and bright green."
After the summer in her aunt's kitchen, Valladolid was understandably hooked. Keen to continue her culinary journey, she enrolled at the Los Angeles Culinary Institute before moving to Paris where she graduated from the Ritz Escoffier School as a classically trained French pastry chef. Once back in Tijuana, Valladolid briefly ran a catering company while she continued to hone her skills and collect family recipes, unaware that her first big break was just around the corner (per San Diego Family).
She became a food editor at Bon Appétit at just 19
Bon Appétit stands as a leader in American food media with 6 million monthly readers and a social media following that tops out above 15 million across all platforms (per Condé Nast). Working for the publication would be a dream come true for many a writer, food stylist, and editor. This makes it all the more remarkable that Marcela Valladolid secured a job there as an editor and food stylist at just 19 years old when she was fresh out of culinary school (via The Wall Street Journal).
Valladolid worked at Bon Appétit for four years and has said it was "the best job" she ever had (via Wall Street Journal). Yet, her time there was not without its hiccups. Valladolid also recalled serving goat cheese to the senior editors that had been breaded and fried while still wrapped in its wax paper!
Marcella Valladolid has published five successful cookbooks
Marcela Valladolid's first cookbook, "Fresh Mexico," hit the shelves in 2009, and it set the tone for all others to come. Valladolid's mission was to teach Americans that Mexican food is so much different, and so much better, than the infamous Tex-Mex cuisine that so many confuse it for. It's a sentiment that has become immortalized in her famous line, "there's no yellow cheese in Mexico" (per Miami Herald).
At the same time, "Fresh Mexico" and Valladolid's more recent cookbooks have also made it apparent that her meals are not meant to be exact replications of Mexican classics. Valladolid's 2019 cookbook, "Fiestas: Tidbits, Margaritas, and More," epitomizes her more free-flowing attitude, with classic Mexican snacks and cocktails getting an American makeover, and vice versa. Speaking to Ranch & Coast, Valladolid explained how she approaches her cookbooks: "For the books, I just want people to connect with the ideas and stories, to find them not only delicious but accessible." Valladolid's most recent literary offering, "Cocinando on Cook Street," is perhaps her most ambitious to date, exploring the realm of children's bilingual cookbooks.
She taught zoom cooking classes during the pandemic
When coronavirus struck, many within the food industry were knocked sideways. Restaurants and cafes were forced to close, food supply chains fell apart, and many television productions were halted. All of this could have spelled disaster for someone like Marcela Valladolid, who relies on nearly all aspects of the food industry for her way of life.
But as the saying goes, necessity is the mother of invention, and Valladolid certainly did some creative inventing as the pandemic impacted her career. In partnership with her sister, Carina, Valladolid launched interactive cooking classes on Zoom, available to the public for around $30 a class. So far, every single one of the 26 classes they've hosted have sold out. In fact, the classes proved to be such a huge success that Valladolid decided to scrap the plant-based recipe book she was working on in favor of one inspired by this experience (per The New York Times).
As ever, the focus during these Zoom classes is on Mexican cooking. However, the sisters' informal approach to scripting and filming has allowed them to showcase other parts of their culture as well. This is perhaps the most rewarding aspect for Valladolid. She told Parents Latina Magazine, "I got so many messages that snowballed into everything that's happening now. And the feedback is still the same: How nice for us to be represented as Latinos in a way that's approachable and that recognizes our power and strength as a community."
Marcela Valladolid has appeared on several cooking shows
Undoubtedly, Marcela Valladolid owes a large part of her fame to the numerous TV shows she has competed on, hosted, and judged. One of her earliest appearances was in 2005 when Valladolid was a contestant on "The Apprentice: Martha Stewart" (per IMDb). Despite not winning the show, Valladolid still learned a lot from the experience. She told Forbes, "I learned from [Martha Stewart] that authenticity is key… She taught me that you can't fake being a master of your craft."
Taking this knowledge to heart has seemingly worked wonders for Valladolid, who's since appeared in many major TV productions. In 2013, she co-judged "The American Baking Competition" alongside Paul Hollywood. She's also made an appearance on numerous Food Network shows, including "Beat Bobby Flay," "Chopped," and "Guy's Grocery Games" (per IMDb). But ultimately, Valladolid is best known for co-hosting Food Network's "The Kitchen" from 2014 to 2017 (via Distractify).
Showcasing Mexican culture is Marcela Valladolid's mission
Marcela Valladolid's overarching mission as a chef and TV personality is to bring a greater understanding of Mexican culture and cuisine to America and the wider world. This is as true now as it was when she first got her big break at Bon Appétit. Speaking to Parents Latina Magazine, Valladolid made it clear that she has been proud of being Mexican her whole life. "When I was growing up, my family lived in Tijuana, where everyone was so proud of who they were, and being Mexican was the coolest thing," she said, adding that "Mexican culture is a bottomless Mary Poppins bag that you can pull magical things out of … My goal has always been to show that."
This pride is evidenced in the whole range of Valladolid's work: from her cookbooks, including her first bilingual children's cookbook, to her TV shows, "Relatos con Sabor," which aired on Discovery en Español, and Food Network's "Mexican Made Easy." At the end of the day, Valladolid counts herself as extremely lucky to get to do the work she does, saying to Parents Latina Magazine, "for me, being Mexican is the best thing you could ever be in the world. How great to be able to celebrate our heritage in the most fun, loud, and incredible way."
Marcela Valladolid hosted her own cooking show on Food Network
Marcela Valladolid has always been a woman with big dreams, but becoming Food Network's first Latina star may have been beyond what she could have ever imagined for herself. And yet, it came to pass in 2010, when she was named the host of her own cooking show on the network.
Like the rest of her work, "Mexican Made Easy" was another outlet for Valladolid to pursue her overarching goal of educating Americans about Mexico's culture. Just before the show's launch, Valladolid told San Diego's La Prensa, "My intention is to have the rest of the U.S. public learn what we know so well here in the border: Mexican food is far more than burritos and nachos that are simply fast food snacks. We have an array of dishes deeply rooted in our history and tradition and I want to show that."
Despite the show ending in 2013 after five seasons, Valladolid did manage to help wake up the American populace to the wonders of Mexican cuisine. Speaking to BELatina about her TV programs and other business ventures, Valladolid said, "I feel like I've obtained my goal to educate consumers on what Mexico brings to the world from an artisanal and culinary perspective."
She also co-hosted The Kitchen
"The Kitchen," Food Network's Emmy-nominated, cooking-themed talk show, has successfully cemented its place in the modern landscape of food media. Currently in its 29th season, this popular weekend show has boosted its already prominent hosts to superstardom and helped Food Network's ratings reach all-time highs (per Discovery). Exposure of this kind is a once-in-a-career opportunity, which made fans all the more perplexed when Marcela Valladolid announced her departure from "The Kitchen" in 2017, after co-hosting the show since its debut in 2014. Valladolid explained her exit in an Instagram post, saying it came down to her desire to spend more time with her family. "I'm a west coast gurl with a West coast family and it's time for me to be here," she wrote.
Undoubtedly, Valladolid takes her familial responsibilities seriously. She is a mother to three children and engaged to Philip Button, an entertainment executive (via People). However, there were other contributing factors that led Valladolid to cut nearly all professional ties with the Food Network. Speaking with Parents Latina Magazine, Valladolid cited a working environment at the network that didn't empower her to fully express her Mexican American personality and culture. "When you're with executives from the most powerful network on culinary TV, you don't think you can fight back on anything. It took me a really long time to find my voice," she said.
She maintains an organic vegetable garden
Despite all her books and television shows, Marcela Valladolid remains a chef above all else. Her love of food is evident for anyone to see, whether they're tuning in to one of her Zoom classes, or cooking one of her treasured Mexican recipes. And as with many true food lovers, Valladolid's passion goes all the way down the supply chain, straight to the fresh produce.
Valladolid's 1,400-square-foot fruit and vegetable garden in the backyard of her San Diego home is a testament to that passion … and her green thumb (via Ranch & Coast). Created by California Farm & Garden, Marcela Valladolid's leafy haven is centered around eight raised beds, growing staples like carrots and onions alongside products that originate south of the border, including chili peppers and epazote.
Valladolid wants to share her love of gardening and her focus on healthy, natural food with as many people as possible. In that effort, she also works with a local community garden and learning center, Olivewood, helping teach underprivileged children about healthy eating and the benefits of growing organic food (via San Diego Family).
Marcela Valladolid loves the city she grew up in
Marcela Valladolid is San Diegan through and through. She spent half her childhood there, attended school in the city, and has built her whole life among its famed beaches and parks. Speaking to Ranch & Coast, Valladolid put it simply: "I have everything I will ever desire in life here in San Diego."
As a bona fide food lover, a huge part of the city's attraction for Valladolid has been the excellent dining scene. As part of a promotional campaign run with the city of San Diego, Valladolid highlighted her love for the laid-back California style that characterizes many of her favorite restaurants, along with an emphasis on fresh ingredients. Some of her favorite authentic Mexican eateries include Aqui es Texcoco, Romesco, and Las Cuatro Milpas.
Outside of the culinary scene, San Diego still has plenty to offer Valladolid. Plus, it's only a 20-minute journey to her father's house in Tijuana, ensuring her children have ample opportunity to develop their Mexican identities naturally, something that's very important to Valladolid. She told Parents Latina Magazine, "I'm not trying to instill Mexican culture in my kids. We're living it because we love it … We have to eat tamales at Christmastime. Not because we're trying to show anybody anything, but because it's a part of who we are."
Family always comes first for Marcela Valladolid
Being a mother and a good role model to her three children is of the utmost importance to Marcela Valladolid. Speaking to People, the proudly independent and feminist Valladolid insisted that "the most important thing I can do for my children is to show women and men as equals … Philip and I both do the dishes. We both pay bills. We both work hard. The only limit to our dreams has to do with our own drive."
The ability to mix work and family seems to be Valladolid's determining factor when deciding the next steps to take with her career. Speaking exclusively to Mashed in 2021, Valladolid stated, "I have three kids and there's a lot of activity happening in my house … I'm very grateful I fortunately get to include my family in everything. They're in all my books, they're in all my shows, they're in all of everything." And while there has been the odd, unavoidable hiccup all parents can relate to, Valladolid says she is grateful for how becoming a mother has changed her. "When I didn't love myself enough to do the work, my love for my kids made me want to do it, and that's the power of parenting. My biggest growth has come because of them" (via People).