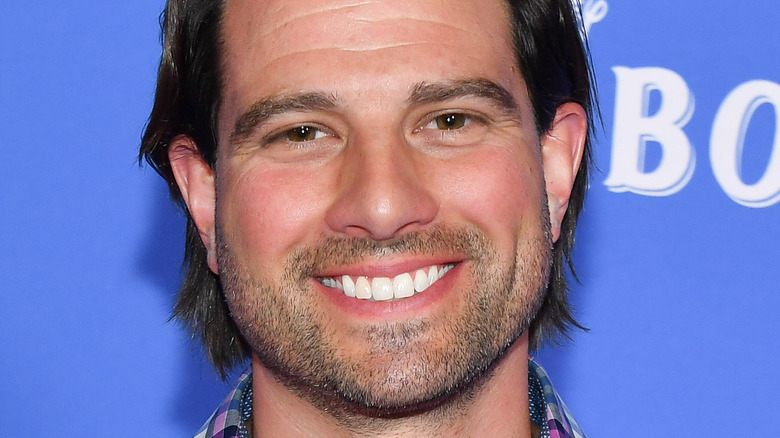 "Vacation House Rules," short for "Scott's Vacation House Rules," premiered on HGTV in summer 2020, a summer where everyone was likely spending much more time indoors than ever before due to the COVID-19 pandemic — likely dreaming of owning their own vacation paradise by the lake one day. In addition to the picturesque properties with majestic lakefront views, hunky host and real estate investor Scott McGillivray surely provides some additional eye candy for viewers. And luckily for fans, McGillivray and designer Debra Salmoni have a lot more vacation property transformations in store.
What makes this show, which was nominated for a 2021 Canadian Screen Award for Best Lifestyle Program or Series, unique from other HGTV series is its focus on vacation properties and on providing homeowners — and viewers — with knowledge and value to "unlock their vacation property's full rental potential," as noted by HGTV. In each episode, McGillivray gives "tips on how to transform the most neglected and unlivable of spaces into showstopping pieces of paradise." However, you probably have some questions, like where is "Vacation House Rules" filmed and where have we seen McGillivray before? So, follow along as we unlock the untold truth of HGTV's "Vacation House Rules."
This is where Vacation House Rules is filmed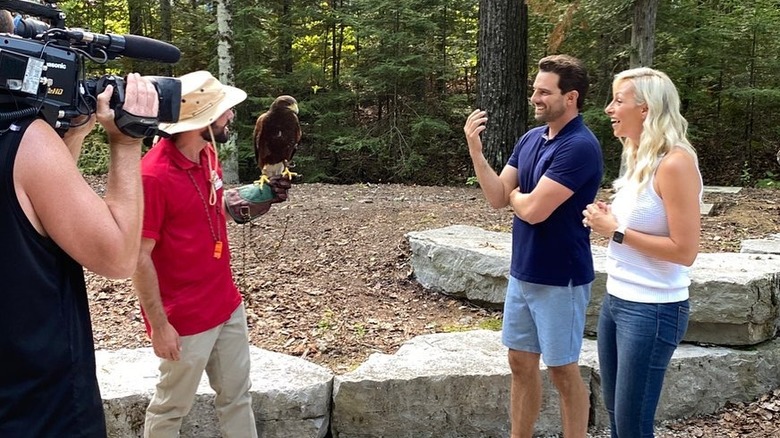 On some HGTV shows — take "House Hunters," for example — the city where the episode takes place is mentioned loud and clear. However, on "Vacation House Rules," the locale of each vacation retreat is a bit more of a mystery.
So, we've got the answer for you: "Vacation House Rules" is filmed in and around Ontario, Canada. Season 1 was filmed in Ontario locations like Haliburton Highlands, Muskoka, and Wasaga Beach, as noted by The Cinemaholic. For Season 2, host Scott McGillivray, designer Debra Salmoni, and the rest of the crew filmed in various spots around Southern Ontario: Trent Lakes, Trent Hills, Minden, Blue Mountain, Collingwood, and Kawartha Lakes. According to the Toronto Sun, the first episode of the season was shot in Trent Lakes, where the average rental property goes for $300 a night — which means that these vacation property owners can make a pretty penny with the right investment.
Host Scott McGillivray is no stranger to HGTV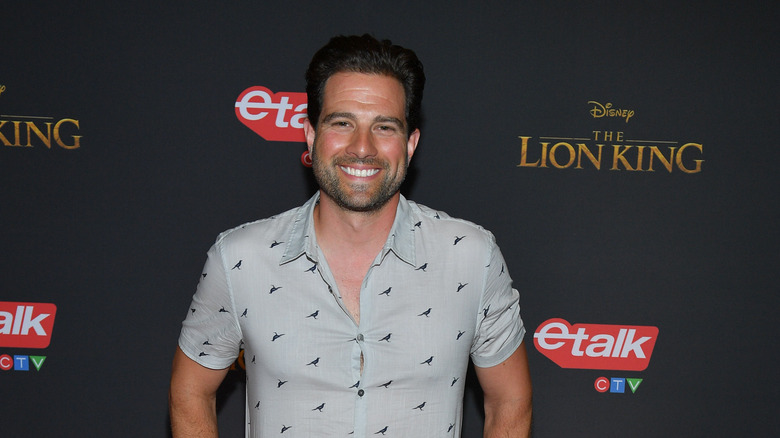 If you're watching "Vacation House Rules" on HGTV thinking that host Scott McGillivray looks familiar — that's because he should. After all, McGillivray is no HGTV newbie. He's been an HGTV mainstay — both in Canada and the U.S. — since 2008, starting with the long-running series "Income Property," for which he also served as executive producer. An accomplished real estate investor, McGillivray helped first-time homebuyers on "Income Property" turn part of their home into an income-generating rental property. In 2013, the series won a Canadian Screen Award for Best Lifestyle Program.
"Income Property" isn't McGillivray's only previous HGTV series. On "Buyers Bootcamp," McGillivray worked with rookie real estate investors to help them renovate their first property and make a profit, while learning all the ins and outs of the process (similar to "Flipping 101" with Tarek El Moussa). Then there was "Moving the McGillivrays," a 10-episode HGTV Canada series, which introduced viewers to McGillivray's wife and two young daughters as they "build their dream home together."
How McGillivray got started in real estate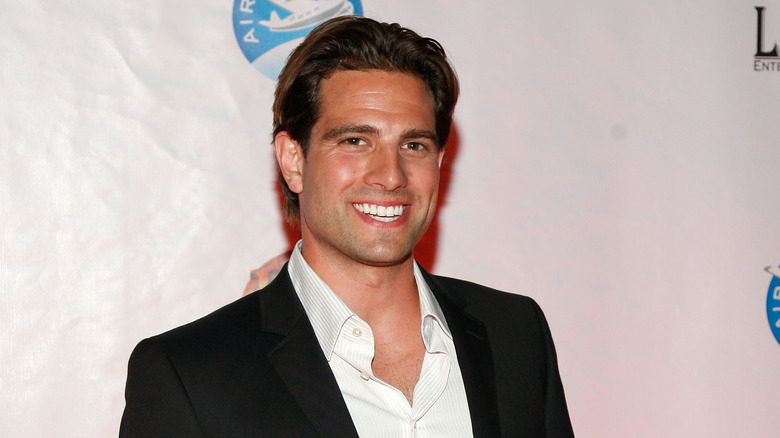 Although Scott McGillivray, host of "Vacation House Rules," has been an HGTV mainstay for some time, his career in real estate and construction goes back much further. In fact, it seems his interest stems back to his childhood, where he watched his father get hands-on around the house. "I've always been into it," he told Remodeling of his early interest in the industry. "Even as a kid, I was into woodworking, carpentry, building furniture just as a hobby."
However, it wasn't until college that his personal interest began to shift toward a potential career. The business major bought his first rental property during his third year of college — with the help of his student loan money — when he was both looking for a new place to live and a potential topic for his thesis project. "I fell in love with real estate renovations," McGillivray explained in an interview with Hoss Magazine. "I became a licensed contractor when I was 26," he said, adding that he owned 25 properties by age 25. "That was like a big milestone for me," he added.
McGillivray's television career was prompted by a friend's suggestion — and he didn't stop there. Today, he owns his own production company, McGillivray Entertainment Media. McGillivray has surely come a long way since buying that first property in college.
Vacation House Rules' Debra Salmoni has her own design firm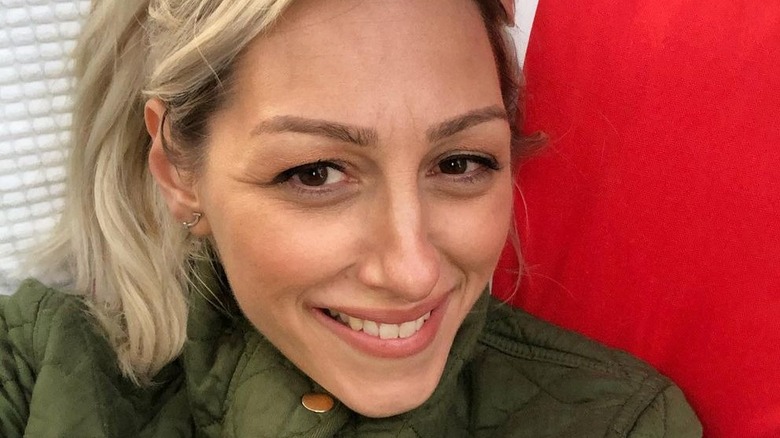 On "Vacation House Rules," Scott McGillivray leads each vacation home renovation — with a little help from designer Debra Salmoni. So, who exactly is McGillivray's designer sidekick?
According to her LinkedIn page, Salmoni is the "Owner & Lead Designer" of her own design firm, Debra Lillian Design, which emphasizes "luxurious, approachable designs for everyday living." From the looks of her website, Salmoni prefers minimalistic looks that deliver high impact.
Notably, Salmoni shows off her design on her Instagram page. In an Instagram post, she shared a beautiful finished bathroom design for one of her clients. She described the design — which featured a luxurious marble shower and a contrasting wood-grain feature wall — as having "many layers, subtle details and custom pieces." For fans who want to work with the "Vacation House Rules" star, she offers a form on her website to get in contact with her.
Love the show? Get more tips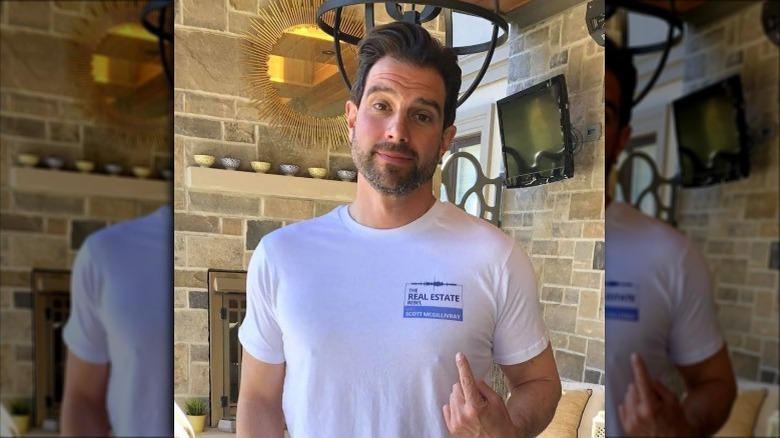 For "Vacation House Rules" star Scott McGillivray, it's all about the education and value he can provide to both his clients and his TV viewers. "I actually do try to give people value to the show," he told Remodeling. "When you're watching the show and you're not getting value, what's the point?"
To that end, the value that McGillivray provides doesn't end with his clients. He offers a wealth of tips on how to make decisions that generate the best return on your investment. Of course, his HGTV show "Vacation House Rules" includes his tried-and-true tips. But there's a lot more where that comes from. There's his blog, available on his website, that includes helpful articles, such as "5 Questions to Ask Yourself Before You Buy a Vacation Home." Then there's his podcast, "The Real Estate Rebel," where "Scott and his expert guests cover everything buyers, sellers and investors need to know about navigating today's market," as noted by the podcast's homepage on McGillivray's website. And, if that's not enough for you, you can also tune into McGillivray's digital series, "Scott's House Call," where he meets with individuals to help them with a specific real estate or business issue in exchange for homemade food. Nice!
Vacation House Rules doesn't shy away from a little DIY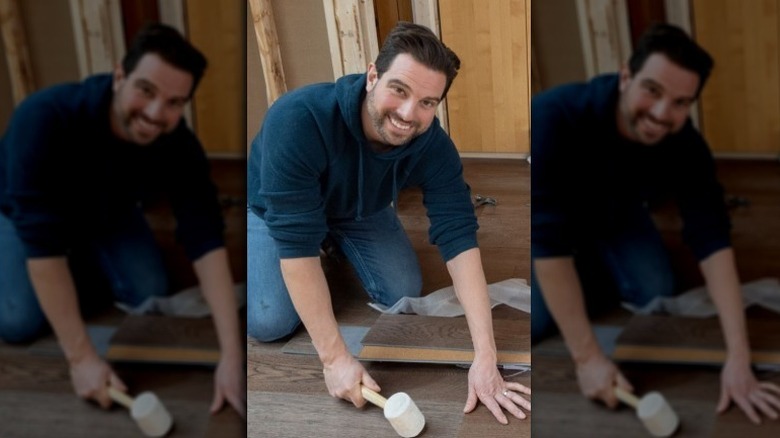 We already pointed out that "Vacation House Rules" star Scott McGillivray first started getting his hands dirty while growing up, doing everything from woodworking to building furniture. So, although he's heavy on the real estate investment side of things, he's really a Jack of all trades. He doesn't just hire contractors to do the work — he does a good amount of it himself.
If you've seen "Vacation House Rules," you probably know that McGillivray sometimes likes to incorporate his own DIY projects. For example, on the Season 2 premiere episode of the series, titled "Family Funhouse," he incorporated a 3D wall composed of blocks of wood to add a big impact without making a huge investment. "It's something that's going to grab your attention when you turn the corner, and it's also kind of family-friendly," the real estate influencer shared with Realtor.com. Further explaining his reasoning for the unique piece, he said, "It's an interesting feature that pays tribute to the wood and the nature of things that are going on here," adding, "But at the same time, it's got the intentional different angles and chunkiness to it that draw your attention."
How McGillivray contributed his musical talents to Vacation House Rules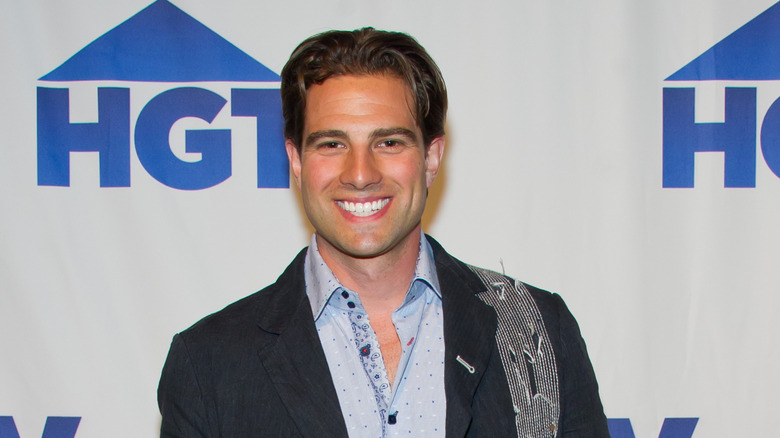 Have you ever wondered what Scott McGillivray was doing before the fame? Apparently, while "Vacation House Rules" star Scott McGillivray became a real estate investor in his 20s, as noted by Hoss Magazine, that's not all he was doing. Around the same time, he was also in a boy band called Next Element! Yes, back in the day, McGillivray was trying to make it with a boy group, and he even rocked the Justin Timberlake-esque bleached-blond curls!
So it would make sense that McGillivray might try to use his musical talents in other areas of his life. It turns out that McGillivray sings the theme song to "Vacation House Rules"! "During post-production, I started picking up my guitar and I started thinking about some music stuff and came up with the theme song for the show," he said during an interview with DJs Roz and Mocha on radio station KISS 92.5 FM. The DJs then played a clip of the song called "Payday," and we have to admit — he sounds great!
Speaking with Breakfast Television in an interview that's since been removed from the site, McGillivray added another interesting tidbit: He anonymously submitted the theme song to HGTV — and they chose his for the show!
McGillivray owns property near one of the show's shooting locations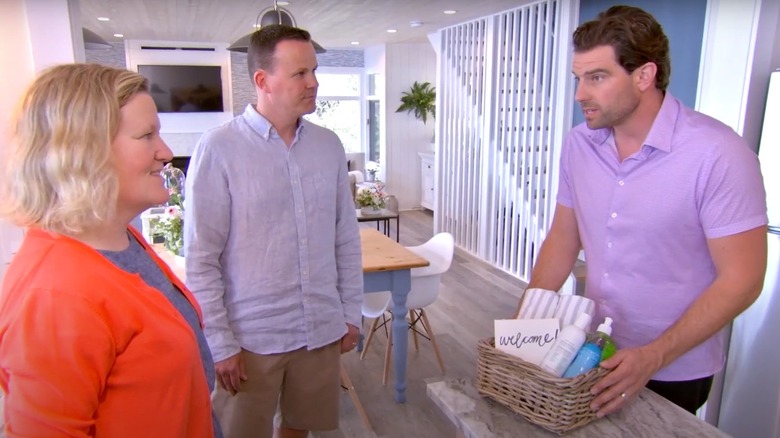 With his years of real estate experience, "Vacation House Rules" star Scott McGillivray enjoys helping his clients renovate their vacation properties and setting them up for financial success. However, McGillivray can even relate to his clients on another level — he actually owns his own property near one of the show's shooting locations: Kawartha Lakes, Ontario, Canada. "It's nice to stay close to where I am doing properties," he said in an interview with The Highlander. "It's a beautiful area. I think it's underestimated. There's a lot of potential here for growth. Some other areas are just saturated and overdone and it's maybe not quite as difficult to get into."
However, the real estate investor, who is one of the richest HGTV stars, doesn't have only one property. McGillivray and his wife and daughters split their time between their main home in Ontario and another home in Fort Myers, Florida, as noted by Good Housekeeping.
The cast and crew support the local communities where they shoot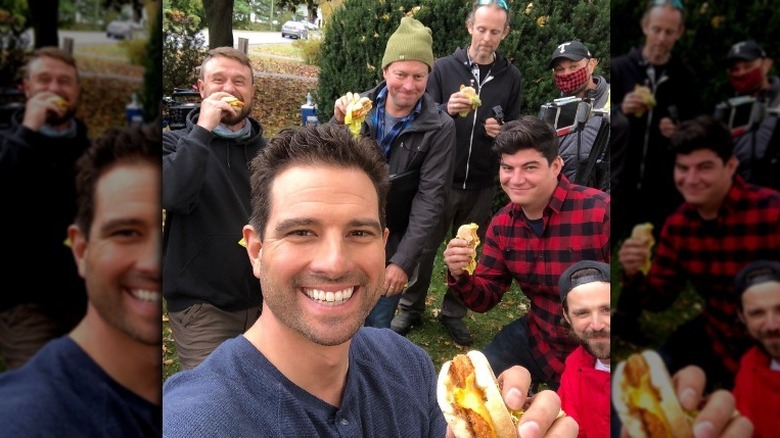 We know that Scott McGillivray has a personal appreciation for the Ontario, Canada vacation towns where he and his crew film their hit HGTV show "Vacation House Rules," so it comes as no surprise that he and his team find pleasure in supporting the local communities. "We're here to support the local community, be balanced with what we do and be respectful about it and find affordable ways for people to have a slice of that dream, too, that other people get to live all the time," he explained to The Highlander, adding, "We're not a show that goes in and says, 'Let's tear this down and build something that's a 100,000-square-foot mega mansion.' Our show is way more grassroots than that."
Adding to these "grassroots" efforts, it's clear that McGillivray goes out of his way to help others. On Instagram in October 2020, he reflected on a meaningful project he undertook with his HGTV family. "Once upon a time, before social distancing," he captioned the video, "this gang got together to help some seriously deserving families!"
In the end, it's all about the people McGillivray meets and the effect that his work has on people's lives, as he shared with The Highlander. According to The Haliburton County Echo, McGillivray does his best to ensure that the viewers learn just as much as his lucky clients.
McGillivray and Salmoni's off-camera relationship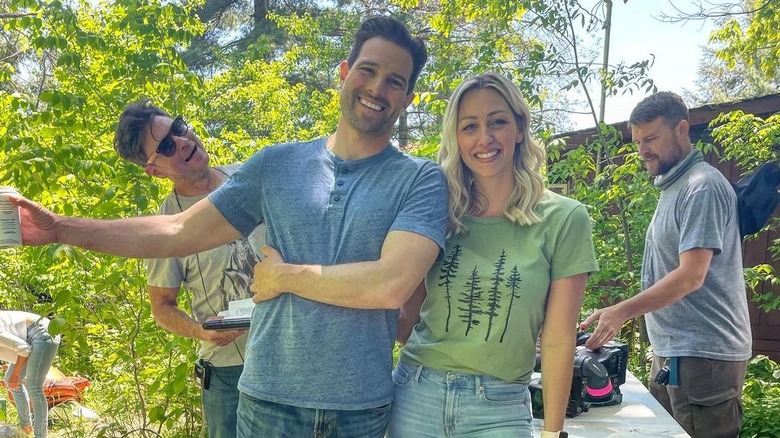 If you've seen episodes of "Vacation House Rules," it's clear that host Scott McGillivray and his designer partner, Debra Salmoni, get along really well. Their natural on-air chemistry together is super enjoyable to watch. So, what's their relationship like off camera?
Well, it turns out that McGillivray and Salmoni are close friends both on and off camera. Salmoni shared a photo of the two of them on Instagram with the caption, "Nothing like hanging with your pal, and having a few laughs. Over the last few years, me and this guy [have made] TV together, but more importantly, have become great friends." Also, in an Instagram post the following year, Salmoni posed alongside McGillivray and captioned the photo, "Got to hang out with one of my favourite pals today! Haven't seen this fella or our fabulous crew in a month!!" She even referred to McGillivray using the nickname "Scotty."
Salmoni also appears to be close with the rest of the "Vacation House Rules" crew. In another Instagram post, she wrote, "Hilariously fun day on set today! Such a pleasure working with this lovely crew." Aw, sure sounds like a fun show to work for!
How you and your vacation home can appear on Vacation House Rules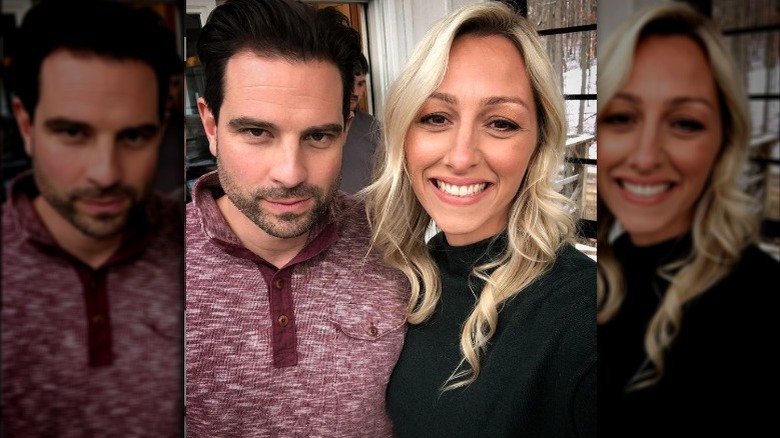 If you've watched "Vacation House Rules" and wondered how you could get your own vacation property featured on the show — that is, if you're lucky enough to have one — we have all the info for you. Just go to the official website for the show, and fill out the casting registration form.
However, first you should find out if you're eligible to appear on the show. In order to be considered, you must own an Ontario, Canada-based vacation property, and you must have at least $75,000 of your own money to put toward a renovation. In addition, you've got to have some time on your hands: You'll need to be available at least five or six days during the renovation period, which takes up to 10 weeks. Lastly, you need that special HGTV charisma; the production team seeks people who are "fun, outgoing, and super passionate about real estate investing."
The application form also asks for photos of yourself and your partner and/or family, as well as pics of both the inside and outside of the property.
The pandemic's impact on Vacation House Rules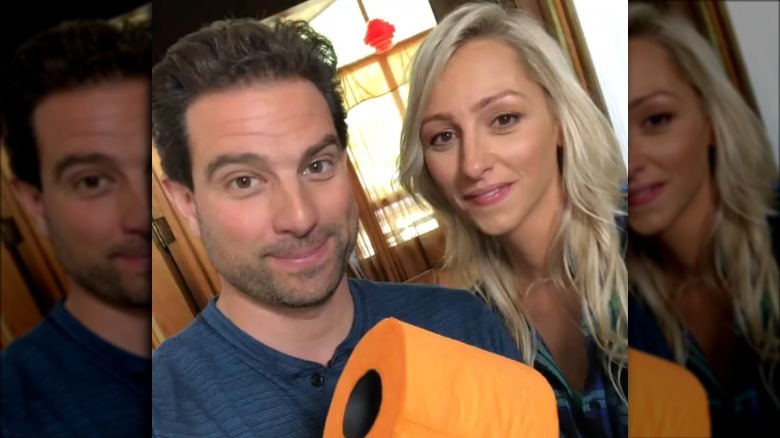 The COVID-19 pandemic of 2020 obviously had a major effect on the entire world. In an interview with The Highlander, Scott McGillivray shared how the pandemic threw the "Vacation House Rules" crew "some curveballs," such as filming outdoors during the winter and sleeping in tents. "Boy, was it cold," he recalled. "As a team it has been hard, working harder to make everything work, and fewer people doing more work."
Always one to keep it real, McGillivray took to Instagram in October 2020 to share his experience getting a COVID-19 test — noting that the uncomfortable experience made his eyes water. So, if you've had that long Q-tip stuck up your nose, know that even your favorite HGTV stars had to do it, too.
However, despite the constraints of the pandemic, McGillivray has seen firsthand that not only are "people really [refocusing] on what is truly important and meaningful in their lives," but also that the vacation rental industry is back in a big way. "Not only are people vacationing closer to home," he explained to the Toronto Star, "but work-from-home culture has proven that you don't need to be in the city to do your job. More and more people are working remotely from the cottage."
Imagine that: working from "home" in your very own, newly-transformed vacation getaway. One can only dream, right?
The series features products from local Canadian designers and manufacturers
We already shared that the "Vacation House Rules" cast and crew support the local communities where they shoot. In fact, this even includes local designers and manufacturers. While many HGTV shows regularly feature call-outs to Wayfair, "Vacation House Rules" incorporates materials and decor from locally-owned Canadian businesses.
For example, designer Kate Golding noted on her website that the HGTV series featured one of her designs in an episode. "Huge thanks to Scott McGillivray and Debra Salmoni for featuring my Ontario wallpaper in the Malibu Beach House episode of HGTV['s] 'Scott's Vacation House Rules,'" the designer wrote. "I loved the beautiful renovation of this charming cottage!" From a quick look around Golding's website, it's obvious why the team selected one of her designs: the designer has Canadian-themed collections, like her Prince Edward County collection, which shares "the joy she feels in this magical part of Ontario through this collection of designs" featuring Canadian motifs, from animals and nature to architecture and boats.
The same episode features a "custom retractable awning" from ShadeFX, a manufacturer of outdoor structures and retractable and freestanding canopies and roofs. The manufacturer's website noted that "Scott transforms the [property's outdoor] space by adding a large dining and barbeque area and an outdoor lounge." Framing the space is a pergola enhanced by "the addition of two retractable canopies" from ShadeFX's showroom, which McGillivray demonstrates in the episode. Super cool!
How you can stay in a vacation property featured on Vacation House Rules
If you're like us, you probably watch "Vacation House Rules" and dream of owning your own vacation house rental — or, at least, staying in one of the show's properties.
Well, we spotted one of them available! In Season 1, Episode 6, entitled "Carriage House" (airing on HGTV Canada on May 31, 2020, per IMDb), Scott McGillivray, designer Debra Salmoni, and the crew renovated a property in Prince Edward, Ontario, Canada, owned by couple Laura and Dale. The final reveal showcased the gorgeous wide-plank hardwood flooring, vibrant paint colors, and black-and-white granite kitchen countertop, which serves as a partial backsplash above the stove — not to mention the bathroom, featuring the same flooring (heated, no less), along with wood cabinets and black and gold accents.
The highly-rated Airbnb listing — which received 54 dazzling reviews — encourages guests to "live like a local and enjoy all the convenience of downtown village life, with no driving necessary, in this leafy setting overlooking the park." Along with outdoor patio, tennis courts, and children's playground, the space is described as a "year round luxury 2 bedroom suite" within an "[1800s] Carriage House fully updated with stylish modern conveniences." Interestingly, we spotted some changes from the show's reveal: namely, newly white paint covering the formerly green walls and the stone surrounding the fireplace.
What's not included? The man behind the renovation: McGillivray, himself. One can only wish.
McGillivray and Salmoni started filming Season 3 before Season 2 ended
We were all super excited when HGTV renewed "Vacation House Rules" for a second season of 13 episodes. While we, of course, wanted a third season, too, fans may have been surprised that the cast and crew started filming it before HGTV officially renewed the show again. From a peek at the social media pages of show stars Scott McGillivray and Debra Salmoni, it looks like filming began in the summer of 2021 — while the second season of the show, whose third season had been confirmed by HGTV Canada, was still airing!
On August 21, 2021, McGillivray shared to Instagram an adorable photo of himself and his wife, Sabrina, with one of their two daughters holding up a microphone while the other appears to capture them on camera. And the photo contained a couple clues about the episode they were filming — like the colorful signs labeled "Beach," "Beach House," and "Sauna" strewn about. But the true reveal was in the caption, which read, "It's a family business! #season3spoileralert."
One Instagram post from McGillivray's designer partner Salmoni, however, seemed to leave nothing up to the imagination. On August 5, 2021, she posted a photo of herself and her co-star (with water in the background, we might add), writing, "Shooting season 3 with this fella. We have some incredible transformations well underway," along with a hammer emoji.
Season 3 is the 'biggest season' of Vacation House Rules
Season 3 of "Vacation House Rules" premiered Friday, April 15, on HGTV. Scott McGillivray and his design partner, Debra Salmoni, are back for another season of vacation house remodels, which all follow McGillivray's tried-and-true set of rules. So what can viewers expect this time around?
According to McGillivray, this season will be their "biggest" yet – with 12 episodes and remodels – as he shared with Entertainment Tonight Canada. "It's the most episodes we've ever done," he said, "and it's the biggest projects that we've ever taken on during one of the most challenging times, of course." McGillivray is clearly referring to filming this entire season in the midst of the COVID-19 pandemic. "But," he added, "I'm excited because people are getting great ideas, they're being inspired, [getting] real solutions to being able to acquire dream vacation properties and a way to afford it as well."
Scott McGillivray and his family take on their own vacation home remodel in Season 3
Fans of "Vacation House Rules" are in for a treat. Not only has Season 3 of the HGTV summertime series arrived, but along with the new season comes star Scott McGillivray's own vacation house remodel! Yes, the host is renovating his own vacation property — along with his family, including wife Sabrina and daughters Myah and Layla — in a separate four-part HGTV special this season called "Scott's Own Vacation House."
In an interview with Entertainment Tonight Canada, McGillivray divulged more details about the project, including how it came about. And, as it turns out, it was not at all intentional. "This is a bit of a happy accident to be honest," he revealed. While filming the third season, he discovered a property, which was described as "a huge project that someone could really take advantage of." The project was so massive, in fact, that, according to McGillivray, it was obvious why no one had taken on the challenge. So, he decided to take it on himself, saying with a chuckle, "Well, I like taking on big and difficult things."
What's it like for McGillivray having his daughters involved? "Getting my kids involved was important to me," he said. "They're at that age when they ask a million questions. And they're interested, so I want to nurture that interest in what I do." Who knows? Maybe they'll even have their own show one day!