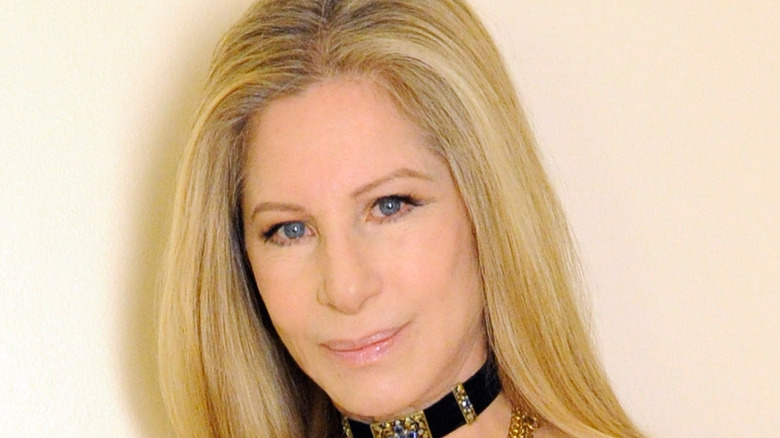 Barbra Streisand was always destined to be a huge star. She knew she had "the voice," as Oprah Winfrey once called it, when she was as young as 5 or 6, and she went on to star in multiple Broadway shows and movies, as well as direct, produce, and write. In addition to reprising her stage role of Fanny Brice in the 1968 film adaptation of "Funny Girl," Streisand has worked on such huge film projects as the 1976 "A Star Is Born" remake and 1983's "Yentl," has released a jaw-dropping number of albums, culminating with "Walls" in 2018 (at least, at the time of this writing), and has long enjoyed one of the most loyal fanbases in the world. Not to mention, Streisand and husband James Brolin have boasted one of Hollywood's most enduring marriages since 1998.
Basically? On paper, it seems as though Barbra Streisand has it all. But while she's nothing short of a legend, the path to success (and happiness) has been far from easy for the multi-talented star. She came from humble beginnings, and tragedy struck her family when she was still a baby. From there, the singer-actor has overcome many obstacles in both her professional and personal lives — and often reflects on these obstacles in high-profile interviews, speaking candidly about her identity, career, family, and relationships.
Here are some of the more difficult life events that have made Barbra Streisand who she is today.
Barbra Streisand's dad died when she was a year old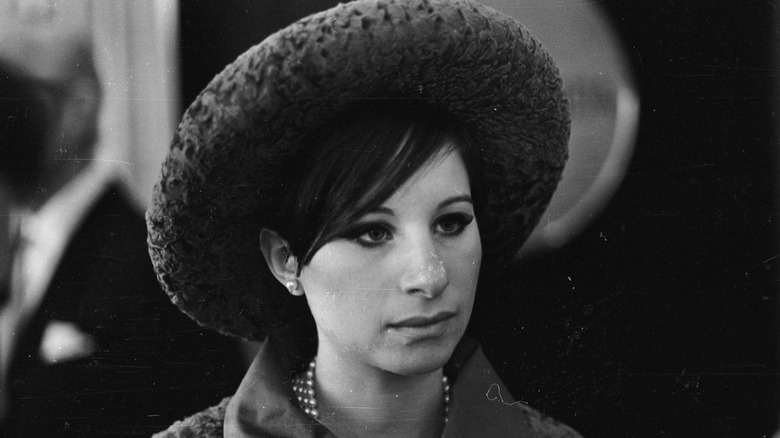 Barbra Streisand's scholarly father, Emanuel Streisand, died at just 35 years old, when the future star was 15 months old. For a long time, Barbra's mother, Diana, told her and her brother, Sheldon, that Emanuel had died from working too much, which led to a cerebral hemorrhage. In reality, he suffered "respiratory failure probably induced when morphine was injected into his neck to halt an epileptic fit," according to People.
Emanuel's untimely death understandably left a gaping hole in Barbra and her family's lives. "I always felt I never had a father," she told People in 1983. "There wasn't even a picture of us together. Only his books down in the cellar, tied up with string." This fact made Barbra Streisand stand out among her peers.
"I was known as the kid who had a good voice and no father," she once explained to Oprah Winfrey. But just because Emanuel wasn't physically present throughout his famous daughter's life doesn't mean he didn't influence her. Revealing to Winfrey that she visited a medium, who claimed to be able to "call up" their father, on her brother's suggestion, Streisand said, "For 39 years, I hadn't even visited my father's grave. So first, I went there and took a picture with my arm around his tombstone. It's the only picture I have with him. Then we met with the woman, and let me tell you, the table moved." Feeling "totally connected" to her father, the experience led Streisand to take the plunge and direct her movie, "Yentl."
Her mom became distant after the death of Barbra Streisand's father
After her husband died, Diana Streisand Kind — Barbra Streisand's mom — pretty much checked out from her family. "Emotionally my mother left me at the same time — she was in her own trauma," Barbra told People. Speaking to the Daily Mail, she further described her mother's mental health by saying, "Prozac dulls your senses. When my mother was on it she forgot to be angry. She had dementia as well and she forgot that she was always very angry, but that pill really helped."
Still, Barbra doesn't resent her mother, who she understands was unhappy. "I think there are parents who don't really like themselves," she said to the Daily Mail. "They don't like their offspring either. My mother meant well. And she never hugged me or said, 'I love you.' I'm more of a toucher than my mother." Instead of being overtly affectionate, Diana used food to establish a connection with her daughter. As "The Way We Were" star explained to Oprah Winfrey, "For her, love was food. When I graduated early from high school and moved out of the house at 16 to study acting, she would schlep to my place to bring me half a cantaloupe and some chicken soup."
Diana Streisand Kind died in 2002 at the age of 93 in Los Angeles, according to the AP. At the time, Barbra Streisand's publicist stated, "The daughter of a cantor, she had a beautiful singing voice, a legacy passed on to her daughters."
If you or someone you know is struggling with mental health, please contact the Crisis Text Line by texting HOME to 741741, call the National Alliance on Mental Illness helpline at 1-800-950-NAMI (6264), or visit the National Institute of Mental Health website.