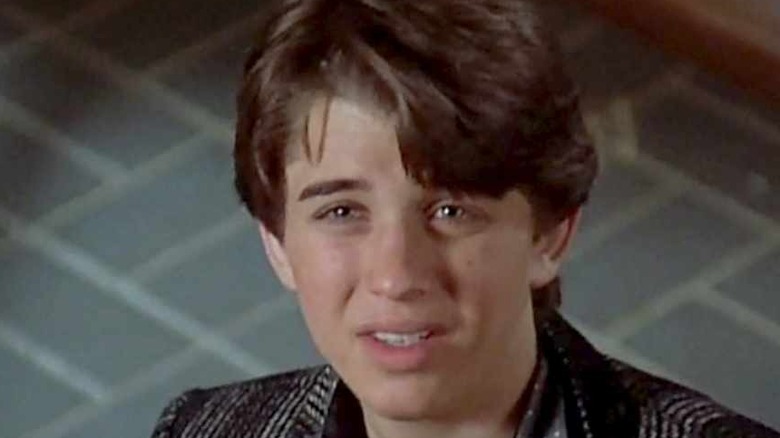 Ilan Mitchell-Smith was a young ballet dancer who lucked into acting, landing his first role as the younger version of Timothy Hutton's title character "Daniel" in the 1983 Sidney Lumet film. Acting lessons followed (alongside Grace Jones), and two years later he co-starred with another actor from his high school who would become a mentor, Anthony Michael Hall (who earned twice as much as him), strapping bras to their heads, creating super sexy Lisa (Kelly LeBrock) from a floppy-disc'd computer, steering clear of his jerk of an older brother Chet (Bill Paxton) and living large as Wyatt Donnelly in one of the more wild John Hughes films that ever was; thereafter, Mitchell-Smith became known as "the other one from 'Weird Science.'"
While he had a great time in his early Hollywood career — gracing pages of endless teen mags, watching rough cuts of "The Breakfast Club" with kindred-spirited nerd Hughes, being escorted to his premiere by Yasmine Bleeth, flirting with Lea Thompson, taking mushrooms with Robert Downey, Jr., and even attacking Universal Studios Tour trams with Eric Stoltz in full Marty McFly regalia (before Michael J. Fox replaced him) — he came to a fork in the road and decided to leave the shine of the spotlight for the shine of armor.
Ilan [pronounced 'Ee-lahn'] Mitchell-Smith is definitely that other guy from "Weird Science," but also much more than that: The self-professed nerd is a professor, a scholar, a writer, a gamer, and a family man. He may have run from the film industry, but he surely hasn't run away from his past. He appreciates '80s nostalgia and understands his place in it, and even takes time to meet with fans who just want to ask him (for the zillionth time) what it was like to shower and to kiss Kelly LeBrock ("the bitter truth of it is that was not really an erotic experience for anybody involved.")
Let's put aside the "sex, drugs, rock-n-roll … chips, dips, chains, whips" and see whatever happened to Ilan Mitchell-Smith from "Weird Science."
The Show Must Go On
Mitchell-Smith "was always a little bit stressed" about landing his next role, but found "Weird Science" to be "a resume builder that I could be proud of." In an interview with Rediscover the '80s, he revealed he got callbacks on "Bill & Ted's Excellent Adventure," lost out to Zach Galligan and Patrick Dempsey for numerous parts, and on bad advice from his agent, turned down a small part in "Say Anything."
What he did do after "Science" was an episode of "The Equalizer," "Journey to the Center of The Earth," and work with Melvin and Mario Van Peebles on "Identity Crisis" (Melvin at first didn't like him, but came around, thought he did an "excellent job" and was "loads of fun" as a person). "Of all of the work that I did," Mitchell-Smith said in 2017, "working on The 'Chocolate War' was by far my favorite experience." The 1988 underrated cult-classic Keith Gordon film is based on the 1974 Robert Cormier novel, about the peer pressures at a Catholic school by a secret society; it earned praise for Mitchell-Smith, who plays the non-conforming protagonist Jerry Renault, with the L.A. Times singling out his "beautifully detailed performance."
He earned a steady paycheck playing Clark Kent's buddy Andy McAlister on the TV series "Superboy," which gave him financial stability, should he change his mind on further pursuing a career as an actor.
Final Act
Things came to a head when Mitchell-Smith guest-starred on the early USA Network series "Silk Stalkings" playing a rapist, an experience he does not remember fondly.
'[The show] was hideous," he told the Austin Chronicle in 2002. "And so when I found myself guest-starring on that as the rapist (and the most likable guy on the show), it made me think, 'This is where I'm probably going to be.' I never had any real celebrity, but my career will be just getting by like this."
In 2015, he added that at the time, he "had already gotten used to the idea of never being a millionaire," and realized that there weren't going to be many roles for "a skinny geeky kid with a high voice." In 2014 he said in a YouTube interview, "there's a difference between being a working actor in Hollywood, who is an adult man, and being a kid who got lucky. I was happy and lucky to be a kid who happened into acting. I got more jobs than most people do. And I was really happy to do that."