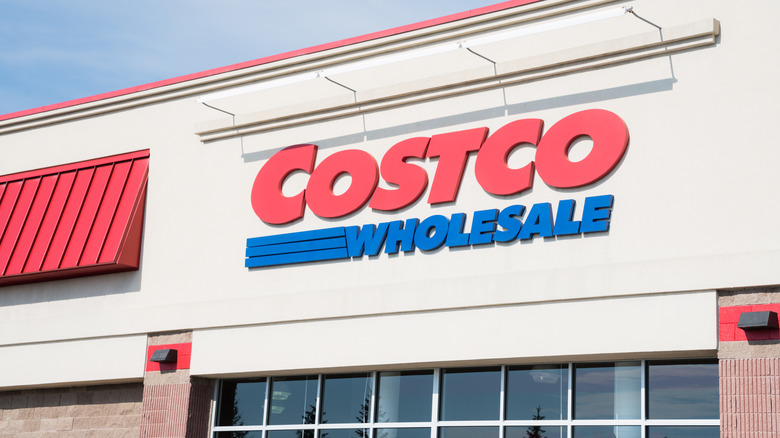 If you're struggling with an ever-growing cost of living, you're not alone. According to CNBC, 64% of Americans are currently living paycheck-to-paycheck, making it important to stretch your dollar whenever possible. Although it costs more to shop in bulk upfront, Costco's famously low prices can be an excellent strategy to maximize how far your money goes if you are financially able to shop there. To sweeten the deal, members get access to a range of discounted services including cheaper tire changes, affordable eye exams, and even comprehensive insurance plans (though offerings vary from location to location).
However, you'll need to buy an annual membership before you can make any purchases from the store or access its services. Since the retailer offers two membership tiers (and one comes with rebates), it can be confusing to determine just how much you'll need to spend before joining Costco — and how much you'll save by the end of the year.
How much does a Costco membership cost?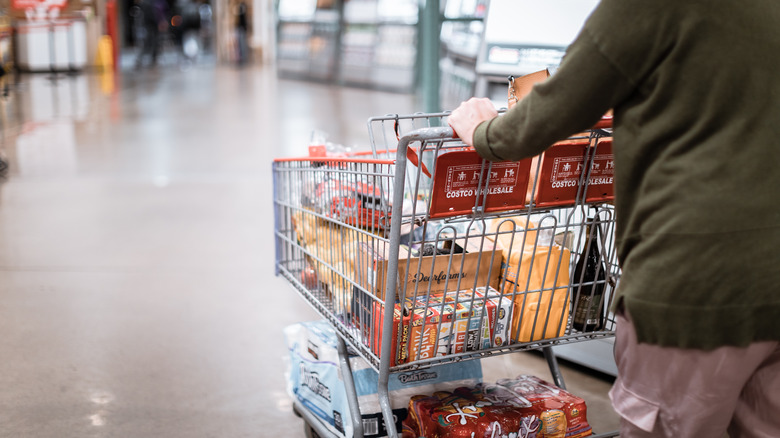 Costco has two membership levels: Executive and Gold Star. Although an Executive membership is more expensive than its Gold Star counterpart, you'll also earn more rewards and may end up saving money in the long run. In the United States, Costco's Executive level membership costs $120/year while the Gold Star membership costs $60/year, per Costco. Although membership prices may vary across different countries, members are able to shop at any Costco location in the world.
On that note, if you're planning a trip soon and mainly plan on buying Costco's products (as opposed to accessing their services), you may wish to see if membership is cheaper at your destination. For example, Canadian Costco memberships cost the same dollar amount as their American counterparts despite the fact that the Canadian dollar is lower than the American dollar. However, it's important to note that although you'll still have access to American warehouses and most services (such as tire changes, eye exams, and so on), you may not be able to access Costco USA's insurance offerings or other similar services.
What's the difference between Costco's Executive and Gold Star membership levels?
While both the Gold Star and Executive membership levels provide two membership cards that let you and a household member shop at Costco in-stores and online, the Executive membership comes with a wide range of additional perks. Executive members are subscribed to the retailer's monthly "Costco Connection" magazine and receive discounts on many Costco services, as noted by Costco. However, the most notable perk is the Executive level's 2% cash back (up to $1,000), which may even pay for your membership.
It's important to note that some items (i.e. stamps, tobacco, alcohol in certain states) do not qualify for cash back (via Costco Customer Service). However, the majority of purchases do qualify, allowing your rebates to quickly add up. If you're on the fence about getting a Costco membership, it's worth noting that both the Gold Star and Executive memberships come with a 100% satisfaction guarantee. This allows you to cancel your membership and receive a refund at any time.
Should you buy an Executive or Gold Star Costco membership?
Although Costco's Executive membership is more expensive upfront, it may also be the cheaper option in the long run, according to Costco. If you spend $3,000 per year in the store, you'll earn the $60 difference in membership fees as a cash back rebate. Plus, you will still have access the Executive level's additional perks. While $3,000 per year is a lot of money, it works out to $250 per month or around $58 per week. If you get the majority of your groceries at Costco, you will likely be able to hit this threshold (especially if you shop for an entire family).
If you plan on spending less than $3,000 per year at Costco, the Executive membership's discounts may still make the higher tier worth it. In particular, the discount on services can save you quite a bit on car repair fees. Since services vary across Costco locations (via Costco Services), consider asking your closest store about the discounts and services that they offer.