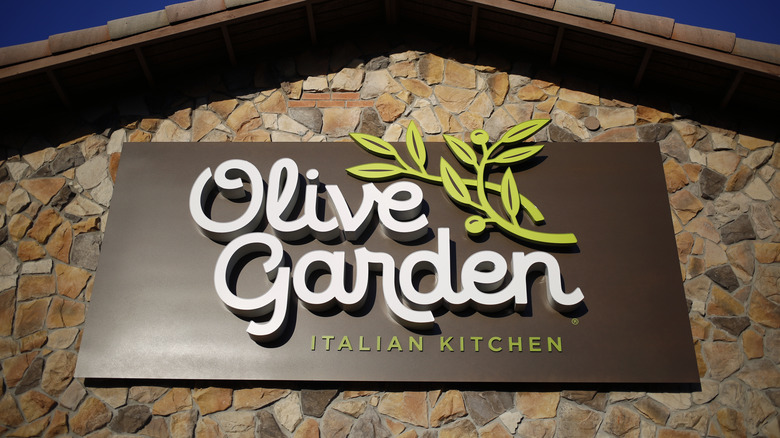 Where do you go when your appetite is raging and you're in the mood for a spot that feels homely and comforting? The answer is Olive Garden, of course! Olive Garden's slogan, "We're all family here" reflects its ethos: This restaurant chain is ready to serve the kind of hearty food you'd eat when sitting down with your loved ones for a big feast.
Some people do chalk up the food at Olive Garden to imitation Italian cuisine; however, regardless of which side you're on in terms of the authenticity of the Italian food, there's one thing that most can agree on: The grub is pretty darn delicious. Plus, the unlimited soup and salad option at Olive Garden is an incredible choice: For an affordable price, you can try all four Olive Garden soups, munch down on bowl after bowl of salad drizzled with Italian dressing, and toss back as many warm buttery breadsticks as your heart desires.
If you want to play your cards right when you sit down to eat at Olive Garden, you should definitely order the appetizers before jumping into the entrées. The appetizers are a great way to start your meal and to tease your palate in preparation for the dishes that will be a part of the next course. When placing an order at the restaurant, you definitely want to steer clear of any subpar starters, and the best way to do so is to ensure that you're well informed regarding the best appetizers that Olive Garden has to offer.
8. Toasted Ravioli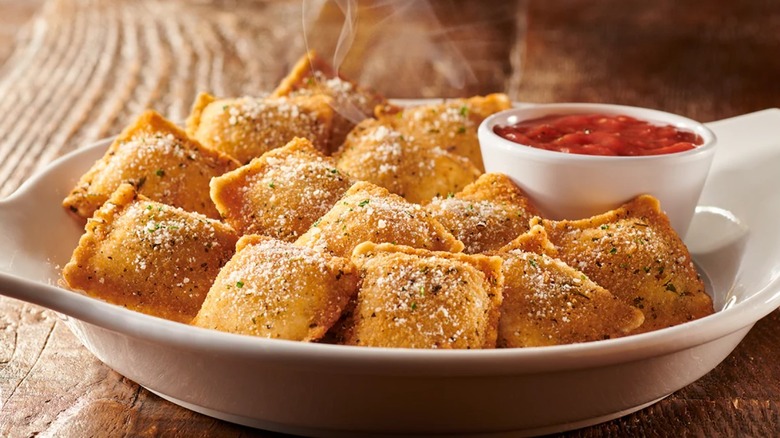 Ravioli is a great pasta when it is boiled and ladled with a sauce like marinara or alfredo. These little pillows of stuffed starch can literally be filled with anything, from meat to veggies or a mixture of both. The fact that you can stuff ravioli with various ingredients makes it a wonderful option for when you're craving a more flavorful form of pasta that contains other ingredients.
Olive Garden's Toasted Ravioli takes this pasta in a wholly different direction. Instead of being boiled in water, these seasoned beef-stuffed ravioli are lightly fried and served with a side of marinara sauce for handheld dipping. While Olive Garden's ravioli appetizer sounds good; unfortunately, the end result is a far cry from great.
One of the biggest problems (there are more than one) is that each individual ravioli doesn't contain enough stuffing. Each bite should contain a nice savory burst of seasoned meat, but you end up tasting more of the fried breading and marinara sauce than the actual protein-rich filling. And, the edges of each piece of ravioli pasta tend to crisp up to the extent that they become difficult to bite through. The marinara sauce is by far the best part of this dish, so you're best off skipping out on this ravioli dish altogether.
7. Fried Mozzarella
Cheese on its own is fantastic, but when you toss it in a deep-fry jacuzzi and give it a golden brown coating and warm gooey center, it's a billion times better. Fried mozzarella sticks are a staple appetizer at tons of restaurants, so it makes sense that Olive Garden has them on its menu, too. It's tough to resist the outer layer of crunchiness and the epic cheesy pull of this beloved appetizer and snack.
Olive Garden's Fried Mozzarella is shaped into rectangular sticks instead of the usual long cylindrical tubes, not that you should let the unique shape lure you into actually purchasing this appetizer. The fried mozzarella is incredibly greasy, but it's also far too bready, meaning that it lacks the soft and fresh melt-in-your-mouth crunch that an ideal serving of mozzarella sticks contains. The overt greasiness of these sticks prevents you from looking forward to the next phase of the feast.
6. Stuffed Ziti Fritta
When it comes to food and menus, "stuffed" is always a great word to see as it implies that whatever you're ordering will arrive chock-full of delicious ingredients bursting at the seams, which ultimately translates into a satisfied appetite. Well, Olive Garden attempts to capitalize on the stuffed game with the Stuffed Ziti Fritta, which consists of a platter of fried ziti stuffed with five different kinds of cheese and served with a side of both marinara and alfredo sauce for optimal dunking.
However, Olive Garden should really put quotation marks around the word "stuffed" in the name of this disappointing dish. Don't let the fact that there are five types of cheese inside this fried ziti pull the wool over your eyes. These tubes of ziti are quite small, and they're definitely not teeming with cheese. The amount of stuffing and cheeses that are piped into each piece of ziti is so small that you're never quite hit with the cheesy goodness that you desire.
5. Spinach-Artichoke Dip
A good dip makes for a great meal starter, and there are few dips that kick off a meal quite like a creamy spinach and artichoke medley. Olive Garden's Spinach-Artichoke Dip serves up a piping hot dish of gooey cheesy goodness served with crispy triangles of flatbread for dipping. If you're looking for a delicious appetizer for the table to share, ordering a couple of plates of this mixture is a pretty good idea.
One of the problems that can plague a spinach and artichoke dip is the overabundance of the vegetables and the lack of cheese: This isn't the case at Olive Garden. The veggies don't overpower the flavor of the cheese, which gives you a rich, hot, and savory bite with each piece of flatbread that you dunk. Plus, the flatbread is nicely seasoned and gives you both the flavor of the dip and the salty crispiness of the chip in every bite.
4. Shrimp Fritto Misto
It's nice to have balance and a variety of flavors in a meal. Meal profiles that consist of different kinds of foods make for a full circle of enjoyment. For example, if you're considering ordering a steak for dinner, then ordering an appetizer that consists of seafood can be the right move, and vice versa.
This is where Olive Garden's Shrimp Fritto Misto comes into play: A lot of the entrees are heavy on the pasta and the meat, so starting off with some creatures of the sea is a great way to have an interesting, well-rounded dining experience. The Shrimp Fritto Misto contains over half a pound of fried shrimp mixed with fried onions and bell peppers and is a nice way to start a meal.
When this dish hits the table, you can rest assured that it will be an enjoyable and plentiful experience: There's a whole lotta crustacean to savor. The marinara and spicy ranch sauces that accompany the mixture enhance the overall flavors of this item. This dish is a solid appetizer option at Olive Garden.
3. Breadsticks with Dipping Sauces
You absolutely cannot have a discussion about Olive Garden without mentioning the breadsticks: These glorious baked vessels of buttery goodness arrive at the table soft and hot. Plus, they're unlimited, which means that there's no need to sulk when you reach for the last one in the basket: Another basket is just moments away.
Now, breadsticks are by no means unique, but Olive Garden's rendition really is special. Olive Garden's breadsticks contain oodles of butter and a garlic salt that give the bread a salty, savory twang. The bread is flaky, crunchy, and soft, all at the same time.
While the sticks themselves are quite good, it's the three dipping sauces that send your tastebuds soaring. You can load up your bread with regular marinara, five-cheese marinara, or alfredo sauce for one heck of a tasty time. This appetizer is the perfect start to any meal as it piques your appetite and prepares you for the rest of your meal.
2. Calamari
Calamari translates to "squid" in Italian. Squid is a delicious delicacy consumed in places like Spain, Portugal, Taiwan, China, and, of course, the U.S. Fried calamari is a popular dish eaten as an appetizer and a bar snack. Calamari is a pretty standard appetizer, and while it's not going to blow your socks off, an order of lightly fried rings of fried squid is always a home run. That's exactly why the calamari is a go-to order at Olive Garden.
This calamari consists of a crispy, breaded, and warm coating that encases tender bites of delicious squid. One of the best things about Olive Garden's calamari is that it's served with both marinara and spicy ranch sauces. This allows you to enjoy morsels of delicately fried bites with a spicy creaminess that leaves you wishing more places followed suit and offered a similar selection of sauces as an accompaniment to calamari.
1. Lasagna Fritta
In times of extreme hunger, you require an appetizer that will kick you in the palate with celestial bursts of incredible flavor. This is exactly where Olive Garden's Lasagna Fritta comes into play: Order up one or two or even three of these amazing platters and prepare to immerse yourself in pure heaven. Olive Garden's Lasagna Fritta contains fried parmesan-breaded lasagna topped with meat sauce. This dish will set your mouth ablaze with awesome flavors.
Each component of this item is delicious. The parmesan-breaded lasagna is crunchy and cheesy, and the meat sauce ladled over it is a hearty blend of pan-seared beef and Italian sausage. The greatest part of this whole dish is that these lasagna pieces all sit in a shallow pool of alfredo sauce. Honestly, this item is delicious enough to order as an entrée. The only downside to this appetizer is that there aren't more pieces on the plate.