Festivals of any kind create a space for communities to foster and enjoy their passions with life-long friends and strangers. Music festivals, like Coachella, bring people in all shades of flower crowns and social media filters together over the united desire to be a wanna-be influencer. Meanwhile, food festivals are a celebration of food fanatics with a love for elastic waistbands and an obsession with all things covered in bacon and smothered in cheese. Wine and hard seltzer festivals are an up-and-coming trend for getting drunk on the finer things in life, with perhaps less pretentiousness and more fun drunk-mom energy.
However, beer festivals are quite possibly the most debaucherous but incredibly tight-knit festivals of all, where strangers become best friends, one tasting glass at a time. The average beer festival has the same types of people –– the serious beer aficionado tracking every beer tasted on a spreadsheet, the one who sprints through the beer tents and leaves early, the average beer drinker who mocks the previous two, and the annoyed designated driver.
Whoever you are, there's almost certainly a place for you at a beer fest. Whether or not you like heavy stouts, dank IPAs, or mouth-puckering sours, some of the best beer festivals across the United States offer something fun and enjoyable for everyone, even designated drivers and those who hate that "beer" aftertaste.
Snallygaster – Washington, D.C.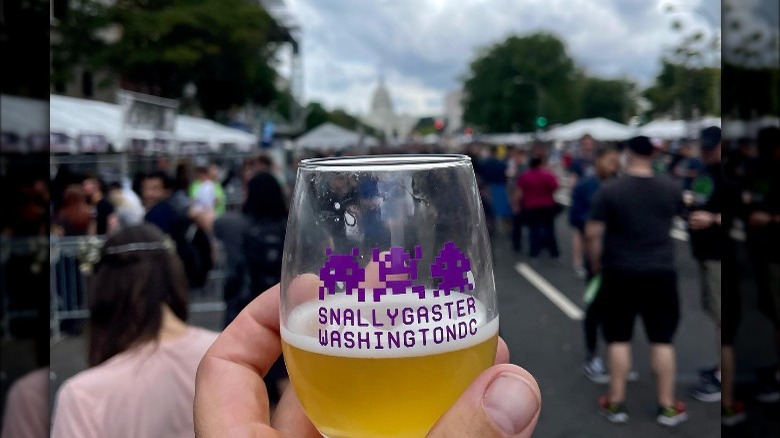 The Snallygaster urban legend is more than just the winged reptile-chicken cross breed that is said to have tormented people in the suburbs outside of Washington D.C. –– it's the mascot and poster child for one of D.C.'s largest beer festivals. For nine years, the Snallygaster D.C. beer festival has been dishing out some of the finest regional and national craft beers that can be offered, with around 450 beers on draft from 200-plus producers in a typical year.
Snallygaster is nestled in the heart of D.C. on the intersection of Constitution and Pennsylvania Avenue NW with the national monuments and Capitol building as its background. It is brought to you by The Neighborhood Restaurant Group that created multiple award-winning restaurants in the DMV (that's the D.C.-Maryland-Virginia) area. What's more, it is an annual fundraiser for the local food non-profit, the Arcadia Center for Sustainable Food & Agriculture. If beer isn't your thing, they also offer a selection of wine, seltzers, local eats, and live music to fill the time, not to mention some good people watching.
SAVOR: An American Craft Beer & Food Experience – Washington, D.C.
SAVOR isn't your ordinary beer festival experience with hundreds of beers that can seemingly blend together –– it's no less than a craft beer and culinary experience. With over 100 craft breweries featuring 200 beers, the Brewer's Association uses this fest to pair craft beer with over 60 unique food pairings, crerating an almost wine-like tasting and savoring experience.
Settled in the waterfront Wharf district of Washington, D.C., SAVOR not only takes people on a unique food and beer-pairing voyage, but it allows attendees to connect with the pros, having intimate conversations and asking questions to some of the most influential people in the beer industry. VIP access allows for that particular priviliege, as well as additional tastings of rare and special release beers that aren't available to the public. The food pairings are created by an award-winning culinary team from across the country, and feature a mixture of charcuterie, vegetarian fare, specialty food options, and other mouth-watering options perfect for anyone with a serious case of the drunchies.
Great American Beer Festival – Denver
This beer festival is 50 percent beer, 50 percent cultural phenomenon. Many guests make the pilgrimage every year in their finest costumes and pretzel necklaces for the awe-inspiring, borderline-intimidating beer selection on tap in Colorado's capital. A three-day long festival presented by the Brewers Association, the Great American Beer Festival (GABF) offers the largest collection of U.S. beers served at a tasting, right in the heart of downtown Denver. The first festival was actually held in nearby Boulder, Colorado with 47 beers and 800 attendees. Now, GABF brings in around 60,000 attendees over the course of the festival, with different 4,000 beers from breweries around the world up for enjoyment.
The Great American Beer Festival is also home to the world's largest beer competition, awarding almost 300 medals covering 175 different beer styles in around 97 beer categories. They offer general tickets for unlimited (or as-much-as-you-can-handle) pours, food pairings alongside the craft beer, and a particular favorite –– a designated driver entrance ticket. Furthermore, in our opinion, if you can survive the weekend and end up trying every beer, you should get free admission.
Beers With(out) Beards – Portland, Maine
Founder of Beers With(out) Beards (BWOB), Grace Weitz, came up with the idea of an event celebrating women in beer as part of a graduate school thesis while at New York University (via Brewbound). After working in the craft beer industry, Weitz felt that the majority of people in the forefront of the industry were lumberjack-adjacent white guys. She wanted to showcase something new and diverse, and thus Beers With(out) Beards was born.
Presented by Hop Culture, Beers With(out) Beards showcases the accomplishments of women and femme-identifying people in the craft beer world. Since 2018, BWOB has showcased over 35 breweries that are owned or operated by women and femme-identifying people. These include breweries such as Allagash Brewing Company, Dogfish Head, New Belgium Brewing, and Nonesuch River Brewing. Alongside beer, BWOB also showcases live entertainment from Maine-based female artists and restaurants. Beer can and should be enjoyed by everyone (of legal drinking age, of course), so it's crucial that festivals like BWOB create a space for people to feel accepted and seen.
Great Alaska Craft Beer & HomeBrew Festival – Haines, Alaska
Located in Haines, Alaska with the beautiful Chilkat mountain range in the background, the Great Alaska Craft Beer & Homebrew Festival is held each Memorial Day weekend as a passage into spring. For fans of brevity, it is also often referred to as the "Haines Beerfest." First appearing in 1992, it is considered the oldest and longest-running craft beer festival in Alaska.
Presented by the non-profit Southeast Alaska State Fair, this festival showcases over 24 craft breweries and cideries from Alaska and the nearby Yukon territory of Canada. If beer isn't quite your thing, this fest also features a wide variety of other events that don't involve suds and bubbly, such as a five-course meal and beer pairing, a very competitive homebrew competition, and a Slammin' Salmon 5k and 10k fun run before the festival. Perhaps beer is the best way to replenish electrolytes (though keep in mind that this is not an opinion endorsed by any medical professionals; you should probably bring some water for your run, too). Alongside local merchants, live music, games, and food vendors, this is a great opportunity to get to know the locals and explore the hidden beauties and gems of Alaska.
Sweetwater 420 Fest – Atlanta
Hosted by Sweetwater Brewing Company, the 420 Fest is more like a music festival with promotional beer sprinkled and sprayed into the crowds. With over 30,000 attendees annually, this three-day palooza is one of Atlanta's largest festivals. Like many a great festival, it offers an array of musical performances, specialty beer, and mixed cocktails from Sweetwater Brewing Company.
Originally created as an Earth Day celebration, Sweetwater 420 Fest puts an emphasis on eco-friendly practices through awareness and sustainability workshops, as well as the use of recyclable and compostable materials and community clean up at the festival itself. Alongside Atlanta's best restaurants and food vendors, the Sweetwater experience involves, of course, a unique selection of over 25 different SweetWater beers and cocktails that vary every year. These have inclulded a pina colada-style IPA and Boombox Especial Mexican ale with lime zest. A wide variety of musicians perform at Sweetwater 420 Fest, with acts ranging in style from alternative-reggae, to jazz, funk, bluegrass, and whatever mashup in-between. Here, you'll surely come for the beer, but will definitely stay for the party.
Oregon Brewers Festival – Portland, Oregon
When the Oregon Brewers Festival started in 1988, the craft beer industry wasn't nearly as trendy and overwhelmingly huge as it is now. The festival's founder, who also happens to be the co-founder of Portland Brewing Company, Art Larrance, didn't want to showcase any of the froufrou aspects seen in the craft beer industry today –– only the little breweries of Oregon need apply. Now, the festival has grown and flourished alongside the craft beer industry, becoming one of the nation's longest-running beer festivals in the interim.
With Mt. Hood and the Willamette River acting as the festival's scenic backdrop, the Oregon Brewers Festival typically welcomes over 50,000 visitors every year, in addition to more than 80 regional and world-wide breweries. In addition to beer and more beer, the festival also offers activities like beer-related vendors, homebrewing demonstrations, a dunk tank, game area, food vendors, a brewer's brunch, and a parade. It is no less than a piece of craft beer history, bring a Oktoberfest level of intensity with the micro nature of some of the state's best craft breweries.
San Diego Brew Festival – San Diego
Considered one of the craft beer capitals of the United States, San Diego is practicallyl a holy place for craft beer enthusiasts. There are hundreds of breweries in the city, including the notable Stone Brewing, Karl Strauss Brewing Company, and Port Brewing Company (via San Diego), making the San Diego Brew Festival the ultimate West Coast beer extravaganza.
The event features more than 70 breweries and over 200 beers from local San Diego spots to heavy hitters in the beer world, such as Pabst Blue Ribbon, Founders Brewing, Bear Roots Brewing Company, and Coachella Valley Brewery (note that participants, big and small, may vary year by year). The festival also offers an extensive selection of cider, hard seltzers, and kombucha from companies like Local Roots Kombucha and Ace Premium Ciders. Hungry? Food isn't a problem either, with 10 of San Diego's best food trucks available to both your vegetarian and carnivore heart's content. With lawn games, and live cover bands playing all day, it's the ideal adult kegger.
Oktoberfest Zinzinnati – Cincinnati
German heritage and culture is ingrained within Ohio's history, with some of Ohio's earliest settlers being of German heritage, according to Ohio History Central. First held in 1976 and presented by Samuel Adams, Oktoberfest Zinzinnati is America's largest Oktoberfest celebration, with over 500,000 attendees yearly. It's like the beer Olympics, with a mixture of games and good sportsmanship with a Sam Adams beer in one hand and a Frisch's cheeseburger in the other –(that last would be the official cheeseburger of the festival and arguably the unofficial state food of Ohio).
Aside from drinking, Oktoberfest Zinzinnati has many traditional and nontraditional events to celebrate. The obviously best event is the USA TODAY Sports+ Running of the Weiners –– weiner dogs, that is. The race involves 100 dachshunds humanely racing dressed as hot dogs, making it both extremely competitive and incredibly adorable, not unlike like little league but with more barking.
Alongside the live music, there is also Gemütlichkeit ("goodwill") Games that involve events like the beer barrel roll and beer stein carry, a pageant, the world's largest chicken dance, the stein hoist championship, and the World Brat Eating Championship. If you are still hungry after watching league-eater Joey Chestnut eat 70 brats in 10 minutes, vendors offer an extensive amount of traditional German cuisine and beer to wash down the almost 81,000 bratwursts sold at the event.
Orlando Beer Festival – Orlando
Orlando is typically known as the home of Universal Studios and Disney, not to mention a plethora of other kid-friendly amusement parks and tourist attractions. However, for craft beer enthusiasts, it is home to one of Central Florida's most popular beer festivals: the Orlando Beer Festival.
Established in 2015 by the publication Orlando Weekly, the festival features over 200 craft beers from all over the world and right in the Sunshine State, including local faves like Suncreek Brewery, Funky Buddha, and Wicked Weed Brewing (keep in mind that the selection of brewers may vary from year to year). In addition, organizers offer interactive lawn games, live music, local merchant tents, streamed football games, wine tastings for those who want some extra variety, and tasty food from local vendors. The proceeds from the festival help The Coalition for the Homeless of Central Florida, as well as the Central Florida Brewers Guild. The event is dog-friendly, but not kid-friendly –– so bring your furry friends and leave the kids at Disney.
Great Taste of the Midwest – Madison, Wisconsin
Mass-produced, watery beer is thankfully no longer the epitome of beer culture in the Midwest, according to VinePair. Home to garage fridge favorites like Schlitz, Pabst Brewing Company, and Budweiser, the Midwest is now redefining itself with a cluster of micro-craft breweries from Nebraska to Iowa and everything around and in-between. As such, the Great Taste of the Midwest is a beer festival that delivers what you expect –– a taste of hundreds of unique beers that are putting the Midwest on the craft brewery map.
Considered the second-longest running craft beer festival in North America, the event is sponsored by the Madison Homebrewers and Tasters Guild, a local non-profit that strives to educate others about the production of home and commercially-brewed malt beverages. Overlooking the state capitol building, the Great Taste of the Midwest features 200 breweries and over 1,400 Midwest craft beers. It's like a cross country road trip in just one stop.
Other Half Brewing Experience – Brooklyn
Other Half Brewing is the epitome of Brooklyn energy, making local, small-batch craft brews that you want to drink with people you like. Its taprooms have sprung up across the country, from Washington, D.C. to Philadelphia, and other parts of New York City. Their two-part festival is nothing short of the eccentric and creative energy we need everywhere, and not just in New York.
The brewery's fall and winter experience, Pastrytown, is a celebration of the sweet and sour things in life with a vast selection of different sour beers and stouts paired with dessert for the ultimate cavity-inducing event. The second half of the beer drinking experience, known as the Green City Championship, is a battle of the fittest pitting more than 60 breweries against each other for the title of best IPA. The best part of both halves? You can watch professional wrestlers from the New York Wrestling Connection battle it out for their own sweet and hoppy victory.
Barrel & Flow Fest – Pittsburgh
Even though Barrel & Flow Fest hasn't been around the block like some beer festivals, it shouldn't be counted out. The nation's first Black beer festival was started in 2020 by the folks from the "Drinking Partners" podcast, Day Bracey and Ed Bailey. Bracey told Travel + Leisure that he hoped that the festival would "empower the Black community through the beer industry," and lead the way for more change and inclusivity within what has been a monochromatic craft beer industry.
Barrel & Flow Fest isn't just about promoting Black-owned and produced breweries, but also merging the creative worlds of art, music, food, and beer to raise up the Black community and foster interconnectivity. The festival also showcases up-and-coming Black artists and DJs, as well local businesses and artists.
In honor of that promise to foster art and business, the festival also awards the art + biz scholarship to a Western Pennsylvania student pursuing a post-secondary education in the arts. With a spotlight on emerging Black talent in both the arts and craft beer, Barrel & Flow is ready to rise.
Suwanee American Craft Beer Fest – Suwanee, Georgia
Voted one of the top 10 beer festivals in the country in 2020 by USA Today, the Suwanee American Craft Beer Fest is all the fun of St. Patrick's Day packed into one taster glass (refilled multiple times, of course). With over 350 craft beers to try from dozens of breweries, the festival also offers a variety of seltzers, wine, ready-to-drink cocktails, meads, kombucha, and even a selection of spirits from Sugar Hill Distillery.
Even if you don't like to drink, there are still plenty of activities and entertainment that can be enjoyed while sober or drunk. It's not an outdoor beer festival without lawn games like giant beer pong, giant Jenga, and the Peach State Cornhole. They also have axe throwing cages, since what's more safe than throwing around sharp blades while drinking? The annual St. Patty's Day costume contest allows that festive friend in the group to win first prize for best beard or kilt, too. There are also competitions for best homebrew and best beer in Georgia, alongside the Georgia Beer Garden with some of the best beers Georgia has to offer.