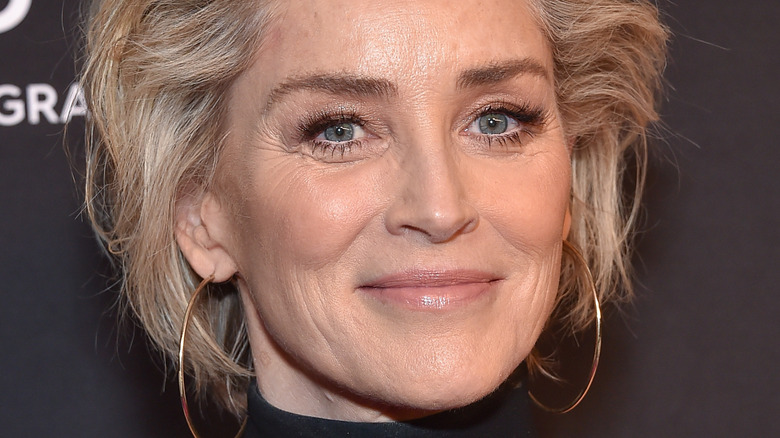 The following article contains references to sexual abuse, harassment, and death.
Sharon Stone is one of the icons of her generation. Whether she's sleuthing in "Total Recall," serial killing in "Basic Instinct," or, more recently, sizzling in "Fading Gigolo," Stone always lends her wry charm to the diverse roles she takes on. As is unfortunately the case with many women over a certain age, she's seen her career falter in the past couple of decades, and, for a time, she completely disappeared from Hollywood.
It was during this period that Stone would be confronted with some of her greatest tragedies that would see her branded as an outcast in the Hollywood industry she once effervescently embodied. But throughout it all, Stone has been a fighter, refusing to conform to the restrictive ideals of the biz. As she once told AARP, "I've survived everything — sexual harassment, miscarriages, a brain bleed, divorce, a lightning strike. I don't have time to fool around."
It seems that tragedy follows Stone around, and has done so since her formative years. As such, the multiple heartaches she has endured have bestowed upon her a unique insight into the industry as a whole. It should come as little surprise, then, that in recent years, Stone has rejected the trappings of Hollywood for her own physical and mental wellbeing. Speaking with Elle Spain, she revealed that her various personal struggles led to her ridding herself "of vain things and people and surround myself only with positivity." Get the tissues ready, for these are the tragic details about Sharon Stone.
Sharon Stone was sexually abused as a child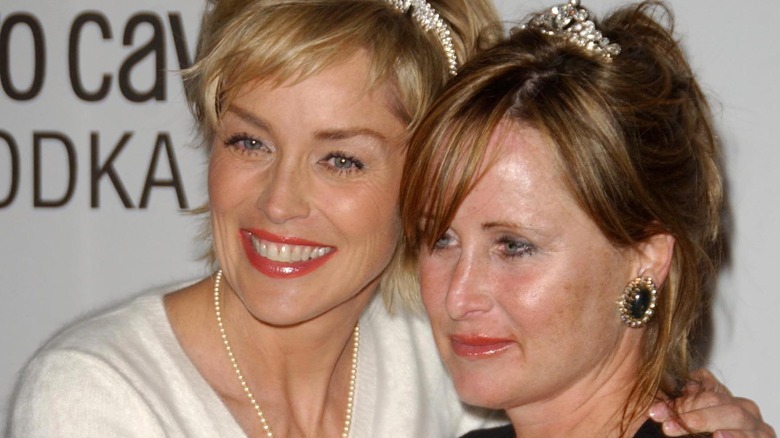 As a child, both Sharon Stone and her sister, Kelly, were sexually abused by their grandfather, but it wasn't until a therapy session many years later that Sharon remembered the abuse had occurred, per The New Yorker. "I came to understand that my abuse started really, really young. … I just started screaming, 'Who does that?,' because I had had such a mental block that someone could abuse such a young child," she told the outlet, adding that her grandfather frequently threatened to kill her to stop her from telling anyone.
In her memoir, "The Beauty of Living Twice," Stone revealed her grandfather died when she was 14. Upon seeing his corpse at the funeral, she admitted to being glad he was gone, unable to harm her ever again. Moreover, she detailed being forced to visit her grandparents as a child, describing their living situation as squalid, and lamenting how they mistreated their dozen pet cats, much like they mistreated their granddaughters.
Despite having endured horrific abuse together, the sisters didn't discuss it until they were in their 20s. "Our mother later said she didn't know about her father's perverse behavior toward us during our toddler and elementary years. … She hated him," Sharon wrote, noting that her grandfather had also beaten her grandmother. Speaking with The New York Times, she said both her sister and mom, to whom the memoir is dedicated, had granted her permission to tell the harrowing story.
If you or anyone you know has been a victim of sexual assault, help is available. Visit the Rape, Abuse & Incest National Network website or contact RAINN's National Helpline at 1-800-656-HOPE (4673).
Her childhood was full of injuries and death
Regarding her childhood, Sharon Stone bluntly told The New Yorker, "I was a social disaster, like I still am." The grim sentiment relates to the fact that, as a child, she faced multiple tragedies. Her uncle Gene was at the center of much of this devastation. When Stone was a young girl, Gene froze to death. As she recounted in her memoir, his body was found on the front steps of his cottage, where it was surrounded by copious amounts of blood due to a head injury he achieved from falling down.
Gene struggled with numerous psychological problems, and he once threatened to shoot himself in front of Stone when she was a child. Stone's mother had a flippant attitude towards Gene's suicidal ideation, and the actor admitted this belief rubbed off on her (something the Daily Mail criticized her for).
In addition to her trauma stemming from her relatives, Stone was severely injured on multiple occasions as a child. After a horse riding accident, she damaged her neck, per The New York Times. Another freak accident saw her get hit by lightning, resulting in injuries that lingered for a significant period of time. "I have a prolapsed valve. … I had to keep going back and get EKGs for a couple of weeks, because I kept measuring this really erratic electricity in my body," she told The New Yorker regarding the bizarre incident.
If you or anyone you know is having suicidal thoughts, please call the National Suicide Prevention Lifeline​ at​ 1-800-273-TALK (8255)​.
The actor has been unlucky in love
In 1998, Sharon Stone married her second husband, Phil Bronstein, per the BBC, though their relationship was blighted by some horrifying experiences. For instance, Bronstein was attacked by a ravenous reptile in 2001. The Guardian reported Stone and Bronstein visited the Los Angeles Zoo when a Komodo dragon attacked the latter — in front of Stone — lunging for his foot and almost eating his toe, which needed to be surgically reattached. Two years later, however, the couple divorced. According to The Sydney Morning Herald, the pair had been struggling for awhile, supposedly due to the restraints caused by Stone's career. Reflecting on the divorce, Stone told NBC News that she couldn't help but feel like a failure.
Stone also dated comedian Garry Shandling in the '90s, per the Irish Examiner. Famously, she appeared on his series, "The Larry Sanders Show." Following Shandling's untimely death in 2016, Stone was devastated. "It strikes me that our family, wherever we find them, and whenever we lose them, seem to disappear with the same magical wonder that they arrive," she told Rolling Stone. "Garry, my many things, will always be my family."
Speaking with Drew Barrymore in 2021, Stone admitted she's sick of dating after one too many heartbreaks. "I'm done dating. … I just find people to be insincere and not worth my time," she confessed. The actor explained that she had become more attuned to her own company, acknowledging the need for self-care after her trauma.
She lost custody of her son
Per ABC News, Sharon Stone was embroiled in a bitter custody battle over her eldest son, Roan, in 2008, after ex-husband Phil Bronstein accused her of overreacting to their child's ailments. The outlet reported that Stone erroneously believed her son had a spinal cord condition and acted in an inappropriate manner with regards to his foot odor, wanting to get Botox injected into his feet to stop them from sweating.
Accordingly, a judge ruled that Stone was an unfit parent, and she subsequently lost custody of her son. Deeming Stone's actions to be reprehensible, the judge claimed the actor was "unable to provide the structure, continuity and reliability that Roan needs, and candidly, deserves." However, Stone said her ex fabricated the claims of unfit motherhood in order to take her child away. In an interview with Saga (via the Daily Mail), she said that she couldn't cope with the loss and would lay down and cry all day after being forced to say goodbye to her boy.
Speaking with The New Yorker regarding the devastating loss, Stone also blamed the media's hyper sexualization of her for losing custody of Roan. One day, Roan told his mom that she does "sex movies." As Stone pointed out, "It was already out before I got married. No one else made a decision to get married? No one else made a decision to have children?" Per The Hollywood Reporter, she has since regained custody of Roan.
Sharon Stone faced pay discrimination in Hollywood
Unequal pay has long been an issue in Hollywood. Despite the monumental success of "Basic Instinct," its star, Sharon Stone, was no richer having taken on the role. In 2015, Stone opened up about her experiences with the Hollywood gender pay gap. At the time, the topic was gaining momentum, due to Jennifer Lawrence's outspokenness on the issue, having penned an essay for Lenny in which she lamented the lack of gender equality in the industry.
Regarding the pay disparity, Stone said that she had to fight to be given a basic acting wage, which was still significantly less than her male peers' salaries. "No one wanted to pay me," she said at a fashion event, per The Guardian. "I remember sitting in my kitchen with my manager and just crying and saying: 'I'm not going to work until I get paid'. I still got paid so much less than any men."
In a later interview with Q (via CBA), Stone noted she was paid so meagerly for her most famous role that she couldn't even afford to buy her dress for the Oscars. "I didn't get paid to do 'Basic Instinct' … Michael [Douglas] made $14 million and has points," she explained. To make matters worse, her hotel room was ransacked during the film's premiere at Cannes and all her personal belongings were stolen. Making barely enough money to get by, Stone couldn't afford private security and was left with virtually nothing.
She stopped getting roles
Immediately after "Basic Instinct," Sharon Stone was propelled towards gargantuan stardom — even if it wasn't reflected in her bank balance. In fact, she had to contend with the paps almost everywhere, per The New Yorker. But as with so many actors of the '90s, Hollywood's interest waned as Stone aged. Eventually, she stopped getting substantial roles entirely. She suggested that the work dried up in her 40s because that's when women become their most beautiful and powerful: "So let's oppress women, because they might become more powerful than men."
In an interview with The New York Times, she discussed the inherent sexism of Hollywood's casting choices, whereby women, unlike their male counterparts, are reduced to their appearances and constantly demeaned unless they subscribe to an extremely parochial ideal. "I've let go of people telling me all the reasons why I cannot work," she said, noting she endured "40 years of too tall, too short, too fat, too thin, too blonde, too brown, too young, too old."
But it wasn't just Hollywood producers who stopped calling. Stone told The Sydney Morning Herald that she was also dropped by her agent, who claimed she was difficult to work with, which is arguably a sexist trope that has long been used against powerful women in the industry. Accordingly, Stone told the outlet she's repulsed by the exploitative nature of the industry. "You don't like her? She's difficult? You're sick of her? Great. Throw her in the trash," she declared.
Sharon Stone had a near-fatal stroke
In 2001, Sharon Stone had a stroke that severed her right vertebral artery, leaving her with a 1% chance of survival. In a chat with The Hollywood Reporter, the actor said doctors didn't take her health issues seriously, believing that — true to her profession — she was acting. However, it was eventually discovered that she had experienced a massive stroke and had a brain hemorrhage.
Her recovery took many years. Speaking with The New Yorker, she revealed she's still suffering from the effects of the brain injury. "My brain seizes 24/7. … When I have a cold, or like now, I'm in late-stage menopause, my brain swells," she stated. Stone said she first had warning signs when making "Basic Instinct" a decade earlier, but director Paul Verhoeven dismissed the leading lady's seizure-like symptoms as the result of drug use, despite the fact that Stone wasn't using.
To make a difficult situation even worse, she disclosed that no one wanted to know her after the stroke. "People treated me in a way that was brutally unkind," she told Variety, adding, "I don't think anyone grasps how dangerous a stroke is for women and what it takes to recover — it took me about seven years." In an interview with Closer Weekly, she said the experience helped her come to terms with her own mortality, explaining that the stroke impaired her ability to talk, hear, and walk. Ultimately, her children's love helped Stone get through the agonizing ordeal.
The actor was subjected to the advances of predatory directors
In her memoir — an excerpt which was published by Vanity Fair — Sharon Stone revealed the extent of the sexism she faced in Hollywood. In one instance, a producer reportedly berated the star and told her she wasn't good enough for a movie role and refused to call her by her name. Shaken by the ordeal, Stone crashed her car after the meeting.
She also divulged her experiences with sexual harassment and assault. Discussing the arguable rape culture of Hollywood amid the myriad of abuse claims levied against producers and directors, she said, "This inaction is a true and real crime in itself." One of the most shocking manifestations of Stone's sexist mistreatment occurred on the set of "Basic Instinct." The actor alleged she was tricked into doing the infamous leg crossing scene, stating she was apparently told by director Paul Verhoeven that she had to remove her white underwear because it was causing a glare on the film. After watching the final cut, Stone discovered Verhoeven's claim was just a ruse to get her to expose her genitalia, though Verhoeven vehemently denies the allegation.
Stone's Hollywood violations extend beyond sexual harassment and assault. In an interview with The Sunday Times, she divulged that she underwent routine surgery only to wake up with breast implants. "He had changed my body without my knowledge or consent," she alleged, noting the plastic surgeon "thought that I would look better with bigger … boobs."
If you or anyone you know has been a victim of sexual assault, help is available. Visit the Rape, Abuse & Incest National Network website or contact RAINN's National Helpline at 1-800-656-HOPE (4673).
The tragic reason Sharon Stone can't have biological children
Adoption in Hollywood is commonplace. While many celebs, such as Angelia Jolie, have a brood of both biological and adopted kids, for others, adoption is the only option. Sharon Stone has three adopted children: Roan, who she welcomed with ex-husband Phil Bronstein, and Laird and Quinn, who she adopted as a single mom, per Hollywood Life.
Although she is a dedicated parent now, Stone initially struggled to create a family. In an interview with Closer Weekly, the actor revealed that an autoimmune disease prevented her from having biological children. Although Stone hasn't explicitly stated what condition she has, she's hinted at it being lupus, which her sister, Kelly Stone, also has. "I can say that I had three, five-and-a-half-month miscarriages and no one had any answer for me, what's going on, why is this happening to me," she told Extra, noting that she has the genetic markers for lupus.
In an interview with Elle Spain, she disclosed that she also has endometriosis, a chronic illness that affects the reproductive system. She blamed the condition for her miscarriages, detailing its debilitating and excruciating effects on her body. Regarding the struggles she faced when trying to become a mother, she told an audience at the Associates For Breast and Prostate Cancer Studies (via People) that adoption blessed her with the family she had always wanted. "Motherhood didn't come easily, but it came lovingly to me by angels," she sweetly said.
Her nephew died at 11 months
Sharon Stone was bestowed with the honor of becoming godmother to her nephew, River Stone, who was the son of the actor's younger brother, Patrick Stone, per People. But the infant's life was cut far too short. In 2021, Sharon faced even more tragedy when River suffered total organ failure.
Sharing a photo of the intubated baby with her Instagram followers, Sharon asked for prayers, conceding that it would take a "miracle" to save him. Tragically, River did not make it, dying just days before his first birthday. "River William Stone Sept. 8, 2020 – Aug. 30, 2021," Sharon wrote in a tribute featuring a heartbreaking video montage dedicated to the baby. In the wake of the tragedy, Sharon's sister-in-law, Tasha Stone, made a harrowing Facebook post in which she detailed the pain of having to see her son suffer in the hospital.
Speaking with People following the infant's untimely death, Sharon emphasized the importance of organ donation. "The fact that my godson was able to save three lives, two infants and a 45-year-old man was sanctuary for our family," she said. "I can only say that you never, never know when a tragedy will happen in your life or in your family, but this opportunity to be an organ donor, it saved us, saved our family." According to a study published by Obama White House, there are over 120,000 Americans awaiting organ donation, and just one donor can save eight lives.
Her sister and brother-in-law almost died of COVID-19
The COVID-19 pandemic changed the lives of people all over the globe, and Hollywood was no exception. In 2020, amid the height of the pandemic and before the mass vaccine rollout, Sharon Stone's sister, Kelly Stone, and her brother-in-law, Bruce Singer, almost died after contracting the virus. Sharing a photo of Kelly's hospital bed on Instagram, Sharon blamed those who refused to wear masks for her sister's illness. "One of you Non-Mask wearers did this. She does not have an immune system. … Can YOU FACE THIS ROOM ALONE? Wear a mask! For yourself and others," she urged her followers. Since she has lupus, Kelly is immunocompromised and thus vulnerable to developing severe infection, as noted in a 2020 study.
Thankfully, Kelly and Bruce did recover, but they nonetheless became seriously ill. Per Deadline, Kelly told her Instagram followers that she was struggling to breathe and urged people to wear masks and be courteous of others. While Kelly healed to an extent, Bruce had a much harder road ahead of him. "Kelly sort of recovered, but Bruce nearly died," Sharon told AARP. "One night he said, 'I'm not going to make it.' I stayed on the phone with him for hours."
Following her harrowing familial experience with COVID-19, Sharon condemned virus skeptics and conspiracy theorists. Chatting with TMZ, she targeted Joe Rogan in particular, warning that the podcaster's promotion of coronavirus misinformation could lead to many more people dying from the virus.
Her beloved dog died
Sharon Stone is famed for her love of dogs, having adopted a number of pooches. Per People, in 2018 she welcomed pup Bandit, who joined Stone's older dog, Joe "Biggy" Stone, even if the elder canine was, by Stone's own admission, a tad jealous of the adorable upstart. But the dogs' time together would prove to be all too brief.
Joe was quite the pampered pooch; in 2018, Stone celebrated his birthday with an adorable doggy cake. But in 2022, the actor faced even more loss when Joe died. Sharing a snap of her cuddling the tragically departed furbaby on Instagram, Stone wrote, "We lost Joe, the brindle, two weeks ago, just ready to share," adding that her grief is "a process." The previous year, she had shared a photo of herself sunbathing with a somewhat frail-looking Joe, revealing that he was recently discharged from the vet, which suggests that her companion had been unwell for some time.
The late furbaby was beloved by many. Per Hello!, numerous celebs paid tribute to him, including A-lister Naomi Campbell. A couple of months after Joe died, a video surfaced of Stone paying tribute to her canine companions. Reading a poem by Margaret Bruner, Stone poignantly said, "Sometimes it seems as if a dog can sense one's thoughts more quickly than a human can. … Very few of all the wise and learned of earth possess this strange, uncanny power to understand man's deepest moods of utter loneliness."