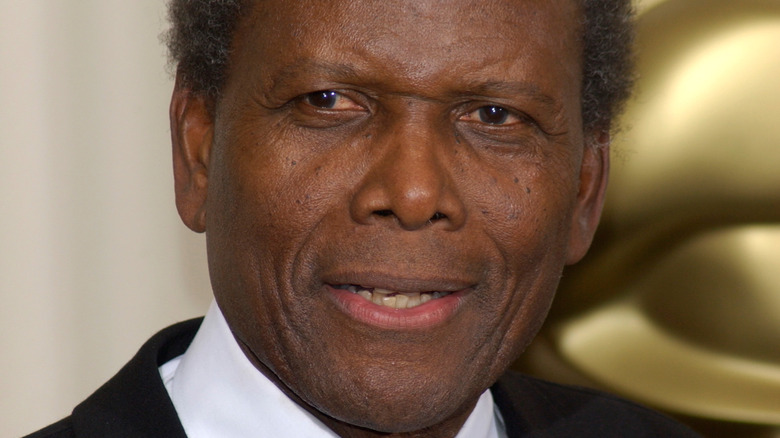 They say that nothing is certain in life apart from death and taxes, and being a famous Hollywood actor does not exempt you from either. We lost some real icons of the film and TV world towards the end of 2021, with Betty White, Norm Macdonald, Sonny Chiba, and Robert Downey Sr. all taking their final bows. Things showed no signs of slowing down in the new year, either: 2022 began with a spate of high profile deaths, from Emmy-earning comedians and history-making Oscar winners to sitcom icons and young Marvel stars.
The World Health Organization's Director General Tedros Adhanom Ghebreyesus provided tentative optimism regarding the COVID-19 pandemic in a December 2021 press conference (via Politico), but the virus was still very much a threat when 2022 commenced. For Tinseltown's older residents, it remained an especially big concern. Many of the actors we've said goodbye to in 2022 died of illness, while others were involved in freak accidents. We're paying tribute to them right here.
Updated on May 16, 2022: Sadly, we expect to lose even more high-profile actors before the year is out. When that happens, you can read about it right here. We're always updating this list to make sure the actors who died in 2022 are properly honored, so be sure to check back.
Meat Loaf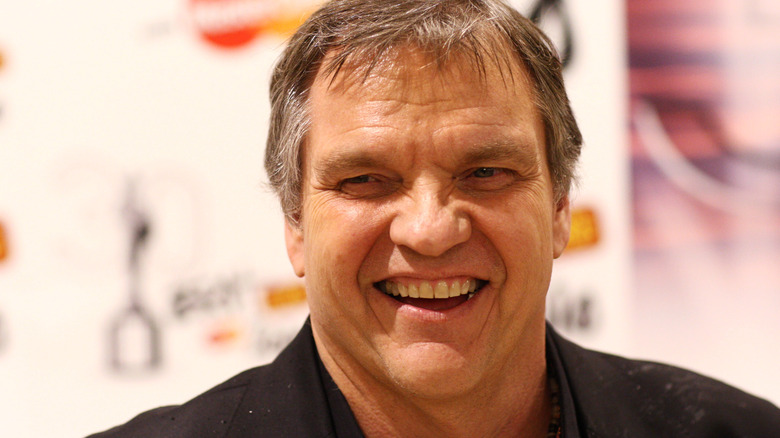 Iconic singer and actor Meat Loaf, who won a Grammy for his hit ballad "I'd Do Anything For Love (But I Won't Do That)" and appeared in films like "The Rocky Horror Picture Show" and "Fight Club," died in January 2022. His manager confirmed the news to The New York Times, but did not immediately reveal the cause of death. He was 74.
Born Marvin Lee Aday, the Dallas native adopted his childhood nickname as a stage name early in his career. He got his big break when he auditioned for the off-Broadway musical "More Than You Deserve" in the early '70s: He won a role and formed a lifelong partnership with writer Jim Steinman, who would go on to pen Meat Loaf's debut album, 1977's "Bat Out of Hell." Todd Rundgren produced the record, and everyone from the New York Philharmonic to members of the E Street Band contributed. It was an unlikely hit that critics begrudgingly praised, though Meat Loaf would struggle to replicate its success in the years that followed. After a few flops, he dropped 1993's "Bat Out of Hell II: Back Into Hell," which included his Grammy-winning single.
In terms of films, Meat Loaf is best known for playing Eddie the delivery boy in 1975's "The Rocky Horror Picture Show" and former bodybuilder Bob Paulson in 1999's "Fight Club." Other notable credits include 1992's "Wayne's World," 2001's "The 51st State," and "Ghost Wars," on which he recurred between 2017 and 2018.
Bob Saget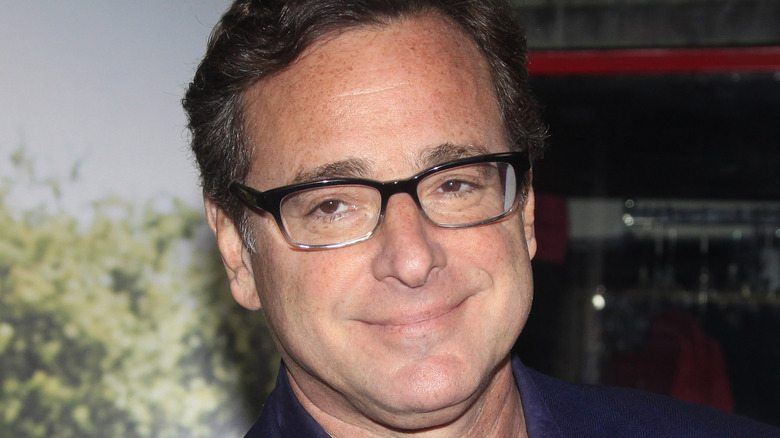 Comedian and actor Bob Saget, best known for his long stint on the sitcom "Full House," died in January 2022. He was found dead in his hotel room with "no evidence of drug use or foul play," said Chief Medical Examiner Joshua Stephany (via ABC 7). "I am so completely shattered and in disbelief," his wife, Kelly Rizzo Saget, said in a statement (per Variety). He was 65.
Saget made his TV debut as Bob the Comic in a 1981 episode of the Tom Hanks sitcom "Bosom Buddies." He established himself as a reliable character actor in the years that followed, playing a soldier in "At Ease" and a doctor in "It's a Living." In 1987, he won the part of Danny Tanner on "Full House," which became a career-defining role. Saget played the widowed father of three from 1987 to 1995, and reprised the role in the Netflix-produced sequel series, "Fuller House." It was often hectic on set, but Saget had fond memories of working with his onscreen kids. "Jodie Sweetin was four when she started, Ashley and Mary-Kate [Olsen] were nine months, Candace [Cameron Bure] was nine — you're talking about exceptionally talented young kids," the actor told Vanity Fair in 2014.
Elsewhere, Saget was known as the voice of the older Ted Mosby on "How I Met Your Mother" and as the host of "America's Funniest Home Videos," which he fronted for almost a decade.
Gaspard Ulliel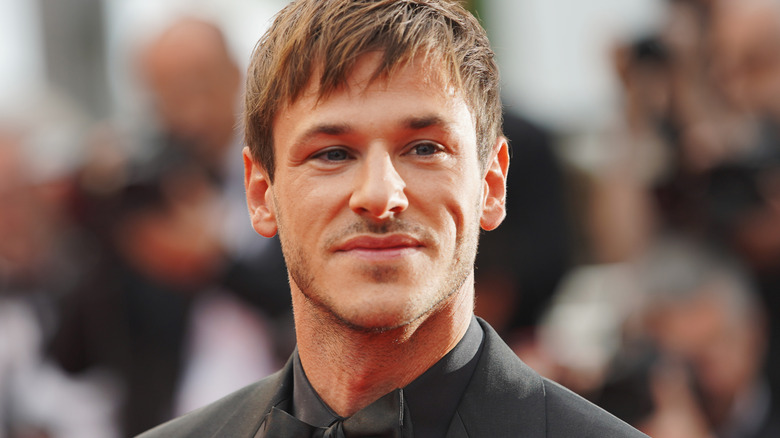 French actor Gaspard Ulliel, who was best known to international audiences for his turn as the young Hannibal Lecter, died due to a skiing accident in January 2022, as reported by Deadline. He was 37.
Ulliel began his career on French television in the late 1990s, and was landing film roles by the early 2000s. His big break arrived in 2004, when he landed the part of Manech in "A Very Long Engagement." This wartime drama reunited "Amelie" director Jean-Pierre Jeunet with the star of that film, Audrey Tautou. Ulliel won his first Cesar award for this movie (his second came in 2017, when he scooped up Best Actor for "It's Only the End of the World") and would make the transition to Hollywood soon after, playing the titular killer in the 2007 prequel film "Hannibal Rising." It was his biggest role at the time of his death, though that likely won't remain the case.
Sadly, Ulliel died a few months before Marvel's "Moon Knight" dropped, in which he plays Anton Mogart (aka Midnight Man). It's thought that Midnight Man will act as a secondary antagonist in the Oscar Isaac-led Disney+ show, with Ethan Hawke's Arthur Harrow likely to emerge as the big bad.
Louie Anderson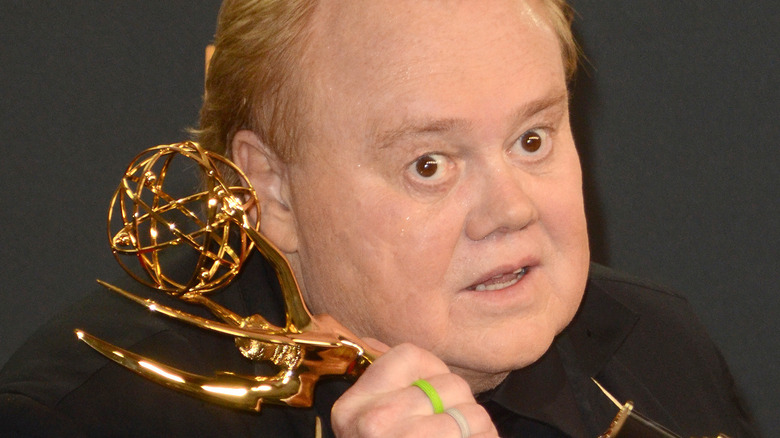 Emmy winner Louie Anderson, who appeared in films like "Ferris Bueller's Day Off" and "Coming to America," died of complications from cancer in January 2022, his publicist confirmed to CNN. He was 68. Tributes from across the entertainment world poured in after the news broke. "I was one of the lucky ones who got to call Louie a friend," screenwriter Carl Kurlander wrote in a Deadline tribute piece. "He made me and others in his orbit feel like family."
Anderson decided to give stand-up a go after his colleagues (he was "working as a social worker with troubled children" at the time, said Kurlander) dared him to go on stage. The audience loved him, and it wasn't long before he was making his mark in the comedy world. Anderson's talent and career were multifaceted: He was as comfortable in front of a crowd as he was fronting game shows. Indeed, he would become a fixture on American TV screens as the host of "Family Feud" from 1999 to 2002.
Anderson plied his trade on shows like "Grace Under Fire," "Touched by an Angel," "Chicago Hope," and "Scrubs," but some of his best work came in the twilight of his career. Anderson was nominated for Emmys three years running for his performance on the Zach Galifianakis-led FX comedy "Baskets," winning in 2016.
Sidney Poitier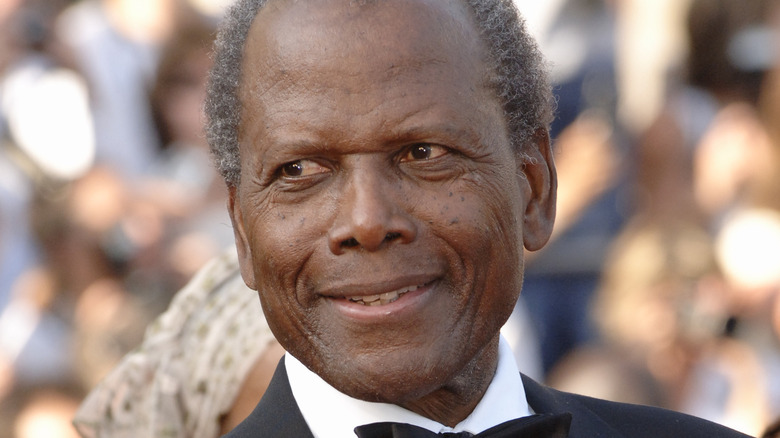 Hollywood legend Sidney Poitier, widely seen as the first Black movie star, died in January 2022 at the age of 94, as confirmed by The New York Times. "Through his groundbreaking roles and singular talent, Sidney Poitier epitomized dignity and grace, revealing the power of movies to bring us closer together," Barack Obama said in a tweet. Denzel Washington called him "a gentle man [who] opened doors for all of us that had been closed for years" in an interview with People.
Poitier earned his first credited film role, Dr. Luther Brooks, in 1950's "No Way Out." He actively avoided demeaning roles, and by the end of the decade, his persistence began paying off. He became the first Black man to be nominated for the Academy Award for Best Actor in 1959, blowing critics away with his turn as an escaped prisoner in "The Defiant Ones." He missed out on that occasion, but would make history a few years later when he became the first Black man to win that award for his performance as an itinerant laborer 1963's "Lilies of the Field."
How did Poitier feel about opening so many doors for Black actors and artists everywhere? "It's been an enormous responsibility," he once told Oprah Winfrey. "And I accepted it, and I lived in a way that showed how I respected that responsibility. I had to."
Peter Robbins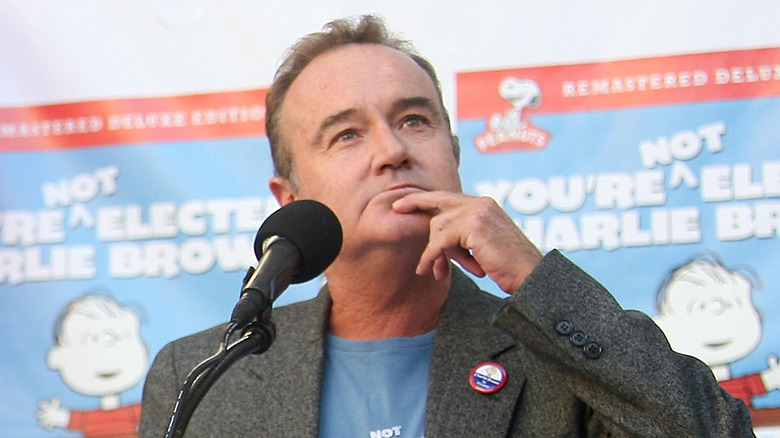 Peter Robbins, who was best known as the original voice of Charlie Brown, died in January 2022. Dylan Novak, Robbins' friend and agent, told the Los Angeles Times that the cause of death was suicide. He was 65.
The convention regular made his onscreen debut in the 1963 film "A Ticklish Affair." He appeared on the TV shows "Rawhide," "The Donna Reed Show," "The Munsters," and "The Farmer's Daughter" the following year. Robbins began voicing Charlie Brown in 1965 and went on to play the classic "Peanuts" character seven times before the end of the decade, most notably in the feature-length films "A Charlie Brown Christmas," "It's the Great Pumpkin, Charlie Brown," and "A Boy Named Charlie Brown." According to the Times, Robbins was so proud of his work on the franchise that he got a tattoo of Charlie Brown and Snoopy on his arm.
Robbins was also known for his work on another comic adaptation: He played Alexander Bumstead on the live-action "Blondie" series, based on the long-running strip of the same name. Other notable credits include the films "Moment to Moment," "And Now Miguel," and "Good Times," as well as the TV shows "The F.B.I.," "F Troop," "Get Smart," and "My Three Sons."
If you or anyone you know is having suicidal thoughts, please call the National Suicide Prevention Lifeline at 1-800-273-TALK (8255)
Moses J. Moseley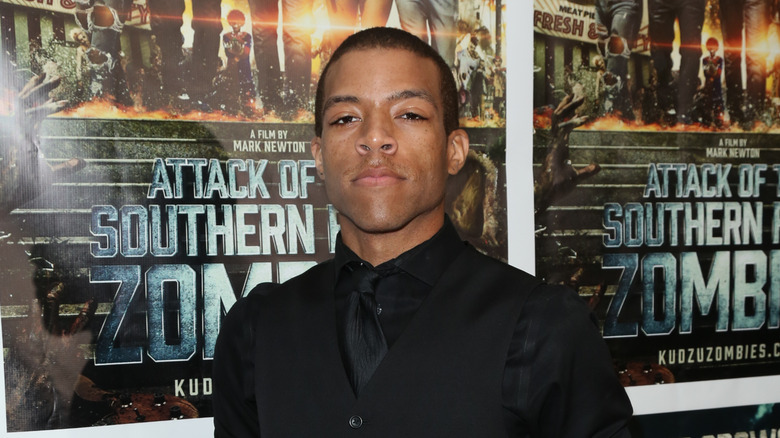 Up-and-coming actor Moses J. Moseley, who appeared on shows like "Watchmen," "Queen of the South," and "The Walking Dead" was found dead in Georgia in January 2022. "Moses was a very talented person, with a bright light around him," his agent, Tabatha Minchew, told The Hollywood Reporter. "He will be missed deeply by his friends, family and fans. Always a ball of happy energy around him." The cause of death was not immediately revealed by authorities, who launched an investigation to determine the circumstances. He was 31.
A native of South Carolina, Moseley studied at Georgia State University before settling down in Atlanta. According to The Hollywood Reporter, he worked as a model before transitioning into acting. He got his foot in the door with a number of uncredited appearances in locally-shot films like "Trouble with the Curve," "The Internship," and "The Hunger Games: Catching Fire." Moseley began playing Michonne's pet walker Mike on "The Walking Dead" in 2012, and would appear on the hit AMC show half a dozen times over the next few years.
Moseley went on to play Tic Toc on USA Network's "Queen of the South," an usher on HBO's critically-acclaimed "Watchmen" series, and Kadeem on Irv Gotti's "Tales." His most notable feature film was 2017's "Attack of the Southern Fried Zombies," in which he played Robbie. Moseley had several projects in various stages of production when he was reported missing by his family, including "Hank" and "Cadillac Respect."
Dale Critchlow
Actor Dale Critchlow, who was best known for playing Lyle the farmer in the offbeat cult classic "Napoleon Dynamite," died in February 2022, as reported by Deadline. He was 92.
A native of Utah who moved to Idaho in his 30s, Critchlow landed his small but memorable role by pure chance. The film was shot on location in Idaho, where Critchlow lived and worked as a real farmer. He needed help with his animals one day, so his wife reached out to the mother of writer-director Jared Hess. "My wife called Jared Hess' mother and asked if one of her boys was there," he told East Idaho News. "He came over, and he had a friend with him. I drove the truck out into the pasture, and the sheep came over. They grabbed those bucks and pushed them into the truck … and then later, he came back and [said], 'I want you to be in my movie.'"
Critchlow became well known in his hometown of Preston after the film became a success, and was always happy to pose for pictures. He went on to feature in another comedy, 2006's "Church Ball," which was considerably less successful. But Critchlow remained famous for his turn in "Napoleon Dynamite," despite not being overly keen on the film. "I thought it was kind of funny in places, and in a few places, it was kind of dragged out," he said in 2020.
William Hurt
Academy Award winner William Hurt — who owned the '80s with hits like "The Big Chill" and "Gorky Park" — died in March 2022. The actor was 71 years old, and as his son, Will, said in a statement (via Variety), Hurt "died peacefully, among family, of natural causes." Hurt was diagnosed with terminal prostate cancer in 2018, although it hasn't been publicly confirmed this was the cause of his death. What is known is that Hurt left behind a major cinematic legacy.
Born in Washington, D.C., Hurt studied theology at Tufts before finding his true passion: acting. After attending Juilliard, he decided to tread the boards, snagging a Tony nod in 1985 for his performance in "Hurlyburly." But it was on the screen that Hurt would truly shine. The actor made his debut film performance with "Altered States," a psychedelic trip that mixes mushrooms, religious imagery, and body horror. He followed that up with the sexy noir flick "Body Heat" — the film that propelled him to stardom.
After that, Hurt won a Best Actor Oscar for his portrayal of gay prisoner Luis Molina in "Kiss of the Spider Woman." It was just the first of four times he'd be up for an Oscar, with the Academy nominating his work for "Children of a Lesser God," "Broadcast News," and "A History of Violence." Fans will also recognize Hurt from projects like "The Village" and "A.I. Artificial Intelligence." Of course, the man left his stamp on the superhero genre by playing Thaddeus Ross, the MCU antagonist who pursued Bruce Banner and Natasha Romanoff while making things incredibly difficult for Steve Rogers with the Sokovia Accords.
Estelle Harris
Estelle Harris came to fame as an actor well into adulthood, most familiar to TV audiences as Estelle Costanza, the combative, shrill-voiced mother of George Costanza on the mega-popular '90s sitcom "Seinfeld." Harris appeared on nearly 30 episodes of the series, but she used that distinctive angry voice in a number of other projects post-"Seinfeld," including the "Toy Story" movies (as Mrs. Potato Head), "Brother Bear," "Teacher's Pet," and "Futurama."
But Harris was much more than an argumentative, uniquely voiced maternal figure. She had more than 100 acting credits to her name, all of them coming in her late 40s and beyond. Harris started her acting career in community theater, regional theater, and summer stock before segueing into TV with appearances in commercials. According to CNN, she once appeared in 25 nationally broadcast ads in one year.
According to a statement from Harris' son, Glen, via agent Michael Eisenstadt, Estelle Harris died on April 2, 2022. A cause of death was not provided; the actor was 93.
Nehemiah Persoff
The embodiment of the always-working character actor, Nehemiah Persoff amassed more than 200 screen credits over the course of a career that spanned nearly 60 years. An original member of the innovative and focused Actors Studio, according to The Hollywood Reporter, Persoff, a Jerusalem native, appeared in 11 Broadway productions in the '40s and '50s before moving into film and TV. There, his roles were usually small but memorable, including a U-Boat captain cursed to repeat his most vicious decision for eternity on "The Twilight Zone," an exiled despot on an episode of "Gilligan's Island," a cab driver in "On the Waterfront," a gangster in "Some Like it Hot," a rabbi on HBO's "Angels in America," and the kindly Papa Mousekewitz in the 1986 animated hit "An American Tail." He is particularly well remembered for playing Rebbe Mendel, the titular heroine's beloved father, in "Yentl."
According to Persoff's son, the actor died in a care facility in San Luis Obispo on April 5, 2022. He was 102.
Gilbert Gottfried
Never a leading man and almost always a supporting character in broad comedies and family movies, Gilbert Gottfried became a household name because of his memorable public and on-screen persona — that of a perpetually irate, squinting malcontent screaming his thoughts in a shrill, scratchy, overblown New York accent.
After a major breakthrough as a member of the cast of "Saturday Night Live" in the early 1970s, Gottfried became a fixture in '80s and '90s movies, oft-rerun cultural touchstones for kids and teens who grew up in that era. For example, he played Sidney Bernstein in "Beverly Hills Cop II," Mr. Peabody in all three "Problem Child" movies, and voiced Iago in "Aladdin," as well as the Aflac duck in a long-running series of insurance commercials. That's to say nothing of his dozens of other appearances in TV shows and movies, making use of his purposely annoying all-purpose characterization. Gottfried was also a relentlessly performing stand-up comedian and a dark and twisted one favored by other knock-around comics, as evidenced by his appearances on Comedy Central's series of celebrity roasts.
On April 12, 2022, Gottfried's Twitter account broke the news that the actor and comedian had died following an unspecified "long illness." Gottfried was 67.
Liz Sheridan
With parallel, long-lasting careers on the stage and on television, Liz Sheridan was a highly recognizable face on both Broadway and sitcoms for years.
Sheridan starred in seven major productions on the Great White Way in the 1970s, including "Ballroom," "Happy End," "Best Friend," and "Something's Afoot." In the early 1980s Sheridan took her talents to the small screen, racking up numerous guest appearances on hit shows of the era, including "Archie Bunker's Place," "St. Elsewhere," "Scarecrow and Mrs. King," "Riptide," and "One Day at a Time" before landing her first signature role — nosy, obnoxious, adversarial neighbor lady Raquel Ochmonek on NBC's mega-hit alien sitcom "ALF." Sheridan appeared on multiple episodes of the series between 1986 and 1990, the same year she was cast in another recurring role on an NBC comedy, for which she's probably best known: Helen Seinfeld, the meddling, Florida-residing mother of Jerry Seinfeld on "Seinfeld."
Sheridan's representative reported to Deadline on April 15, 2022 that the actor had died in her sleep sometime during the previous evening. Sheridan was 93.
Robert Morse
Robert Morse is probably best known to contemporary audiences for his role as old-school ad man and company co-founder Bert Cooper on "Mad Men." With its 1960s setting, business world plots, and one very memorable musical number, "Mad Men" easily brings Morse's first claim to fame to mind: He won a Tony Award in 1962 for his role as the accidentally successful window washer-turned-corporate star J. Pierrepont Finch in the classic Broadway musical "How to Succeed in Business Without Really Trying."
Morse appeared in many other stage productions before and after that breakthrough hit, including "The Front Page" and "Tru," a one-man play about writer Truman Capote, which won Morse his second Tony Award (as well as an Emmy for the TV adaptation). He was all over TV and film for decades as well, including appearances on "Teen Titans Go!," "American Crime Story," and the movie version of "How to Succeed in Business Without Really Trying." On April 20, 2022, Morse's son, Charlie, reported to Los Angeles's KABC that his father had died. A cause of death was not revealed. Morse was 90 years old.
Mike Hagerty
Mike Hagerty was among the most prolific and recognizable character actors of the last 40 years, popping up in more than 100 movies and TV shows, usually playing a gruff, blue-collar, working man type with a big mustache and pronounced Chicagoan accent.
Among Hagerty's most familiar roles, there's Davey, a cable TV station employee in "Wayne's World," apartment building superintendent Mr. Treeger on "Friends" (who becomes Joey's ballroom dance partner), best friend of the main character in the original "Overboard," an auto shop owner on "Lucky Louie," and a main cast role on "The George Carlin Show." Hagerty recently played a captain on multiple episodes of "Brooklyn Nine-Nine," appeared on "Shameless," and played farmer Ed Miller on "Somebody Somewhere."
On her Instagram page, "Somebody Somewhere" star Bridget Everett reported that Hagerty had died on May 5, 2022, in Los Angeles. A cause of death was not revealed to media outlets for the actor, who was 67 years old.
Fred Ward
When a major movie director in the '70s, '80s, or '90s needed a performer to play a gruff manly man (who's also approachable and charming, even if he's the villain), they often called upon character actor Fred Ward. According to CNN, Ward served in the U.S. Air Force and worked as a boxer, cook, and lumberjack before landing his breakthrough role in 1979's "Escape from Alcatraz." He snagged his signature role, astronaut Gus Grissom in "The Right Stuff," four years later.
Ward's career proved to be long and varied. He turned in especially memorable performances in action flick "Remo Williams: the Adventure Begins," horror-comedy "Tremors," biographical drama "Henry and June," and satire "The Player," among his nearly 100 film and TV roles. His talents weren't limited to acting, either — Ward developed his skills as a painter in the last few years of his life. As reported by Deadline, the actor died on May 8, 2022. He was 79.