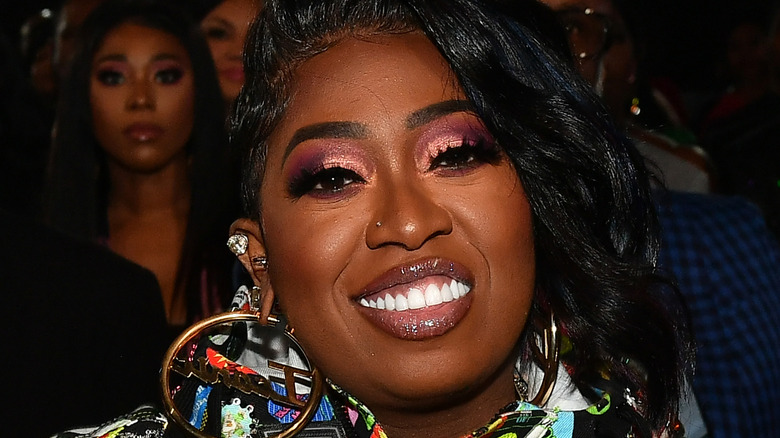 There's no denying that Melissa Arnette Elliott — better known as Missy "Misdemeanor" Elliott — is one of the most influential and successful musical artists and producers of her generation. Her sheer talent is so undeniable that she was able to acquire her own record label at just 25 years old, according to Encyclopedia Britannica. From that point on, she's been a constant presence whenever important musicians and producers are discussed, and her successful singles and albums, four Grammy awards (from a total of no less than 22 nominations), and numerous other accolades (via IMDb) are tangible proof of her impact within the industry.
Though Elliott has been successful from a relatively early age, this doesn't mean things have always been easy for her. On the contrary, you'd be hard pressed to find a star of her caliber who comes from a more difficult background. This, of course, means that her rise to the upper echelons of fame and peer acceptance has been all the more impressive — but it also means that there's plenty of tragedy hiding behind her assured image and amazing music. Let's take a look a the tragic life of Missy Elliott.
Missy Elliott had a violent father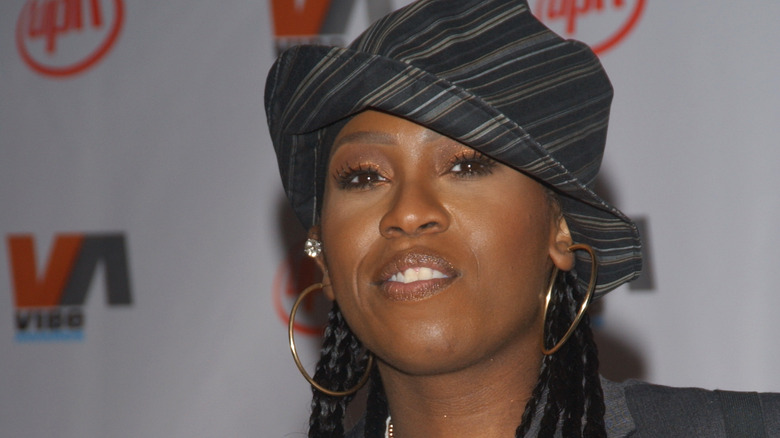 Missy Elliott's early home life wasn't happy, per The Guardian. Among other places, her family lived in an extremely humble home in Virginia, which was full of rats … and, unfortunately, domestic abuse (via Biography). Elliott's father was so violent toward her mother that the young girl was afraid to visit friends for fear of what her father would do when she was away.
The situation took a heavy toll on Elliott, who wasn't always safe from her father's wrath, either. Her musical aspirations became desperate plea-for-help letters to idols like Janet Jackson (via The Guardian). She kept trying to convince her mother to leave the toxic and dangerous situation. "I guess my mother still loved him," Elliott said in 2001. "I guess she thought things could be normal, but they never were. Every day I begged her to leave him. I said, 'Please, please let's go."'
In an interview with VH1's Behind the Music (via NME), Elliott revealed that things were so bad that her father once pulled a firearm on her mother and threatened to kill her. "He pulled the gun out in front of me," Elliott said. "I was screaming, 'Daddy, please don't kill my mother!'"
If you or someone you know is dealing with domestic abuse, you can call the National Domestic Violence Hotline at 1−800−799−7233. You can also find more information, resources, and support at their website.
She was abused as a child
Missy Elliott's childhood was a very difficult one, and she had to endure the kinds of ordeals that no one should ever go through. In a 2011 interview with VH1's Behind the Music (via NME), she discussed arguably the biggest trauma of her early years — that she was the victim of sexual abuse when she was only 8 years old. The perpetrator was her cousin, who was twice her age at the time.
"Each day he wanted me to come to the house after school," Elliott said. "It became sexual, which, for me at eight years old, I had no clue what that was, but I knew something was wrong." Elliott also said that this traumatic experience has stayed with her. "Being molested … it don't disappear. You remember it as if it was yesterday."
Per MTV, Elliott announced in 2005 that she was working on a movie based on her life, which would discuss this dark period, among other things. As of 2021, it appears to remain a work in progress.
If you or anyone you know has been a victim of sexual assault, help is available. Visit the Rape, Abuse & Incest National Network website or contact RAINN's National Helpline at 1-800-656-HOPE (4673).
Missy Elliott and her mother had to escape from home
After Missy Elliott turned 14, her mother, Patricia, decided that it was time to leave her abusive husband, reports The Guardian. They got help from sympathetic relatives, who helped empty their house while Elliott's father was out for the day (per The Guardian). Though the decision further worsened their financial situation, Elliott has no doubt that the decision was a right one — even though she spent a long time in mortal dread that her father might reappear in their lives.
"We left my father with a fork, a spoon and a blanket," Elliott has said. "Ooooh, that was the scariest time of my life. I thought he would find us and he would kill us. I lived in fear for a long time."
Elliott has since come to believe that her father may have recognized why they had left and accepted the decision, which may be why he didn't try to come after them.
If you or someone you know is dealing with domestic abuse, you can call the National Domestic Violence Hotline at 1−800−799−7233. You can also find more information, resources, and support at their website.
Missy Elliott feared she wouldn't have enough credibility
Today, it's probably fair to assume that the sort of people who would say that Missy "Misdemeanor" Elliott doesn't have enough credibility are few and far between. As The New Yorker noted way back in 1997, she arrived on the scene as the epitome of cool, and when she made her return after a lengthy absence during Katy Perry's 2015 Super Bowl halftime show, outlets like Vogue and NPR immediately perked up their ears and showered her with plaudits.
Back in her school days, though, Elliott didn't always feel particularly cool. Per The Guardian, she was already so focused on music that she didn't much care for school except for social purposes and making people laugh, but her aspirations of friendship and credibility took a heavy blow when her school made her take an IQ test … which revealed that she had a genius-level intelligence quotient. Some people might have been thrilled with this, but Elliott's world was torn apart, because the school made her skip two grades, thus ripping her away from her social circle. "I didn't want to be a genius! That ain't cool," she's described her thoughts at the time. "I wanted to goof around, they wanted to mount me in the trophy cabinet. I was not that kind of kid. I was a joker."
The death of Aaliyah
Singer Aaliyah had a tragic life, from the 22-year-old singer's premature death in a plane accident in 2001 to her involvement with recently convicted sex trafficker R. Kelly, who married her illegally when she was underage (via AP News). According to Billboard, though, her relationship with Missy Elliott was a decidedly positive one. Elliott was still trying to find her way in business, when she and producer Tim "Timbaland" Mosley got an opportunity to work with Aaliyah, a fellow newcomer. Elliott's offbeat musical sensibilities resonated with Aaliyah, and the supposedly one-track collaboration turned into eight songs — including the singer's hit, "One in a Million."
Aaliyah's death was a massive blow to Elliott, who had seen the R&B star as a sister. "Her death was a huge shock to me. It's only in the last month I'm coming to accept it a little," Elliott told Entertainment Weekly in 2002. "I've been having a lot of dreams about her. When somebody passes, you always go through a down period, and healing takes time. It was so unexpected — I feel like I was just in the studio with her."
It's clear that Elliott hasn't forgotten her early collaborator over the years, either. In fact, her words about Aaliyah were just as warm in 2018 as they were in the wake of the singer's untimely demise (per Billboard). "We could only just imagine what she would be doing now," Elliott said. "She'd be out of here and untouchable."
Missy Elliott's unsuccessful girl group
Before Missy Elliott made it big as a solo artist and a star producer, she was a poor child of a struggling, freshly single mother (via The Guardian). However, she was very determined to make it in the music business from early on … even though her first musical group was a harsh reminder that the entertainment business isn't easy.
After forming a group called Sista with a few friends in the late 1980s, as per Vibe, Elliott was able to show her songwriting flair — and in 1991, Sista was signed to Jodeci band member DeVante Swing's Swing Mob Records (per Encyclopedia Britannica). Unfortunately, the group's success was short-lived, to say the least. In 2004, Sista released a single, "Brand New," but their full-length album "4 All the Sistas Around da World," was eventually shelved. This marked the demise of Sista, as the group soon broke up.
Missy Elliott's health woes
People who had gotten used to Missy Elliott's seemingly never-ending string of hits might have been surprised when the singles stopped coming in 2005. At least part of the reason she stayed away from the limelight until her return in the 2015 Super Bowl halftime show was due to some unfortunate health issues (via Billboard). In 2008, a rapid and significant weight loss caused her to seek medical assistance, and she found out she had Graves' Disease — a thyroid gland-related disorder that disrupts the body's hormonal balance with too much thyroid hormone, as per Healthline.
Elliott believes the condition may be related to her extremely hectic and arduous work schedule. "It causes hair loss, your eyes bulge," she said, describing her symptoms. "My blood pressure was always up from just overworking." According to People Magazine (via CBS), Elliott's symptoms also included significant tremors, which almost led to a car accident. "I couldn't keep the brake down and almost crashed," the artist revealed.
Elliott has said that her Graves' Disease is under control and has reportedly gotten radiation treatment for the condition. She didn't exactly stop working during her decade-long absence from the limelight, either. "If I wanted to do 'The Missing Files of Missy Elliott,' I have probably six albums just sitting there," she's revealed.
Graves' Disease isn't the only health trouble Elliott has struggled with over the years. Per MTV, she tore her Achilles tendon circa 2005, necessitating surgery and a lengthy recovery.
The industry rejected her because of the way she looked
When you consider Missy Elliott's track record of turning nearly everything she touches into gold, it seems downright incredible that anyone within the music industry would have given her the cold shoulder. However, as The Guardian tells us, that's exactly what happened early in her career. Hip-hop's attitude toward women being historically rather sexist and image-conscious, she used to face rejections because her looks didn't fit the traditional mold, especially during her early days as part of the all-female group called Sista (via The Guardian).
After she teamed up with Tim "Timbaland" Mosley and proved herself as a credible hit maker, she broke through the industry's artificial body image barrier, reports The New Yorker, and her sizable resume as an artist, producer, and businesswoman is a testament to her prowess. Though she did eventually lose some of the weight the industry used to deride her for early in her career, it's worth noting that she has specifically named health reasons as the cause of that decision.
Missy Elliott is incredibly shy
Despite the many bold and brave moves Missy Elliott has made as an artist over her career, many who interview her have noted — or, as her 2017 Elle profile points out, have been notified beforehand — that she's a massively shy person. In 2018, Elliott admitted as much on her Twitter account, sharing an old interview clip that shows her fidgeting nervously and giggling like there's no tomorrow. "Funfact I'm soooo SHY that I giggle all the time because of my shyness, or I keep rocking my leg, or mess with my hands," she wrote, complete with a whole bunch of self-disparaging emojis.
This trait might seem to be somewhat at odds with her early dreams of becoming a superstar, let alone her life when she actually became one. According to The Guardian, though, she has learned to solve this problem by essentially separating her performer persona from her everyday personality. In fact, she says that she had to learn this when she was still fairly young, because her loved ones were aware of her musical talents, and her extended family would often pressure her to perform for them. "After an hour of them begging me, I would finally get on the table and become this other little kid. Then they couldn't get me off," Elliott has described the extent of her transformation. "Once I set foot on the stage, I block out everything. I can be in my own world."
Missy Elliott's family didn't encourage her musical aspirations
It's borderline impossible to imagine a groundbreaking artist such as Missy Elliott as anything other than a musician, but in a 2019 interview with Marie Claire, she revealed that her friends and family weren't exactly supportive of her dreams of stardom. Her friends at school outright laughed at her when she repeatedly declared her intentions to become a star. Though this happened decades ago, and ultimately didn't hinder her in any way, it's something that has stuck with Elliott over the years. "I wonder, do those kids remember me?" she said. "Because I remember all of them." Her family wasn't exactly supportive of her dreams of musical superstardom, either, because the whole idea of becoming a big-name celebrity seemed far-fetched. Instead, they offered an alternate career plan by suggesting that Elliott should enlist in the Army — an idea that the future superstar was less than thrilled by.
Regardless, young Elliott chose to chase her dreams, and her family's recommendations of a military career haven't exactly soured her on them, either. In fact, per The Guardian, she's cherished the fact that her fame has enabled her to pamper her mother. "The real dream was to make enough money to take care of all the pain and suffering that my mother has been through," Elliott said in 2001.
Missy Elliott's Super Bowl health scare
Missy Elliott's surprise appearance was one of the brightest highlights of Katy Perry's Super Bowl XLIX halftime show in 2015, as the artist brought the house down with three of her biggest hits — "Get Ur Freak On," "Work It," and "Lose Control" (via Okayplayer). However, as Entertainment Weekly tells us, the legendary artist's joyous performance came in the wake of a health scare. In 2017, Elliott noted on Twitter that she'd been in a hospital just before the event. While she didn't elaborate on the exact nature of her health scare at that time, she had already discussed the subject in a 2015 interview with Billboard, and revealed that the lead-up to her three-song appearance had taken a heavy toll on her, and the pressure culminated in a panic attack. "Like, IVs in my arm, everything," she said. "Nobody knew."
In a 2019 interview with The Guardian, Elliott noted that the Super Bowl guest spot had her feeling so bad that she even neglected to use the opportunity to promote her upcoming "comeback" single, "WTF (Where You From)." She also revealed that she tends to have trouble with anxiety whenever she releases something. In all fairness, Elliott did also point out that it's pretty understandable to be nervous before returning to the spotlight during a Super Bowl halftime show, of all events. "I think any artist who has had a break such as that one would be anxious," she said.