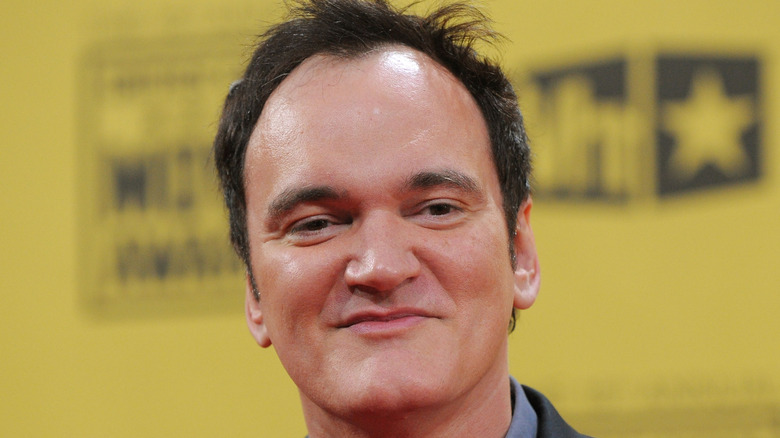 People spend their entire lives –– especially in creative fields such as filmmaking –– attempting to create a masterpiece. Yet Quentin Tarantino, from his first time making a full-length film with 1992's "Reservoir Dogs," has seemingly hit a home run with every swing of the bat, creating one gem after the next. He is, by any metric, one of the most successful and talented filmmakers ever, and among the most chronicled.
Yet, there's still plenty that even his most die-hard fans might not know about the Knoxville-born, LA-raised auteur. Do you know how he got his name? What this lover of film thinks about the streaming services where so many of his films currently reside? Or the "Golden Girls" episode that helped fund his early career?
From "Pulp Fiction" to "Inglourious Basterds" to the other classics — and the stories in between — here's the untold truth of Quentin Tarantino. Now, let's be like two little Fonzies and follow along with all the cool details.
The origins of his name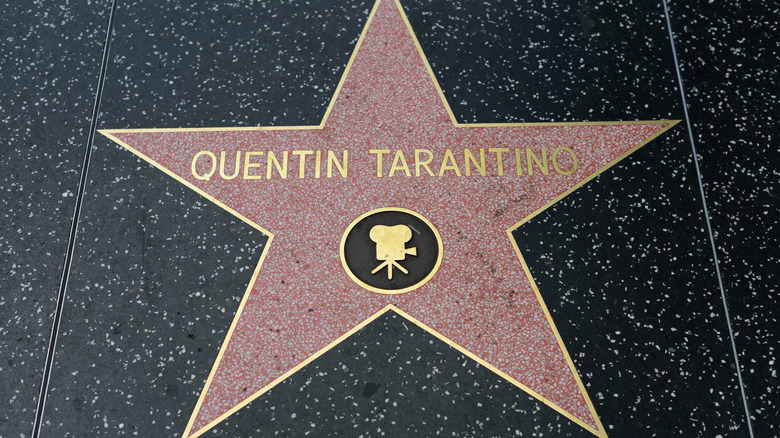 Though Quentin Tarantino might sound like a stage name — it is unique, if nothing else — his birth name was indeed Quentin Jerome Tarantino.
His mother named him after a Burt Reynolds' character, Quint Asper, from "Gunsmoke." He inherited his last name from his dad, Tony Tarantino; but he grew up using the last name Zastoupil (after his stepfather), and said in 2021 that if he were starting his career today, he'd probably use his middle name, making "Once Upon a Time in Hollywood" a film from visionary director Quentin … Jerome?
"I didn't even know about the name Tarantino really at that time," said the "Jackie Brown" director, who grew up without his father. "[Zastoupil] was my name. I was always known by that."
Although his mother, Connie McHugh, had re-married musician Curtis Zastoupil [they would divorce in 1973], when Quentin got into his late teens he began to feel like his biological father's name was just cooler. "When I took the name Tarantino around 18 or 19, it was simply because it sounded cool," he explained. "It was Italian. Quentin Tarantino sounded like a cool name. It had nothing to do with him. It had nothing to do with the family."
Tarantino's upbringing
Tarantino might be from Tennessee, but he mostly grew up in California. His mother met his father when she came to Los Angeles in the early '60s on a trip; she was briefly married to the law student/aspiring entertainer, but after their divorce moved back to Knoxville to be with her parents. Tarantino and his mom both returned to LA, however, when he was about three years old.
"I never knew my father," Tarantino said in a 2010 interview with The UK Telegraph. "He wanted to be an actor, now he's an actor only because of my last name. But he was never part of my life. I didn't know him. I've never met him."
Born in Queens and raised in Brooklyn, Tony Tarantino became an actor because of his father Dominic (Quentin's grandfather), who appeared in Westerns in the 1930's alongside Tom Mix, Buck Jones and Tim McCoy. According to IMDb, Tony has acted in 10 projects (9 since his son's rise to prominence) and produced two films. Tony Tarantino is also a member of the "Silver Foxes," a group of celebrity parents that has also included the parents of Al Pacino, Patrick Swayze, Cindy Crawford, Magic Johnson and more. Quentin and Tony's estrangement has occasionally made headlines, as in 2015 when the two publicly disagreed over matters of police brutality.
Tarantino's relationship with his mother
Tarantino has also had a difficult relationship with his mother at times, and as he said in 2021, he is hesitant to assist her financially because of memories from when he was young and trying to write early scripts — some of which would eventually go on to form the basis of films like "Reservoir Dogs," "True Romance" and "Natural Born Killers." The problem, it seems, is that he was working on these scripts during school time.
"She was b****ing at me about that," Tarantino told "The Moment" podcast in 2021. "In the middle of her little tirade, she said, 'Oh and by the way, this little writing career?' — with the finger quotes — 'this little writing career that you're doing? That s**t is f***ing over!' She just meant don't do it in class when you're supposed to be doing something else."
All these decades later, Tarantino still remembers the exchange. "When she said that to me in that sarcastic way, I was in my head and I go: 'OK, lady. When I become a successful writer, you will never see one penny from my success," he recalled. "There will be no house for you. There's no vacation for you; no Elvis Cadillac for mommy. You get nothing because you said that."
Ultimately, he said, he has stuck to that resolution. "I helped her out of a jam with the IRS," he admitted. "But no house! No Cadillac."
He taught himself how to make films
Anybody who knows anything about Quentin Tarantino knows the backstory: In the '80s, he was among the resident geeks at the now-legendary Video Archives store in Manhattan Beach (alongside Roger Avary, with whom he'd later share an Oscar for writing "Pulp Fiction"). In perhaps one of his most famous quotes, Tarantino told the BBC in 2004: "When people ask me if I went to film school, I tell them, 'No, I went to films.'" It was at Video Archives where Tarantino would hold court behind the counter and watch so many of those films; he became known for delivering a "Top Gun"-related riff that he would eventually do in the 1994 film "Sleep With Me," and it was reportedly here where a cassette tape of Louis Malle's "Au Revoir Les Enfants" led him to come up with the name "Reservoir Dogs."
"I was just looking for a minimum wage job," Tarantino told NBC News in 2004, reflecting on the job that would inspire much of his "True Romance" script and even name-check his boss Lance Lawson. "I could have worked at Video Archives; I could have worked at Pioneer Chicken. But luckily I got in at Video Archives, and it was real fun."
Tarantino had spent much of his life going to movies — his caretakers had no qualms about him seeing "grown up" films at a young age — and by the time he was applying at Video Archives, he was already a walking encyclopedia of film history. "I got the job because I was a movie expert," he explained. "When you clear out everything in your life and focus on one thing, you better know a lot about it."
All these years later, Video Archives is long gone — but Tarantino had a replica of the store built in his home and purchased its old video tape collection; Avary, meanwhile, owns the store's laserdiscs. The two recently announced that they will be launching "The Video Archives Podcast," where they'll be watching those old movies with guests and recording their thoughts.
He's not streaming service's biggest fan
As streaming services have increasingly influenced the film industry — and made their presence known during award season — directors like Christopher Nolan and Steven Spielberg have made their opinions known on the perceived threat to cinema. Nobody loves film more than Tarantino (he bought LA's beloved New Beverly Cinema in 2007, committing to not only program much of its schedule, but to only show movies on celluloid), and has never been known for being shy, so of course he has made his opinion on the matter known.
"I am not excited about streaming at all," Tarantino said in a 2015 IndieWire interview. "I like something hard and tangible in my hand. And I can't watch a movie on a laptop. I don't use Netflix at all. I don't have any sort of delivery system. I have the videos from Video Archives. They went out of business, and I bought their inventory. Probably close to eight thousand tapes and DVDs."
In a 2017 interview with The Playlist, Tarantino talked about how going to a video store was more of an investment and a more communal experience. "[T]here was a different quality to the video store," Tarantino said. "You looked around, you picked up boxes, you read the back of the boxes. You made a choice, and maybe you talked to the guy behind the counter, and maybe he pointed you toward something."
For what it's worth, video stores are largely gone and Tarantino's movies have made their way to streaming services. Perhaps he has even warmed to the possibilities of streaming; in 2019, Tarantino worked with Netflix on a much-hyped (yet covertly-released) longer cut of "The Hateful Eight." Keep in mind, this was shortly after he had toured the movie on 70mm film — pretty much as "old school" as you can get, and perhaps proof that celluloid and streaming can indeed co-exist.
"Netflix came to us and said, 'Hey, look, if you'd be interested … If there's even more footage, if you'd be interested in putting it together and in a way that we could show it as three or four episodes, depending on how much extra footage you have, we'd be willing to do that,'" Tarantino told /Film. "I thought, wow, that's really intriguing. I mean, the movie exists as a movie, but if I were to use all the footage we shot, and see if I could put it together in episode form, I was game to give that a shot."
He may have gone to jail multiple times
Though Tarantino says he's been to jail, there have been questions surrounding these claims over the years – and even accusations that such stories are an attempt to make himself seem like a tough guy. "I was in jail three different times, the last time was for eight days," Tarantino told a show called "What the Flick?! in 2015. "Three days one time, two days another time and eight days last time."
The New York Post published an article labeling his story a "lie," claiming there's no record of his time served at a Los Angeles county jail. Tarantino fired back.
"They're just really bad journalists," he said (via the Guardian). "It would be so easy for them to look (my jail record) up but they're not actually doing the work that it takes to look it up."
Tarantino is also fond of telling a story about childhood shoplifting that has since gone on to become part of his legend. When Tarantino was 15, he stole a copy of the Elmore Leonard crime paperback "The Switch" from a Kmart in Torrance, California.
"Hey, that looks like it would make a pretty cool movie," Quentin told GQ in 2021 that he was thinking at the time. After being arrested and released by the police, he was grounded for the summer by his mother; once he had served his time, he went back and stole the book — this time, successfully. "I was gonna be damned if I was gonna get into all this trouble and not get the book. So I went back to the same Kmart and I stole the book successfully."
Tarantino claims he still has the book — and about twenty years later, its Leonard-penned quasi-sequel "Rum Punch" would help serve as source material for one of his most beloved films, "Jackie Brown."
Contrary to his movies, he detests real-life violence
Love 'em or hate 'em, there's no debate: Tarantino's movies are often violent, unrelenting depictions of murder, mayhem and dismemberment. From the cop's ear in "Reservoir Dogs," to the Bride's blood-spraying "Kill Bill" showdown with the Crazy 88, to the "Death Proof" car collision or the lost pinkie in "Four Rooms," the man is responsible for more severed body parts than your average neighborhood carnival ride. In real life, he has been asked about violence for decades — and has at times become angered by the constant implications that it is hypocritical to put such violence in his movies for fun, yet condemn it in the real world.
'To say that I get a big kick out of violence in movies and can enjoy violence in movies but find it totally abhorrent in real life — I can feel totally justified and totally comfortable with that statement. I do not think that one is a contradiction of the other," he told the Observer in 1994. "Real life violence is real life violence. Movies are movies. I can watch a movie about the Hindenberg disaster and get into it as a movie but still feel it's a horrible real life tragedy. It's not the same thing at all."
While doing publicity in 2013 for "Django Unchained," arguably his most violent film, Tarantino went viral with a confrontational interview saying "I'm shutting your butt down" to British journalist Krishnan Guru-Murthy.
"I refuse your question. I'm not your slave, and you're not my master. You can't make me dance to your tune. I'm not a monkey," he shot back when the UK Channel 4 interviewer tried to press him on the issue. "The reason I don't want to talk about it is because I've said everything I've had to say about it. If anyone cares what I have to say about it they can Google me. And they can look for 20 years what I have to say about it. I haven't changed my opinion one iota."
From Dusk Till Dawn was Tarantino's first paid writing job
Tarantino has been involved in many classic films — and not just the ones he's directed, but also some he has had a hand in writing ("Natural Born Killers," "Crimson Tide" and "True Romance") or acting in ("Desperado," "From Dusk Till Dawn"). Although an exact timeline is hard to nail down — several of Tarantino's early scripts were written somewhat simultaneously, which partially explains why certain names (Vega, Nash, Scagnetti) are repeated — "True Romance" was the first script for a major motion picture he sold, "Natural Born Killers" was a movie he wrote for himself but didn't yet have the clout to direct, and "Dawn" was his first "paid writing gig."
"I conceived the project and wrote a 24 page treatment that outlined the film and the characters. I wanted to do a film that could be done on a small budget with an isolated group of characters trapped in a setting like 'Assault on Precinct 13'," remembered horror FX legend Robert Kurtzman in a 2009 interview. "Producer David Goodman had told me about a young writer who he thought would be perfect to write 'Dusk.' He hooked us up and QT and I soon got together to discuss collaborating. QT had sent us several writing samples including 'Natural Born Killers' and 'True Romance' and after reading we felt he'd be perfect for 'Dusk.' At the time QT had been working as a video clerk and was looking to branch out and although we didn't have much money to pay him it was enough for QT to leave his job as a video clerk to write our project."
Continues Kurtzman: "It was actually his first work for hire screenplay. We mad a deal. QT would write our script and I would do the FX for 'Reservoir.' We spent the next ten years trying to set the film up. It was initially rejected everywhere, even after the success of 'Reservoir' and 'Pulp.' No one wanted to do it. They thought is was too vulgar and violent and didn't understand the turn from road picture to vampire film halfway through."
By the mid '90s, the heat had become too hot around Tarantino and "El Mariachi" filmmaker Robert Rodriguez to ignore, and so "Dusk" finally got the greenlight — starring Tarantino/Rodriguez orbiters like Harvey Keitel, Juliette Lewis, Salma Hayek, Michael Parks, Danny Trejo … and some guy named George Clooney, who was trying to make the jump from television to movies (which was hard to do back then). Tarantino would turn in arguably the most substantial acting performance he's ever given, as the lascivious brother to Clooney's character.
"When [Rodriguez] became interested it was a no-brainer," added Kurtzman. "Once RR boarded the picture it went from what was conceived as a small $1.5 million dollar movie to a $17 million dollar film with top name talent. The rest is history."
Reportedly, Tarantino received a mere $1,500 to write the script.
Once Upon a Time in… Hollywood was made into a novel
Tarantino's Oscar juggernaut "Once Upon a Time in … Hollywood" made just under $400 million worldwide at the box office, making it the second highest grossing film of his career. But it ranks alone in his oeuvre when it comes to … book sales?
The novelization of "Once Upon a Time in Hollywood" marked the writer/director's debut as an author, arriving at No. 1 on The New York Times fiction best-seller list. If you've seen the film, you know that it exists in an extremely-detailed alternate reality where fictional characters (Cliff Booth, Rick Dalton) live, mingle and co-star with very real legends (Bruce Lee, Steve McQueen, Roman Polanski), and Tarantino used his novelization to not recount the story in prose per se, but to dive even deeper into such minutiae. Readers learn, for instance, that Rick killed more Japanese in World War II than anyone in U.S. military history — and that Cliff did indeed kill his wife.
"I'm really happy with it, I'm really proud of it," Tarantino said in an episode of the Pure Cinema Podcast (via EW). "If you're a fan of the movie, I think you will get a kick out of reading the book, and exploring the characters further and deeper, and learning secrets that you didn't know, and were not in the movie. It's not just me taking the screenplay and then breaking it down in a novelistic form. I retold the story as a novel."
If you're a fan of Tarantino's writing — whether it be a script or, now, novel format — you'll be happy to learn that a new book involving DiCaprio's character Dalton is on the way, according to Empire.
The partially lost My Best Friend's Birthday was Tarantino's first movie
Although the 1992 crime classic "Reservoir Dogs" is technically Tarantino's first feature-length film, it was not his first attempt at getting a filmmaking career off the ground.
In 1983, he collaborated with friend Scott McGill on "Love Birds in Bondage," a film he intended to star in co-write and co-direct. According to the site The Quentin Tarantino Archives, the film was intended to be a "black comedy about a girl who suffered from brain damage after a car accident and had to be institutionalized due to her erratic behavior. Heartbroken, her devoted boyfriend makes the decision to get himself admitted, so he can be close to her."
Whatever footage was shot of that film was eventually destroyed — possibly by McGill himself, possibly by his mother.
A few years later, Tarantino got closer with "My Best Friend's Birthday." That film told the story of a man named Mickey (played by co-writer Craig Hamann) whose girlfriend recently left him; Tarantino played Clarence, who was trying to make his friend feel better via a surprise. Years later, Tarantino would call the comedy a "Martin and Lewis kind of thing," and shot the film while working at Video Archives alongside Avary (who served as a cinematographer) — seven years later, these indie film geeks would be standing on stage at the Oscars sharing a Best Original screenplay trophy for "Pulp Fiction."
History apparently repeated itself, as much of "Friend's Birthday" was lost in a fire. Only 36 minutes of the film remain, and it is in a barely watchable black-and-white-and-fuzzy format, but if you're curious you can view the footage online. With dark rants about how "The Partridge Family" saved his character from suicide, you can see the early seeds of Tarantino's genius.
It took over a decade for Tarantino to create the Inglourious Basterds script
Writers, actors, directors, producers, and everyone in between are expected to flesh out hit after hit. Tarantino, as an example, is expected to make a movie that's not only met with critical acclaim but one that also reaches glory at the box office. Achieving all these feats takes a myriad of things to go right, all starting with a well-written script.
As for the 2009 war film "Inglourious Basterds," Tarantino worked on it for nearly a decade (via IMDb). Tarantino wrote "Kill Bill: Vol. 1" (2003) in between writing "Inglourious Basterds," and at one point was considering names like Adam Sandler and Michael Madsen for roles. The extra time he took with this script paid off, as "Basterds" was nominated for eight Oscars, racked up over $300 million worldwide at the box office, and brought Tarantino's career roaring back after a half-decade of (relative … does "Death Proof"/"Grindhouse" really count?) inactivity following "Kill Bill: Vol. 2" in 2004.
Although a decade might seem like a long time to work on a script, Tarantino's patience and willingness to get it right paid off in spades.
He played an Elvis impersonator on The Golden Girls
Wise men say … that a young Tarantino, still struggling to gain traction in Hollywood as a writer, director or actor, appeared on "The Golden Girls" in 1988. He was one of many Elvis impersonators in "Sophia's Wedding: Part 1" (Season 4, Episode 6), and believe it or not, Dorothy, Rose, Sophia and Blanche (in an extremely indirect way) helped finance "Reservoir Dogs."
"One of the jobs I did get … and not because I did a wonderful audition, but simply because they sent my picture in and they said, 'He's got it!' was for an Elvis impersonator on 'The Golden Girls,'" Tarantino said on "The Tonight Show Starring Jimmy Fallon" in 2020, adding that the money kept him "going during our pre-production time trying to get 'Reservoir Dogs' going."
Because the episode spanned two parts, Tarantino received residuals totaling around $3,000. As any Tarantino die-hard knows, he is an Elvis admirer — in "True Romance," Clarence Worley gets regular visits from a Jiminy Cricket-like Elvis (played by Val Kilmer), and "Pulp Fiction" has a deleted scene where Mia Wallace explains that the world is filled with Elvis people and Beatles people, but everyone has to like one more than the other — and as he told Fallon, he was playing a Sun Records-era Elvis, which he has said was his favorite period of the King.
"When I was young, I used to think Elvis was the voice of truth," Tarantino told Uncut in 2019 while discussing Presley's "The Sun Sessions" album. "I don't know what that means, but his voice … sh*t man, it sounded so f**king pure. If you grew up loving Elvis, this is it. Forget the Vegas period: if you really love Elvis, you're ashamed of that man in Vegas. You feel like he let you down. The hillbilly cat never let you down."
Though he's known as a filmmaker, he has more acting credits than directing credits
Tarantino might be viewed as a filmmaker above all else, but he actually has more acting credits than directing ones. At the time of this writing, Tarantino has 21 director credits to his name, yet his 38 acting credits surpass that (via IMDb). He also has 22 producer credits and 30 writing credits, as well as a whopping 252 "self" credits. Tarantino, by all measures, has left his mark on Hollywood –– from behind and in front of the camera.
If you're looking for some off-the-beaten-path Tarantino acting, you can look beyond the obvious cameos in "Dogs," "Fiction" and "Django" and take a peek at the fun episode of "All-American Girl" he did in 1995, spoofing "Pulp Fiction" alongside then-girlfriend Margaret Cho. A couple years later he would appear in Spike Lee's "Girl 6" as a thinly-veiled version of himself, and his off-the-wall appearance as a blind preacher in Adam Sandler's "Little Nicky" has to be seen to be believed.
He hates the Calvin Candie character in Django Unchained
It's rare to find creators who don't like their own characters, but there are certainly exceptions, especially when creators develop characters who are just plain horrible on the page. To say Tarantino doesn't fancy the Calvin Candie character (played by Leonardo DiCaprio) in "Django Unchained" is an understatement.
"I hated Candie and I normally like my villains no matter how bad they are," Tarantino said in a Playboy Magazine interview (via Far Out Magazine). "I could see his point of view, but I hated it so much. For the first time as a writer, I just f***ing hated this guy."
Going along with that sentiment, DiCaprio also appears to find the character despicable. "He was one of the most deplorable, indulgent, horrendous characters I've ever read in my life," said DiCaprio in a 2012 EW interview. "This man's code of ethics was so beyond, or below, anything that I could ever imagine … but it was a delicious character nonetheless."
The real reason product placement is lacking in his films
Product placement is an unfortunate necessity in almost any modern movie, but from the very beginnings of his career Tarantino has sidestepped brand names whenever possible to instead use hyper-real, Tarantino-universe brands, such as the Hawaiian fast-food restaurant Big Kahuna Burger and Red Apple cigarettes.
Fans could reasonably expect that Tarantino must hate product placement, but the opposite is apparently true; according to the auteur, it's the real-life brands who typically don't want to be featured in his films. "I haven't done that much product placement in my movies because for the most part, I've actually been usually refused," Tarantino explained in the 2011 film "The Greatest Movie Ever Sold. "All my first scripts always had some scene that took place at a Denny's, because I had many scenes in my early twenties that took place at a Denny's. 'Reservoir Dogs,' it was in the original script that the opening scene where they're all talking [that was] at a Denny's. The opening scene of 'Pulp Fiction,' Pumpkin and Honey Bunny, at a Denny's. In both cases, Denny's goes 'No!'"
Some projects Tarantino could have been involved in
When you have a long-standing career like Quentin Tarantino, and such a distinctive brand, Hollywood will come knocking regularly. Coupled with Tarantino's methods of beginning projects then moving elsewhere if he loses interest, there is a long list of "would coulda" movies that QT's fans will most likely never see.
Tarantino films that never came to fruition include "Double V Vega," perhaps the most tantalizing unproduced project, which would have brought together the similarly-surnamed characters of Vic Vega (Michael Madsen in "Reservoir Dogs") and Vincent Vega (John Travolta in "Pulp Fiction"), even though both died in their respective movies.
"I don't think I took it far enough for a story, but I had a premise. It would have taken place in Amsterdam. So it would have taken place in the time that Vincent was in Amsterdam. Remember in 'Pulp Fiction,' he had just come back from Amsterdam and he was telling the whole story. He was running some club for Marcellus," Tarantino told the ReelBlend podcast in 2019, discussing his take. "And so, he was probably there for a couple of years. At some point, in his two-year stay in Amsterdam, running some club, Vic shows up to visit him. And it would have been their weekend. Exactly what happens to them or what trouble they get into, I never took it that far."
Depending on who you believe, Tarantino has also either pitched or been pitched attempts to mix his unique flavor with Star Trek, James Bond, Russ Meyer and even the Marvel superhero Luke Cage, long before the MCU was a thing. As for his own films, a persistent rumor continues that he could do a third chapter of "Kill Bill."
The film would have the daughter of Vivica A Fox's character out to "avenge her mother's death by killing Uma Thurman's The Bride," he said on The Joe Rogan Experience podcast in 2021; the movie would also reportedly cast Uma Thurman's real-life daughter (and "Stranger Things" actress) Maya Hawke as the offspring of Beatrix Kiddo. "I think it's just revisiting the characters 20 years later and just imagining The Bride and her daughter, Bebe, having 20 years of peace, and then that peace is shattered … and now The Bride and Bebe are on the run, and just the idea of being able to cast [Thurman] and cast her daughter, [Hawke] in the thing would be f****** exciting."
Tarantino has even thought about revisiting one of his own classics. "I actually have considered doing a remake of 'Reservoir Dogs' as my last movie," he said on Real Time with Bill Maher in 2021. Laughing, he was quick to caution: "I won't do it, internet, but I considered it."
Tarantino says he's going to stop making films after his 10th feature
If any of the above projects are going to come to fruition, Tarantino better hurry up and choose carefully. Because he has been going on record for years claiming that after ten films, he will walk away (this quasi-countdown dates all the way back to early '00s "Kill Bill" trailers). This is a position he has reiterated even after the massive success of "Once Upon a Time in… Hollywood," which would count as film number nine by his estimation (Tarantino views "Death Proof" as a film despite its "Grindhouse" origins, and counts the "Kill Bill" films together, as he originally conceived).
QT seems determined to go out on top, and is well aware of brilliant filmmakers whose final efforts diminished their canon.
Asked in 2021 if he was serious, the then-58-year-old filmmaker made his case. "You're at the top of your game," Bill Maher protested on "Real Time with Bill Maher."
"That's why I want to quit!" Tarantino shot back, citing filmmakers like Don Seigel as directors who kept working past their prime. "Because I know film history and from here on in, directors do not get better … I don't have a reason that I would want to say out loud that's going to win any argument in the court of public opinion … at the same time, working for 30 years, doing as many movies as I've done … that's a really long career. And I've given it every single solitary thing I have."