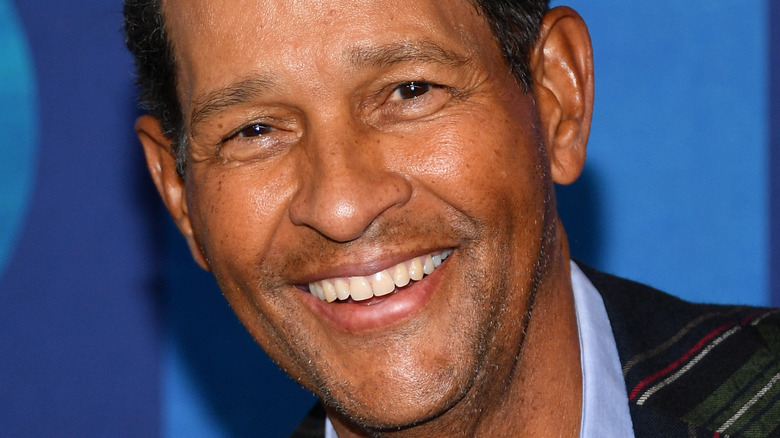 We may receive a commission on purchases made from links.
The following article includes mentions of sexual misconduct allegations.
The "Today" show has been plagued by a number of major scandals, including some of morning TV's most notorious. The show has been making headlines since the 1950s when, in 1953, producers decided to pair the very first "Today" anchor, David Garroway, with … a trained chimpanzee. Since then, the evolving cast of hosts and co-hosts has harbored some dark secrets. While some have simply raised eyebrows, others have actually broken the law.
Among the show's many controversial figures, Bryant Gumbel — who co-hosted for 15 years — may just be near the top of the list. Consider his infamous confidential memo, which leaked in 1989. In the note, which made the rounds internally, Gumbel appeared to openly go after most staffers and criticize his colleagues unabashedly, per the Los Angeles Times. For example, writing about consumer reporter David Horowitz, Gumbel reportedly dubbed him "a walking cliche." His secretly tense relationship with Katie Couric also made news, as did mounting allegations that seemingly proved he wasn't exactly a star colleague. Gumbel eventually made his departure from "Today" in 1997, and over the past 20-odd years, he's become much more removed from the spotlight. While the former morning show co-anchor hasn't completely disappeared, he also hasn't maintained his widespread morning show fame.
Here's why Bryant Gumbel isn't in the public eye as much anymore, and what he's doing these days.
Bryant Gumbel's serious health scare was kept secret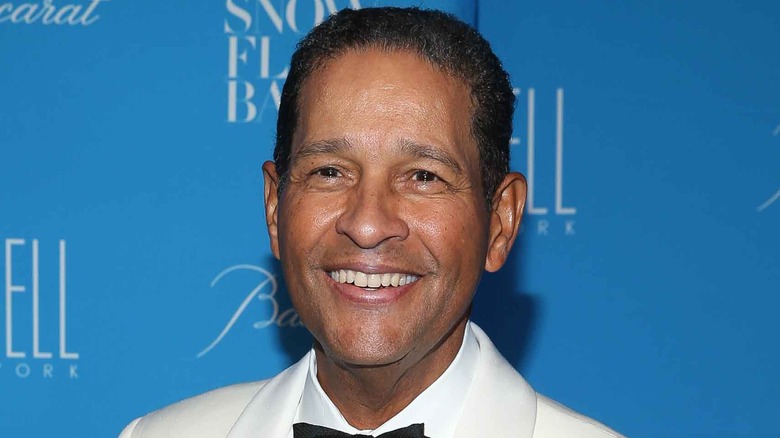 Bryant Gumbel faced a serious health scare in the late 2000s. He initially chose to keep his diagnosis hidden from everyone, including his colleagues, and tried not to let it affect his work, but his focus was undoubtedly on his health. It wasn't until he was co-hosting "Live With Regis and Kelly" in December 2009 that he made the seemingly unplanned announcement: He had been diagnosed with lung cancer.
As ABC News reported at the time, Kelly Ripa told the show's audience that she had "almost faint[ed]" when Gumbel confessed something before they went on-air. Without much choice but to elaborate, the former "Today" anchor revealed he had undergone surgery just "two months" prior. Recalling the procedure, Gumbel shared, "They opened up my chest, they took a malignant tumor and they took part of my lung and they took some other goodies." Explaining that, luckily, "the pathology on most of the stuff had been benign," he added, "Enough aggressive cells had escaped the tumor that it warranted some treatment and I went through that and it's done now."
In December 2010, the veteran anchor shared a positive update with People, saying he was "still doing well," and adding, "Doctors tell me I'm free and clear." As ABC News reported, Gumbel had previously admitted to being a "bad smoker." During a 2001 episode of "The Early Show," he said he'd smoked "three packs a day" for "about 10 years" until he called it quits for good on May 2, 1977.
Katie Couric exposed Bryant Gumbel's 'shocking' behavior
Bryant Gumbel has long been accused of "arrogance and coldness" and of being difficult to work with, per The New York Times. In a 1999 interview with the outlet, he tried to dispel such rumors, particularly those involving his former "Today" co-host, Katie Couric. He assured he "never once undermined her," but a show staffer alleged Gumbel "resented" that she became "a star" — mirroring claims Couric made in her 2021 memoir, "Going There." She alleged (via Showbiz 411) that Gumbel "loved to needle me" and that she "had no choice but to smile gamely and play along." Showcasing how "strangely territorial" he apparently was, she claimed he had "it written into his contract that he was the anchor, I was the co-anchor, and he would open every show."
Their so-called "cringeworthy" relationship was on full display in a 1991 clip from "Today," which Couric recirculated in a 2019 newsletter. It was her last day before nine weeks of maternity leave, and Gumbel asked why she'd be gone "so long." While she explained that having a baby is "a major shock to your body," he quipped, "Your ancestors didn't worry about that shock to your body. They came right back and worked." Couric did note the comments were "sort of in jest" (via USA Today), but conceded the "uncomfortable exchange" was "pretty shocking to watch."
Things remained that way for six years until NBC News president Andy Lack decided the two should be "50/50 partners," per Couric's memoir. Gumbel reportedly "balked at the idea," so Lack "showed him the door."
He faced headline-making allegations from Connie Chung
Katie Couric wasn't the only legendary anchor to call out Bryant Gumbel's allegedly questionable on-set behavior. Revealing just why producers may not be lining up to offer him work, Connie Chung claimed to Los Angeles Magazine's "The Originals" podcast that he was indeed difficult to collaborate with. Chung didn't hold back in her interview, spilling tea about the biggest names in media, even claiming that Diane Sawyer and Barbara Walters' behavior toward her was "not unlike what Tonya Harding did to Nancy Kerrigan." She also said that while working with Dan Rather she "felt like [she] might be in a scene of 'Psycho' in the shower." Her experience with Gumbel apparently wasn't any better.
Chung first explained that she clashed with most male co-anchors in her career, saying, "Because they suffer from something called bigshot-itis, and it's sort of delusions of grandeur and sort of narcissistic behavior and a feeling of inability to stop talking." She then shared that during her time as a contributor on "Today," she learned that Gumbel also seemingly had "bigshot-itis."
"I'd be sitting beside him, but I was invisible," she recalled, claiming that outside of work, it was the same. They'd bump into each other at celebrity golf tournaments and, she alleged, "Oftentimes I was invisible to him as well." That said, Chung conceded that Gumbel had "become a different guy" after marrying Hilary Quinlan in 2002. Quinlan reportedly told her husband, "Whatever it is between the two of you, we're not doing that anymore."
Bryant Gumbel's admission of infidelity cast him in a new light
Bryant Gumbel hasn't just been criticized for his alleged professional behavior — his personal life has also cast a less-than-flattering shadow around him. After 27 years of marriage, Gumbel and his first wife, June Baranco, became embroiled in a four-year divorce battle, which showed no signs of a resolution until January 2001. That was when the so-called "bitter" proceedings finally moved forward, as the news anchor agreed that the basis for their divorce could be listed as adultery.
According to ABC News, Baranco's attorney, Barry Slotnick, threatened Gumbel with proof that he had cheated and "promised [him] a 'quick divorce' if he agreed to the adultery charge." Slotnick also told the New York Post that Gumbel had been unfaithful "from Day 1" and that he and his client "had enough proof if we had to go to trial — 50 times over." Meanwhile, Baranco called her ex a "serial adulterer." Gumbel denied the infidelity claims through his lawyer, who dubbed the allegations "notorious and stupid gossip."
The couple finalized their divorced in August 2001 and, as Gumbel left the courtroom, he seemingly made himself look worse. Even though Baranco was reportedly granted two properties and half of her ex's wealth, per the New York Post, he reportedly greeted reporters with a smile. He then told them he wasn't "sad," but rather "just happy to have [his] life back." Baranco's brother, Darryl, offered some choice words. "I'm not quite sure what he's smiling about," he slammed, calling Gumbel "a poor excuse for a human."
He publicly supported disgraced colleague Matt Lauer
In November 2017, NBC News fired Matt Lauer after a colleague submitted a "detailed complaint" in which she accused the longtime "Today" anchor of "inappropriate sexual behavior during the 2014 Sochi Olympics." The network's chairman, Andrew Lack, told employees that the complaint sparked a sexual misconduct review, which revealed a "clear violation of our company's standards." Hours after his departure, more sexual harassment allegations were brought forth against Lauer, who later said he was "truly sorry" for his actions. According to NBC News, he also stated that "there is enough truth in these stories to make me feel embarrassed and ashamed."
Following the shocking news, legendary anchors from the "Today" show publicly condemned Lauer. Katie Couric, for example, told People that it was "completely unacceptable that any woman at the 'Today' show experienced this kind of treatment." Meanwhile, Ann Curry told The Washington Post that she had actually "told management they had a problem and they needed to keep an eye on" Lauer and the way "he deals with women" way back in 2012.
Bryant Gumbel, however, chose to take a different route. Speaking about his "best friend" at a gala in December 2017, he didn't condone Lauer's actions but rather made an eyebrow-raising proclamation. "He's my best buddy," he declared, per the New York Daily News, boasting, "I was the best man at his wedding. He was the best man at mine. I still love him!"
If you or anyone you know has been a victim of sexual assault, help is available. Visit the Rape, Abuse & Incest National Network website or contact RAINN's National Helpline at 1-800-656-HOPE (4673).
Bryant Gumbel's focus is now solely on sports
Bryant Gumbel may not be in the public eye as much as he used to be while co-hosting "Today," but he has been keeping busy. Sports fans will likely still be getting a regular dose of Gumbel as the host of "Real Sports with Bryant Gumbel." The HBO series hit the air in 1995 and returned for its whopping 28th season in January 2022. Describing itself as "the show that delivers more than the score" on Facebook, "Real Sports" is a monthly broadcast that focuses on "unchartered investigative pieces and in-depth profiles from across the sports spectrum," per HBO. That unique offering has clearly resonated with viewers, because not only has the series been on the air for over two decades, but it's also earned 33 Sports Emmy Awards, with 19 of those awards being in the outstanding sports journalism category. That makes it "TV's most-honored sports journalism series."
Speaking about the show's appeal with the Los Angeles Times in 2017, Gumbel said he's passionate about the program and so are his fans because "we're kind of an oddball in the modern landscape." Explaining how most sports shows are made up of short segments in which "the picture changes every two seconds" with "graphics going here and there," he boasted, "We don't do any of that." TV producer Steve Friedman agreed, saying "Real Sports" is special because "there is nothing dumbed down." Noting how "you see things you don't see anywhere else," he added, "They have an ability to follow stories for months, even years."