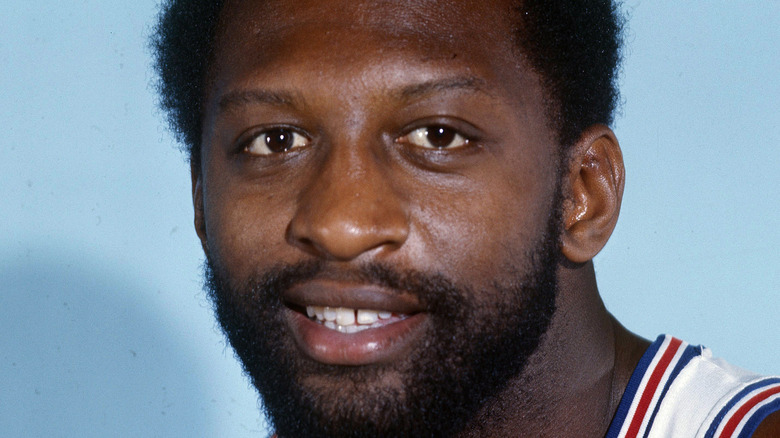 It's a well-known fact that Shaquille O'Neal donned some of the biggest sneakers in NBA history. The legendary center who is now a TV analyst, who bounced around the league with stints playing for the Orlando Magic, Los Angeles Lakers, and Miami Heat, among others, was known to lace up a pair of size 22 boots, according to Sportscasting. But before Shaq entered the league as the first-overall pick in the 1992 NBA Draft, the largest shoe size in league history belonged to Bob Lanier.
Bob Lanier died on May 10 after a short illness, according to ESPN. Lanier played center for the Detroit Pistons and Milwaukee Bucks and was one of the NBA's biggest names — and players — through the 1970s, alongside the likes of Kareem Abdul-Jabbar. His 14-year career included eight All-Star appearances and landed him in the Basketball Hall of Fame, where he was inducted in 1992. Lanier was well-remembered for being one of the most intimidating players of his era, his left-handed hook shot, and his massive shoes.
Bob Lanier's early life and career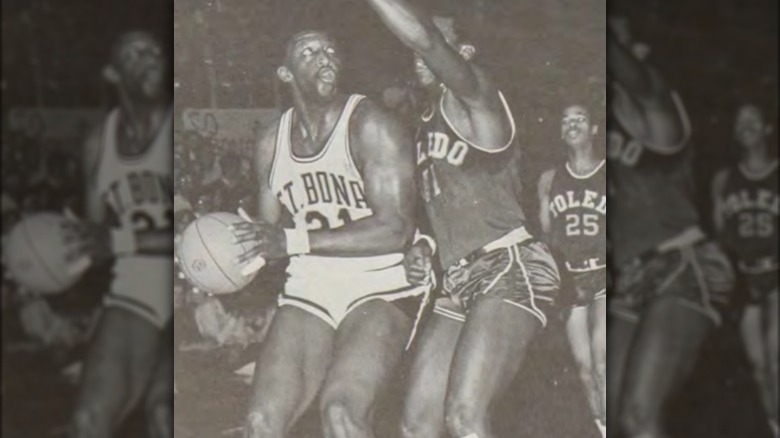 Bob Lanier was born in Buffalo, New York, in 1948, and it was clear pretty early on that he had the size needed to be a formidable NBA Center. According to The New York Times, Lanier was a whopping 6 feet, 5 inches tall when he was just a sophomore in high school. Given his size and playing ability, Lanier garnered a lot of attention from colleges, but he chose to stay in upstate New York, where he attended St. Bonaventure University.
The college recruiters weren't wrong in noticing Lanier's potential, and during his three seasons at St. Bonaventure, he averaged nearly 28 points and just shy of 16 rebounds per game. In 1970, his final season in college, Lanier helped carry the team to the NCAA men's basketball tournament Final Four, but a knee injury forced him to miss the next game, against Jacksonville. "I didn't even know at the time I tore my knee up," Lanier said in 2007. "But when I ran back down the court and tried to pivot, my leg collapsed. I didn't know at the time I had torn my MCL" — one of his knee ligaments. The team lost the next game without him, but he left his mark on the school, and the court that St. Bonaventure's men's basketball team plays on is named after him.
Lanier was a top draft pick
Despite the unfortunate end to his collegiate career, Bob Lanier had made enough of an impression that he was still a highly-touted prospect ahead of the 1970 NBA Draft. According to Basketball Reference, Lanier was nabbed by the Detroit Pistons with the first-overall pick, just ahead of big names like Rudy Tomjanovich and Pete Maravich. According to The New York Times, that same year, Lanier was also the first pick in the American Basketball Association draft, where he was selected by the New York Nets, otherwise known as today's Brooklyn Nets. Lanier had grown since his high school days, and upon entering the league in 1970, he stood an imposing 6 feet, 11 inches tall, and weighed 250 pounds.
Lanier's career started well. His first season in Detroit saw him averaging 15.6 points and 8.1 rebounds per game and averaged around 25 minutes of playing time per game. The next season, the 23-year-old saw increases in both playing time and production.
Lanier took the NBA by storm
The first nine full seasons of Lanier's Hall of Fame career were spent as a member of the Detroit Pistons. During his rookie season, Lanier split starting center duties with teammate Otto Moore, according to The New York Times. This was one of the main reasons for his lower production. During his second season, the starting job was all his, and his stats shot up in a hurry, per Basketball Reference.
Strangely enough, Lanier's most productive seasons were in Detroit, but while he was putting up numbers, the team had a hard time making it over the playoff hump. Toward the end of the '70s, Lanier's numbers had taken a dip, but he is still the Piston's all-time leader in points per game, according to ESPN, averaging 22.7. Still, he asked to be dealt to a contender and the team obliged, sending him to the Milwaukee Bucks during the 1979-80 season. Lanier played four more full seasons with the Bucks, which included a few deep playoff runs. Following the 1984 season, Lanier decided to call it a day and hung up his famously huge sneakers.
Lanier's sneakers
One of the things people commented on most during Bob Lanier's career were his unusually large sneakers. Sure, he was a very tall guy, but his reported size 22 kicks still boggled people's minds. At least, that's how big people thought the shoes were through his entire playing career. However, the size of his shoes was called into question several years later.
Lanier wore several different brands of sneaker during his career, including Converse sneakers. It was one of the company's representatives who set the record straight on the size of Lanier's famous sneakers. According to ABC News, Gary Stoken was a company rep who told The Atlanta Constitution that there had been some confusion and that Lanier actually used a pair of size 18 ½ shoes. Stoker explained that "The 22 he was reputed to wear was a Korean size." Whatever the case may be, the massive shoes were one of Lanier's calling cards. A pair of them were bronzed and enshrined in the Basketball Hall of Fame, per The New York Times. "A lot of people can put both feet into one of my shoes," Lanier once said, in an issue of Hoop Magazine (quoted by ABC News).
Lanier's post-playing career and death
When his playing career came to an end, Lanier opened a marketing firm but remained heavily active in basketball. Lanier was an assistant — and later the interim head coach — for the Golden State Warriors in the 1990s, and he worked with the NBA as a global ambassador, working to grow both the league and the sport of basketball, per The New York Times.
Lanier worked closely with current NBA Commissioner Adam Silver, as well as his predecessor, David Stern. Following Lanier's May 10 death, Silver released a statement honoring the Hall of Famer: "Bob Lanier was a Hall of Fame player and among the most talented centers in the history of the NBA, but his impact on the league went far beyond what he accomplished on the court," Silver said. "For more than 30 years, Bob served as our global ambassador and as a special assistant to David Stern and then me, traveling the world to teach the game's values and make a positive impact on young people everywhere."
Silver's comments echoed something often mentioned about Lanier: Despite his ferocious on-court presence, he was a kind, friendly guy. "I learned so much from Bob by simply watching how he connected with people. He was a close friend who I will miss dearly, as will so many of his colleagues across the NBA who were inspired by his generosity," Silver said, per the NBA.